Good morning from Victoria BC!
The past few days John and I have been enjoying a romantic weekend getaway to Victoria BC. This was John's first visit to Victoria and I have not been here in years. After spending the weekend here we are already planning a return getaway this spring or summer.
We have absolutely fallen in love with the city of Victoria!
After a quick 22 minute flight from Seattle we arrived in Victoria and were met by LA Limousines. Our driver was a fountain of knowledge about Victoria and Vancouver Island. I ended up taking so many notes on my phone of all the cool places he told us to visit and restaurants we had to try out. The drive in from the airport was super easy and beautiful as we traveled about 30 minutes to downtown.
We checked in at the Inn at Laurel Point which is located right on the harbor. The hotel offers gorgeous views of the harbor, an amazing on site restaurant and is the host of the National Gingerbread Showcase during the holidays. From our balcony we have been watching the float planes take off in the harbor and enjoying the amazing view of the city.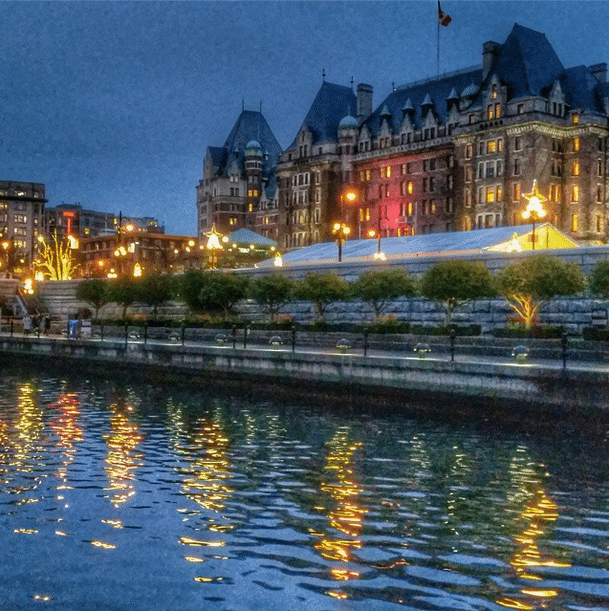 Victoria is a city that is easily walkable. I was a bit worried that we wouldn't have a car this weekend and we would miss out on seeing some of the amazing sites and restaurants in the city. My worry quickly dissapeared as we started walking around the city. There are no giant hills, no crazy freeways to cross or worry about. The city is filled with large pedestrian paths that make it really easy to get around. The drivers are courteous and let you cross the street without worry.
One of the things we have noticed this weekend is how friendly everyone in Victoria is. The city has a wonderful romantic feeling that is perfect for a weekend getaway or longer trip. We found ourselves walking hand in hand and just enjoying the feeling of the city.
We also didn't realize how much of a foodie town Victoria is. WOW! The food scene is amazing here. So many great options to enjoy. This morning we are hoping to find a local restaurant for brunch. We keep hearing that Victoria is a brunch city and everyone comes out on the weekends to enjoy the city and a great meal.
This weekend has been such a wonderful treat! We have been able to explore the city at leisure and just enjoy time together. We haven't had to worry about where to park, what to do, or if we are late for anything. We just spent our time enjoying the city and time together. If you are looking for an amazing romantic getaway definitely think about Victoria BC! You can catch a quick flight from Seattle or hop on board the Victoria Clipper or a ferry. Give yourself a day or 2 to just relax and enjoy the city. There is so much to see and do.
You can easily plan an epic Vancouver Island itinerary that includes time to rest, time to explore, and time to enjoy some of the amazing food available on the island.
We can't wait to share photos from our visit to the holiday light display at Butchart Gardens, the gingerbread showcase at the Inn at Laurel Point, the BC Museum, Tea at the Fairmont Empress and so much more. We have truly fallen in love with the city.
A huge thank you to the Victoria Tourism board for hosting us in Victoria!