Yesterday we boarded the Louis Olympia Cruise Ship for a week long adventure cruising the Mediterranean Sea. We boarded early to get the most time on the ship possible. After a safety drill that included taking selfies with our life jackets.
We were off headed towards Mykonos. Pulling out of Athens you can truly see how large the city is. White washed buildings for miles up and down the coast line. If you cruise out of Athens keep an eye out for the mega yachts in port. Oh my! I can't imagine what it is like to sail on one of these ships.
We enjoyed a great lunch on board and took a quick power nap before docking in Mykonos. We had to take a quick tender ride in to port and then we were off an exploring. We visited Mykonos 6 years ago on our honeymoon and loved the island. This trip was no different. We instantly felt relaxed, happy and excited to be back on the island. The island is easily walkable through the main town. You can wander through shops, enjoy amazing fresh seafood and watch the cute local cats.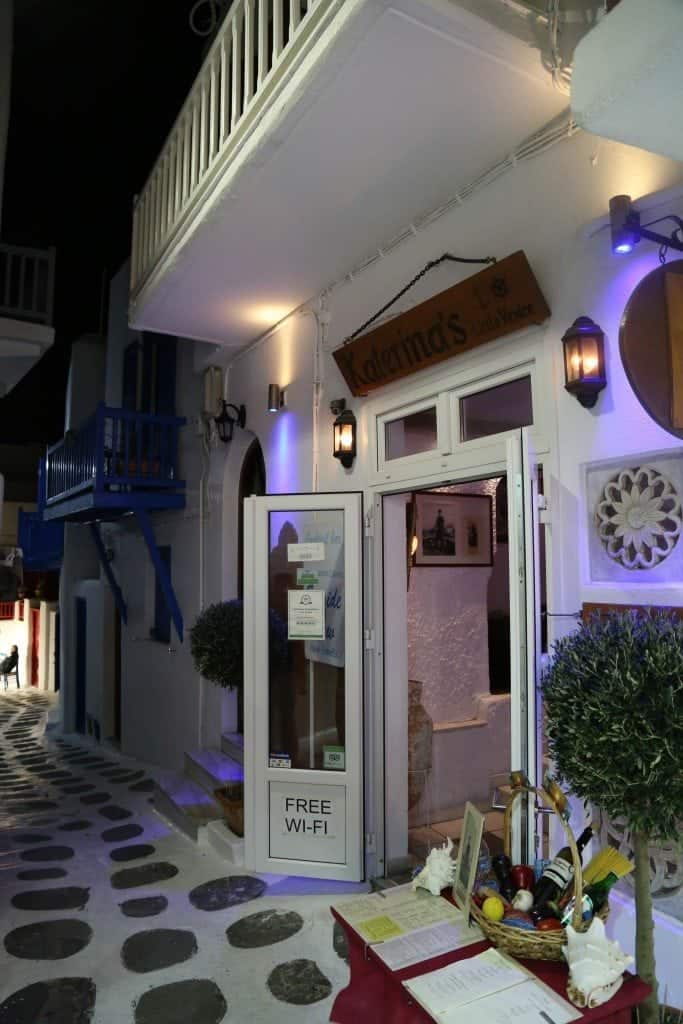 One of the writers who is with us on the trip Angie from Angie Away used to travel to the island frequently. She mentioned an amazing restaurant she used to frequent and we were all in for a group dinner. 13 of us wandered the island until we came upon Katarina's in Little Venice. I have to tell you this was one of the best dinners I have ever had! We started with grilled feta in a tomato sauce that was honestly almost a spiritual moment. The first taste exploded on my taste buds with flavors of feta, olive oil, tomato, and garlic along with rich spices. I am going to fully admit here and now that I may have uttered a moan or 2 as I enjoyed the grilled feta.
The table was silent as we took in the moment and just enjoyed the flavors exploding in our mouth! I just can't even tell you how much this meal knocked my socks off. OH MY YUM!!!!!
By the time our entrees come we were fat and happy off of the feta and not sure we could even take in another bite but we managed. oh how we managed. I had the vegetable pasta and it was light, creamy and oh so delicious. John had lamb soulvaki and he grabbed my arm at one point and just looked to the heavens to tell me how good his meal was.
You would think after having 2 courses that blew our taste buds away that we would be done but no there was still dessert to try. We ordered the oh my plate. I know that sounds a bit crazy but as we were eating our entrees the table next to us erupted in OH MY as they enjoyed the first bites of their desserts. We had no idea what they ordered but we knew we had to try it.
Our waitress brought us a plate of chocolate heaven and baklava like we had never seen before. Soon our table was erupting in OH MY's and eye rolls to heaven as we savored each and every bite.
After enjoying each delicious bite we slowly made our way out of the restaurant and wandered back through town. A bit of shopping, a ton of laughs and tons of photos we had by all as we made our way back to the ship.
The ship is now on its way to Kusadasi Turkey for the morning. We will be visiting Ephesus and the Terrace Houses. The afternoon will be spent in Patmos before boarding the ship heading for Rhodes.