Are you a fan of dark chocolate? If you answered yes you are going to love this Dark Chocolate Cupcake Recipe!
It is time for another cupcake Saturday! Woohoo!!! Hello yum! I love cupcakes. Which probably is no surprise since we share a new one every Saturday morning. I love kicking off the weekend with a delicious treat!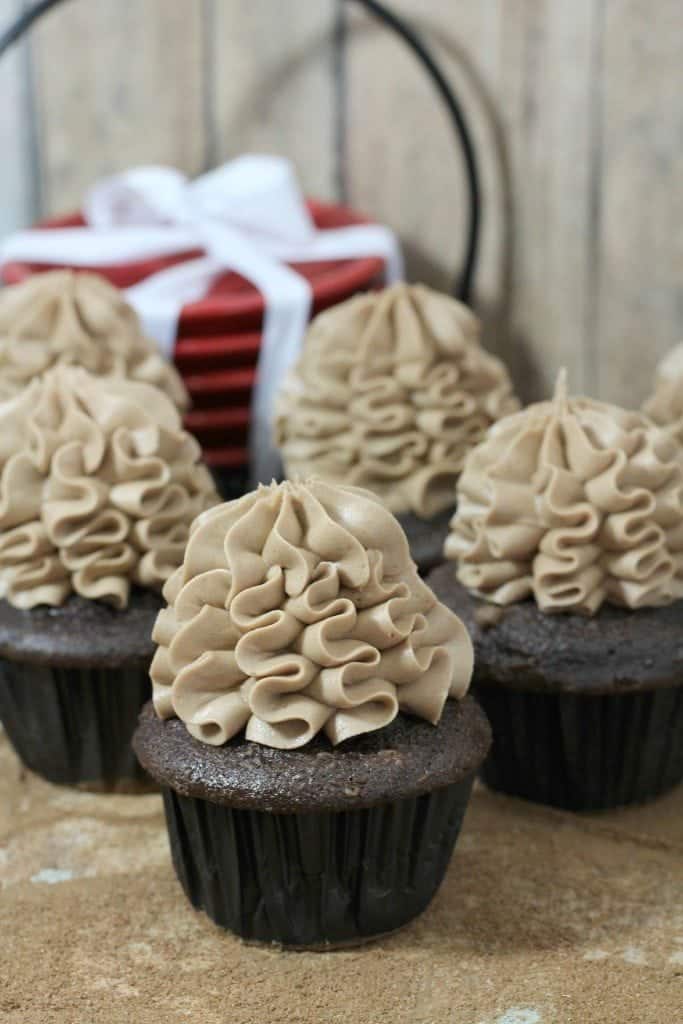 Dark Chocolate Cupcake
Chocolate Cupcake
Cupcake Ingredients:
1 3/4 C Flour
2 C Sugar
1 C  Dark Cocoa
1 1/2 TSP Baking Soda
1 1/2 TSP Baking Powder
1 TSP Salt
2 Eggs
1 C Whole Milk
1/2 C  Oil
2 TSP Vanilla
1 C Boiling Water
Cupcake Directions:
-Preheat oven to 350 degrees.
-Line the cupcake tins with paper liners.
-Mix the flour, sugar, dark cocoa, baking soda, baking powder, and salt in a bowl.
-In a separate bowl add the eggs, whole milk, oil, and vanilla.
-Add the bowl containing the eggs, whole milk, oil, and vanilla to the bowl holding the dry ingredients.
-Mix all together until fully incorporated.
-Beat for 3 minutes on medium.
-Slowly add the boiling water starting with a small amount then pour in the remaining boiling water.
-The batter may be a little runny.
-Fold in mini chocolate chips to batter.
-Scoop  batter into cupcake paper liners until 3/4 full.
-Bake at 350 degrees for 20-25 minutes.
-Remove from oven and allow to cool for 10 minutes.
-Take out of the cupcake pan placing on a wore rack until completely cooled.
Dark Chocolate Frosting
Frosting Ingredients:
1 C unsalted butter, softened
3/4 C dark cocoa powder
3 C powder sugar
3/4 C heavy cream
Frosting Directions:
-Beat butter in a medium mixing bowl on medium speed or until fluffy.
-Add dark cocoa powder and powdered sugar 1/2 cup at a time until blended.
-Test to see if frosting can make and hold a stiff peak by taking a spoonful of frosting and turn the spoon upside down.  If the frosting holds to the spoon then it is ready, if not fold in more powdered sugar.
-Scoop the frosting into a pastry bag with a large star frosting tip. Twist the open end of the pastry bag to push the frosting to the tip.
- Begin frosting on the outside edge of the cupcake working inward to the center of the cupcake.
Do you love recipes? Check out our copy cat recipes, dessert recipes, and our Crock Pot Recipes.

Oatmeal Chocolate chip Cookie Cupcakes