Have you ever felt pain so bad you didn't think you were going to walk again? That is how I felt when I attempted to ride a camel in Beijing China 10 years ago…..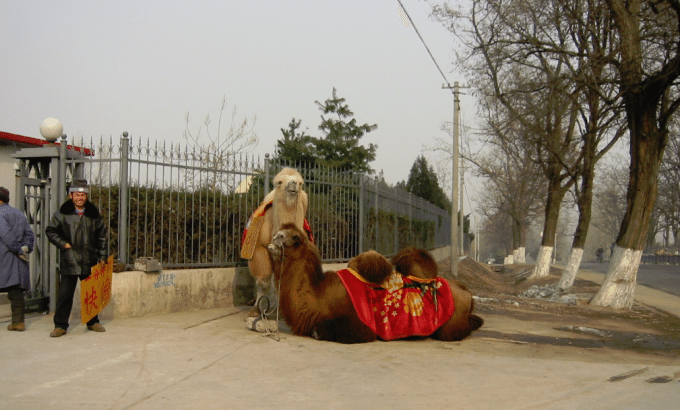 We were visiting the Great Wall of China and a herbal medicine place on a tour when we drove by these lovely camels on the side of the road. I decided that I HAD to have my photo with them. My Mom and I skipped out of the medicinal herb tour and ran down the road in rural china. When we arrived at the camels I negotiated with hand symbols with the camel handler to get my photo taken with them. I wish now I could remember how much this experience cost me.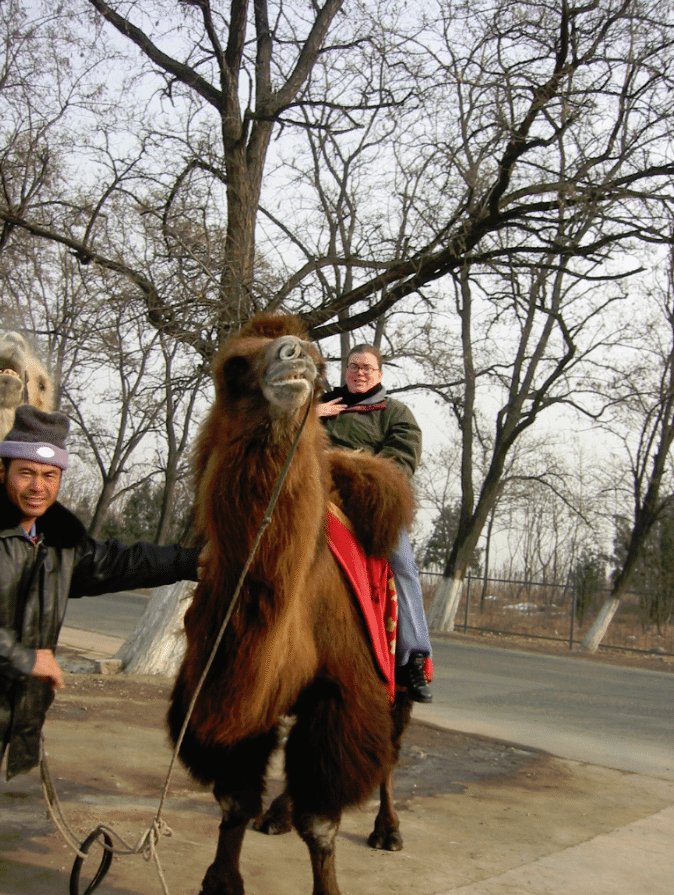 As you can see I was a bit scared when the camel stood up. I started clutching my chest and well I am not sure how to describe the noises that came out of my mouth…..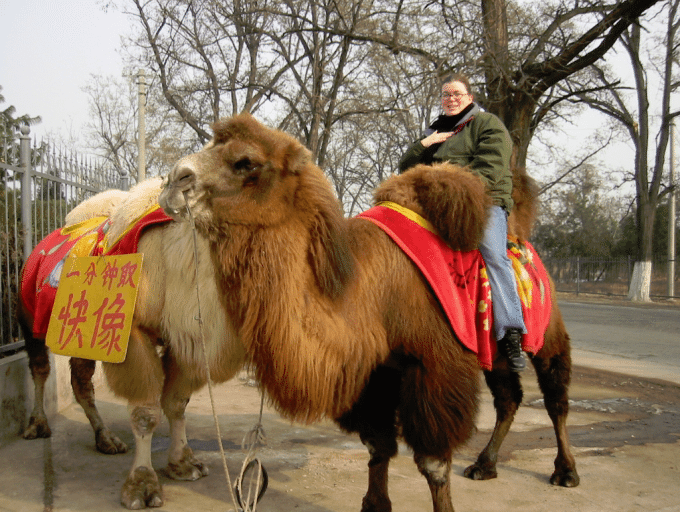 Getting onto the camel the only thing I really knew about camels was they spit and bite. I am not sure were this knowledge came from but it was all I could think of while sitting on the camel.  I started laughing and trying not to squeal as the other camel got closer and closer to my leg.  I didn't want to kick it or try to get my foot anywhere near it but I was about to panic that it was going to bite me….Oh if only this would have been the only thing I needed to worry about.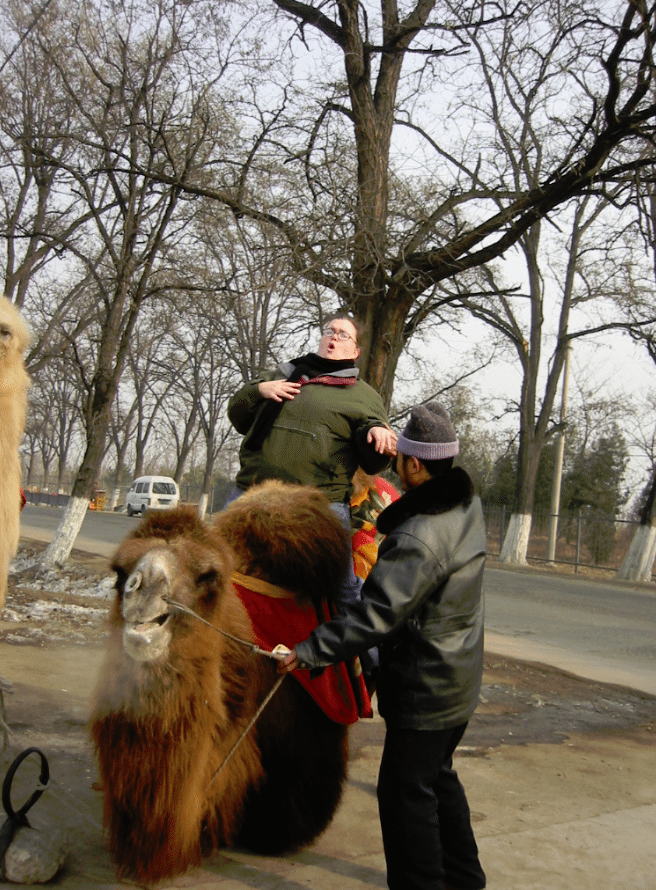 Little did I know that in a few moments I was going to feel a sensation I hope to never in my life feel again…I also made so much noise that people came out of their houses to see what the ruckus was.
What I didn't know getting onto the camel was how painful it is to get off of one, especially when they do not have a saddle or any real padding to protect your delicate parts from their crazy spiny back bone.
I am pretty sure I squealed that I was never going to be able to have children and I was going to die. My Mom was laughing so hard along with the camel handler that they could barely breath.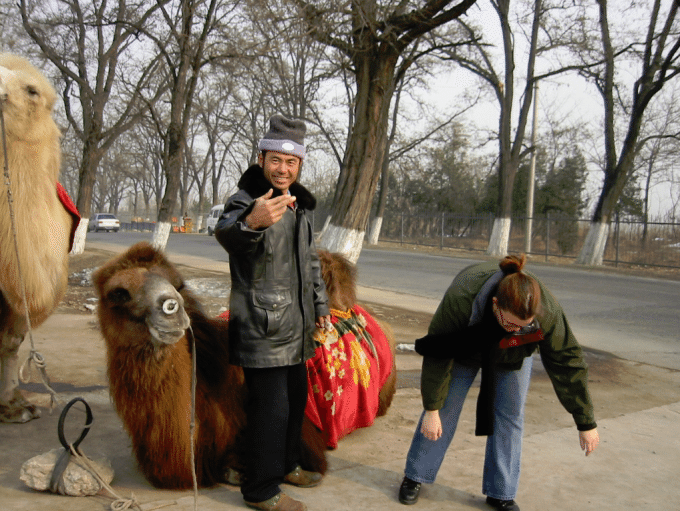 As soon as I got off the camel I thought about kissing the ground but refrained. The lovely camel handler tried to convince my Mom to get on the camel and she politely refused. She decided that experiencing that sensation was not in her plans for the day.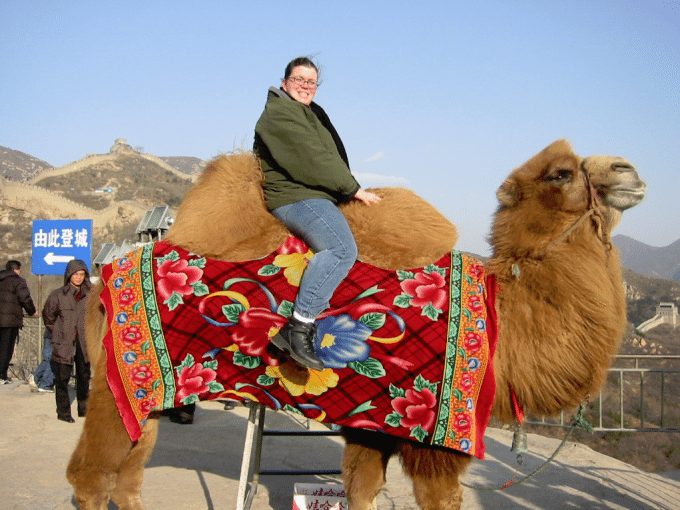 I am such a glutton for punishment that I had to get on another camel while we were at the Great Wall. Thankfully this one had tons of padding and a ladder to get up and down it.
If you ever have the chance to ride a camel please make sure it has lots of padding between your delicate parts and its spiny backbone. This is my public service announcement for the day and I hope it helps you not experience the sensations that I experienced in China.