As we continue our weekly DIY Gift posts this week we are sharing DIY Lavender Bath Bomb!
Did you see last weeks DIY Lavender Bath Salts?
We are working on an entire series of gifts that can be made at home. Our goal is to make gift giving a little easier for you and fun. I love using DIY bath products. It is so cool knowing that you put together the product you are using. Plus they just smell amazing!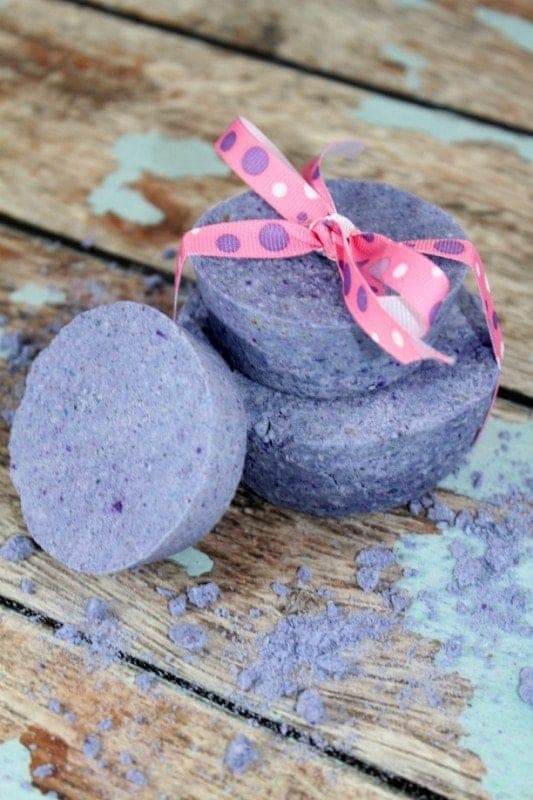 DIY Lavender Bath Bomb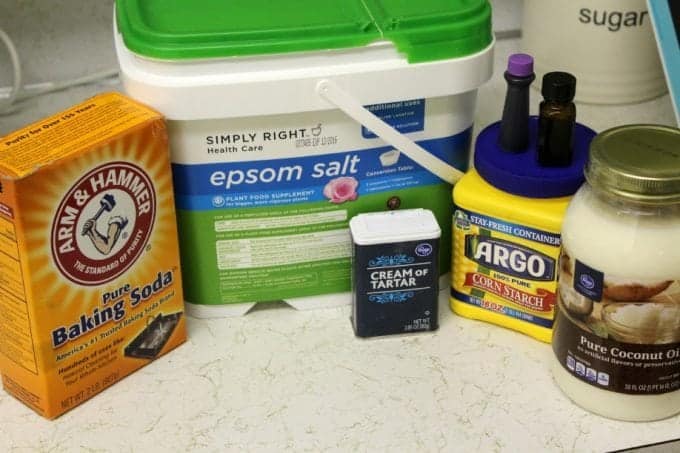 Ingredients
8 ounces Baking Soda for your skin and the bath water
4 ounces Cream of Tartar
4 ounces Corn Starch
4 ounces Epsom Salts
3/4 tsp. Water
2 tsp. Lavender Essential Oil for scent
2 tsp. Coconut Oil
Food coloring if you want colored bombs (Purple) 
A decoration, like dried flowers, non-toxic glitter, or sugar cake decorations.
A small mini muffin pan 
We use this set of Gift Pack with 14 100% Pure Essential Oils
to make different types of scrubs and bath salts.
Directions
1. Mix all dry ingredients in a large mixing bowl (salt, baking soda, cornstarch and cream of tartar)
2. In a separate small bowl, mix water, oil, and food coloring 
3. Combine wet and dry ingredients
4. Mixture should resemble wet sand. Adding the food coloring helps you figure out if it's well-mixed, an even color means a good mix. When you squeeze some in your fist, it should hold together. If it doesn't, add water a few drops at a time until desired consistency is reached.
5. Tightly pack it down into your mold
6. Let dry 24 hours
I recommend not removing from the mold until the mixture is completely dry. However, depending on your mold shape, you may have success with early removal so you can reuse the molds more quickly.
Cupcake and Flat shapes work great removing them from the mold early.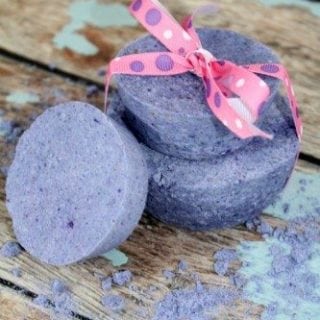 Ingredients
8

ounces

Baking Soda for your skin and the bath water

4

ounces

Cream of Tartar

4

ounces

Corn Starch

4

ounces

Epsom Salts

3/4

tsp.

Water

2

tsp.

Lavender Essential Oil for scent

2

tsp.

Coconut Oil

Food coloring if you want colored bombs

Purple

A decoration

like dried flowers, non-toxic glitter, or sugar cake decorations.

A small mini muffin pan
Instructions
Mix all dry ingredients in a large mixing bowl (salt, baking soda, cornstarch and cream of tartar)

In a separate small bowl, mix water, oil, and food coloring

Combine wet and dry ingredients

Mixture should resemble wet sand. Adding the food coloring helps you figure out if it's well-mixed, an even color means a good mix. When you squeeze some in your fist, it should hold together. If it doesn't, add water a few drops at a time until desired consistency is reached.

Tightly pack it down into your mold

Let dry 24 hours