We love making DIY recipes with our favorite essential oils. We use essential oils daily and absolutely love them. We diffuse lavender each night before we got to bed. I also diffuse essential oils in my office while working during the day.
As we move towards the cold weather months and sadly cold and flu season I thought I would share these fantastic DIY Vicks Vapor Shower Disks with Essential Oils.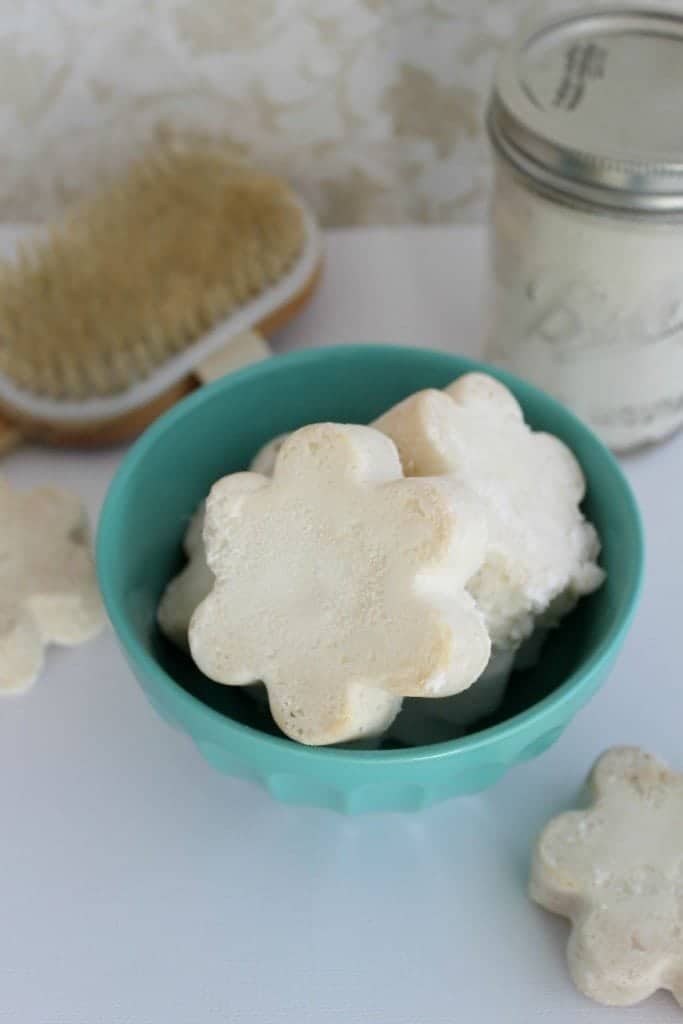 DIY Vicks Vapor Shower Disks with Essential Oils
 Ingredients:
2 cups baking soda
½ cup water (more or less – your goal is to mix until you make a paste)
1 tablespoon of corn starch
Lavender Essential Oil
Eucalyptus Essential Oil
Peppermint Essential Oil
Directions:
1. In a small bowl mix baking soda and slowly mix in water until it becomes just a tad more liquid than a paste. Add cornstarch.  Pour into your desired molds.  I prefer silicone molds because it is easier to remove them without breaking them.
2. Bake at 350 degrees for about 20 minutes, allow to cool and remove from pan.
3. Add 5 drops of Lavender, Peppermint and Eucalyptus Essential Oils onto each disk and allow the oils to soak in. Store in mason jars or a plastic container.
To use simply drop one into the bottom of your shower when needed and allow the vapors to steam out.
These jars work great for gifting your DIY Scrubs and Bath Salts Half Pint Wide Mouth Jars
To label our DIY scrubs for gifting we designed tags using Avery Labels

*Disclaimer: These statements have not been evaluated by the Food and Drug Administration. This information is not intended to diagnose, treat, cure or prevent any disease. The information on this site is not intended or implied to be a substitute for professional medical advice, diagnosis or treatment. Please confirm any information obtained from or through this web site with other sources, and review all information regarding any medical condition or treatment with your physician. Never disregard professional medical advice or delay seeking medical treatment because of something you have read on this website.