A couple of weeks ago we shared what not to pack for your cruise vacation. Today we are sharing what you don't want to forget to pack on your cruise vacation!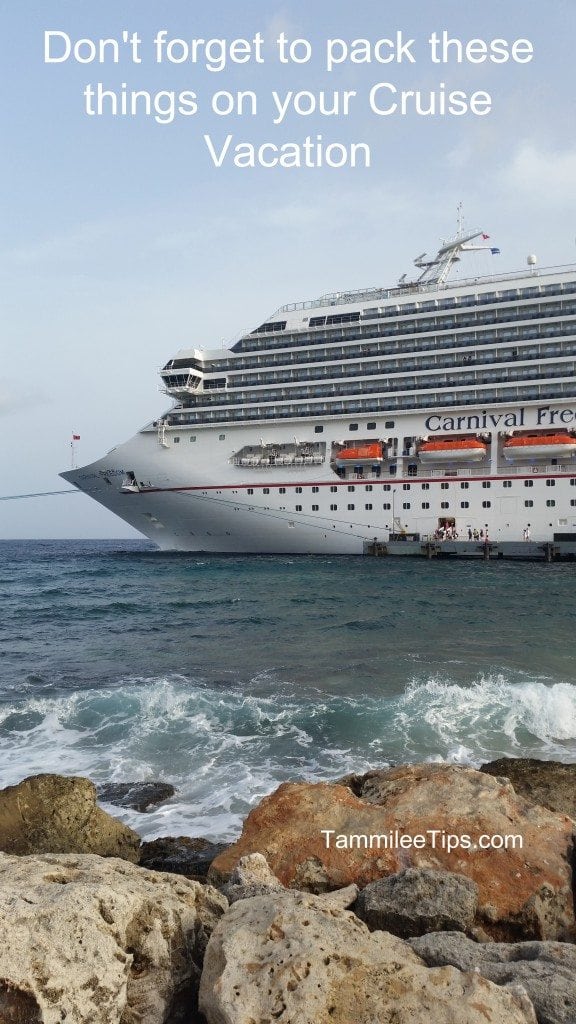 Don't forget to pack these things on your Cruise Vacation
~Wrist Watch
Don't rely on your cell phone. A wrist watch is a great way to make sure you are set to the correct time. Especially on a cruise that visits multiple time zones.
~Power Strip
We love this what not to pack for your cruise vacation
. We have taken it on more trips than we can count and it has been fantastic.
~Sunscreen
~Tide Pen
These Tide Stain Remover Pen
have come in handy more times than we want to admit. For some reason we tend to get a bit more mess on our clothes during a cruise vacation. I am not sure if it is the gentle rocking of the ship or we are just enjoying messier food but the Tide pens have saved many a shirt.
~Water Bottle
~Travel Coffee Mug
~Tums
Lets be honest and admit the food we enjoy on a cruise vacation is not what we normally enjoy at home. Be prepared for an upset stomach by having tums with you. Many cruise ships do not sell stomach medicine at the gift store. You have to check with the doctor to get it.
~Comfortable Shoes
I love these Sanuk Flip Flop
. They are made from yoga mats and are super comfy. I have worn them all day on cruise excursions and never had a problem.
~Sweater or wrap
~Post It Notes
Post It Notes are a fantastic way to leave a note for your room steward. If you need extra towels or have a question
~Extra duffel bag
Even if you don't plan on buying a lot of gifts or souvenirs an extra duffel bag is a great way to store dirty clothes during your cruise.
~Beach bag or back pack
A bag that is great for carrying items while in port but also while visiting the pool deck
Many stores do not offer great bags when you make purchases. Having a bag with you will make life a lot easier not having to carry individual items.
If you get seasick or are worried about getting seasick I would recommend picking up a pair of Sea Band
 motion sickness bands. We carry a set with us just in case. We have used them a couple of times and they have really helped when we felt motion sick.
A Waterproof Pouch
 is great for keeping your phone and room key dry while visiting the beach. They come in a variety of sizes. We use them to make sure we have our valuables with us at all times while visiting the beach. They are also great if you are traveling to an area that gets a lot of rain.
These Waterproof Camera Float
are great if you have a waterproof camera or phone so you know it will float.  If you have a GoPro we use this Bobber for Gopro
 and have had great luck with it.
If you are worried about being in your photos you may want to check out a Selfie Stick
don't worry you will see a ton of them on your cruise!