A huge thank you to Carnival Cruise Lines for hosting us on the beautiful Carnival Breeze! One of our favorite restaurants on the Carnival Breeze was the Guy's Burger Joint. John had his first burger at Guy's Burger Joint before the Breeze even pulled out of the dock. We dropped our stuff off in our room and headed straight up to Guy's Burger Joint for a Ringer Burger.  The Ringer Burger is cheese topped with an onion ring and Guy's Bourbon Brown Sugar Sauce.  We had heard from a couple of pretty reliable sources that this was the best burger on the menu.
As you can imagine John was not sad to have to taste test this burger. He told me on day 1 that he was going to have to visit Guy's Burger Joint many times just to make sure each burger tasted as good as the last.  I think it was his mission to try every type of Guy's Burgers he could while we were on the cruise. He kept telling me how amazed he was that they could produce enough burgers to keep everyone happy and maintain such amazing flavor and quality of burgers.  Even with thousands of people on the Carnival Breeze there was never really a long line for Guy's Burgers. The crew knows how to manage a crowd and get everyone their fantastic burger as fast as they can. The crew at Guy's Burgers was a lot of fun and had us laughing each time we were in line for a burger.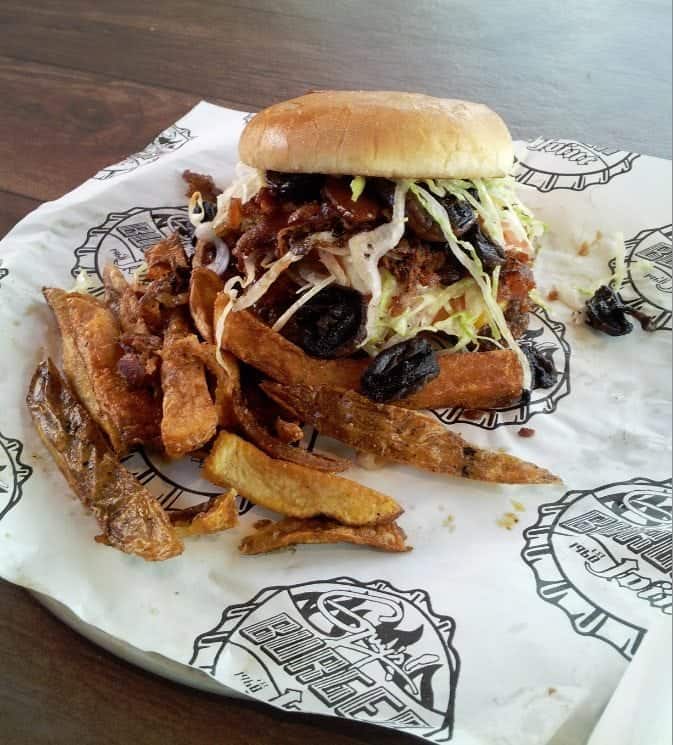 What do you think of the Ringer Burger? Are you ready to take a bite out of it?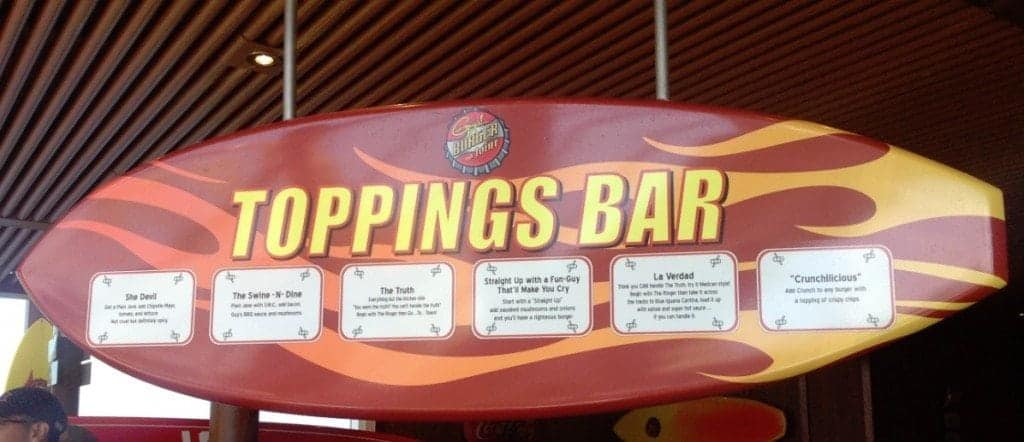 Guy's Burger Joint has a great menu of burgers and a killer toppings bar. You can customize your burger with multiple types of sauces and extras. The Toppings Bar has some suggestions from Guy Fieri on ways to spice up and make your burger even better. You can make a She Devil, The Swine-N-Dine, Crunchilicious and so many more.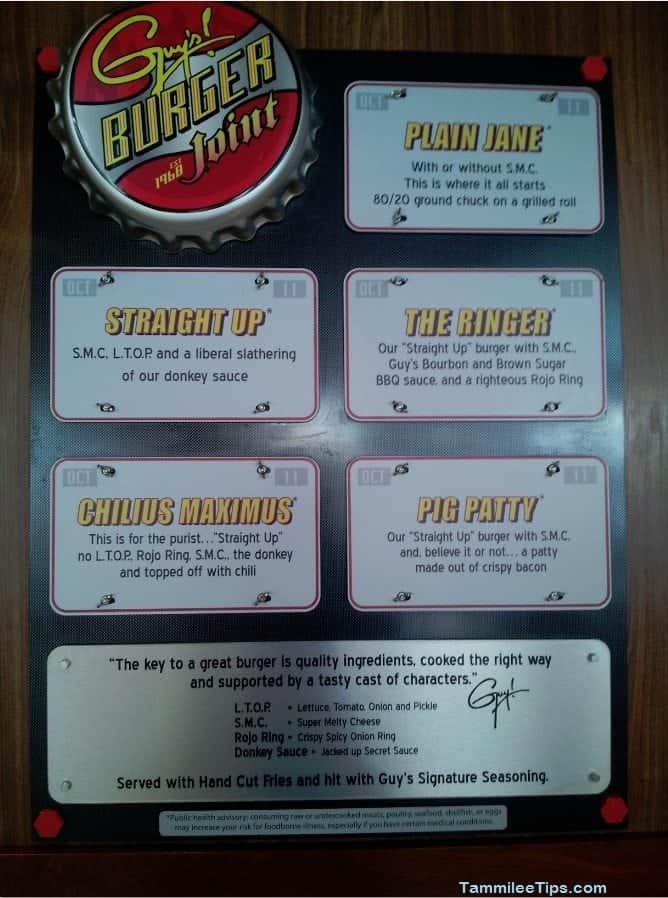 Guy's Burger Joint has quite the menu. Before we left on the cruise we were talking with my parents and my Dad asked if we were going to have some S.M.C or L.T.O.R. on our Guy's Burgers. I was a bit confused and thought he had lost his mind. Come to find out he had been reading about Guy's Burger Joint and the menu. It was quite fun listening to John order his burger and throw out a few S.M.C's and ask for Donkey Sauce. oh and don't forget the Rojo Ring to top it off...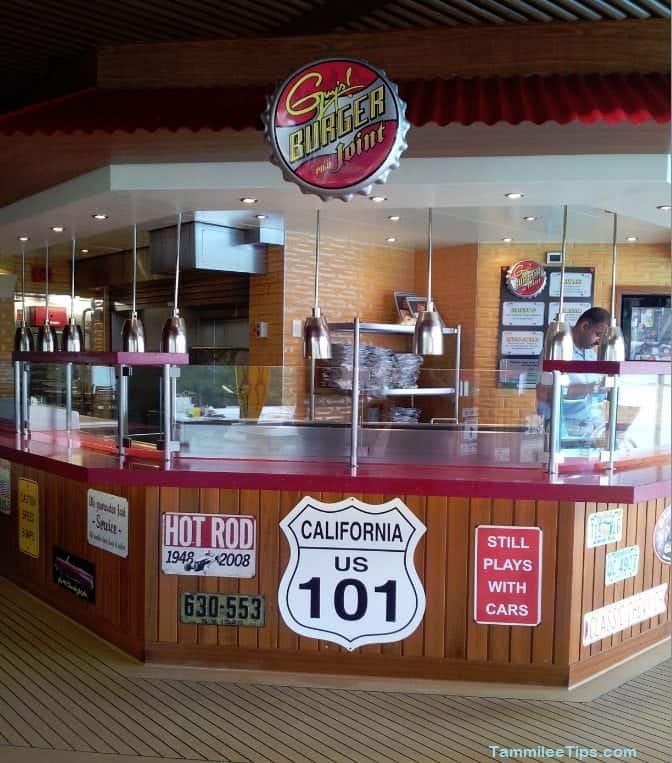 There is a great shaded seating area right near Guy's Burger Joint. You can see what is happening on the pool deck without being in the sun. Plus you can watch the water go by at the same time. The seating area is decorated with surf boards, maps and a ton of decorations that are perfect for Guy's Burger Joint. This area has a great chill California vibe and is the perfect spot for a wonderful lunch.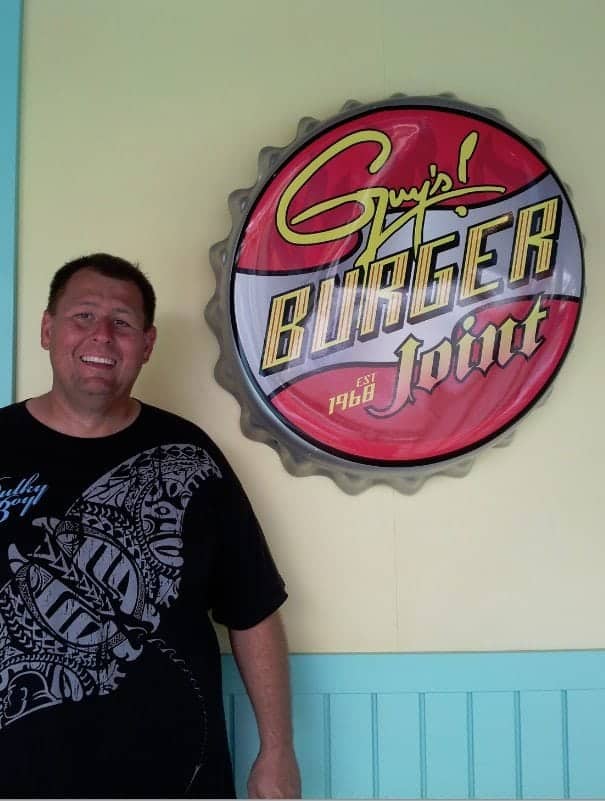 If you visit Guy's Burger Joint make sure you get the hand-cut fries with your burger! HELLO YUM! I am not sure what they do to make these fries so amazing but dang I enjoyed them.
Additional Carnival Breeze Resources
Balcony Stateroom photos and video
 Looking for more information on the Carnival Breeze? Check out all of our posts on the Carnival Breeze