Cupcake Saturday is here again! Wow this past week went so fast!
Today we are sharing these lovely Honey Lavender Cupcakes! Perfect for a summer picnic or get together. I just love the lavender being in bloom and having it around the house. I use lavender essential oil at night and we sleep so well. It is amazing!
Today we combined honey and lavender to make a gorgeous cupcake!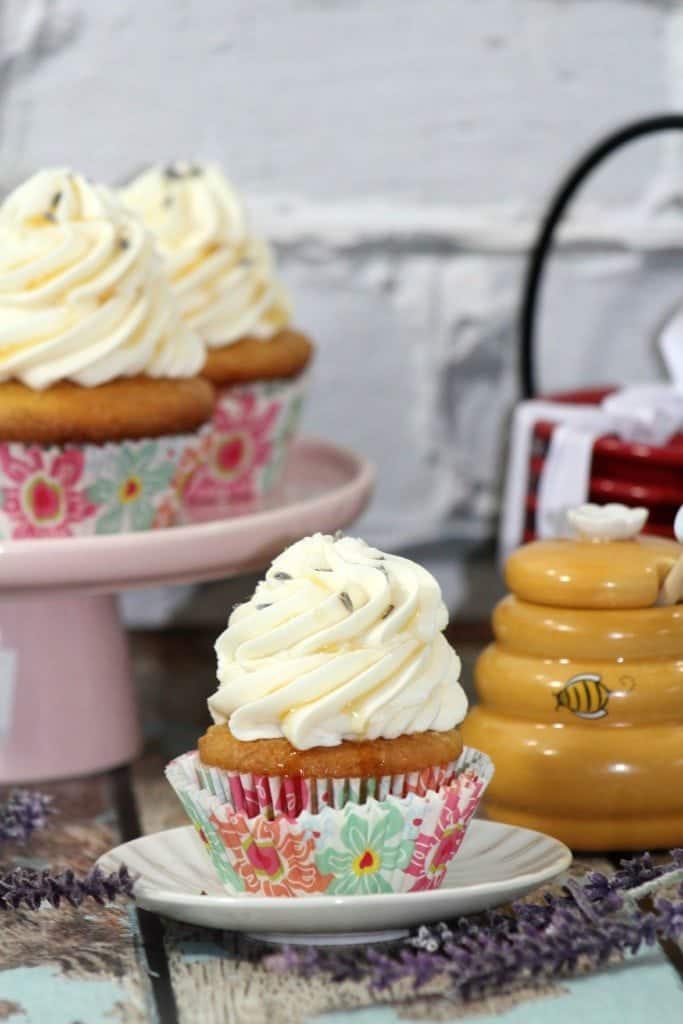 Honey Lavender Cupcakes
Makes 16 cupcakes
Cake:
1/2 cup butter ( room temp )
2 eggs ( room temp )
2 cups all purpose flour
1 1/2 tsp baking powder
2 tap dried lavender
1/2 tap salt
1 cup granulated sugar
1/4 cup honey
1 tsp vanilla
2/3 cup  whole milk
Frosting:
4-5 cups Powdered Sugar
2 tablespoons butter  ( room temp )
1/4 cup honey
1/2 teaspoon vanilla
3 cups powdered sugar
Preheat oven to 350 degrees F.
Combine flour, baking powder, lavender, and the salt and place to the side.
Beat butter with a mixer on medium to high speed until soft peaks form
Add sugar, honey, and vanilla mix until well combined
Begin to add eggs, one at a time, you will need to beat the mix well after each addition.
Alternate the flour mix and milk to butter mixture bowl.
Make sure to beat on low after each addition
Fill cupcake liners ONLY ¾ of the way full
Bake for 16 to 18 minutes
Test the cupcake by using a toothpick inserted in the cake and it comes out clean.
Cool cupcakes on wire racks for 30 minutes until completely cool
Frosting
In large mixing bowl beat powder sugar, butter, honey, and vanilla with mixer on medium until light and fluffy.
Frost the completely cooled cupcakes
Sprinkle with lavender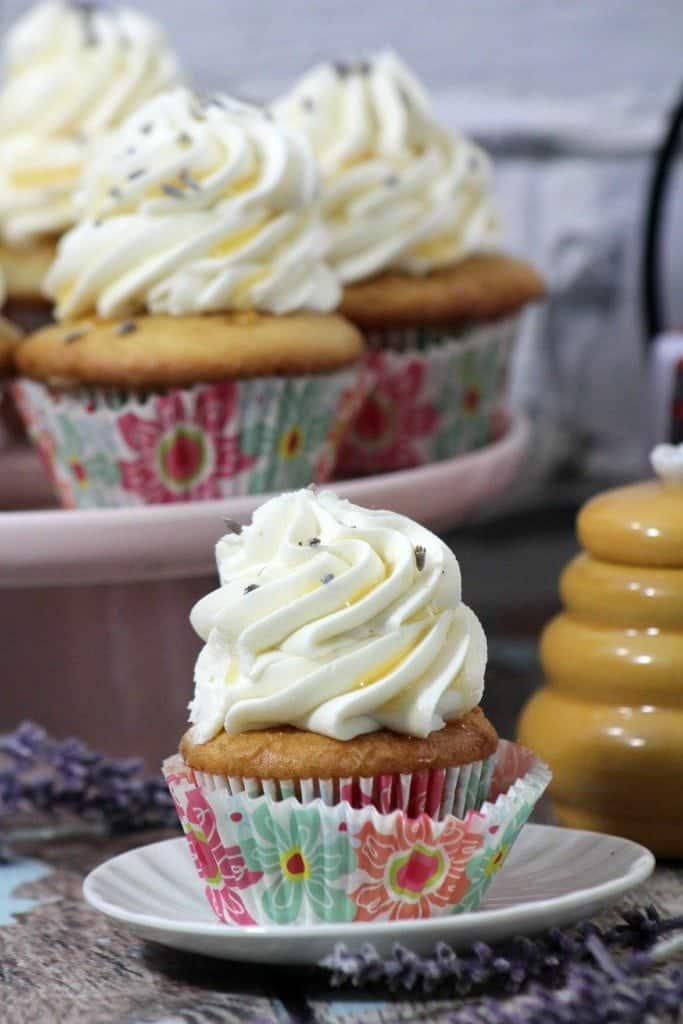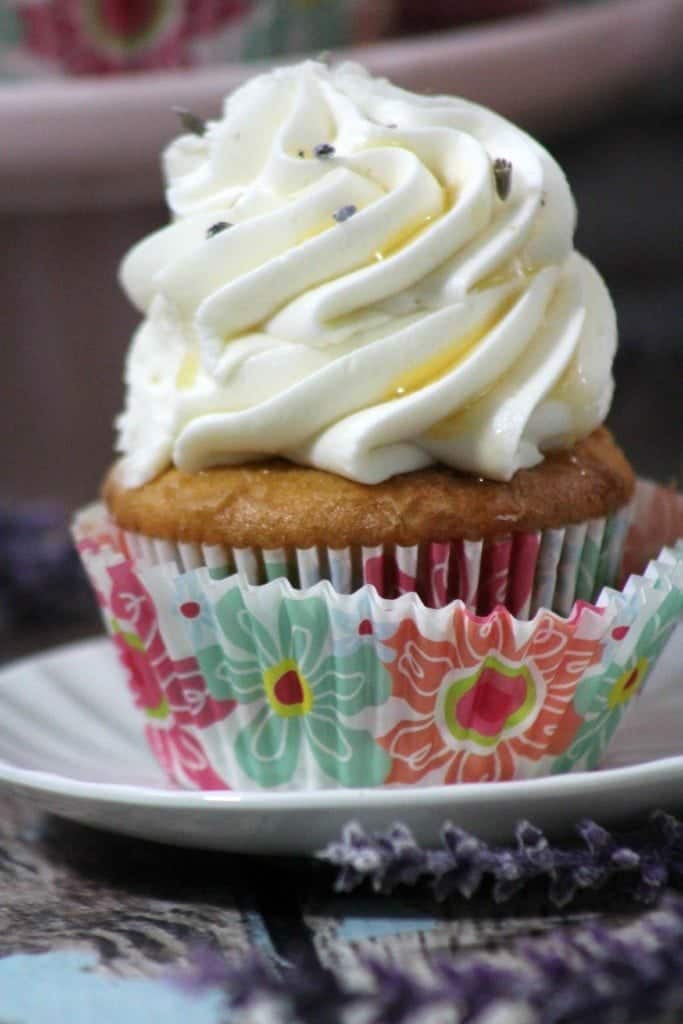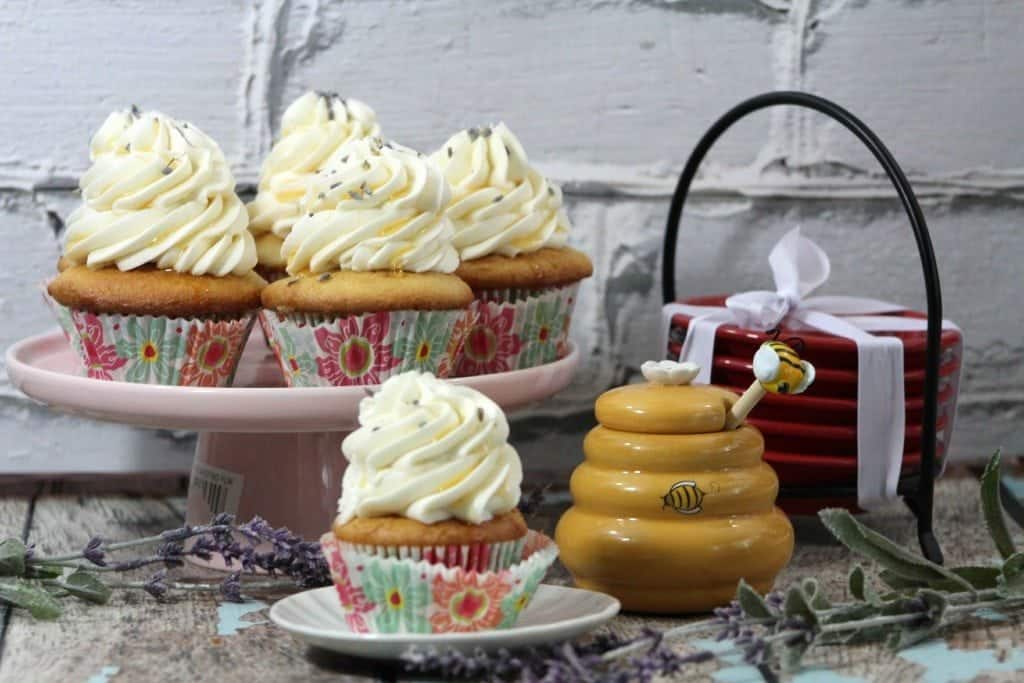 Do you love recipes? Check out our copy cat recipes, dessert recipes, and our Crock Pot Recipes.

Follow Tammilee Tips's board Tammilee Tips Recipes on Pinterest.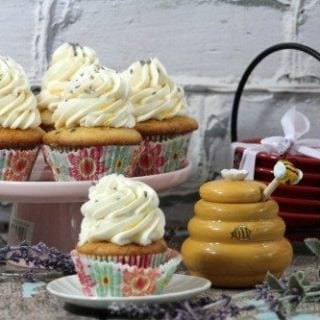 Instructions
Preheat oven to 350 degrees F.

Combine flour, baking powder, lavender, and the salt and place to the side.

Beat butter with a mixer on medium to high speed until soft peaks form

Add sugar, honey, and vanilla mix until well combined

Begin to add eggs, one at a time, you will need to beat the mix well after each addition.

Alternate the flour mix and milk to butter mixture bowl.

Make sure to beat on low after each addition

Fill cupcake liners ONLY ¾ of the way full

Bake for 16 to 18 minutes

Test the cupcake by using a toothpick inserted in the cake and it comes out clean.

Cool cupcakes on wire racks for 30 minutes until completely cool

Frosting

In large mixing bowl beat powder sugar, butter, honey, and vanilla with mixer on medium until light and fluffy.

Frost the completely cooled cupcakes

Sprinkle with lavender