This is a sponsored post written by me on behalf of Groupon Getaways. All opinions are 100% mine.
We decided to spend 24 hours in NYC on our way to Bali. We figured it would help break up the flight and John has never been to NYC before. We found a killer deal for a hotel right in Manhattan on Groupon Getaways.
The NYLO Hotel was the perfect hotel for our quick trip to NYC. We were only a few blocks from Central Park and the Natural History Museum. We spent our time in NYC Wandering and enjoying as much as we could of the city.
What trip to NYC would be complete without a bit of street food!
One thing I learned early on when I married a Park Ranger is you tend to find parks even in giant cities. We spent a big portion of our day in Central Park. This was the first time that John has visited NYC. I have been to the city a few times but never had time to really enjoy Central Park. We were amazed at how big the park is and how many things there are to do within the park.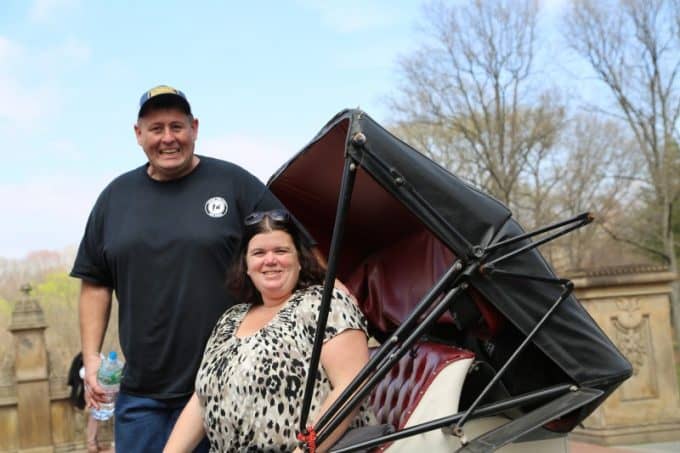 We splurged on a horse drawn carriage ride through Central Park and it was amazing. Our driver was a fountain of knowledge about the park and surrounding buildings. It was a really cool ride and we would definitely do it again the next time we are in NYC.
After enjoying a gorgeous day in NYC we headed to the airport and caught our very long flight to Bali.
Thankfully there was a layover for a few hours in Frankfurt, Germany. John had to get a beer in Germany. He told me it was the thing to do.
We then flew an additional 12 hours to Singapore airport and spent a quick hour there. Thankfully the hop from Singapore to Bali was only 2 hours. In total from Spokane we flew about 27 hours to reach Bali and it was soo worth it!
One of the great things about booking a Groupon Getaways is they set up all the airport transfers for us. We were met by a nice guide at the airport who brought us to the Ossotel Hotel and made sure we were checked in safely.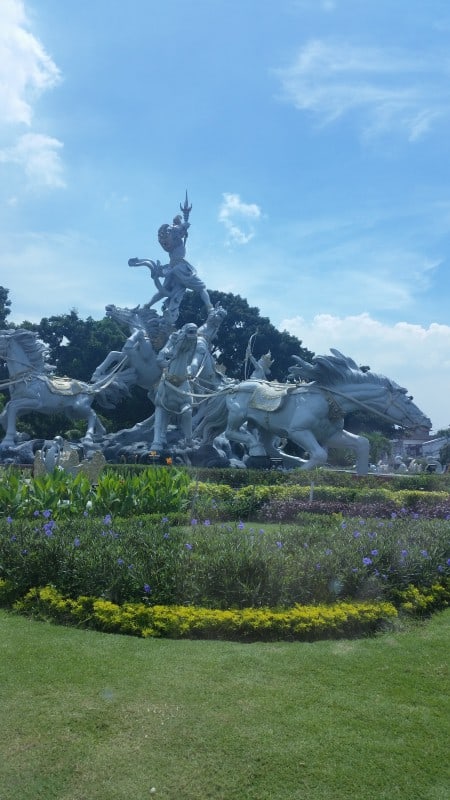 We were only 10 minutes from the airport when I was already taking pics out the window. How cool are this giant statues?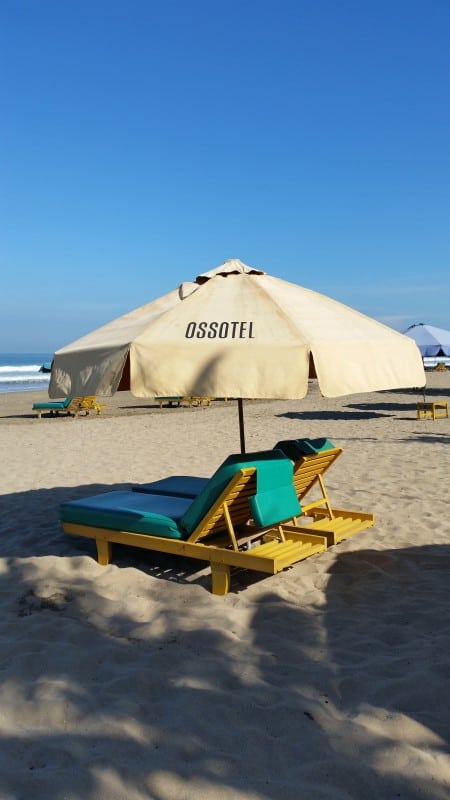 Once we were checked into the hotel, we crashed for a power nap that ended up being about 15 hours worth of sleep. We were a bit wiped out from the flight.
After a great night sleep we had one mission and that was to hit the beach. Thankfully the Ossotel has umbrellas available for their guests. It is quite warm in Bali and super close to the equator. We wanted to make sure we didn't burn on day 1.
We enjoyed a great morning at the beach including getting a pedicure and manicure right on the beach. That was a definite first for us.
The water near the hotel is perfect for surfers but a bit rough for every day swimming. We headed back to the Ossotel and enjoyed the lovely hotel pool.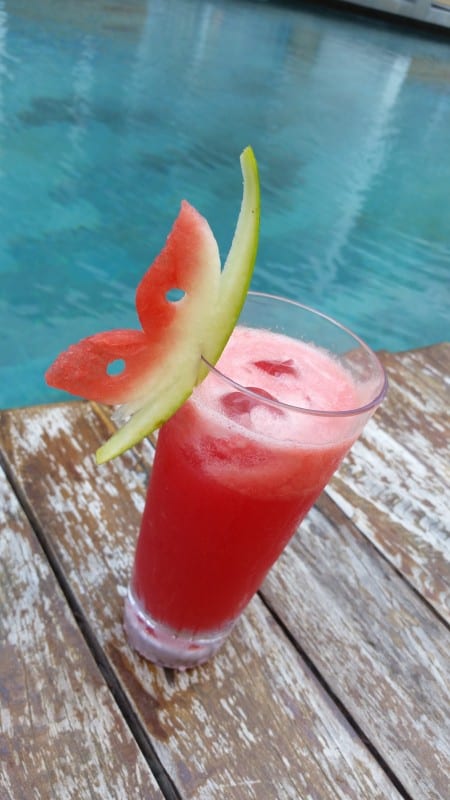 We have fallen in love with fresh watermelon juice at the hotel. How cool is the butterfly on the side! I may have been enjoying these drinks every chance I get. They are so refreshing.
We found an amazing spa right across the street from the hotel with killer massage deals. We figured it was the thing to do so we have enjoyed multiple massages during the few days we have been in Bali so far.
One of our favorite things we have done in Bali so far during our trip was book a private cooking class right at the hotel. It was amazing!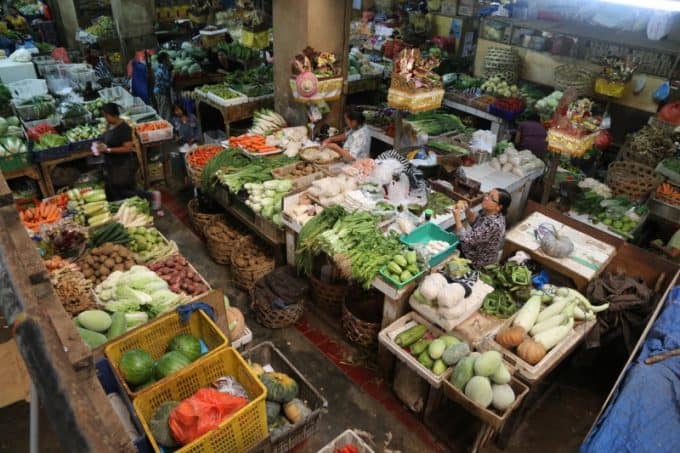 We started the cooking class off by visiting the largest market in Bali. It is open 24/7 and huge. I am so glad we had a guide with us. It was multiple levels of vendors selling everything from fresh fruits and veggies to raw chicken and fish.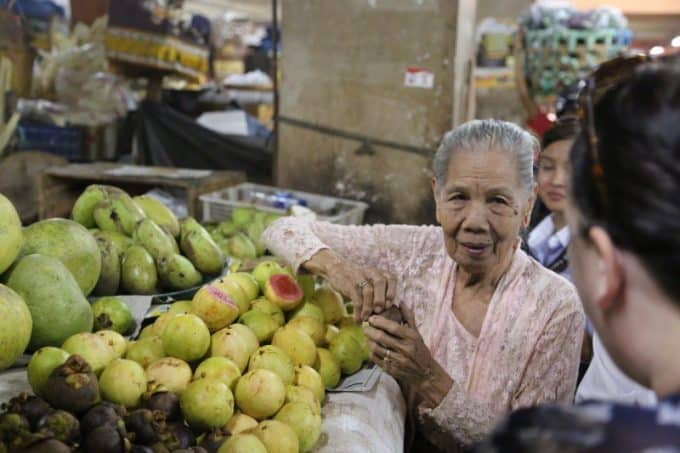 This lovely fruit vendor let us try multiple tropical fruits we had never tasted before. It was so amazing!
After visiting the market we headed back to the hotel and learned to cook 6 different dishes that are from Indonesia. We will get to enjoy our dishes for dinner later tonight. I can't wait to see how they all turned out.
The samples we tried during the class were amazing.
I can't believe we have only been in Bali for 2 full days. This Groupon Getaways has far exceeded our hopes for an amazing trip. We have so much planned for the rest of our visit.
We are sharing pictures on Instagram, Twitter and Facebook with the hashtag #MyGrouponGetaway. Make sure and check out Groupon for all of the amazing travel deals!
You can keep up with live updates while we are here. I can't wait to share more of our amazing adventure in Bali over the next few weeks!