I am a restaurant.com Review Crew Member. All opinions expressed are my own.
During our trip to Las Vegas we had lunch at Pampas Brazillian Steakhouse inside the Miracle Mile Shops. Before we left Spokane I printed off a fantastic Restaurant.com gift certificate for Pampas. I found a ton of great restaurants in Las Vegas on Restaurant.com. I made sure and printed a couple of different options for our visit so we could enjoy great meals while still saving money during our trip.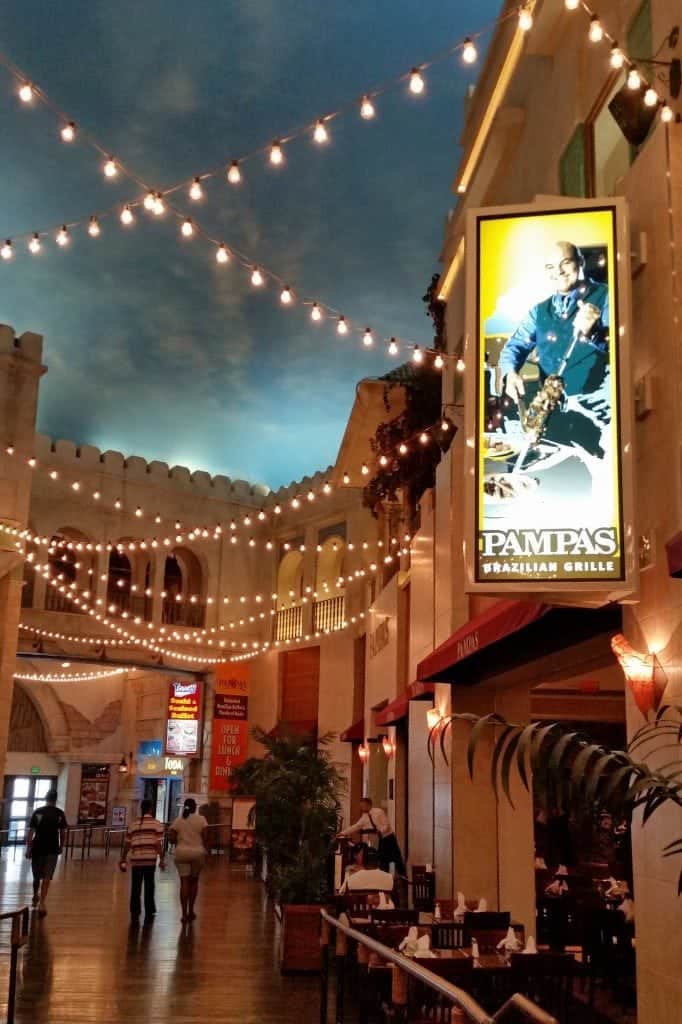 Pampas Brazilian Restaurant was phenomenal! This was our first Brazilian steakhouse experience and certainly not our last. I have to say my dear Husband loved trying all of the different meat options that were brought to the table. There was chicken, steak and pork available along with grilled pineapple which was delicous.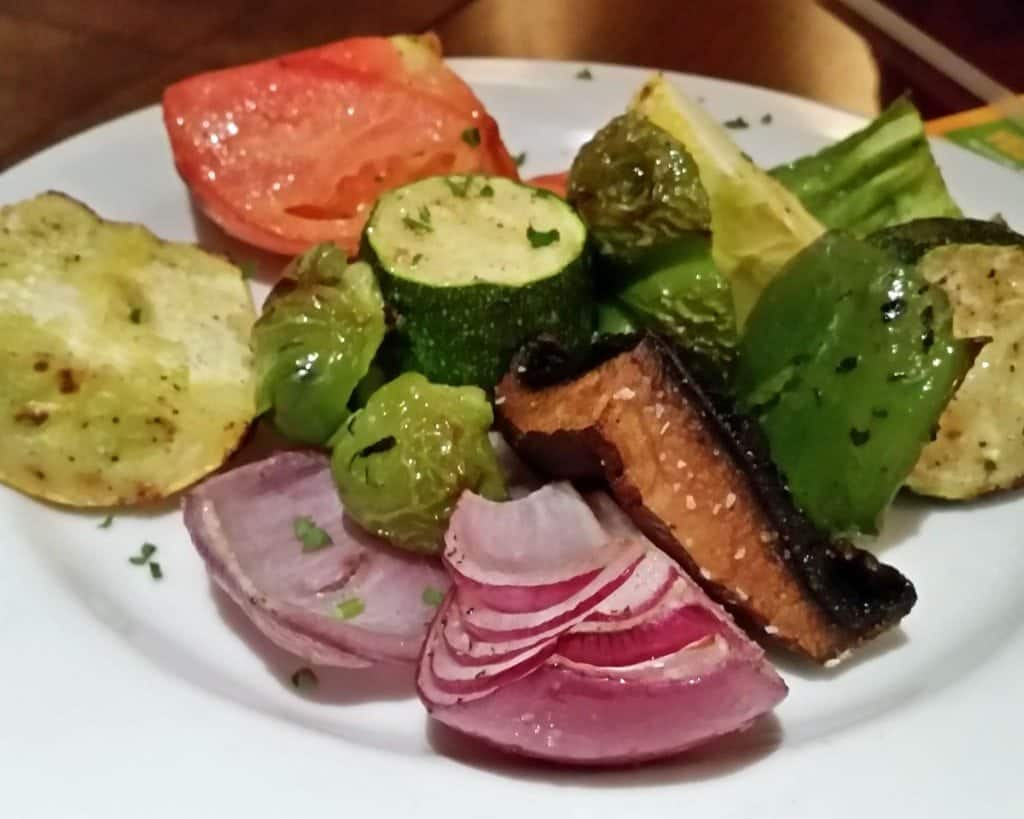 As a vegetarian I wasn't sure what I would find at a Brazilian steakhouse. I was really excited to find a huge salad bar with a ton of options along with vegetable rodizios that were made to order.

Both John and I loved this restaurant. I highly suggest ordering a Brazilian lemonade! This drink was so refreshing and perfect for a hot Las Vegas Day.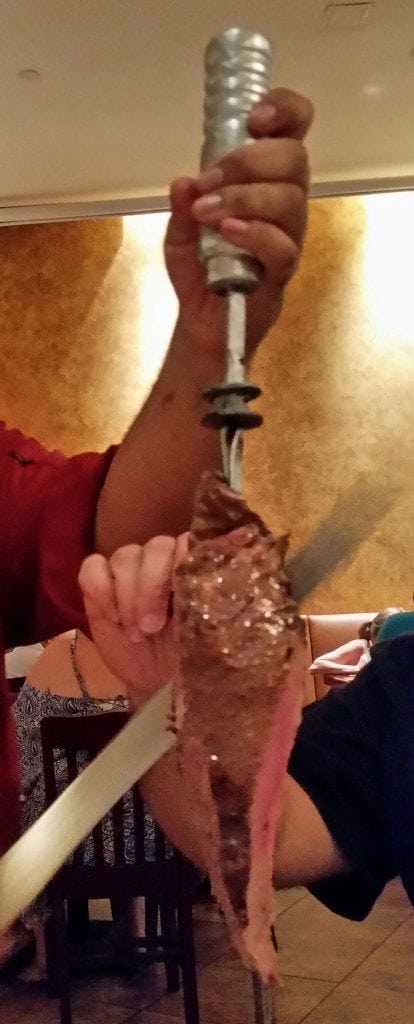 Pampas Brazilian Restaurant is located inside the Miracle Mile Shops right on the Vegas Strip. You can pick up a Restaurant.com gift certificate to help save during your visit to Las Vegas!
To find out more check out Restaurant.com and see all of the great restaurant options available in Las Vegas and across the country.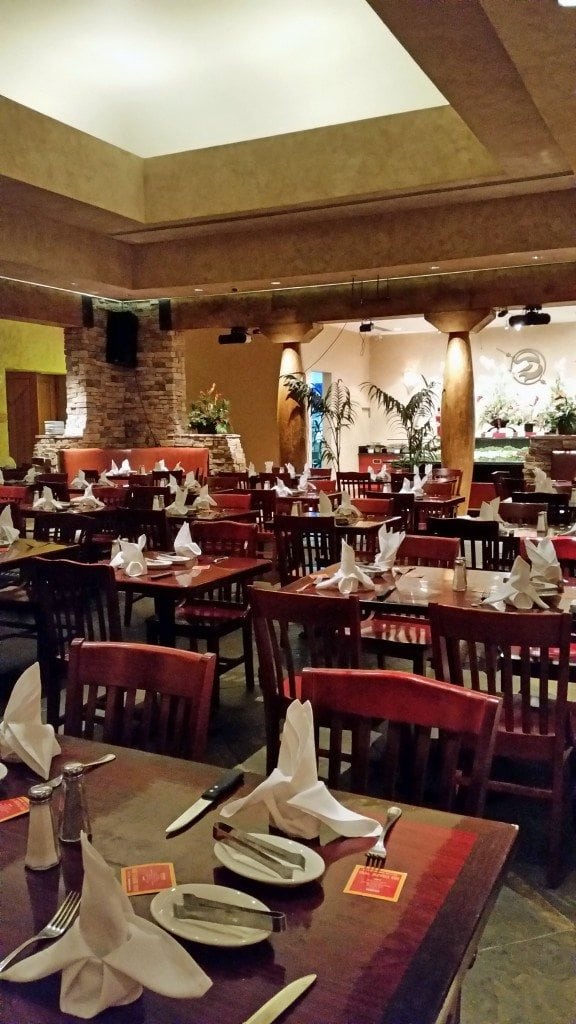 Details – 
Dine at your own pace. Eat as much as you like. Sizzling skewers brought to your table in a seemingly endless parade of food. Sit back, relax
and enjoy the "Ultimate Dining Experience"
Enjoy these great side items to enhance your Rodizios, all items are served family style to share for your table
Fresh Buffet Bar $14
Over 50 homemade salads, soups, chili, sides and entrées. Featuring feijoada, mashed potatoes, fresh vegetables, fried bananas, and fresh baked pao de queijo
Meat Rodizio $20
Take part in our parade of meats including
Picanha Nobre: traditional Brazilian cut of top sirloin seasoned with rock salt
and olive oil
Lombo pork leg with coriander adobo
Maminha De Alcatra: tender tri tip roast seasoned with sea salt
Frango: Tender chicken breasts wrapped in bacon
Frango Picante: chicken legs marinated with garlic, chilies, and vinegar
Linguiça De Porco: house-made pork sausage with fennel and garlic
Abacaxi slow roasted pineapple
Pernil de Porco smoked ham
Ultimate Surf and Turf Rodizio $29
Enjoy all Rodizio grilled meats with unlimited servings of Gulf Shrimp glazed with garlic butter, Seasonal Chef's Selection, Grilled Salmon with Magalia glaze
Rodizio grilled catch of the day
Vegetarian Rodizio $17 
Skewered roma tomatoes, zucchini, squash, peppers, onions and portabella mushroom seasoned with sea salt and olive oil served table side. Help yourself to
unlimited samplings from our side bar which features over 50 hot and cold sides and salads to complete your experience.