We only had 5 hours to do as much as we possibly could in Aruba. We have been to Aruba before so we had an idea of the places we wanted to visit during our short time on the island.
Aruba has some of the most amazing beaches I have ever seen. The sand is super soft and feels fantastic between your toes. We knew we wanted to spend as much time as we could on the beach and soaking up the bathwater warm ocean. Here is how we filled a quick 5 hours in Aruba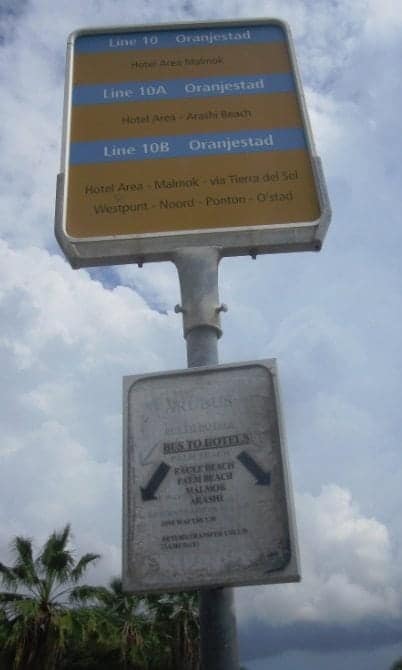 What to do with 5 hours in Aruba on your Caribbean Cruise!
7am – Disembark from the boat and head to the bus terminal
The bus terminal is right across the street from the cruise ship terminal. It is a super easy and fast walk to the bus terminal.
There are signs at the bus terminal showing which buses go to the beach.  You can grab a local bus for $1.30 to Eagle or Palm Beach.
The bus takes US currency without a problem and can give you US change back. We have taken the bus a couple of times while in Aruba and it is always on time and super easy to ride.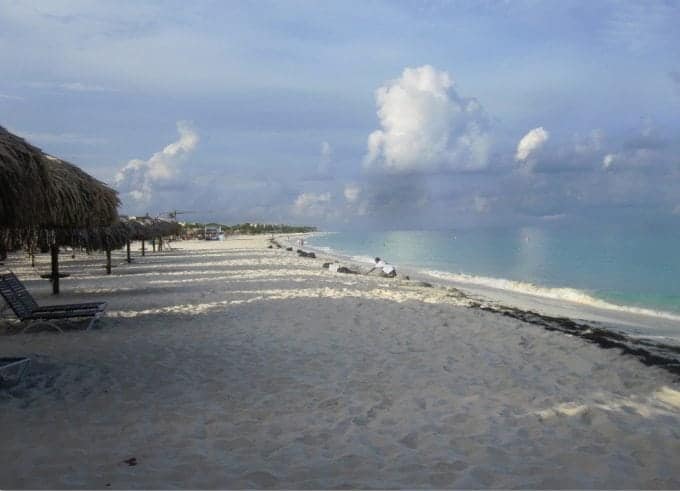 Spend 2 hours soaking up the sun and water at the beach. The water is the warmest water we have ever been in.
It feels like you are soaking in a bathtub. If you want a cabana you can rent one from the local hotels.
This time they were $15 for a beach chair under the cabana. We chose to sit on the beach since we were only at the beach for a couple of hours. The sand is super fine and really soft. It is pure white and you just want to sink your feet into it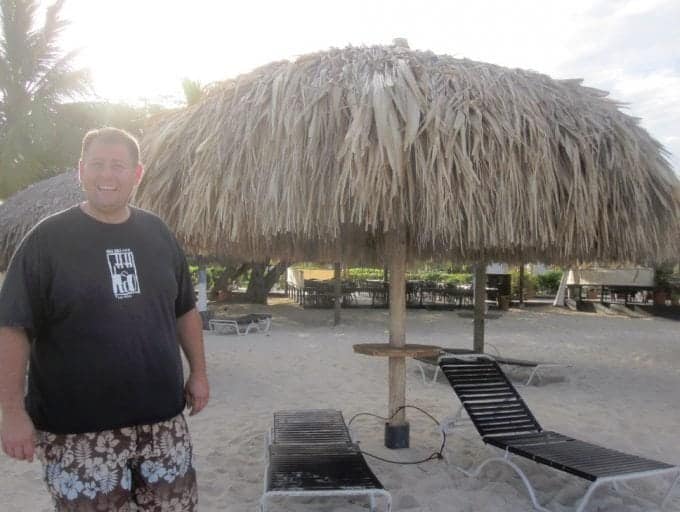 10am Grab a bus back into town. The buses are either normal size or minivans. Don't be surprised if a minivan pulls up marked bus and the door swings open. The buses are pretty comfortable and get you back into town really fast.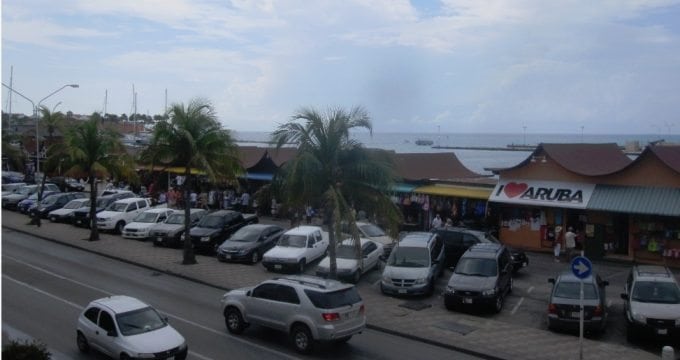 Spend time shopping and checking out the markets
There is a wide variety of shops available. Everything from Louis Vuitton and Coach to local handicraft stalls. The shop keepers are very friendly and will tell you about their island. We picked up an Aruba license plate for $3.00 and a couple of small trinkets.
They have fantastic metal lizards that are brightly colored ranging from $7 to $50 depending on the size. One thing to note is the t-shirts are wrapped in plastic to keep them safe from rain. The shopkeepers prefer that they stay wrapped and will ask you to not open them.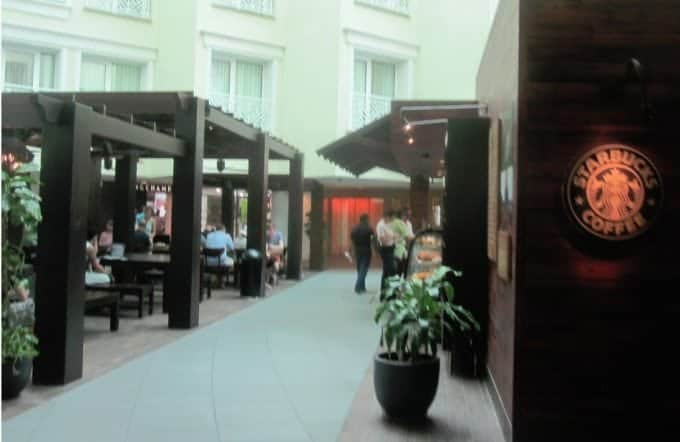 There is a Starbucks inside the Renaissance Hotel. They have a nice sitting area and make a really nice frappucino. It is so warm that the frappucino's do not last long. This is one of our favorite stops while we are in Aruba. You can pick up an Aruba Starbucks mug and enjoy a taste of home.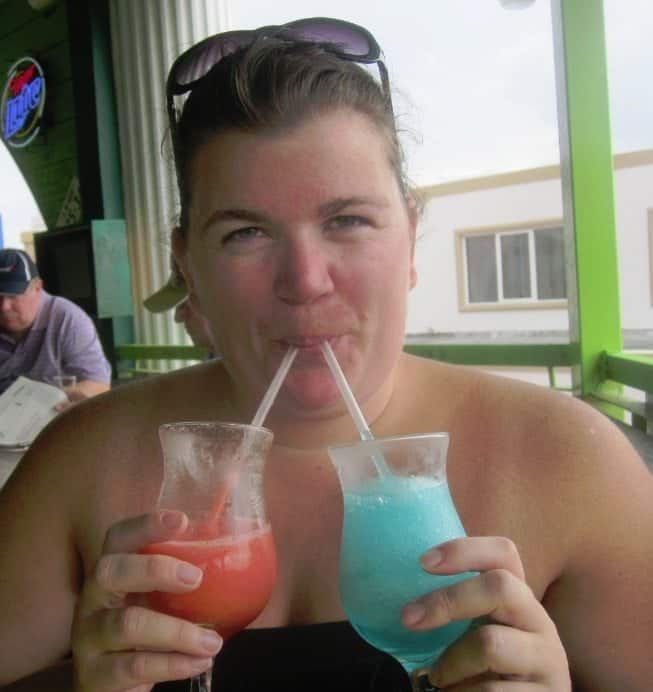 11am. Bacardi Mojito Bar and Grill for a cool drink
It is hot and muggy in Aruba by 11 am. We were so happy to find the Mojito Bar and grill open at 11 am. We enjoyed a frosty frozen concoction and looked out over the bay. We picked up a bucket of beers (pre-warning they are 7oz beers and smaller than John's hand) and chips and salsa for $20.
The bartenders were really friendly and fun to talk with. The view from the bar is fantastic. You can see out over the water and the main shopping district. I asked the bartender to surprise me with a frosty drink. He made up a couple of super amazing frozen drinks. I am honestly not sure what they were but they were cold and tasted amazing.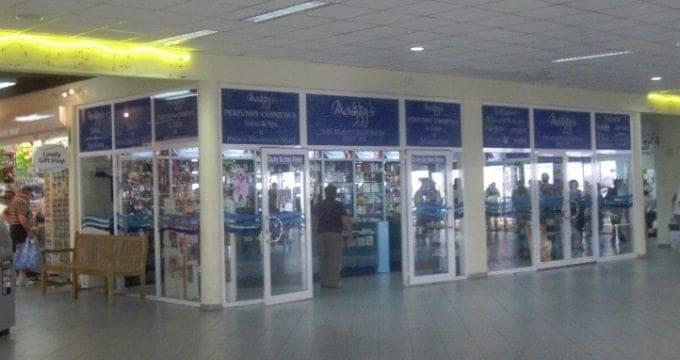 There is a small shopping center inside the Aruba port terminal. There are maybe 10-15 small stores in the cruise terminal. You can find Aruba aloe, trinkets, liquor, and local handicrafts. There is an internet café area and an information desk in the terminal. We walked in and out of the terminal with a bit of shopping in less than 20 minutes.
Aruba is one of our favorite Caribbean islands. The locals are very friendly!! We have had amazing conversations about the island, culture, and life on the island with the locals we have met. This is an island that I feel very comfortable traveling on. We have been able to head out on our own each time we visit the island and have a truly fantastic time.
Are you planning a cruise vacation? Check out our other cruise travel posts and let us know if you have any questions about cruising.
Check out these other great Caribbean Cruise Posts:
Things to do in St. Maarten on a Carribean Cruise
1st-time cruise questions answered
Amber Cove, Dominican Republic