During our visit to Las Vegas we were given the opportunity to experience Zarkana by Cirque du Soleil! Zarkana is truly a visual spectacular that is not to be missed.
From the moment we sat in our seats we were entertained. Not once during the entire production did I think to look at my watch and see how much longer there was in the show. I was transported into a world that only Cirque du Soleil can create. I was mesmerized and in awe of the visual spectacular happening in front of me and above me.
Zarkana in Las Vegas is performed inside the Aria hotel and it is honestly amazing.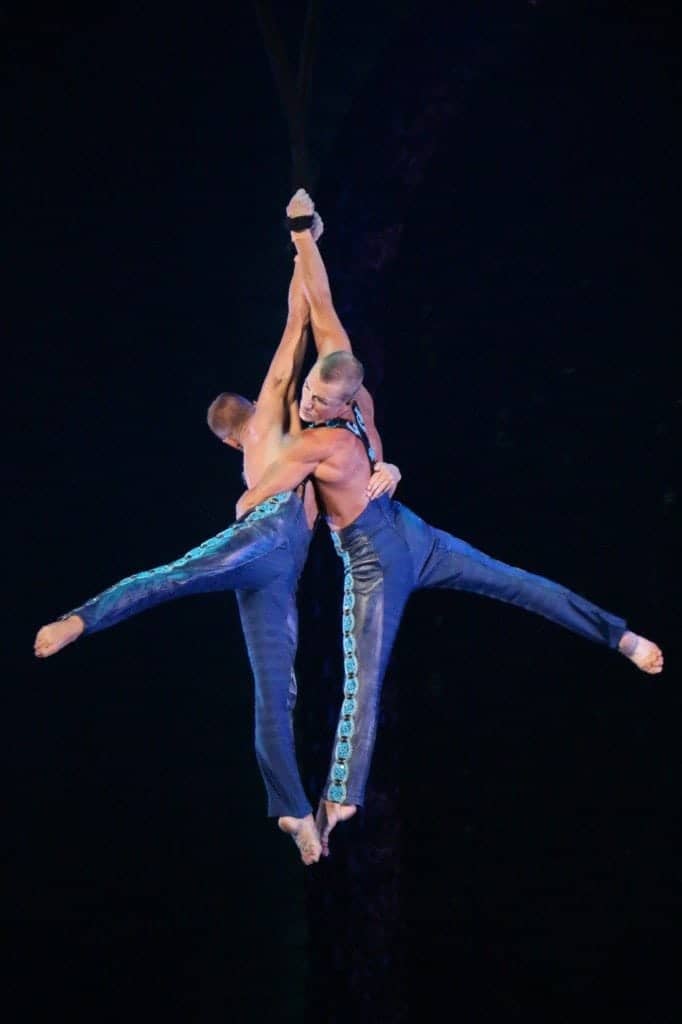 The show is filled with awe inspiring acrobatics, high rope acts, comedy, and so much more.
At one point there were aerial artists above our heads and I found myself just watching in awe.
You never know what is going to happen next on stage and that is one of the best parts. One minute you may be laughing out loud at the antics of a crazy clown type character and the next your mouth is open in awe of the arialists that are throwing their bodies through the air.
Your eyes feasting on the colors and movements on stage.
Your ears taking in the sounds of the live band and singers that accompany each of the acts and help propel you along the journey of Zarkana.
The people seated next to us had seen every Cirque du Soleil show in Vegas except for Zarakana. Before the show she told me she was excited but wasn't sure how she would feel about the show since she had seen so many of them. At the end of the show she was on her feet cheering for the performers and telling her Husband how much she loved it.
As we walked out of the theater every person we heard was talking about how in awe they were of the performance and how much they loved it. We heard people asking their companions if they should book tickets for the next night and see it again.
This show truly transports you into another time and place. You stop worrying about life outside of the theater and just let your mind and body enjoy the experience.
I told John that I have a new bucket list goal of seeing every Cirque du Soleil show that is in Vegas. This was our first Cirque du Soleil experience in Vegas but it definitely will not be our last. We are already talking about which shows to see on our next trip to Vegas.
Important Details
Zarkana  is at the ARIA Resort & Casino at CityCenter
Zarkana by Cirque du Soleil is a spirited journey through an abandoned theater where an extraordinary circus comes back to life. Populated by a motley collection of off-the-wall characters and incomparable acrobats, Zarkana is a visual vortex set in a twisted acrobatic fantasy universe where, little by little, chaos and craziness give way to a true celebration.
Show days and times – Zarkana performs at 7:00 pm and 9:30pm Friday through Tuesday.
Where to buy tickets-There is a box office located inside the Aria Hotel. You can also purchase tickets on line
You can find Zarkana on Facebook , Twitter @Cirque
Check out the hashtag #Zarkana to see all of the great photos from the show.
For more information, visit the Cirque du Soleil website at www.cirquedusoleil.com.
Zarkana is currently the only Cirque du Soleil show that allows guest to take non flash photos during the show.
Make sure and arrive early to watch the performers that randomly appear outside of the theater and inside the theater before the show. You never know who you will turn around and see behind you.