Are you thinking about starting a blog or already have one?  I thought I would share some of my favorite companies that I work with. I have used these companies for years and feel very comfortable referring you to them. Please let me know if you have any questions about blogging.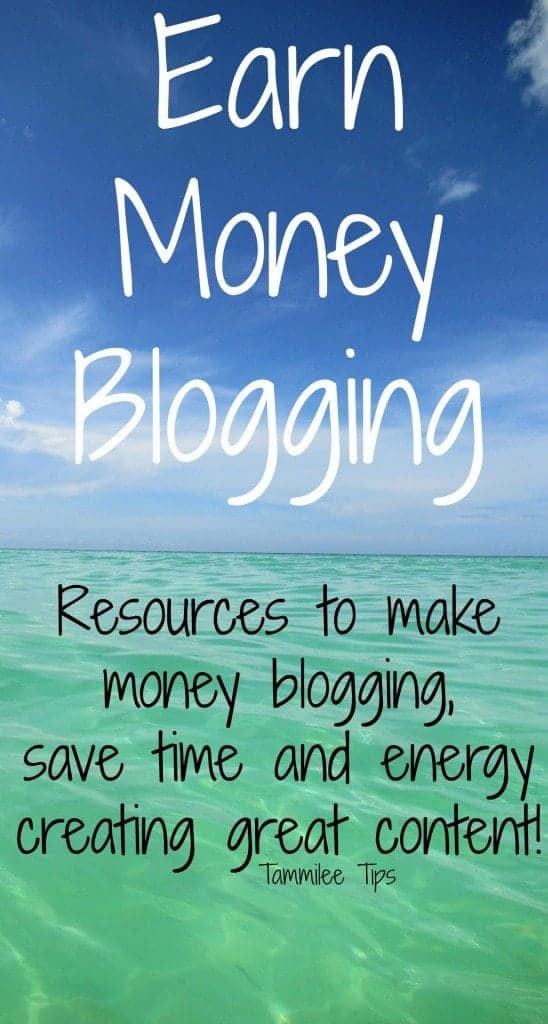 Earn Money Blogging
Sponsored Posts
These companies offer sponsored posts and social shares for bloggers. The campaigns range from a simple tweet to a year-long ambassadorship depending on the program.
Izea offers opportunities to monetize your YouTube, Instagram, Tumblr, Twitter and Facebook accounts along with offering sponsored posts.
Linqia offers sponsored content and posts! The campaigns are a lot of fun and the pay is great.
Find Your Influence offers sponsored posts and social shares for bloggers. They have pretty competitive rates for their blog posts.
Clever Girls offers sponsored posts for bloggers. To find out exactly what they offer and the blogs they are looking for head over here
SITS Girls/Sway Group offer sponsored posts and social media campaigns for bloggers
Pollinate Media offers sponsored posts and campaigns for bloggers
Mom Central offers sponsored posts and campaigns.
Social Fabric is a community for bloggers that offer sponsored posts, twitter parties, social shares and more. This group has a large forum for bloggers to ask questions and build friendships with other bloggers
Blogher offers a few different options for bloggers. You can sign up with their site to earn money from social shares, their ad network, and sponsored campaigns.
Affiliate Companies
I suggest setting up an email that you only use for affiliate programs. You will potentially receive ongoing emails from the different companies that you sign up for. Having a separate email for affiliate programs will help keep your normal email inbox a little cleaner and easier to handle.
Amazon - Earn referral commissions for items your reader's purchase. You can also set up a store on your site and highlight your favorite products.
Commission Junction - CJ offers a huge client list for affiliate sales. Once you are approved you can search their system to find the companies that match your blog
Escalate Network works with bloggers to offer affiliate deals. They are great to work with and have a wonderful staff to answer your questions.  They have a very easy site to navigate.
ShopHer Media is one of the first companies I started working with. They offer a variety of affiliate offers.
Panthera - Panthera offers multiple different affiliate links for companies. You can earn funds by referring readers to sign up for specific email deals or other offers.
Share A Sale - Has a ton of affiliate offers within their program. Many of the affiliate programs offer bonuses on a monthly basis for sharing their content. A few to check out include:
Ad Networks
Ad networks are a great way to earn a passive income with your blog. Once you have the networks set up and the ads added to your blog your work is pretty well done. When you get to the point that you are generating more traffic than the networks can fill it may be time to checking getting Google DFP set up. Google DFP allows you to rotate ad networks based on fill and rates.
Sovrn offers great rates for ads on your sidebar and header.
Media.net offers sidebar and header ads for blogs.
Google Adsense is really easy to set up. Once you are with the program it is worth checking into having Google DFP set up to maximize your earnings
Blogging Tools
Grammarly  This program is a must for any writer! It finds all of the missing commas and grammar mistakes that happen while writing posts!!!
Keyword tool to see the best keywords to use for your site or post.
99Designs- Hold a contest to create a new Blog Logo/image.
Studio Press offers pre-designed layouts and themes to help you set up your blog.
Font Bundle sells sets of really great fronts for a sweet price.
Scheduling Tools
Social Warfare Social Warfare is a WordPress plugin that gives you the opportunity to write out social shares for each of your blog posts. That way when your post is shared sponsors/destinations/products are tagged in your social shares. You can also include any relevant hashtags in your shares.
Co-scheduler is an amazing tool that helps you schedule social media for your blog posts!
Tailwind allows you to pre-schedule tweets to Pinterest. This is one of my favorite programs to use.
Legal Help for Bloggers
Businessese - Check out Businessese if you need help with contract writing, legal disclaimers, and more. The girls behind Businessese are both bloggers and have worked in the social influencer realm for a while.
Blogging Classes
Elite Blog Academy is an online class you can take at your own pace.
Pinning Perfect e-course is a great way to learn how to maximize your time on Pinterest. What pins work and which pins drive the most traffic to your website!
Learn how to start and grow a food blog with Food Blogger Pro
Conferences
Affiliate Summit This is the conference to learn how to use affiliates and maximize your earnings.
Blogging/Business Books
Everything But the Posts: Tips, Advice, and Templates from a Blogger Who Has Been in Your Shoes
 is a great book for tips, tricks, templates and so much more to help with blogging!
How To Blog For Profit: Without Selling Your Soul
The Art of Social Media: Power Tips for Power Users
Blog Design For Dummies
Blog, Inc.: Blogging for Passion, Profit, and to Create Community
 is written by Joy Cho. She is incredibly well respected in the blogging community.
ProBlogger: Secrets for Blogging Your Way to a Six-Figure Income This is one of the blogging all-star books for income generation. Darren is considered a blogging genius when it comes to income generation and blogging successfully. 
#GIRLBOSS! This book is truly inspirational and motivating!
the Crossroads of Should and Must: Find and Follow Your Passion
The Success Principles(TM) - 10th Anniversary Edition: How to Get from Where You Are to Where You Want to Be
The Fringe Hours: Making Time for You
! Jessica is the blogger behind The Mom Creative and an amazing person! This book will inspire you to maximize the hours in each day and live a life you love.
Photography
What camera equipment do you use?
We currently use a Canon EOS 5D Mark III
 or a Canon EOS 5D IV with either a Canon EF 24-105mm f/4 L IS USM Lens
or a Canon EF 100mm f/2.8 Macro USM Lens
 depending on what we are shooting. Before Spring 2014 we shot with a Canon EOS 70D.
We also use GoPro HERO3+
and Canon PowerShot D30  for underwater footage while traveling.
Many of the photos you see on Instagram and social sharing are taken with our Samsung Galaxy S7
 phones.
Do you use special lighting for your photos?
We try to use natural light for our photos as much as we possibly can, but we do live in Spokane, and it gets dark early. For those days that natural light is not my friend we use this Photography/Video Portrait Umbrella Continuous Triple Lighting Kit
I also really like this Portable Oval Collapsible Multi-Disc Reflector Kit
 to help reflect light.
We use this Manfrotto Compact Action Tripod while traveling and also for food videos. It gives you the option of attaching your camera upside down to shoot food videos.
For travel and hotel videos we attach this Lavalier Microphone for Smartphones to our phone to help with the sound quality. It has a pouch that makes it easy to carry. 
Pic Monkey is a great online resource for editing photos. You can also add in text, graphics, and overlays within the program.
Craftsy offers amazing online photography classes. This is an excellent way to improve food photos, products photos and more.
Creative Live offers photography classes for lighting, posing, outdoor photography, food photography and so much more.
Food Photography School is great if you are focusing on improving your food photography.
Do you have a lens you have been dreaming about but are not sure it is going to work the way you need it to? Borrow Lenses lets you rent lenses so you can try them before you buy them. They also offer great deals on lenses to purchase.
SmugMug gives you the opportunity to set up photo selling, storage and galleries for sharing.
Email Services
Design professional-looking emails in minutes with Constant Contact. Sign up for a free 60-day trial today.
Mad Mimi is an excellent email system to send out daily emails and special update emails
Website Hosting
Liquid Web offers Wordpress Hosting
Unlimited Domain Hosting Only $9.95 a Month
unlimited domains, 99.9% uptime guarantee, 45-day money-back guarantee, $100 Google AdWords credit, and the online web site building software we provide.
WPengine offers hosting and update services.
BlueHost offers amazing sales and deals for hosting! I have seen them as low as $3.95 a month which is amazing for hosting.
$5.95 a month - Your Complete Hosting Solution
 with Inmotion
There comes a point with blogging where you need to set up your private Server. WiredTree offers private dedicated server space
Business Cards
Tiny Prints offers super cute personalized business cards
MOO MiniCards - 100 unique mini-calling cards with new some great new features!
MOO Business Cards using your own photos or designs. Upload your text and logos to create cards as unique as your business!
Staples offers great deals on Business Cards. Save over 50% on Business cards!
25% off all Marketing Materials
 from Vista Print. They print fantastic brochures, car signs, window clings, stickers and more
Vistaprint is a great place to get your first set of business cards. You can order them for a great price!
Personalized Products
Some days you need a personalized journal to get the creative juices flowing! Plus these are great for conferences and events.
I love these personalized mugs! They make great gifts for employees and are a great way to show off your business while loading up on a bit of caffeine!
One way to stand out is to create personalized cards for your blog business!
I hope these resources help you build the blog of your dreams or update your existing blog! Please let me know if I can answer any questions about blogging or the resources listed!
Tammilee
Some of the links in the post above are "affiliate links." This means if you click on the link and purchase the item, I will receive an affiliate commission. This small percentage of money helps offset the costs of hosting this blog. I am disclosing this in accordance with the Federal Trade Commission's 16 CFR, Part 255: "Guides Concerning the Use of Endorsements and Testimonials in Advertising."