Are you thinking about starting a blog or already have one?  I thought I would share some of my favorite companies that I work with. I have used these companies for years and feel very comfortable referring you to them. Please let me know if you have any questions about blogging.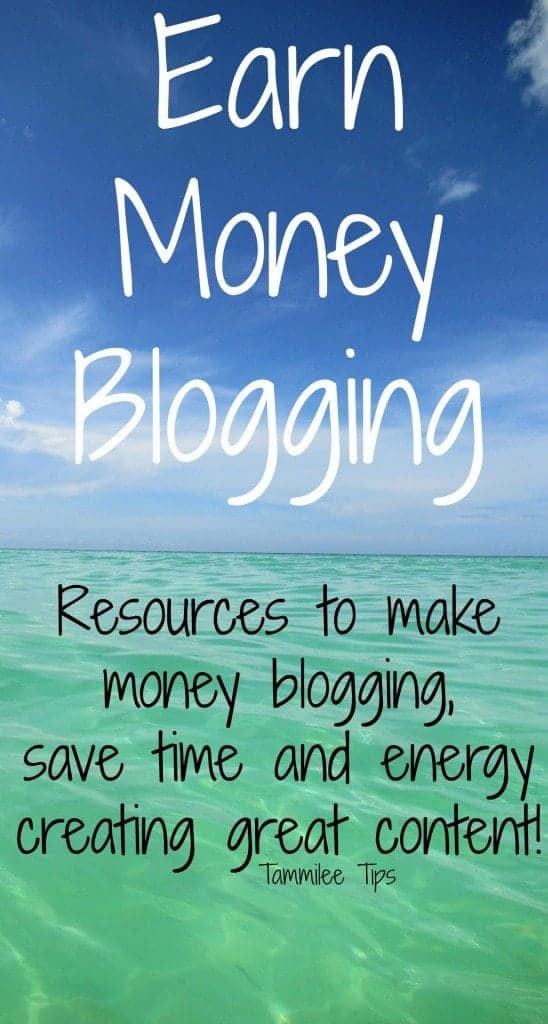 These companies offer sponsored posts and social shares for bloggers. The campaigns range from a simple tweet to a year-long ambassadorship depending on the program.
Izea offers opportunities to monetize your YouTube, Instagram, Tumblr, Twitter and Facebook accounts along with offering sponsored posts.
Linqia offers sponsored content and posts! The campaigns are a lot of fun and the pay is great.
Find Your Influence offers sponsored posts and social shares for bloggers. They have pretty competitive rates for their blog posts.
Tapfluence offers sponsored posts and sponsored social shares.
Clever Girls offers sponsored posts for bloggers. To find out exactly what they offer and the blogs they are looking for head over here
Triberr is now offering sponsored campaigns for bloggers. You can sign up on their site and they email out their influencer programs.
SITS Girls/Sway Group offer sponsored posts and social media campaigns for bloggers
Pollinate Media offers sponsored posts and campaigns for bloggers
Mom Central offers sponsored posts and campaigns.
Social Fabric is a community for bloggers that offer sponsored posts, twitter parties, social shares and more. This group has a large forum for bloggers to ask questions and build friendships with other bloggers
Blogher offers a few different options for bloggers. You can sign up with their site to earn money from social shares, their ad network and sponsored campaigns.

I suggest setting up an email that you only use for affiliate programs. You will potentially receive ongoing emails from the different companies that you sign up for. Having a separate email for affiliate programs will help keep your normal email inbox a little cleaner and easier to handle.
Amazon – Earn referral commissions for items your readers purchase. You can also set up a store on your site and highlight your favorite products.
Commission Junction – CJ offers a huge client list for affiliate sales. Once you are approved you can search their system to find the companies that match your blog
Escalate Network works with bloggers to offer affiliate deals. They are great to work with and have a wonderful staff to answer your questions.  They have a very easy site to navigate.
ShopHer Media is one of the first companies I started working with. They offer a variety of affiliate offers.
Panthera – Panthera offers multiple different affiliate links for companies. You can earn funds by referring readers to sign up for specific email deals or other offers.
Share A Sale – Has a ton of affiliate offers within their program. Many of the affiliate programs offer bonuses on a monthly basis for sharing their content. A few to check out include:

Ad networks are a great way to earn a passive income with your blog. Once you have the networks set up and the ads added to your blog your work is pretty well done. When you get to the point that you are generating more traffic than the networks can fill it may be time to checking getting Google DFP set up. Google DFP allows you to rotate ad networks based on fill and rates.
Sovrn offers great rates for ads on your sidebar and header.
Media.net offers sidebar and header ads for blogs.
Google Adsense is really easy to set up. Once you are with the program it is worth checking into having Google DFP set up to maximize your earnings
For more resources click the boxes below!










I hope these resources help you build the blog of your dreams or update your existing blog! Please let me know if I can answer any questions about blogging or the resources listed!
Tammilee
Some of the links in the post above are "affiliate links." This means if you click on the link and purchase the item, I will receive an affiliate commission. This small percentage of money helps offset the costs of hosting this blog. I am disclosing this in accordance with the Federal Trade Commission's 16 CFR, Part 255: "Guides Concerning the Use of Endorsements and Testimonials in Advertising."