Uganda changed me and I hope it is for the better.
I went into my trip to Uganda with World Vision knowing it would be emotional, that it would be hard on my heart and that I would need some time to process the trip.
I didn't know that over a month later I would still be processing and trying to figure how to move forward.
My good friend Amy from Mom Spark went to India a few years ago and I remember her coming home and telling me that the trip had changed her. At that point in time, I didn't really get it. How could a trip change you? How could it make you reflect and think about things so differently?
Today I get it and I am living it. I can't not finish a glass or bottle of water because I know how precious that water is. I have now seen kids walking for miles to get fresh water. I have seen people filling water jugs in a puddle on the side of the road.
I now appreciate flush toilets more than I ever thought possible. I appreciate soft toilet paper and not having to squat over a hole in the ground and pray I don't pee on my feet.
I am overwhelmed by all the things that we have that I have always taken for granted. I have never had to worry about having clean water, electricity, or a way to get to school.
Since returning from Uganda I have been deep in my head. Slowing down my time on social media, stepping back from engaging in small talk, stepping back from even going to Costco, and other stores as the abundance feels overwhelming.
I find myself even more thankful for the quiet, for time with my amazing husband who gets me and knows I am trying to process a lot of emotions.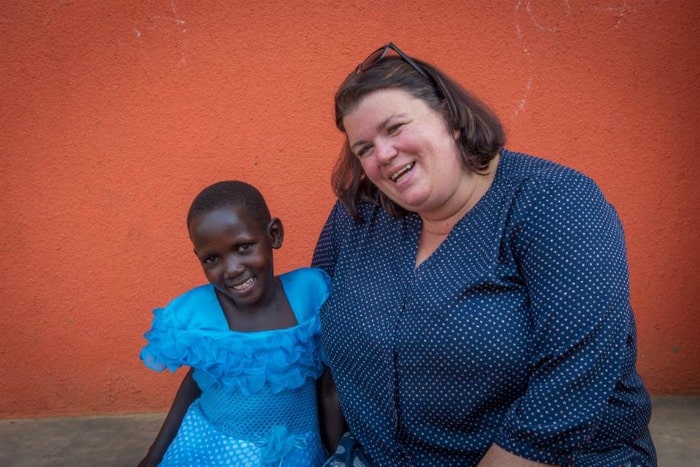 I find myself thinking about Shanita our sponsor child and her family. I think about how different our lives are but yet how similar they are. How our families are filled with love. I think about her dad hugging the doll I brought with me as a gift for her. I think about her family's smiles and their joy at that moment. I think about how grateful I am to World Vision for giving me the opportunity to share a piece of my heart with her and her family.
I truly left a piece of my heart in Uganda. I know it sounds super cliche and privileged to be able to say Uganda changed me. Trust me I get that! But I can truly say that the time I spent in Uganda changed how I am looking at our future, our goals, and what we do with our influence and money.
It is going to take a while to figure out what this all means and how I will move forward with it. For now, I am taking the time to be in the moment and take the time I need to get there.
One thing I know for sure is the time I spent in Uganda is changing how I live on a daily basis. The people we met in Uganda inspired me to do more and to live my truth. We met the most amazing young adults who are part of a Child Protection Club and took their voices all the way to the country's government. They are part of a Children's Parliament from multiple schools who are advocating for the end to corporal punishment in schools.
If these young adults can stand in their truth and fight for their rights and voices then I need to do the same. I need to stand in my truth and fight for the things that matter to me. I have to make sure that I am taking care of myself and not getting lost in the mix.
Uganda truly made me realize that I need to slow down and take a deep breath. I need to look at my life, my space, my goals, and make sure that I am moving forward in a way that is true to my heart and my life goals.
If you are wondering what World Vision does and what you can do to make a difference please take a minute to read this post on sponsoring a child with World Vision.
Reflections on visiting Uganda 1 year later
How a life skills club helps girls in Uganda