I found myself sitting at breakfast my first morning at the King David hotel staring at the chandelier and the room in general. My food grew cold as I stared in awe of this beautiful room that has seen so much.  I wondered who else has dined in this room, queens, kings, presidents, celebrities, and more.  King David is world-famous for a reason. Sitting at the top of a hill overlooking historic Jerusalem this hotel is so much more than a regular hotel. Today I am excited to share my King David Hotel Jerusalem Review and Experience!
Everyone I talked to before my trip told me I had to experience King David. I honestly wasn't sure what to expect when I walked into the hotel. Everyone made it sound like angels would sing as I walked in and I would be in awe of everything  While I didn't hear angels singing sadly I did find myself wandering the hotel looking at the signatures of famous people who have stayed here and the historic photos on the wall.  This 5-star hotel blends history and a bit of luxury in one gorgeous building.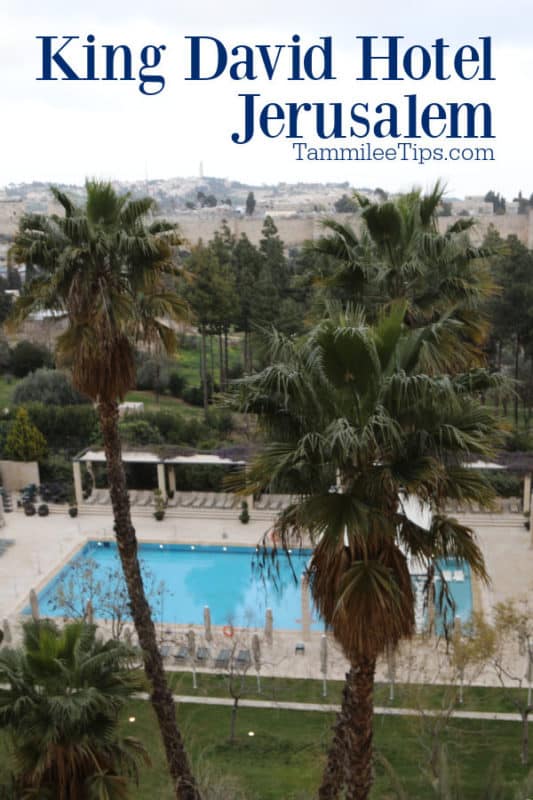 King David Hotel
My room was beautiful featuring a king-sized bed, seating area, and desk. My only critique was the bathroom, unfortunately. It did not have the feel of a 5-star luxury hotel. The shower had great water pressure but the shower head was rather blah.  I don't want to dwell on this but did want to mention it as the one part of the room that could be updated.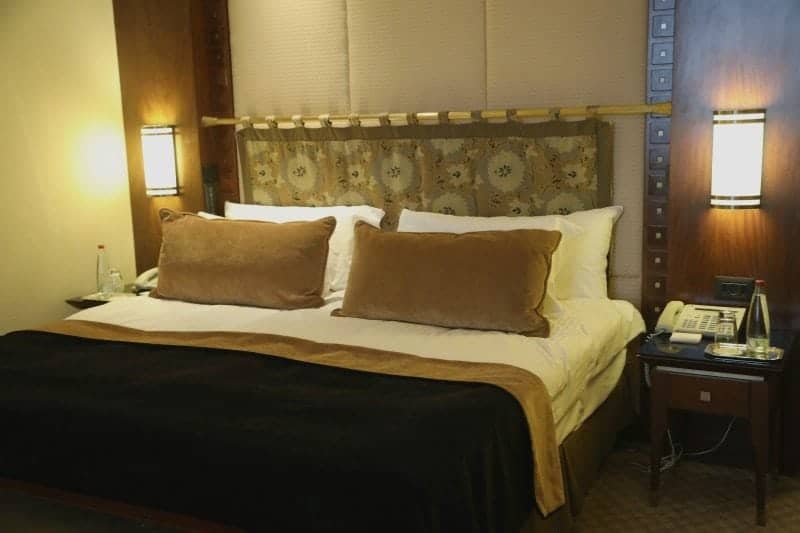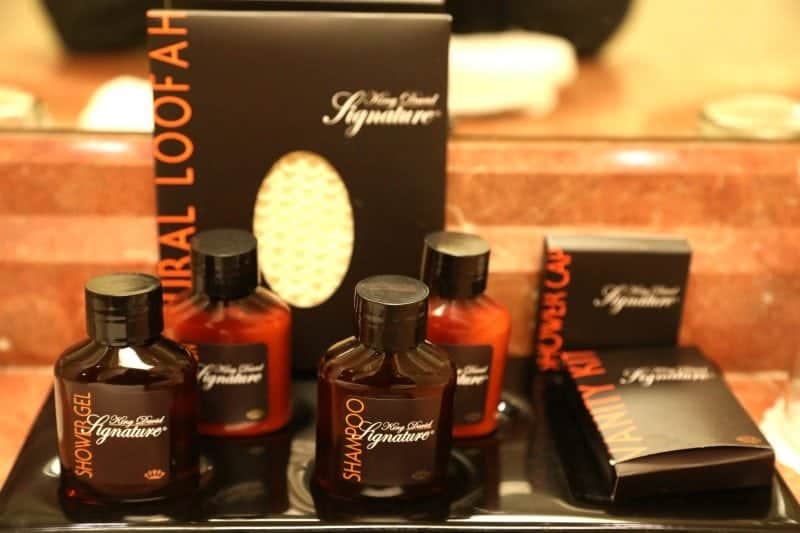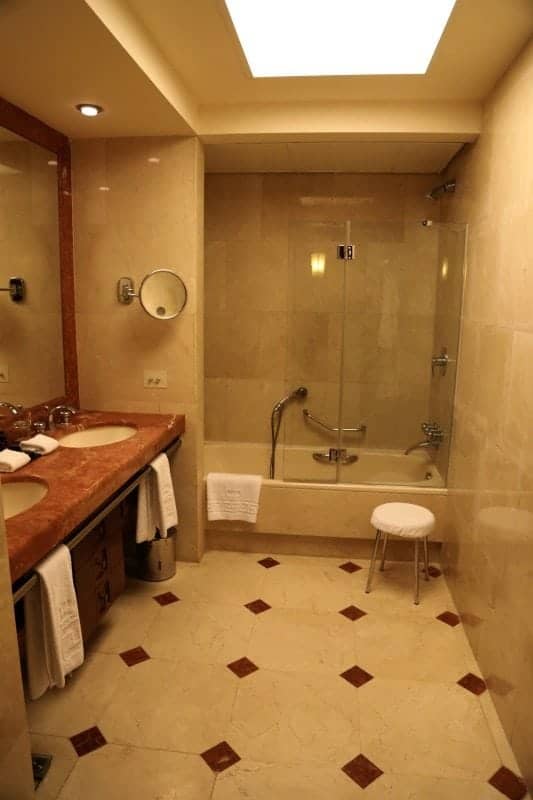 The King size bed was set up with a light comforter that was great. Though if John would have been with me he would have needed his own. Lol. I woke up cocooned in the blanket and so snug and warm. The sun streaming over the old city woke me as the bird started chirping. I thought about leaving my window open to hear the city but realized after a few minutes that j had a few birds sitting on the window sill. I didn't feel like sharing my room service with them so sadly I closed the windows.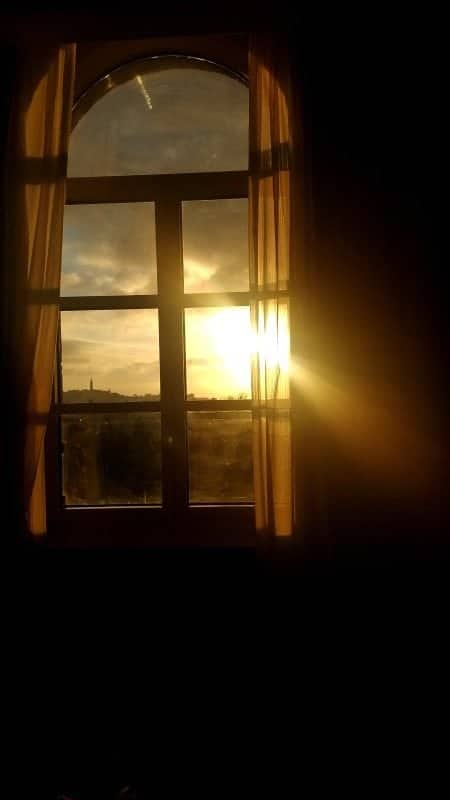 The room service menu offers a wide variety of options. I opted for my standard cheese pizza and it did not disappoint. I also suggest the cheese toast which is actually 2 bagels toasted with gruyere cheese and served with a tomato-cucumber salad. The room service was delivered quickly and piping hot.
The staff I encountered was friendly and very helpful. From the head waiters in the dining room who made me feel like I had a couple of sweet Israeli grandfathers to the front desk who answered all of my questions easily.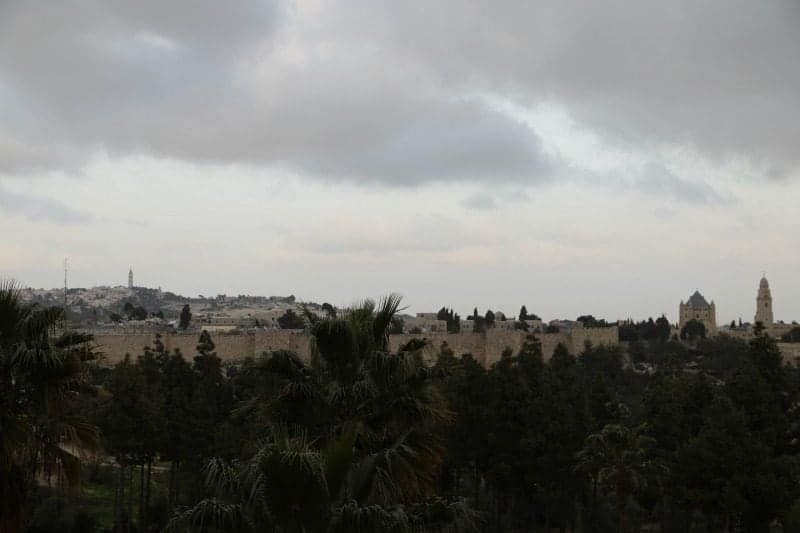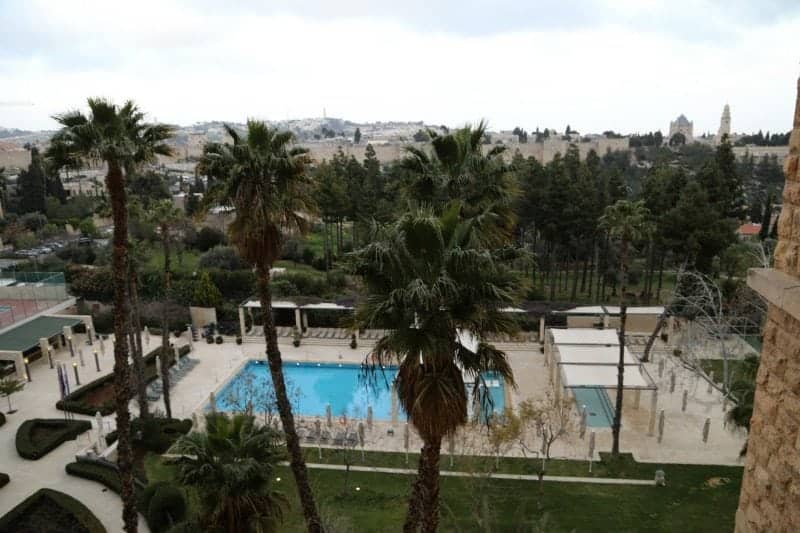 I should mention that I struggled to connect to the Wi-Fi from my room. This may have been a good thing forcing me to curl up in the chair and stare out over the city while enjoying a hot cup of tea. The room didn't originally come with a tea kettle but the moment I asked about it at the front desk they delivered one. You know I had to enjoy at least 1 or 2 cups of chai tea each morning. Yes, I packed it with me.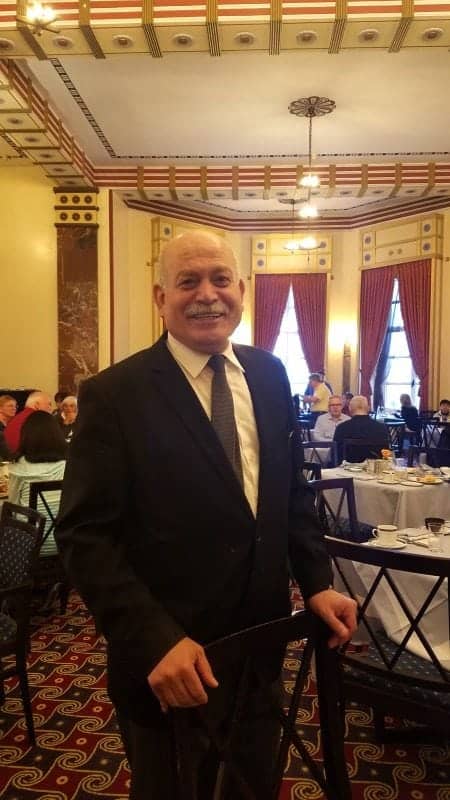 On my final morning at the King David Hotel Jerusalem, I was having a bit of a rough morning. Jet lag, exhaustion and missing my amazing husband all hit at one time. I was a crying mess on the phone with John and honestly looked like a train wreck. My eyes were bloodshot from crying and I was just feeling blah.
As I walked towards breakfast I could see Taleb waiting for me with an inviting smile. He greeted me so kindly and warmly that I started to feel a tad bit better.
As I sat for breakfast he would come over to check on me and just pat me on the shoulder. I honestly don't think he knew how much I needed this and how he became a grandfather to me. His warm smile and greeting each morning felt like I was with family.
I am so thankful for these moments each morning.
When I think about my stay at the King David the first thing I think of is the kindness and warmth from Taleb. While the room was great, the view amazing and the food was delicious the thing that made the biggest impact on my stay was his kindness.
Additional Israel Articles
Top Things to do in Isreal with Kids
During your stay make sure and check out these Free Self Guided Walking Tours of the Jerusalem's Old City
I love this post from Ciaran on What to wear in Israel. She helped me so much when it came to planning my trip to Jeruselum and Israel.
I have to say a huge thank you to the King David Hotel Jerusalem for hosting me for a portion of my stay in Jerusalem.