I am so excited for holiday baking! Oh my goodness bring on the yummy goodness.
Today we are celebrating cupcake Saturday with this lovely Eggnog Spice Cupcake Recipe with Eggnog Frosting.
Eggnog seems like the quintessential holiday flavor to bake with. Check out all of our recipes with eggnog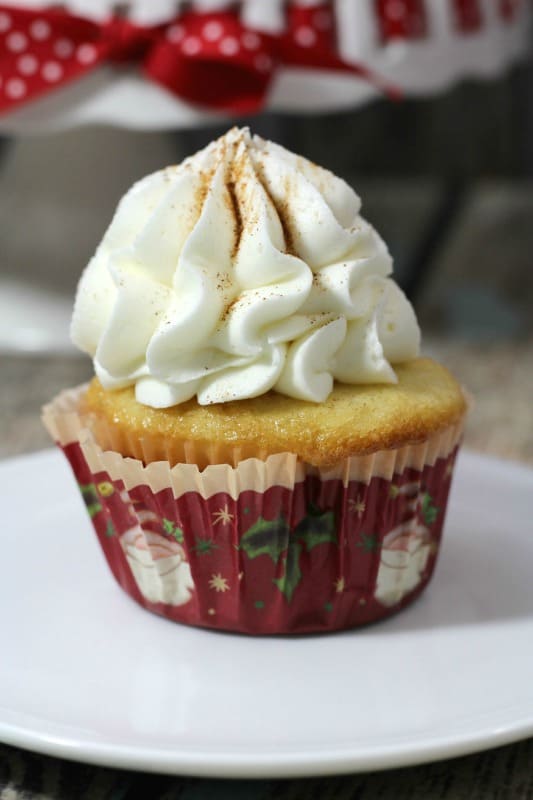 Eggnog Spice Cupcakes with Eggnog Frosting
Eggnog Spice Cupcakes
Cupcake Ingredients: 
2 ¼ C  flour
1 tablespoon baking powder
½ teaspoon baking soda
½ teaspoon salt
1 teaspoon nutmeg
1 teaspoon cinnamon
½ C unsalted butter, room temp
½ C sugar
2 eggs, room temp
2 teaspoon vanilla
1 C eggnog
⅓ C whole milk
Cupcake Directions: 
-Preheat oven to 350 degrees. Line cupcake tin with paper liners.
-Add the cake flour, baking powder, baking soda, salt, nutmeg, and cinnamon in a bowl and mix well.
-With an electric mixer, beat butter and sugar on high until light and fluffy.
-Blend the eggs and vanilla, add the mixture one half at a time to the butter/sugar mixing after each addition until totally blended.
-Pour the eggnog and whole milk in a measuring cup, mix until well blended.
-Starting  with the flour mixture, alternately add equal amounts of dry and wet ingredients on low speed until fully mixed.
-Scoop batter into the paper liners and fill each liner about ¾  full .
-Bake at 350 for 20-25 min or until an inserted toothpick comes out clean.
-Allow cupcakes to cool for 10 min in the cupcake pan.
-Remove from cupcake pan and put each cupcake on a wire rack until completely cooled.
Eggnog Frosting
Frosting Ingredients: 
4 C powdered sugar
1 C unsalted butter, room temp
1 teaspoon coconut extract
1 teaspoon nutmeg
cinnamon
Frosting Directions:
-Cream the butter, powder sugar, coconut extract, and nutmeg until it looks creamy.
-Test to see if the frosting can form and hold a stiff peak by taking a spoonful of frosting and turning the spoon upside down. If the frosting stays on the spoon it is ready if not then....
- Add more powder sugar ½ C at a time.... mix well.
-If ready scoop the  frosting  into the  pastry bag with a large tip.
-Twist the open end of the pastry bag to push the frosting to the tip.
-Frost from the cupcake edges inward to the center of the cupcake.
-Sprinkle cinnamon on each cupcake.
Do you love recipes? Check out our copy cat recipes, dessert recipes, and our Crock Pot Recipes.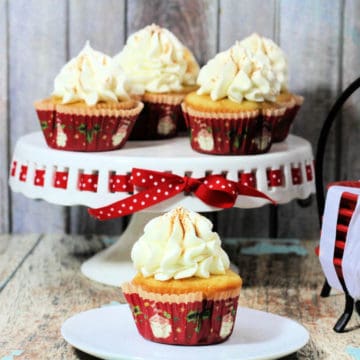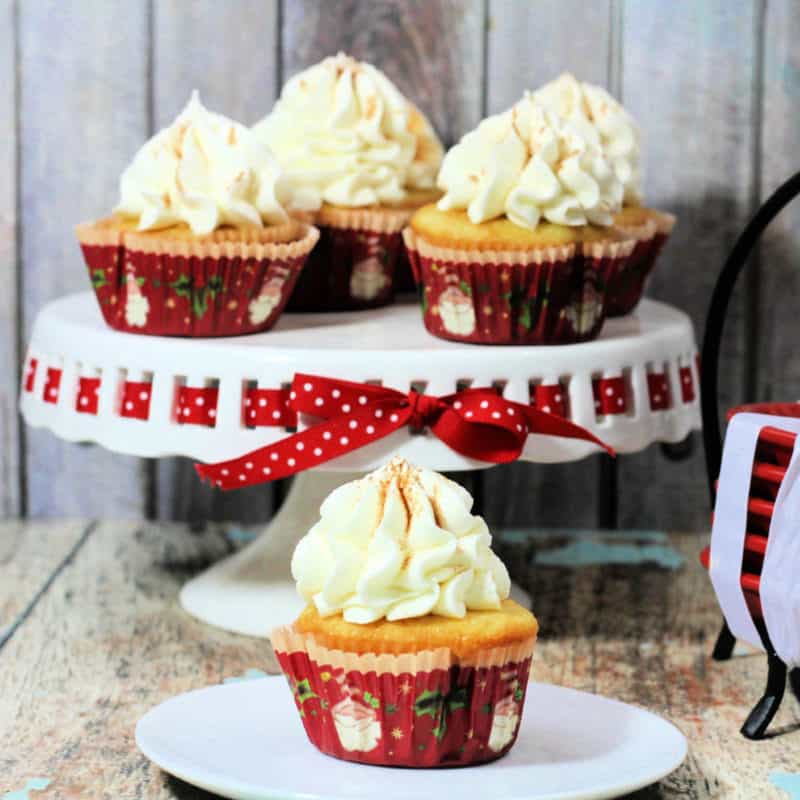 Instructions
Cupcake Ingredients:

/4 C flour

TBSP baking powder

/2 teaspoon baking soda

/2 teaspoon salt

tsp nutmeg

tsp cinnamon

/2 C unsalted butter, room temp

/2 C sugar

eggs, room temp

tsp vanilla

C eggnog

/3 C whole milk

Eggnog Frosting

Frosting Ingredients:

C powdered sugar

C unsalted butter, room temp

tsp coconut extract

tsp nutmeg

cinnamon