Whether you need a handheld libation to accompany you on a Christmas movie marathon, a sweet after-dinner drink to act as a finishing touch on a fantastic holiday meal shared with friends and family or need a festive and fizzy drink to toast to the New Year, we've got plenty of winter cocktails and shots fit for any occasion! Happy holidays!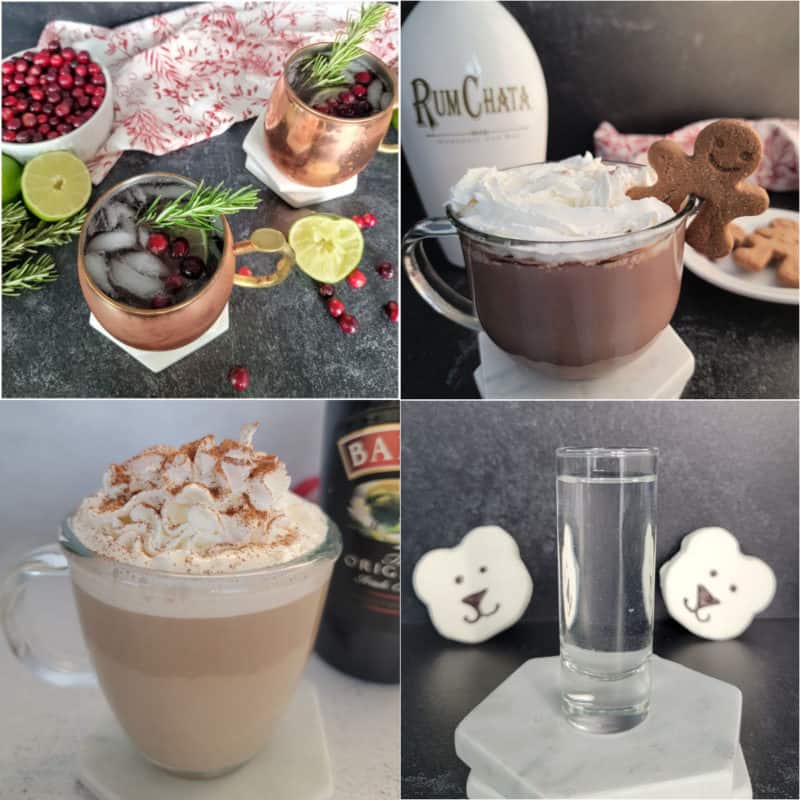 Warm Up by the Fire with These 30+ Winter Cocktails
Winter drinks are flavored with warm spices, citrus, honey, eggnog, pomegranate juice, lemon juice, Campari, and other great flavors. From a delicious hot toddy to hot chocolate cocktails, this list has something for everyone.
Great for snow days, New Year's Eve, or when you want to warm up with a great drink.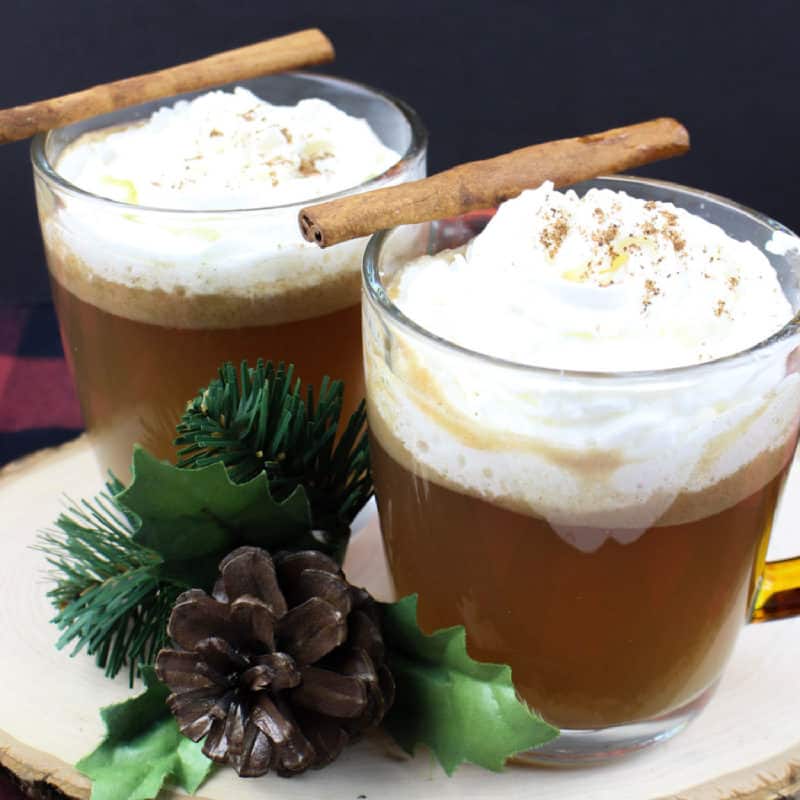 Ingredients: Unsalted Butter, Dark Brown Sugar, Dark Rum, Vanilla Extract, Ground Cinnamon, Ground Ginger, Ground Cloves, Apple Cider
This warming, make-ahead-friendly cocktail is easy to prep the day before your holiday party or gathering and is one of the coziest cocktails of the season!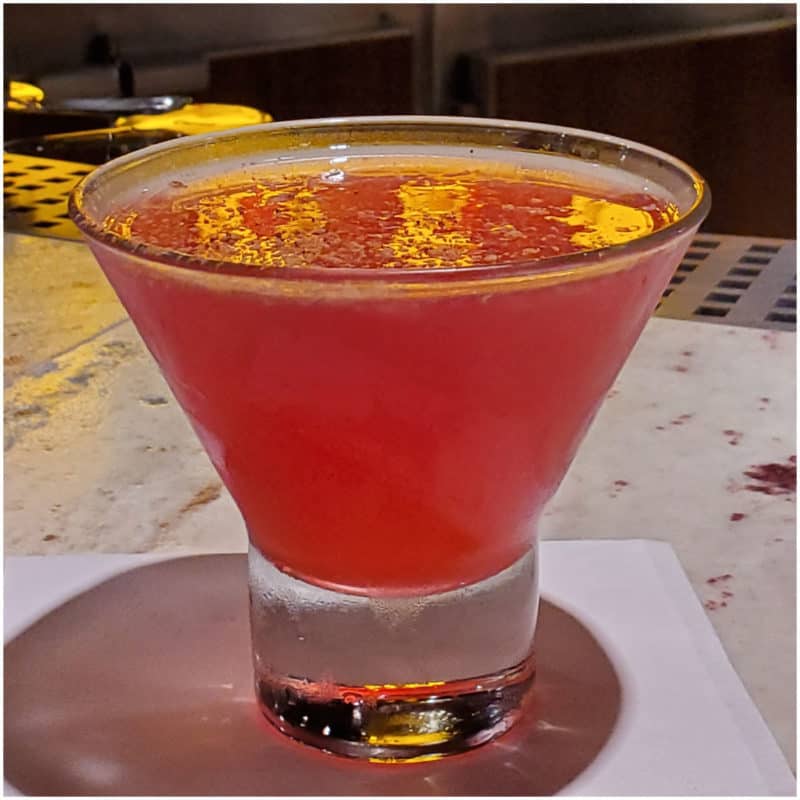 Ingredients: Bacardi Rum, Bacardi Spiced, Monin Strawberry Syrup, Cranberry Juice, Lime Juice
The weather outside may be Dark and Stormy, like the cocktail that inspires The Perfect Storm, but this ruby cocktail featuring spiced rum, cranberry juice, and strawberry syrup for sweetness is anything but.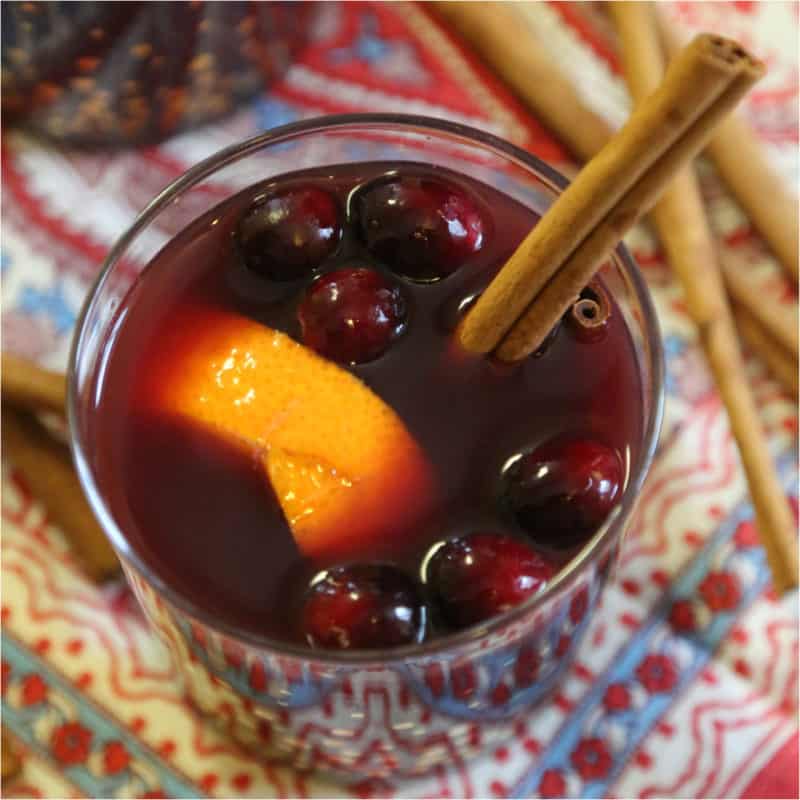 Ingredients: Merlot, Orange Juice, Fresh Whole Cranberries, White Sugar, Orange, Cloves, Cinnamon Sticks, Brandy
This spiced mulled wine contains a bottle of Merlot and half a cup of brandy for a hot, boozy beverage to keep spirits lively and warm.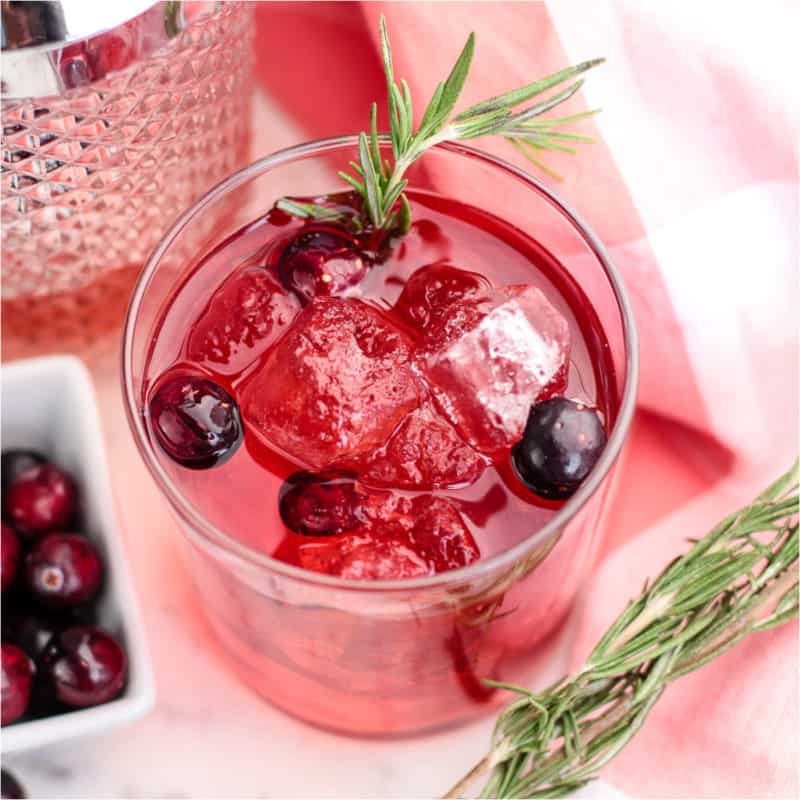 Ingredients: Cranberry Vodka, Cranberry Wine, Spiced Cranberry Cocktail, Whole Cranberries, Rosemary Sprig, Ice
You can make this cheery red cocktail with a spiced cranberry cocktail or tarter and less sweet cranberry juice, depending on how sweet you like your drinks and how much you enjoy cranberry.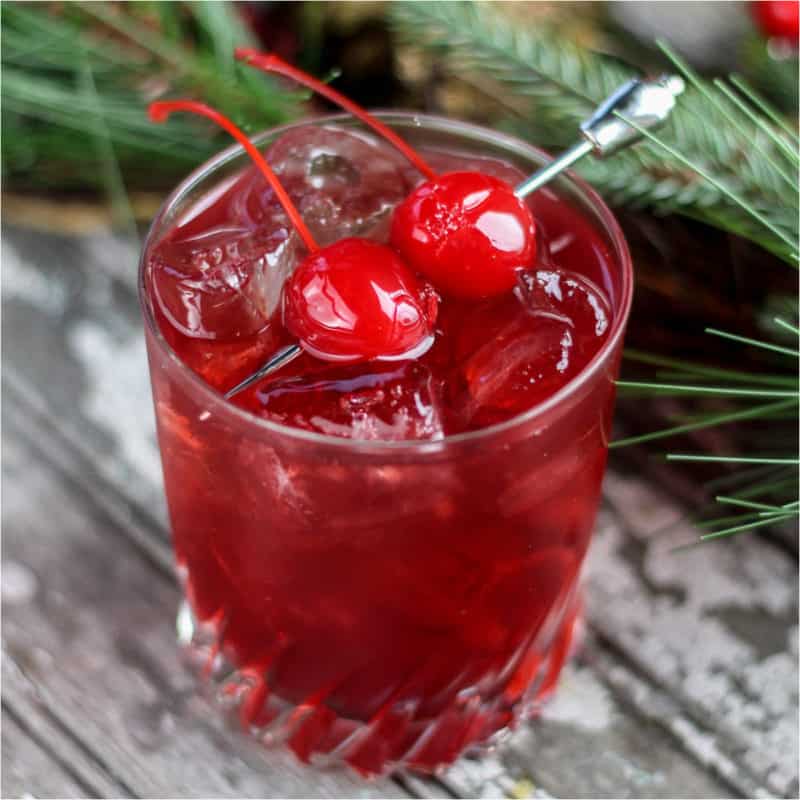 Ingredients: Vodka, Maraschino Cherry Juice, Cherry Cider, Mulled Cider, Maraschino Cherries, Ice
Feel free to use an inexpensive vodka when making this cherry-forward holiday cocktail, as its role is to add alcohol and let the other ingredients shine.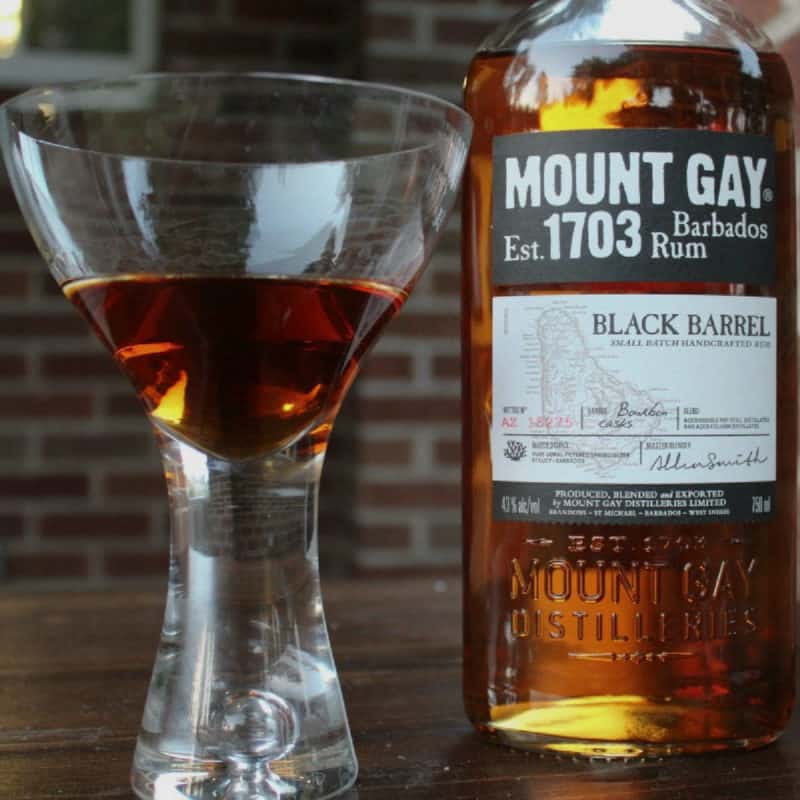 Ingredients: Mount Gay Black Barrel Rum, Maple Syrup, Angostura Bitters
The specialty rum in this twist on an old-fashioned is finished in charred bourbon oak barrels, giving it the best of both worlds. If you want to add a cherry, we recommend using Luxardo Cherries, a staple at many bars with a quality bar program.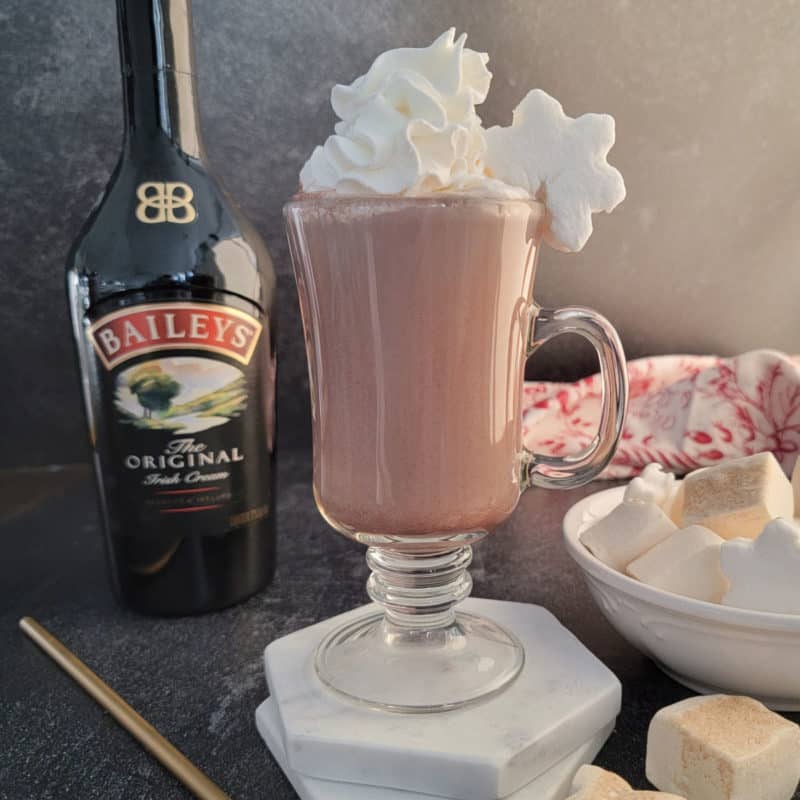 Ingredients: Hot Chocolate Mix, Milk, Baileys Irish Cream
We love making this easy, three-ingredient Baileys Hot Chocolate as-is, but feel free to top it with a dollop of our homemade Baileys Whipped Cream for a decadent treat!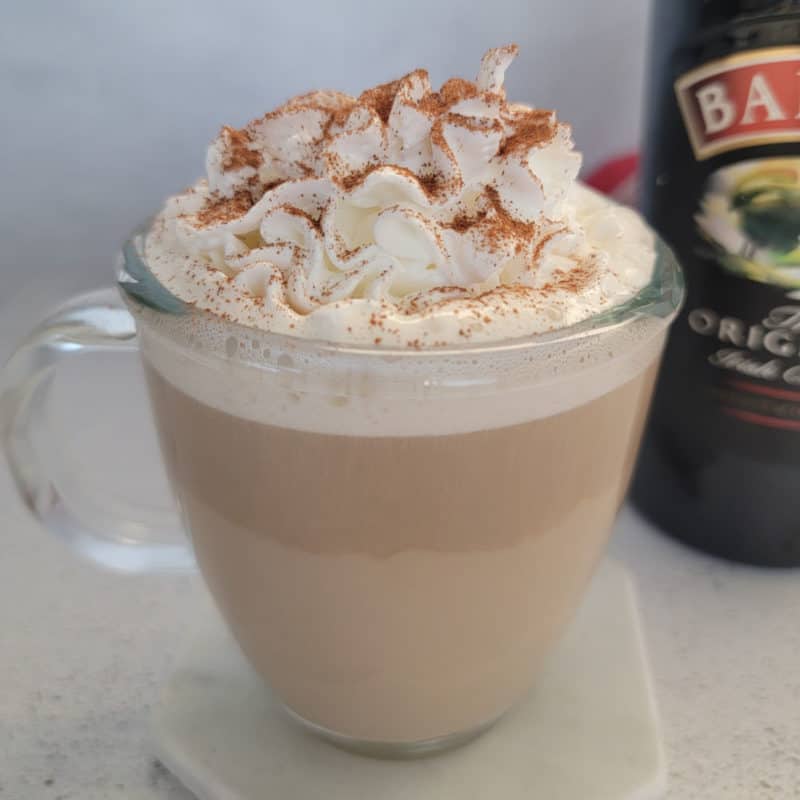 Ingredients: Hot Coffee, Baileys Irish Cream
Whether you use Baileys Original or one of its other flavors, such as Salted Caramel, Espresso Creme, or Vanilla Cinnamon, this two-ingredient hot cocktail is the perfect way to add some pep to your step at any winter brunch!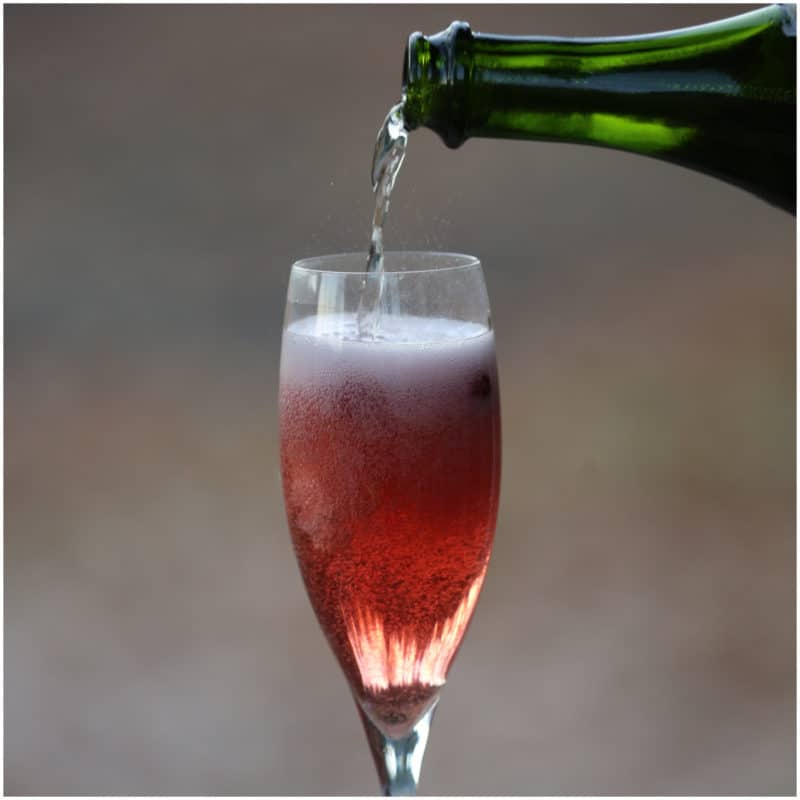 Ingredients: Champagne, Cranberry Juice
Ring in the holidays or the New Year with this delightful, two-ingredient take on the mimosa that celebrates a beloved winter fruit. Add our Sugared Cranberries to the bottom before pouring for an elegant treat!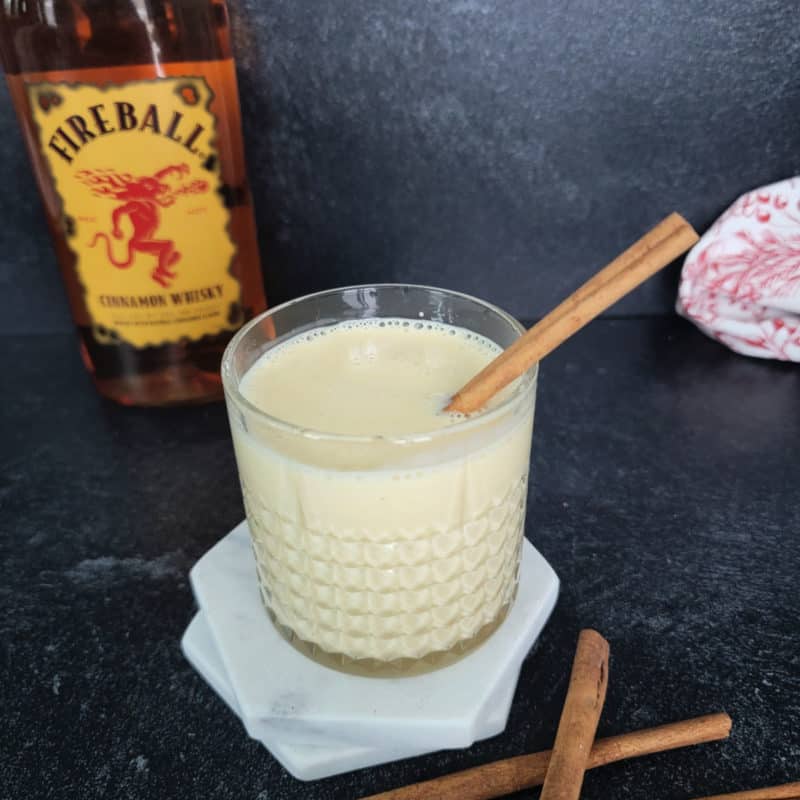 Ingredients: Eggnog, Fireball Cinnamon Whisky
Combining creamy eggnog with cinnamon-flavored whiskey in this eggnog cocktail gives it similarities to horchata, a Mexican refreshment made with rice milk, brown sugar, vanilla, and cinnamon.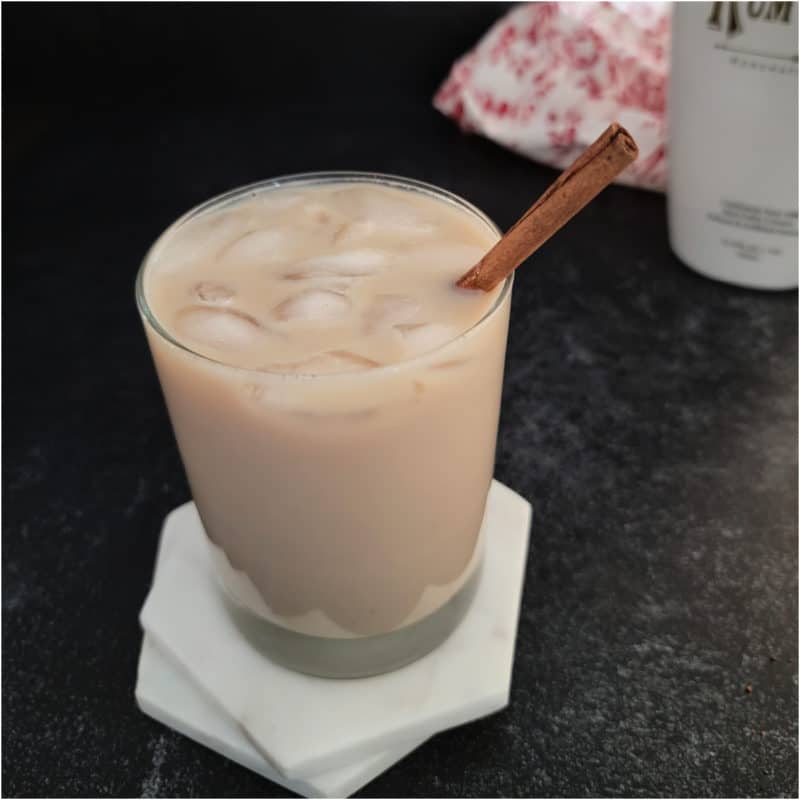 Ingredients: RumChata, Coffee
This RumChata Iced Coffee works with homemade iced coffee or premade cold brew, depending on what you have in your kitchen and how much effort you would like to put into making it.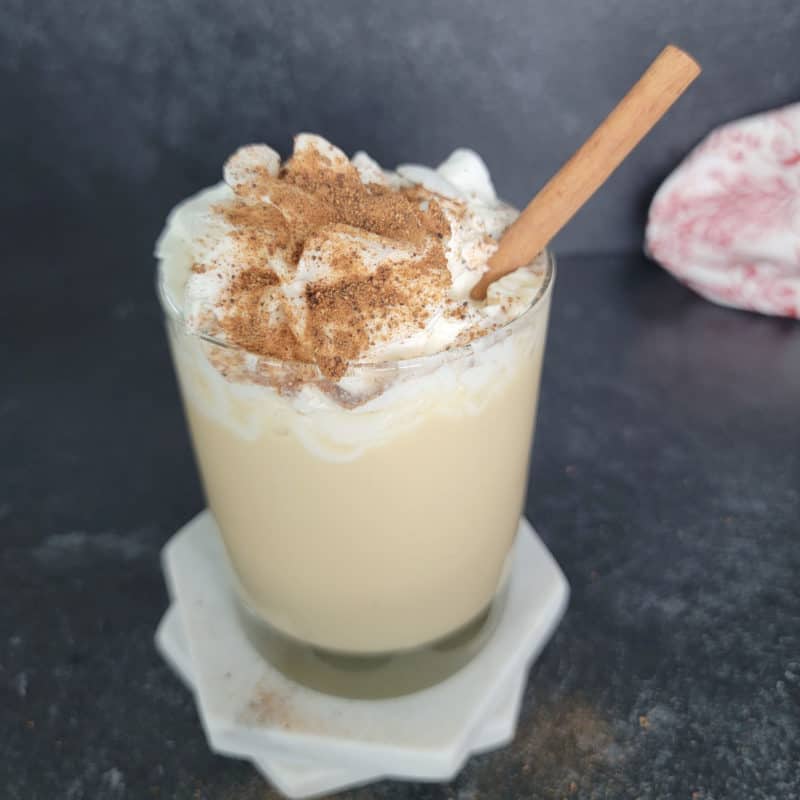 Ingredients: Kahlúa Coffee Liqueur, Vodka, Eggnog
Eggnog replaces the heavy cream found in a traditional mudslide for a festive twist that uses the wintertime's most beloved dairy-based beverage!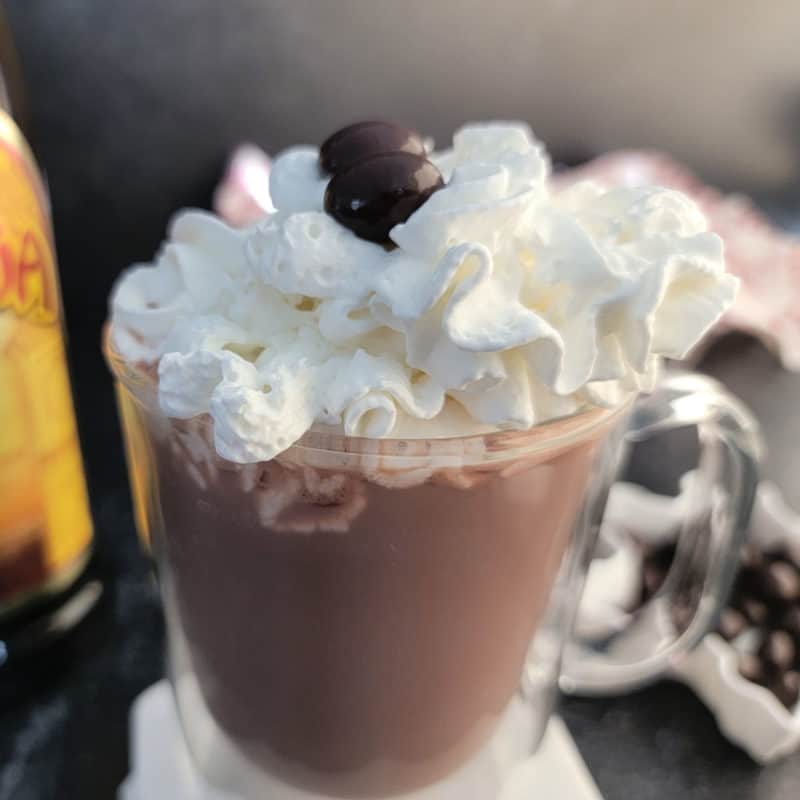 Ingredients: Hot Chocolate Mix, Milk, Kahlúa
We use milk instead of water for an epic and rich hot chocolate in this Kahlúa hot cocoa that tastes like a boozy mocha.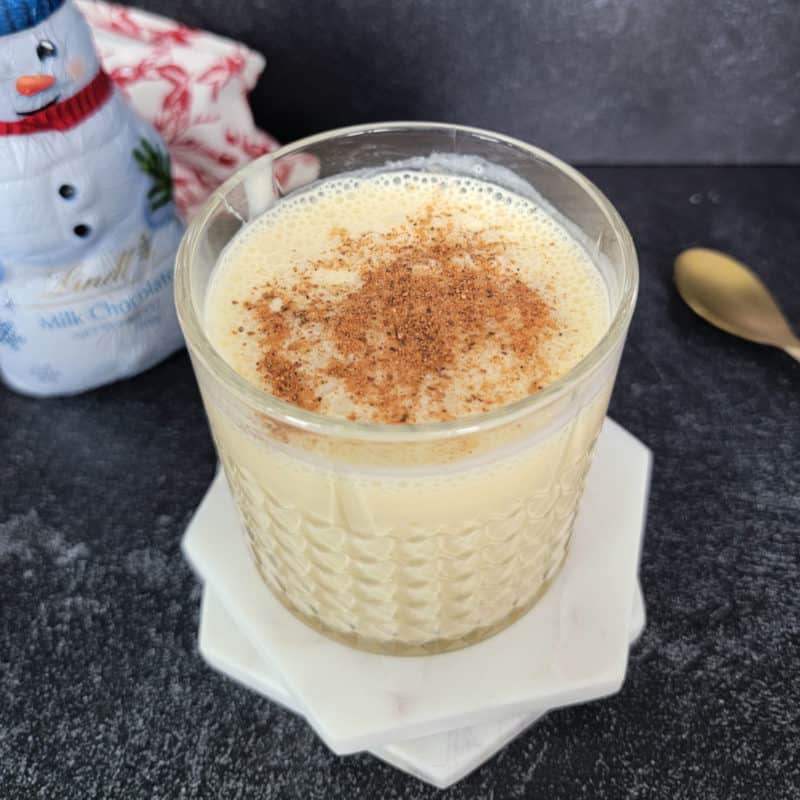 Ingredients: Eggnog, Bourbon, Nutmeg
We've included some suggestions for bourbons you can use in this boozy eggnog cocktail, but any kind you enjoy and can pick up from a store near you would be excellent!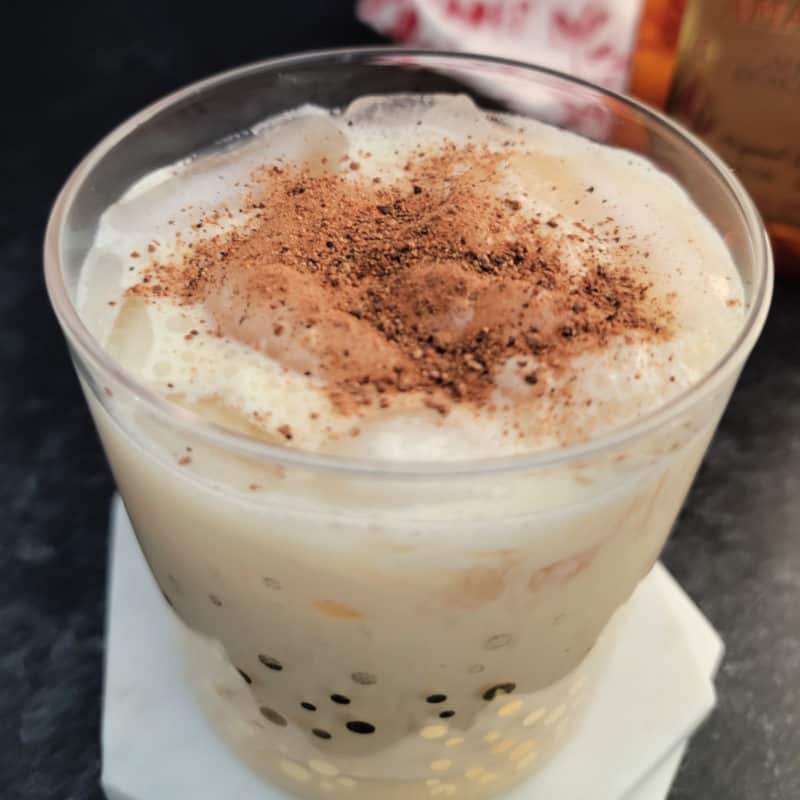 Ingredients: Eggnog, Amaretto Liqueur
You can make this adult-only eggnog beverage neat or chilled with ice, depending on how cold you want to serve it. Scale the recipe up and combine it in a punch bowl for group serving!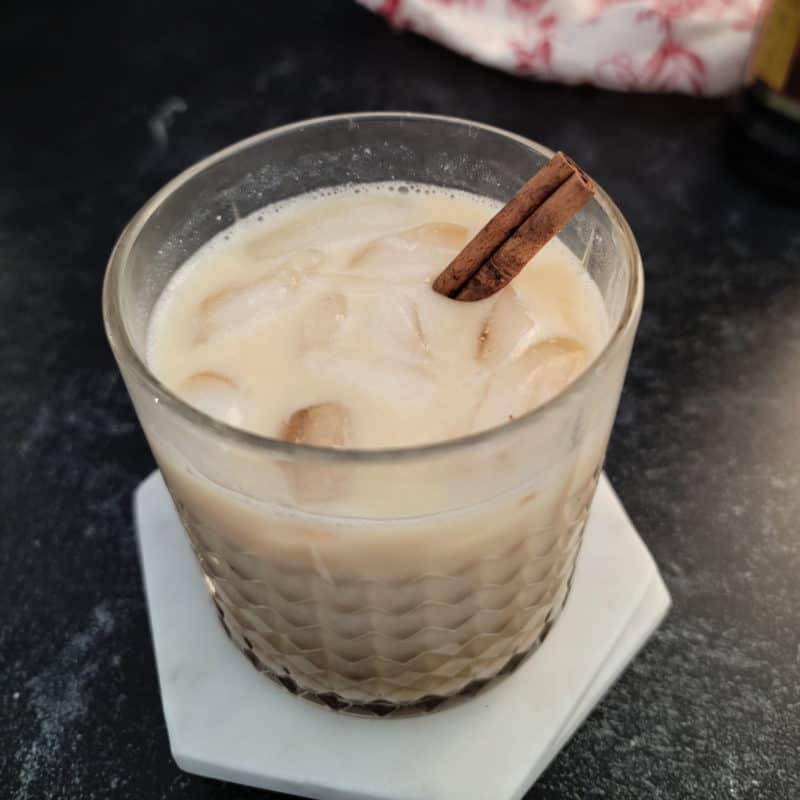 Ingredients: Kahlúa Coffee Liqueur, Vodka, Eggnog
Garnish this festive twist on the white Russian with whipped cream, nutmeg, cinnamon, and star anise for a treat you'll enjoy as you warm up by the fireplace this winter. Add a dollop or two of our Eggnog Whipped Cream if you love eggnog!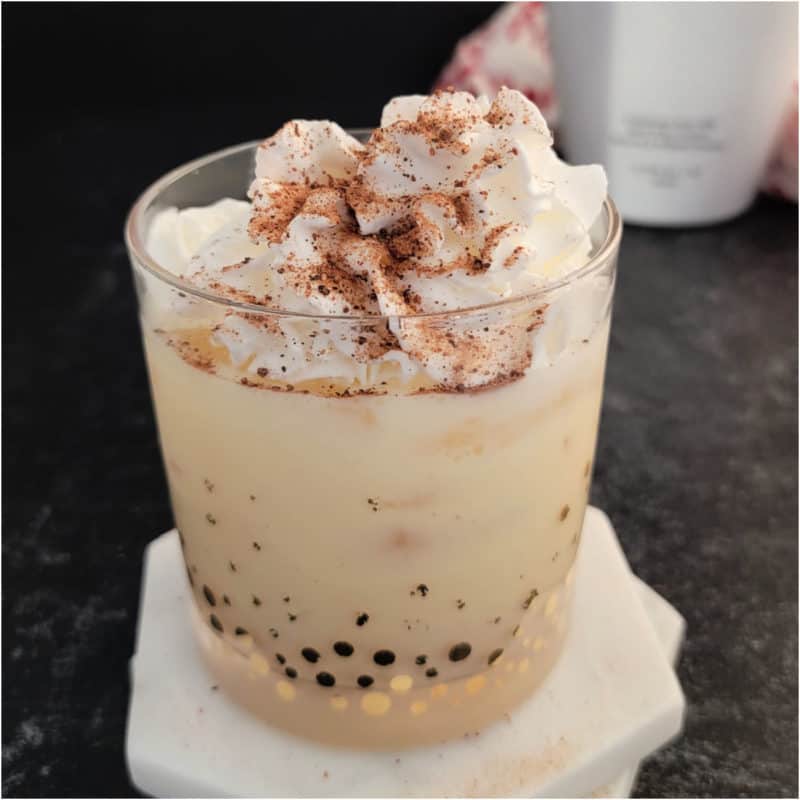 Ingredients: RumChata, Eggnog
Since decadent treats are the name of the game during the holidays, we love topping this sweet cocktail with whipped cream. However, you can also rim the glass with cinnamon sugar for a lighter version that gives it more of a horchata taste.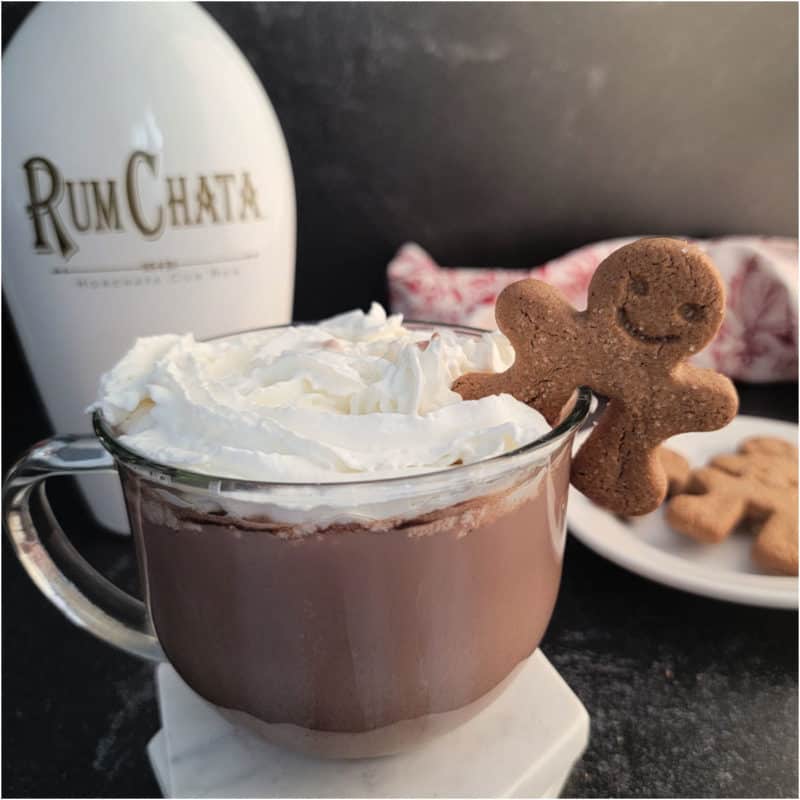 Ingredients: RumChata, Hot Chocolate Mix, Milk
We love this simple recipe because adding a shot or two of this spiced rum cream liqueur quickly turns a run-of-the-mill hot chocolate packet into the perfect wintertime adult hot chocolate.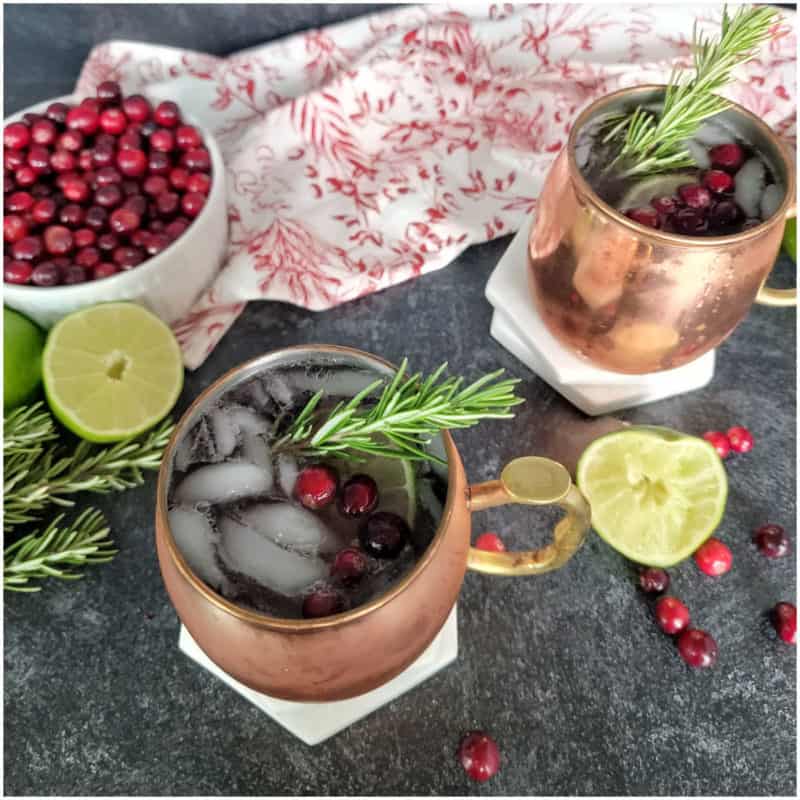 Ingredients: Vodka, Cranberry Juice Cocktail, Fresh Lime Juice, Ginger Beer
This festive twist on the classic Moscow mule is the perfect fizzy cocktail for any Thanksgiving or Christmas gathering! We love garnishing it with cranberries and a rosemary sprig for a classy look.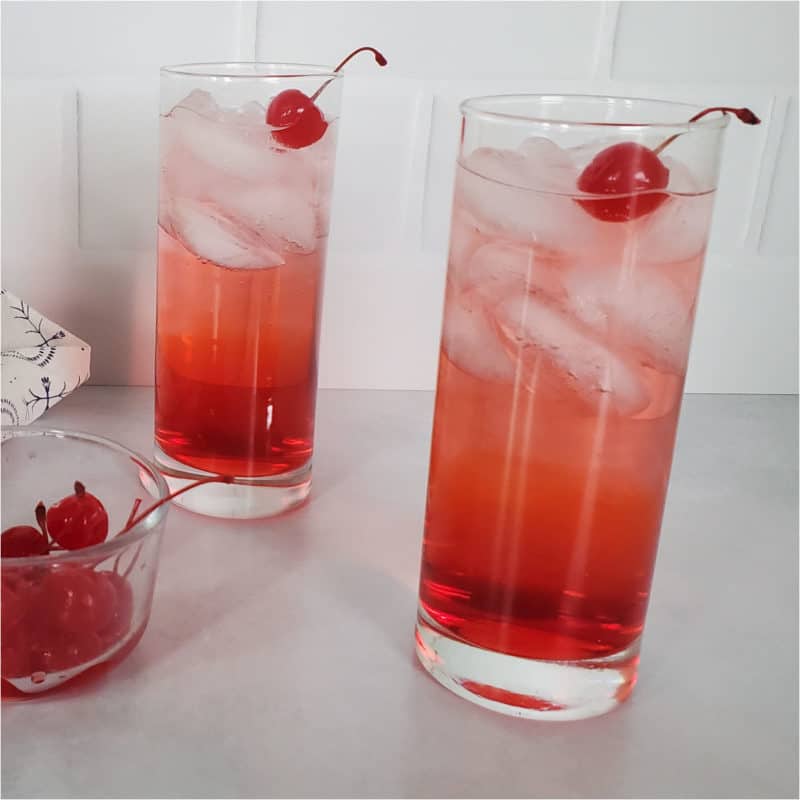 Ingredients: Vodka, Grenadine, Sprite, Maraschino Cherries for Garnish
The "dirty" part of this Shirley Temple-inspired cocktail's name comes from the grown-up addition of vodka. We recommend cherry or vanilla vodka if you crave extra flavor.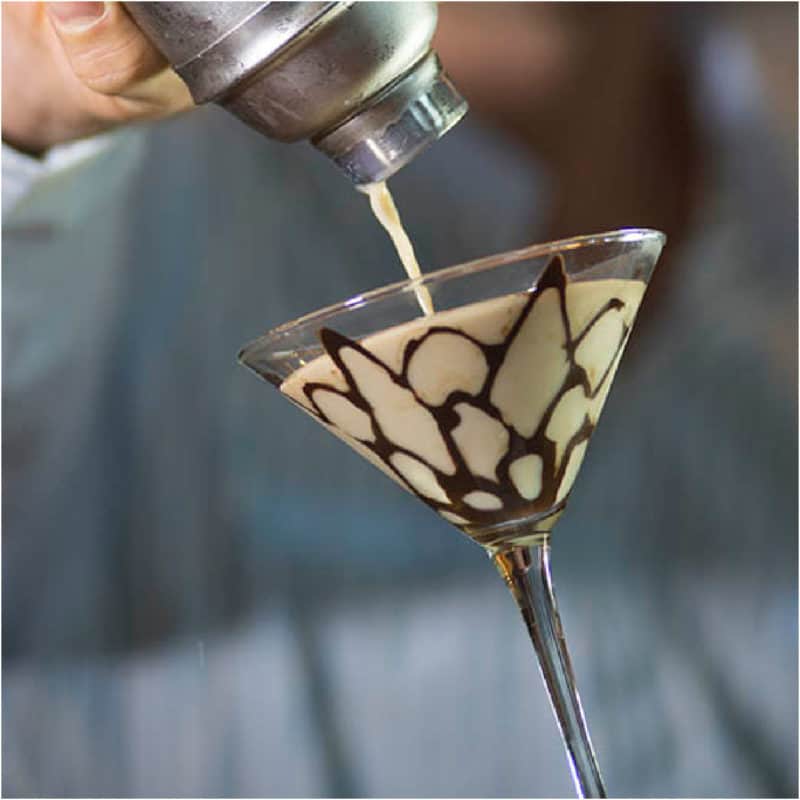 Ingredients: Malibu Coconut Rum, Irish Cream, Frangelico, Peach Schnapps, Disaronno Amaretto, Butterscotch Schnapps
This after-dinner cocktail tastes like an Italian tiramisu, in case you want a cocktail and a dessert in one! Each of its six ingredients contains alcohol, making this drink pack a punch.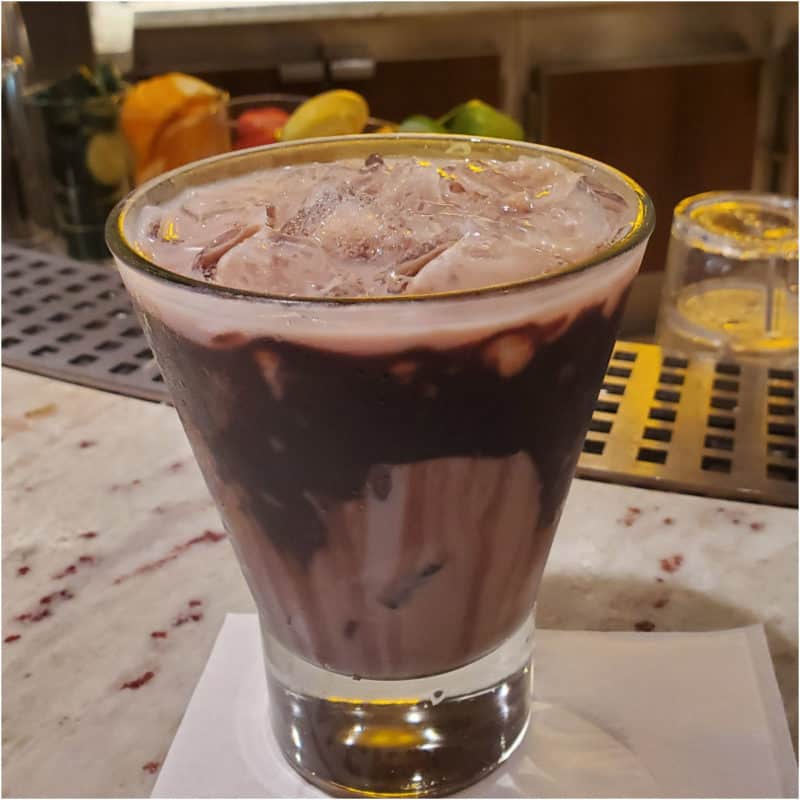 Ingredients: Vanilla Rum, Amaretto, Baileys Irish Cream, Dark Creme de Cacao, Chocolate Syrup
This indulgent cocktail drinks like a boozy adult chocolate milkshake! It's one of our favorites from Alchemy Bar, Carnival Cruises' premium onboard craft cocktail bar.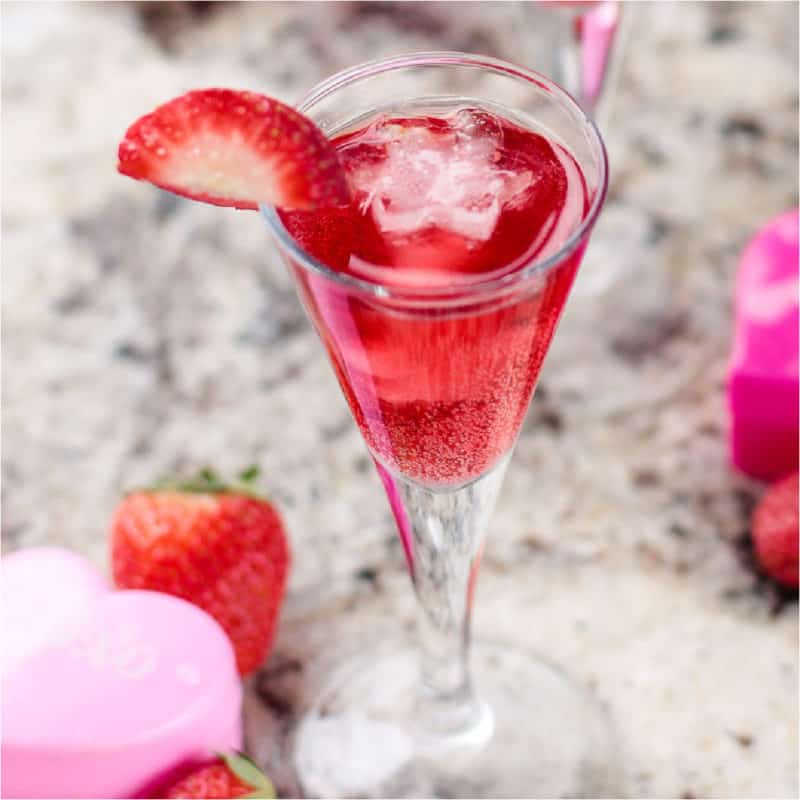 Ingredients: Rosé Champagne, Monin Strawberry Simple Syrup, Sliced Strawberries, Ice
This Strawberry Champagne Cocktail is a lovely alternative when you've had your fill of cranberry but want a bubbly drink that looks the part for holiday toasts or winter girls' nights.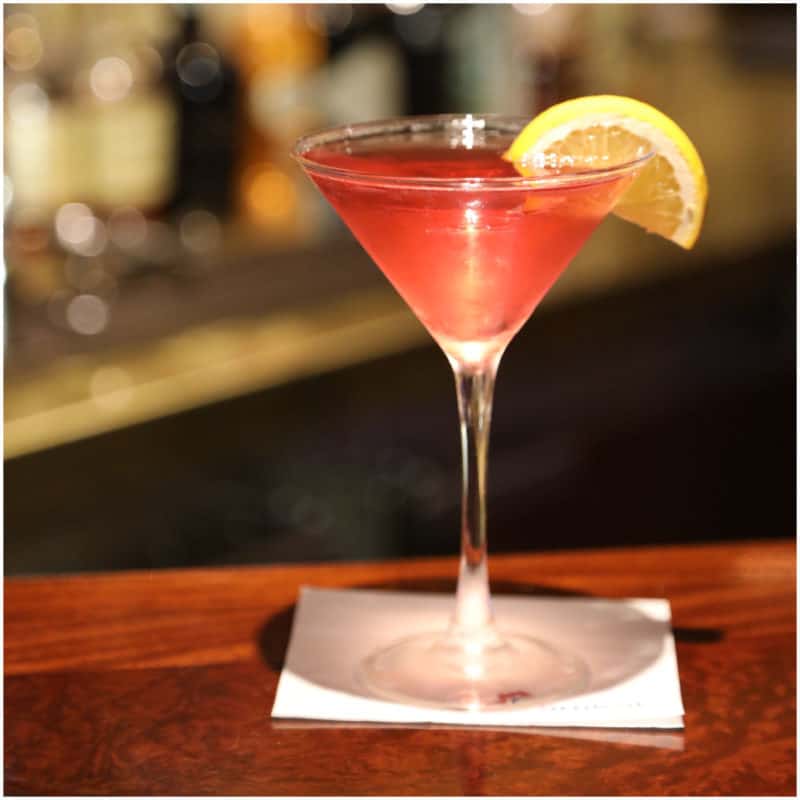 Ingredients: Absolut Raspberri, Malibu Coconut Rum, Cranberry Juice, Lime Juice
Chase away the winter blues with a raspberry, coconut, and cranberry martini that comes in a festive, holiday-appropriate red but tastes like a warm paradise in a martini glass.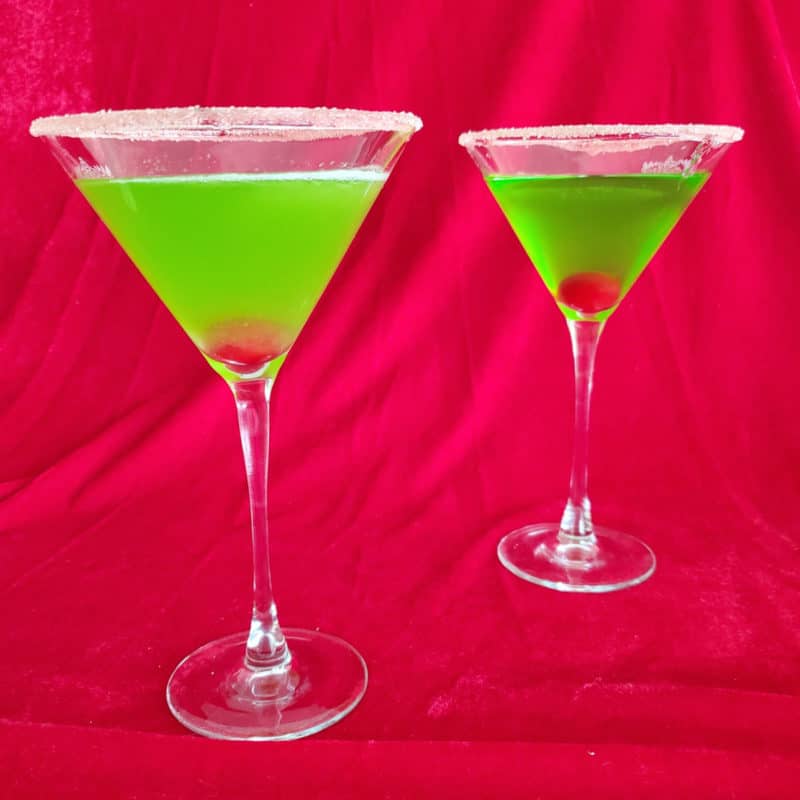 Ingredients: Midori Melon Liqueur, Pineapple Juice, Maraschino Cherries
This neon-green cocktail is inspired by one of the fun libations we enjoyed at the Reno Santa Pub Crawl in 2019. Add a touch of Sprite or 7-Up for a fizzy delight!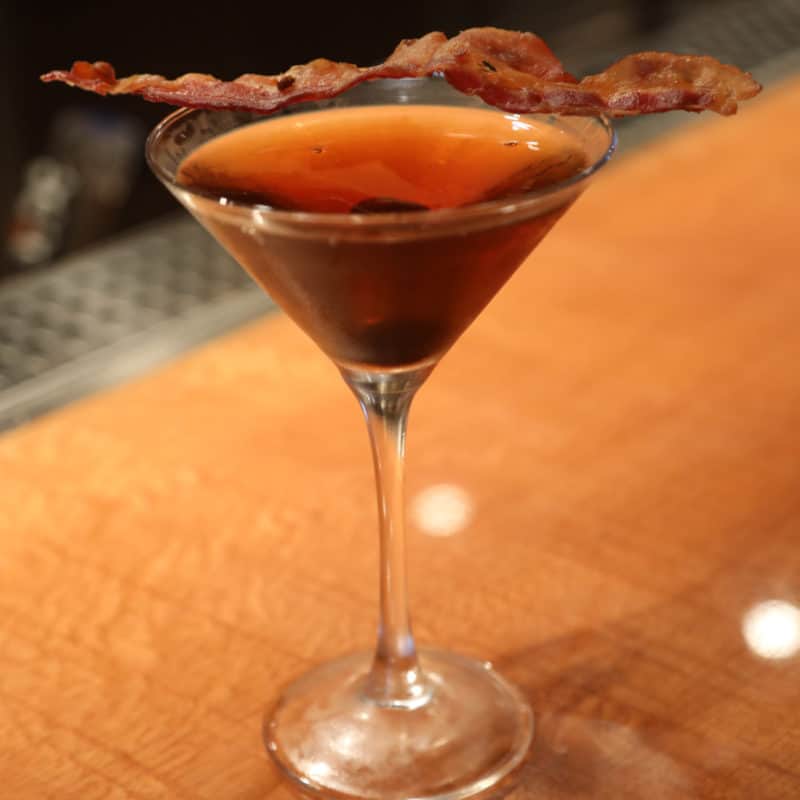 Ingredients: Bacon-Infused Whiskey, Sweet Vermouth, Bitters
Pair this savory, bacon-infused take on the classic Manhattan with an equally hearty holiday feast for a cocktail everyone at the dining table will be buzzing about!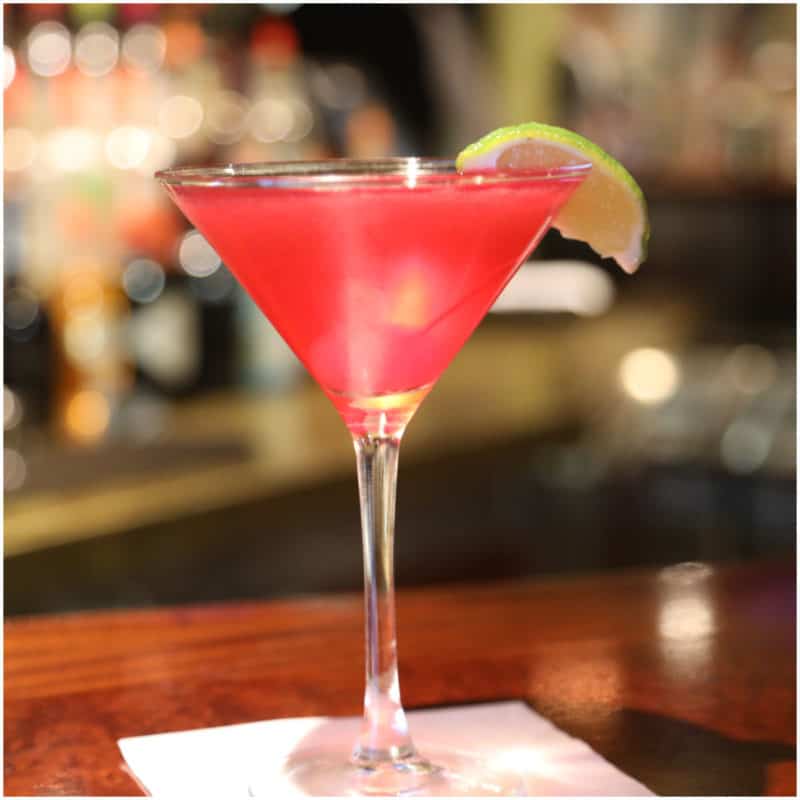 Ingredients: Absolut Vodka, Monin Pomegranate Syrup, Lemonade, Cranberry Juice
This Carnival Cruises copycat martini celebrates the pomegranate, another seasonal red fruit enjoyed throughout fall and winter! You can prepare individual servings in martini glasses or whip up a big batch for a holiday punch bowl.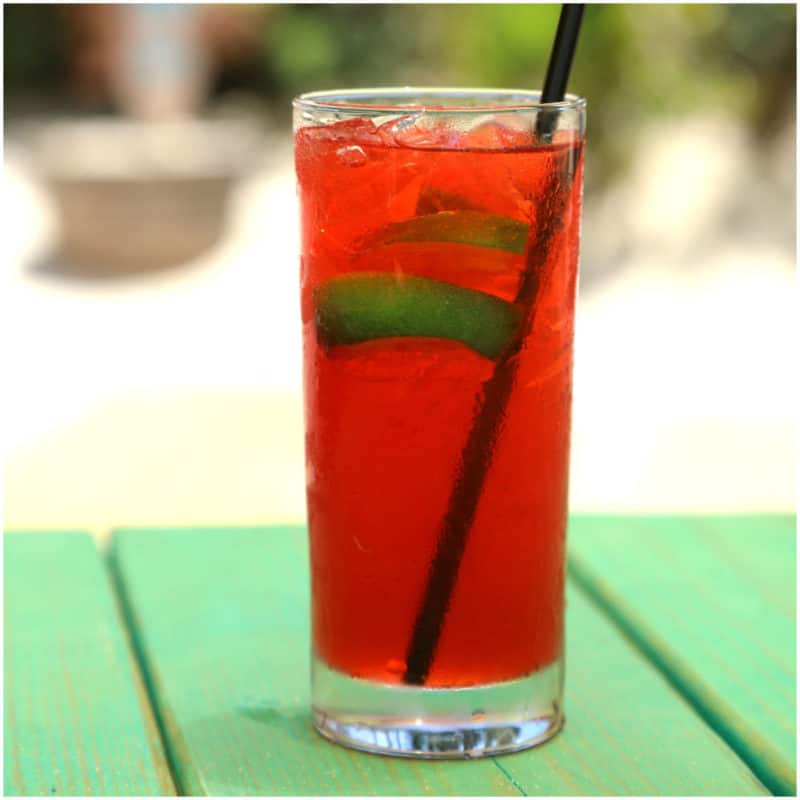 Ingredients: Lime, Simple Syrup, Ruby Red Grapefruit Vodka, Coconut Rum, Cranberry Juice
This cranberry, grapefruit, and coconut cocktail has the right balance of sweetness, tartness, holiday cheer, and tropical bliss to hold you over on the winter days you pine for warmer weather.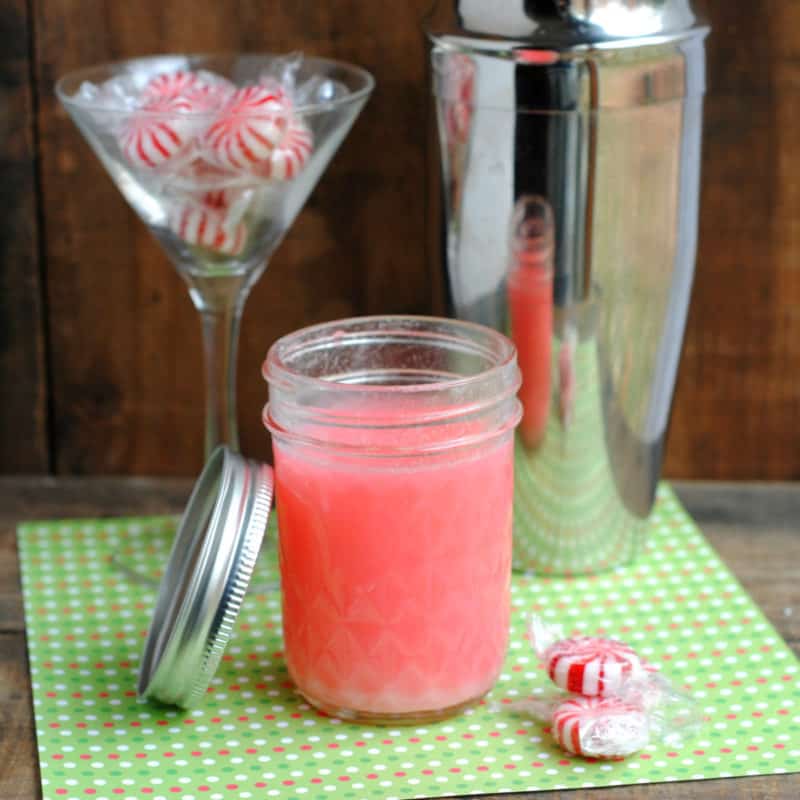 Ingredients: Vodka, Peppermint Candies
This homemade peppermint vodka is an excellent use of any candy canes lying around at home after wrapping this season's holiday gifts! We love preparing batches in mason jars for easy DIY holiday gifts.
Winter Shots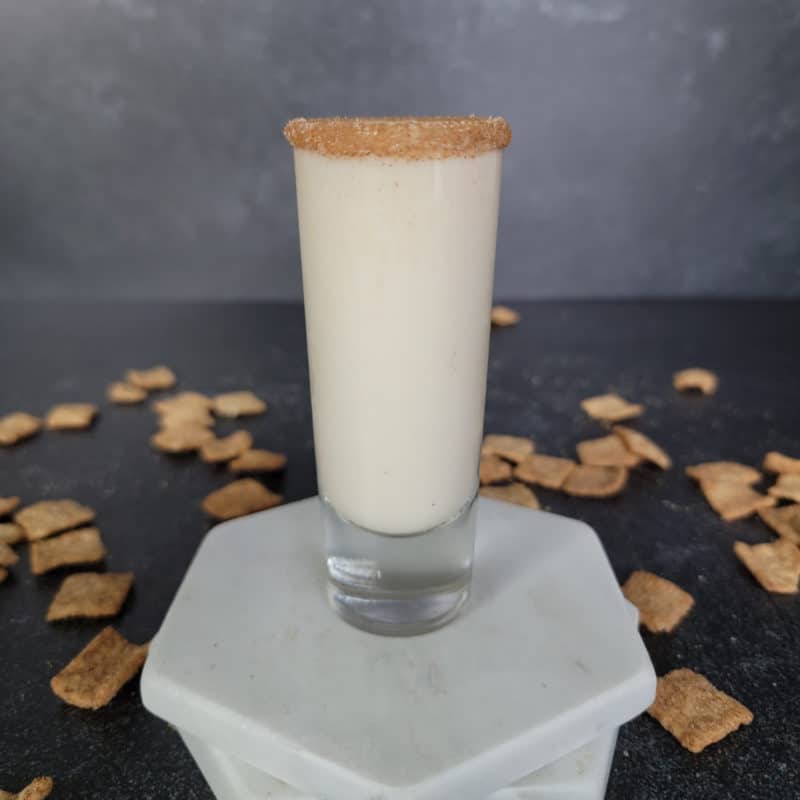 Ingredients: RumChata, Fireball Cinnamon Whisky, Sugar Water, Cinnamon Sugar Mixture
Serve a tray of these cereal-inspired shooters with your next holiday brunch for a nostalgic yet grown-up treat! They are easy to upsize into cocktails if you want an adult-sized helping.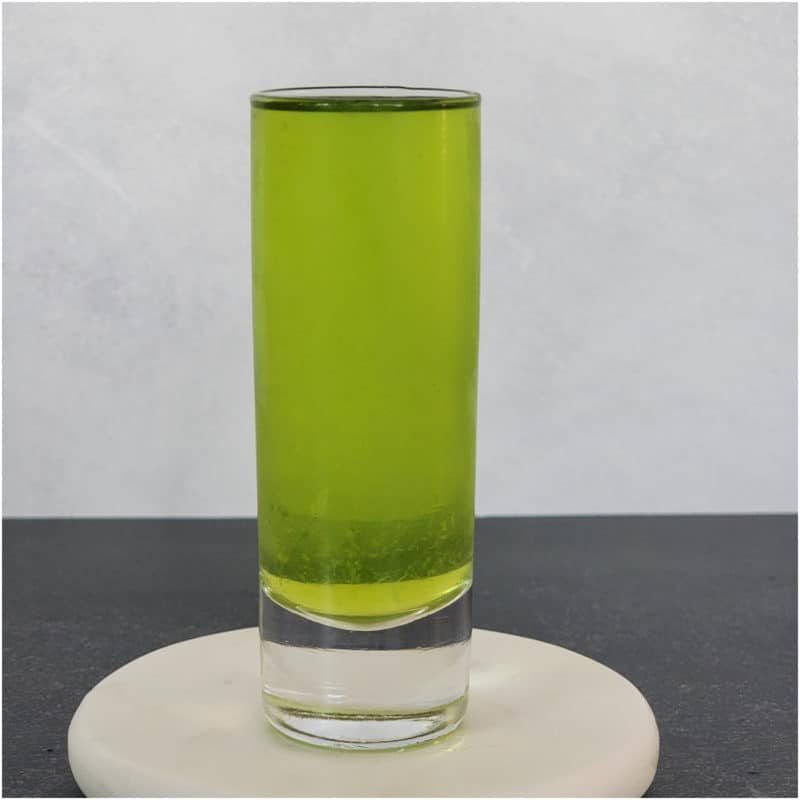 Ingredients: Amaretto, Midori Melon Liqueur, Lime Juice
We may be uncertain about how this bright-hued, three-ingredient shot got its name, but we agree it's a festive green shooter that would look at home on any holiday cocktail spread.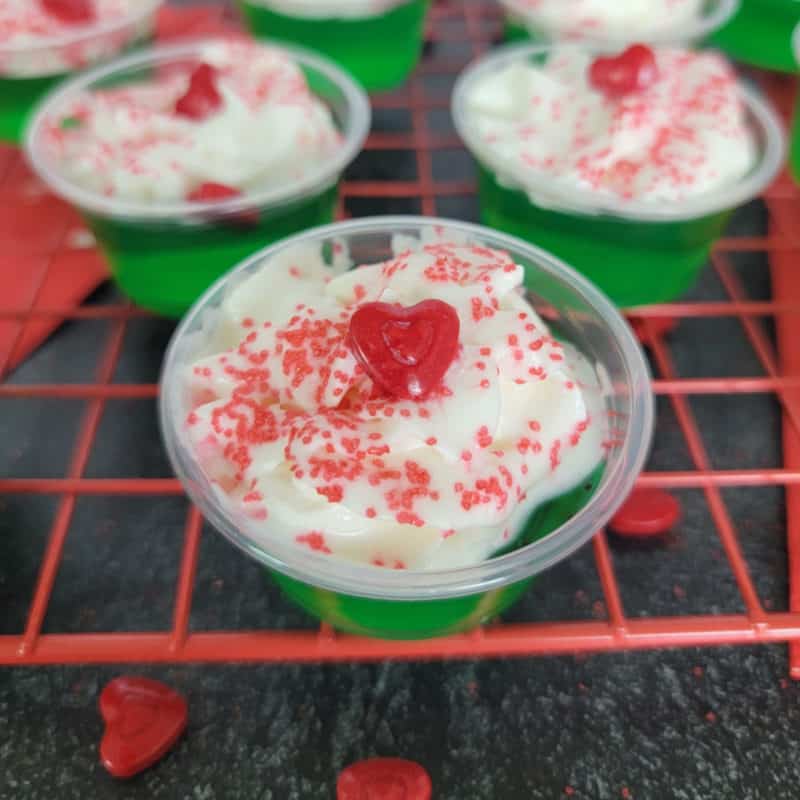 Ingredients: Green Jello, Vodka, Water
Just as the Grinch's heart grew multiple sizes by the movie's end, you can garnish these party-ready holiday Jello shots to your heart's delight! We decorated ours with whipped cream, red sugar, and red heart-shaped candies to contrast against the green gelatin.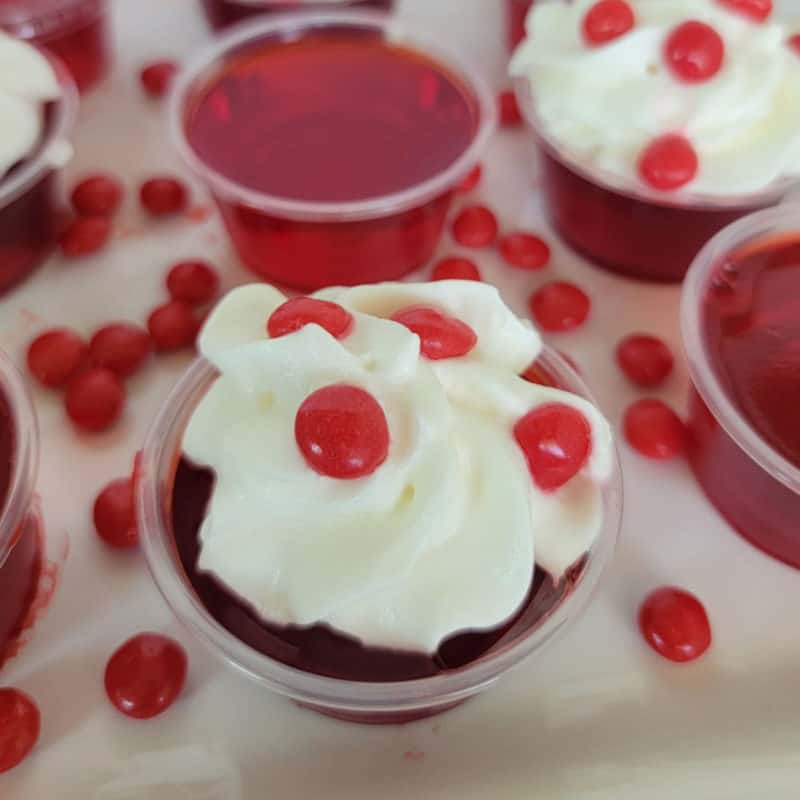 Ingredients: Cherry Jello, Fireball Cinnamon Whisky, Water
We love decorating these cherry Jello and Fireball party shots with Red Hots candies to pretty them up and add an even more spicy cinnamon kick to help you defrost from the winter weather.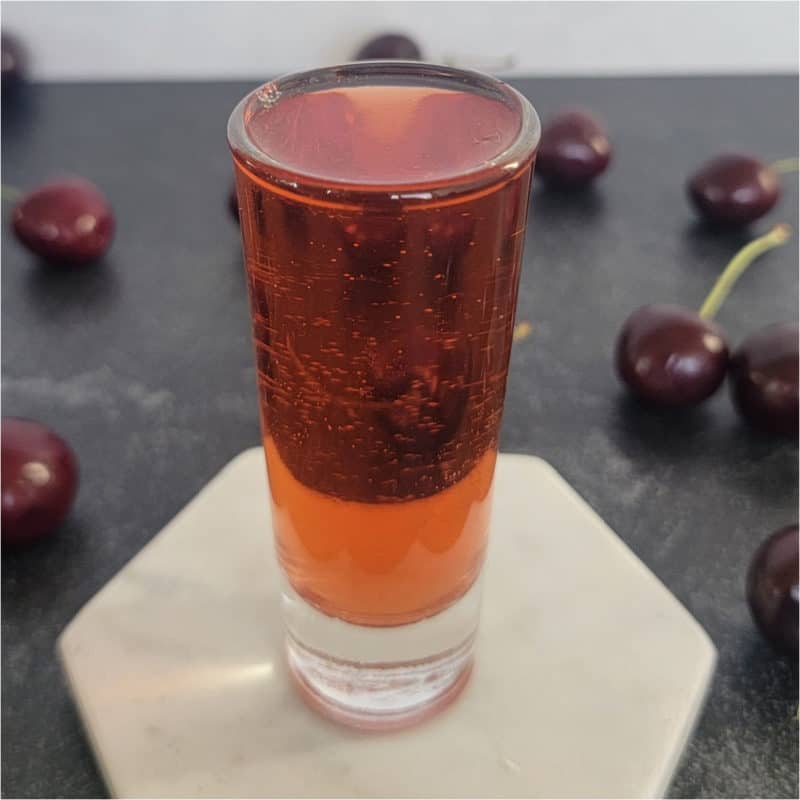 Ingredients: Grenadine, Cherry Vodka, Red Bull Energy Drink
The cherry in this ruby-red shooter comes from cherry vodka, while the "bomb" part is from the two ounces of Red Bull. You can adjust the color with grenadine if your cherry vodka is not red.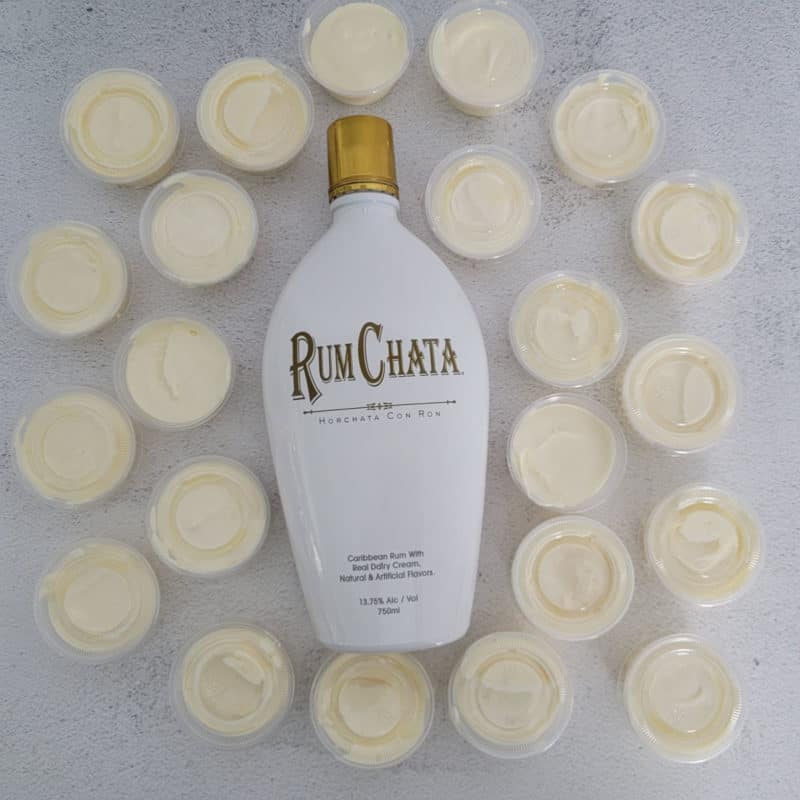 Ingredients: Milk, RumChata, Vanilla Instant Pudding Mix, Cool Whip
We used vanilla-flavored instant pudding mix in these pudding shots, but you can use any flavor you think would be yummy with RumChata! Cheesecake, chocolate, banana, and white chocolate would all be excellent options.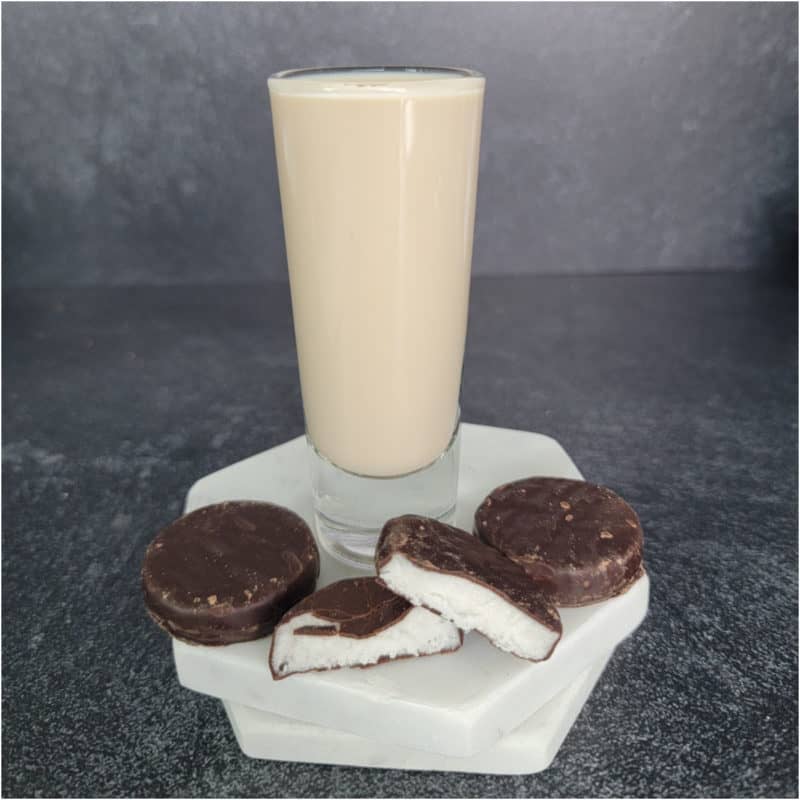 Ingredients: Creme de Cacao Liqueur, Peppermint Schnapps, Baileys Irish Cream
If you love York peppermint patties, Andes mints, or any combination of chocolate and mint, you'll love this Peppermint Patty Shot! You can use dark creme de cacao if you prefer the taste of dark chocolate, but keep in mind that your shot will look slightly darker than ours, as pictured.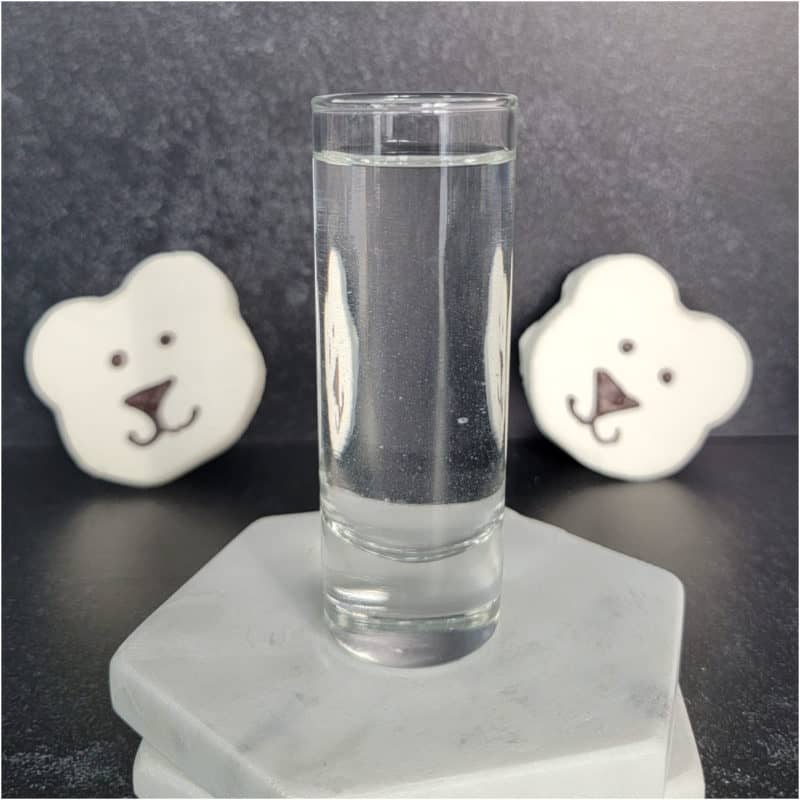 Ingredients: White Creme de Cacao, Peppermint Schnapps or White Creme de Menthe
Like our Peppermint Patty shot, this see-through shot made famous on the sitcom Schitt's Creek tastes like mint chocolate candy! You can replace the white creme de menthe with green creme de menthe if you prefer a green shot.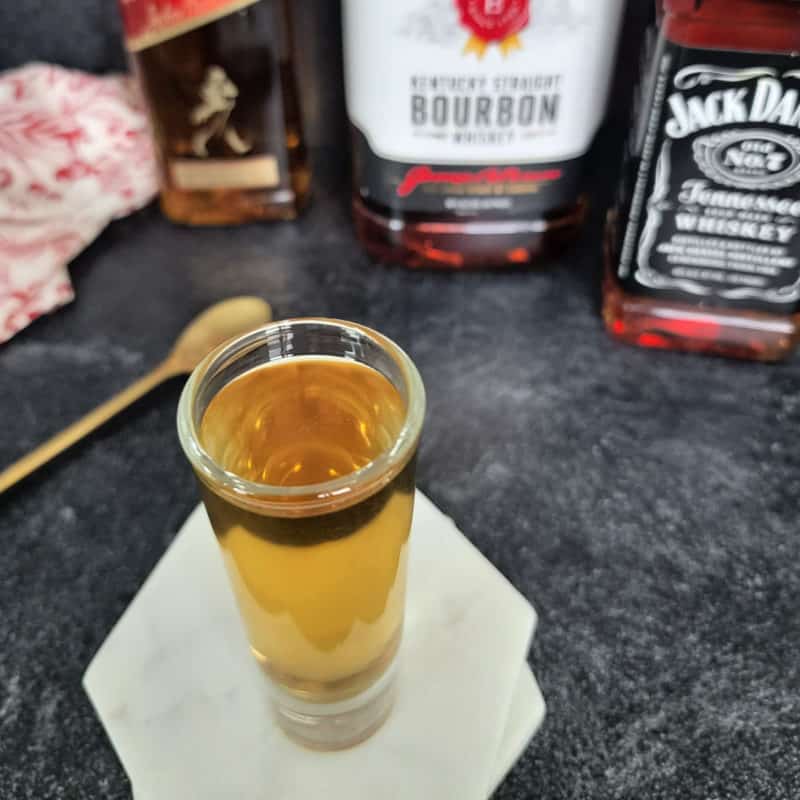 Ingredients: Johnnie Walker Red Label Scotch Whisky, Jim Beam Bourbon, Jack Daniel's Whiskey
What do you get when scotch whisky, bourbon, and Tennessee whiskey walk into a bar? This Three Wise Men Shot, of course! You can serve it neat in an old-fashioned glass if you prefer to sip on it than shoot it down, but remember it packs a punch.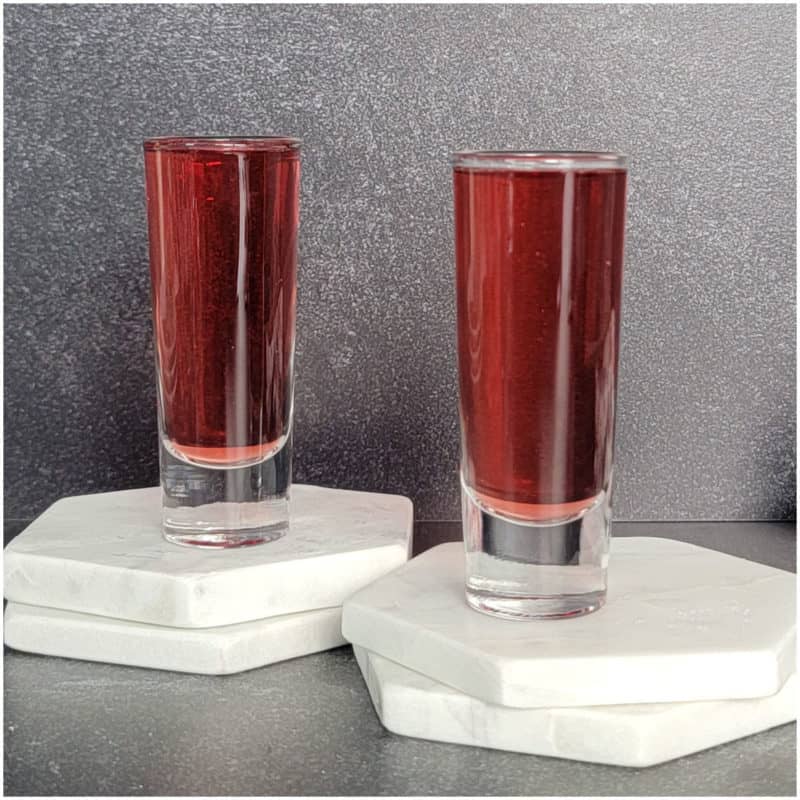 Ingredients: Crown Royal Canadian Whisky, Amaretto Liqueur, Cranberry Juice
Contrary to its name, no fish were involved or harmed in making this Canadian whisky, amaretto, and cranberry shot.
Favorite Cocktail Tools
2 ounce shot glasses - We love these 2 oz shot glasses especially for layered shots.
Bar Spoon - Bar spoons help to create layers in the cocktail shot. They fit perfectly into the cocktail shot glass. We like how long they are to make it easy to stir drinks.
Cocktail Shaker – This cocktail shaker comes with a fantastic set of tools to make it easy to shake and strain your winter cocktails.
Stemless Martini Glasses - These stemless martini glasses are fantastic.
Martini Glass - We like the look of the classic martini glass
Jell-O Shot Cups - We suggest using two-ounce Jell-O shot cups.
OXO angled jiggers - these are our go-to measuring tools for cocktails. They work perfectly for to pour in layers for cocktails.
Copper Mule Mugs  - Copper Mule Mugs are the classic way to serve Moscow Mules. The copper mugs keep them nice and cold and look amazing.
Coupe Glass - We love the look of these glasses.
Depending on the winter drink you may also need a saucepan to boil hot water.
Great Cocktail Recipe Collections
2 Ingredient Cocktails - These easy cocktails are made with gin, rum, vodka, and other great spirits.
Chambord Cocktails - Great cocktail recipes made with delicious Chambord Liqueur.
Peppermint Schnapps Cocktails - Are you wondering what to make with a bottle of Peppermint Schnapps? Don't worry these easy Peppermint Schnapps Drinks taste amazing
Moscow Mule Recipes - Try a new variation on the classic Moscow Mule Drink.
Butterscotch Schnapps Cocktails - No need to be bitter! These Butterscotch Schnapps Cocktails are easy to make and tastes oh so sweet.
Thanksgiving Cocktails - Check out this great list of easy cocktails perfect for Thanksgiving dinner.
Check out all of our Cocktail Recipes
Do you love recipes? Check out our copycat recipes, dessert recipes, and our CrockPot Recipes.
Follow Tammilee Tips on MSN, Facebook, Instagram, and Pinterest, for all of our recipe posts.