What's a milky, rich, and seasonal delight shared during the holiday? Eggnog! These Eggnog Recipes are a great way to use a bottle of Eggnog this holiday season.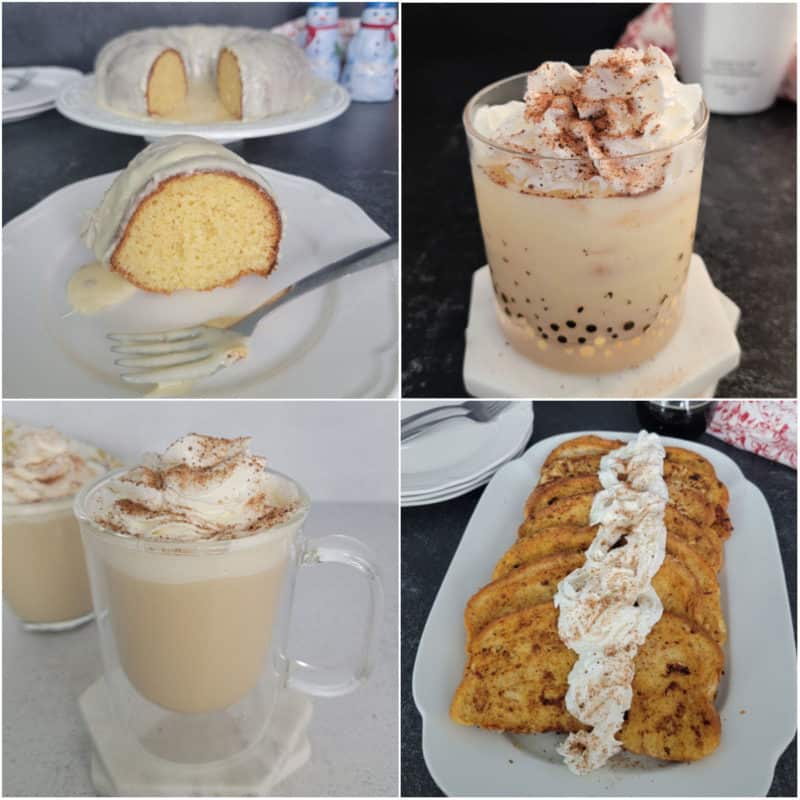 Delicious and Creamy: 15+ Eggnog Recipes to Try This Holiday Season
We know that some grocery stores seem to stock eggnog year-round, but if you are like most of us, eggnog likely doesn't cross your radar until stores begin stocking it around November in time for Thanksgiving. From there, it appears in almost everything, from coffee drinks to shakes to desserts.
If you're looking for all the ways to use up the carton(s) you plan to buy this year, you've come to the right place since this roundup is dedicated to eggnog!
We also know that some folks may be divided on how much they enjoy this decadent beverage. If you are more Team Hot Chocolate with hot Christmas drinks, we've got you here.
We are working on a homemade eggnog recipe, but until then, we are sharing these great recipes using eggnog.
When Did Eggnog Originate?
Most experts trace eggnog's origins to posset. Posset is a 13th-century medieval British ale milk punch served hot. Due to the cost of the ingredients required to make it, namely milk, eggs, and sherry, it was considered a drink of the aristocracy and was a common sight at large social gatherings.
We have read that posset contained warming spices, like cinnamon and nutmeg, that would be at home in today's eggnogs. However, we have also read that some posset recipes included fruits like figs.
Can you imagine drinking figgy eggnog? It is, well, interesting.
Why Is Eggnog a Christmas Tradition?
Settlers to the New World brought eggnog to what would eventually become the United States. Many established farms and had easy access to cows and chickens, making these commodities readily accessible and breaking down the barriers to everyone having a cup or two.
While some made their versions of eggnog without alcohol, many continued the tradition of adding lots of booze to theirs. George Washington is known for having an incredibly boozy eggnog recipe containing brandy, rye whiskey, Jamaican rum, and sherry.
Can Eggnog Be Made Without Eggs?
Yes! Grocery stores now typically carry plant-based alternatives to ensure that vegans or anyone who wants a lighter version can enjoy this treasured holiday beverage.
Can Eggnog Expire?
Eggnog contains perishable ingredients, like dairy and eggs, so it will not last forever. Here are the general guidelines for how long eggnog lasts in your fridge:
Homemade Eggnog: 2-3 days in the fridge
Store-Bought Eggnog: 5-7 days in the refrigerator after opening
Canned Eggnog: 4-5 months unopened and 5-7 days in the fridge after opening
The story is a bit different for boozy eggnog, however, as the alcohol in it makes it last much longer. It should last about a year and a half unopened and for a few weeks once opened.
Will Eggnog Freeze?
Yes. Homemade and store-bought eggnog freeze for up to six months. Once it has thawed in your fridge, give the container a few shakes to reincorporate it to a drinkable consistency.
Will Eggnog Whip?
Yes and no. Eggnog can't whip on its own, but with some help, it can turn into a delicious whipped topping you'll want to add to anything sweet this year. Look for our recipe below.
Eggnog Recipes
These recipes can be made with a traditional eggnog recipe or store bought eggnog. We made them with different brands we found at the store.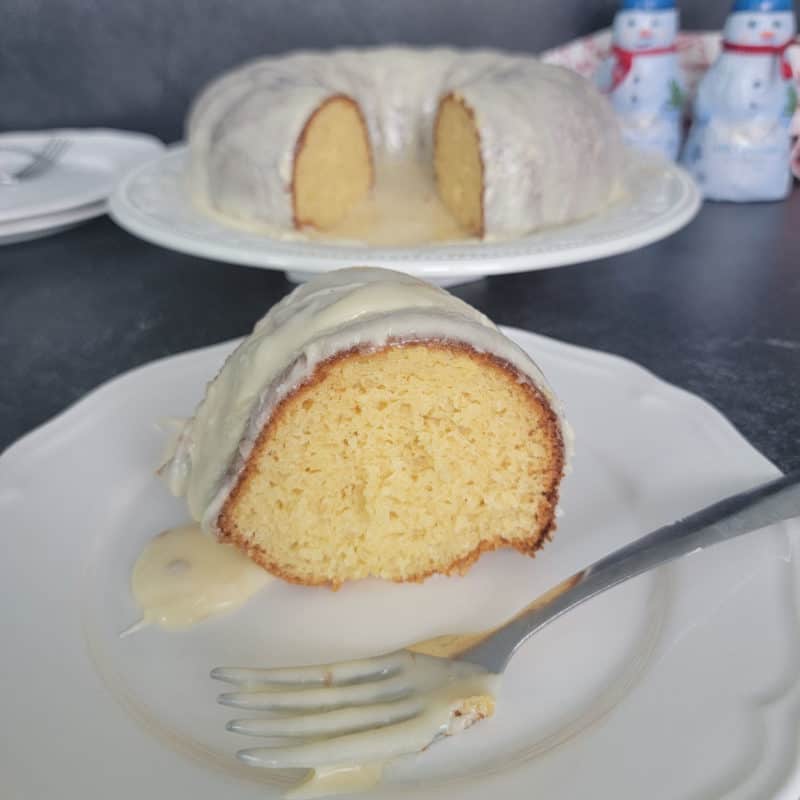 We use a full cup and a few tablespoons of eggnog in the homemade glaze to ensure yummy eggnog flavor in each bite! The year we made it and shared it on the site, it was a fantastic use of the Costco-sized jugs we'd purchased for the holidays.
Make this Bundt cake in one standard pan for a traditional-sized cake, or divide it across smaller Bundt cake pans for mini versions.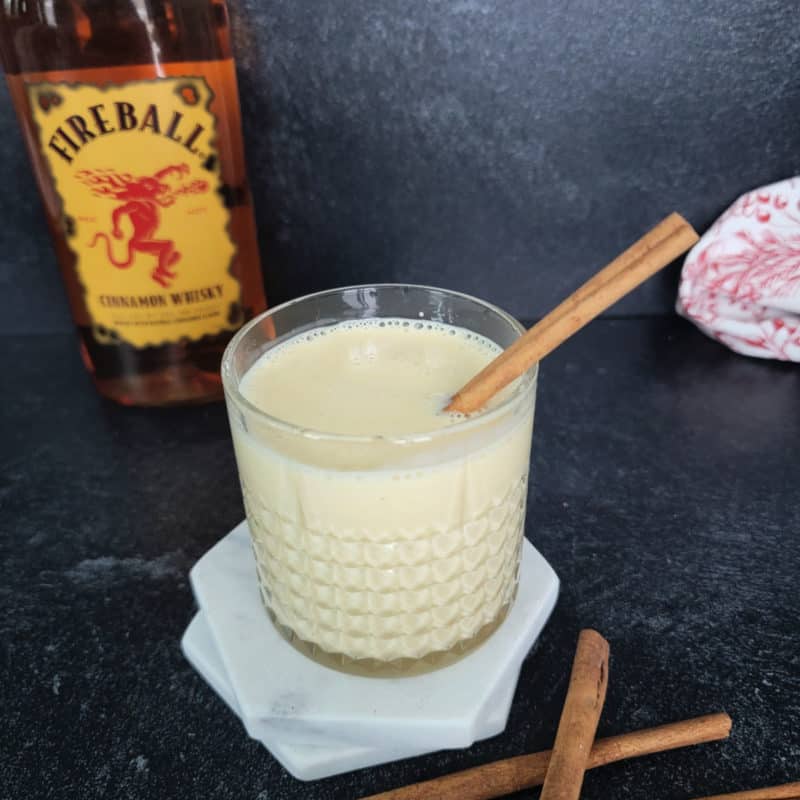 Fireball is a cinnamon whisky, and eggnog and cinnamon go together like two peas in a pod, so why not combine the two? The result is one soul-warming and heart-warming beverage. Rim your glass with a cinnamon sugar mixture for extra holiday cheer, and elevate it with a few dashes of orange bitters.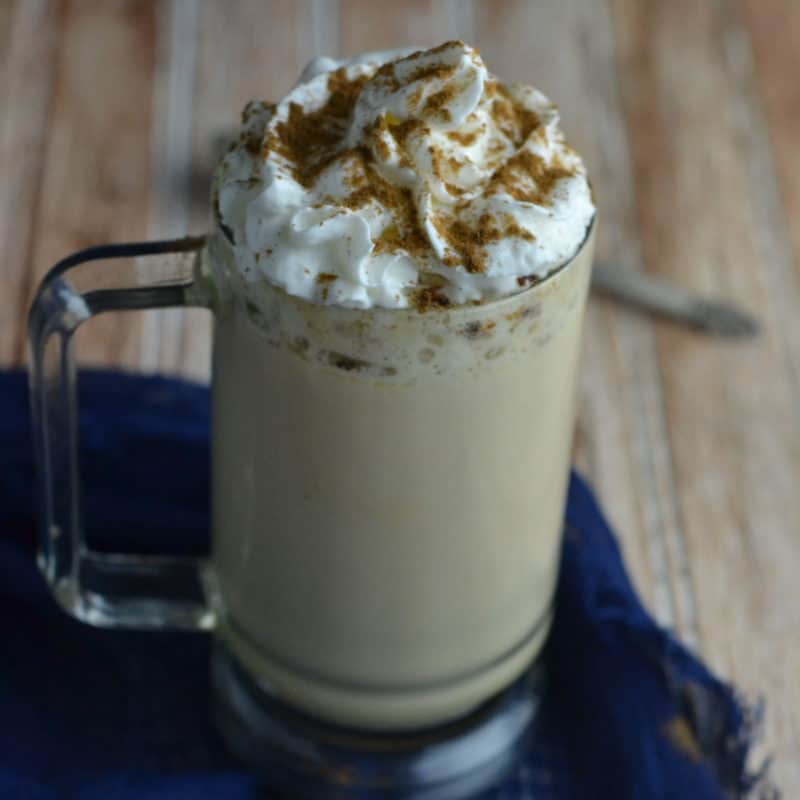 Coffee shops around you may have eggnog lattes available during this time of year, but with this easy recipe based on pantry staples, you can save a few bucks and make two heaping cups in just ten minutes.
Top it with whipped cream and ground nutmeg for a proper espresso bar treat, then sip and smile at the money you just saved making it at home.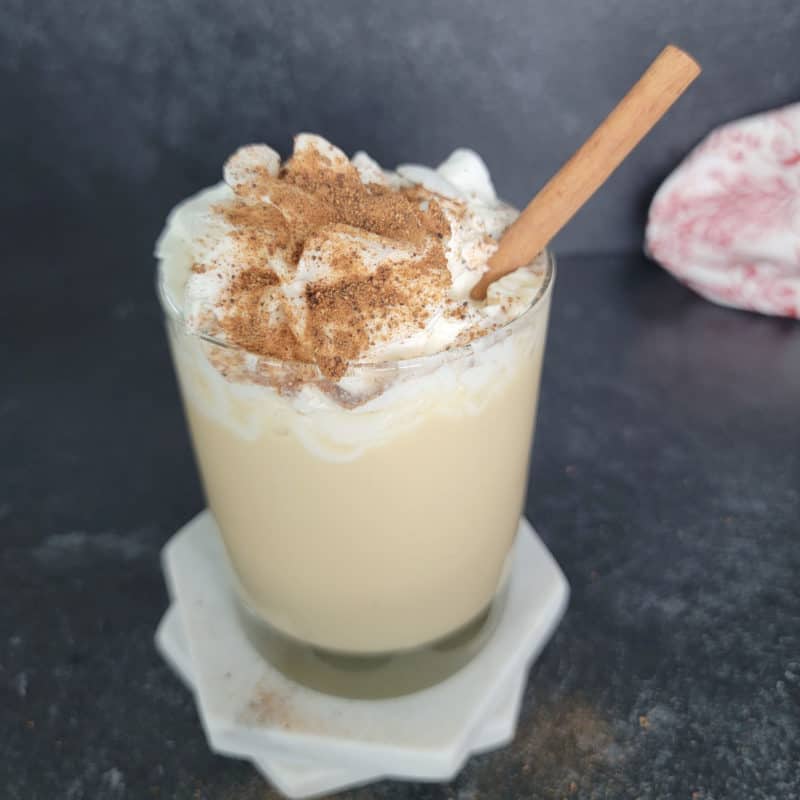 A traditional mudslide cocktail contains vodka, coffee liqueur, Irish cream, and heavy cream for milkshake-like thickness. In this recipe, eggnog replaces the heavy cream for a festive twist that makes excellent and yummy use of the wintertime's most beloved dairy-based beverage!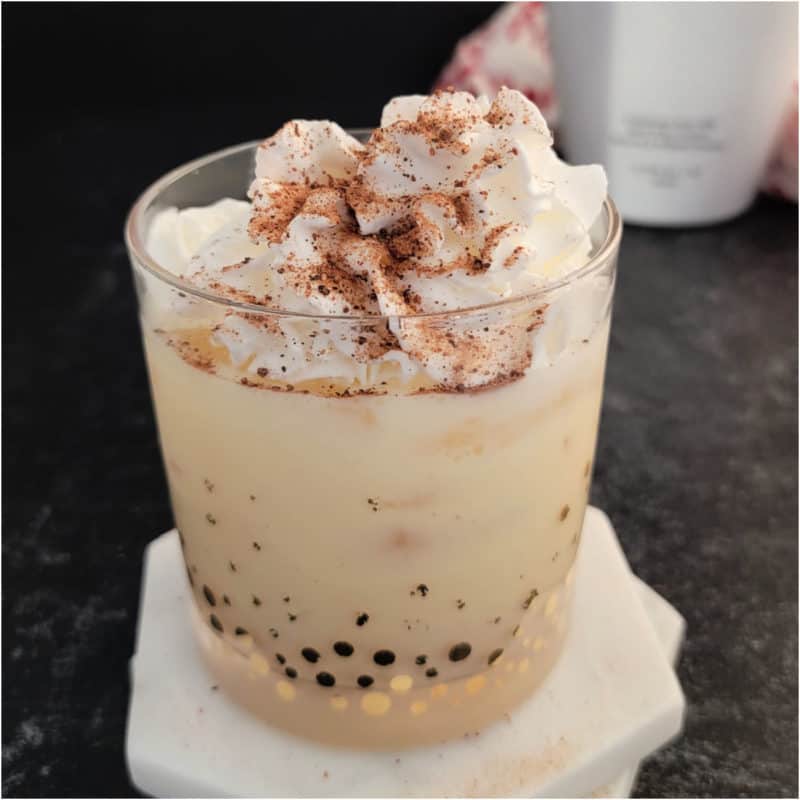 Since decadent treats are the name of the game during the holidays, we love topping this sweet cocktail with whipped cream and sometimes adding a shot of bourbon to make it extra boozy. However, you can also rim the glass with cinnamon sugar for a lighter version that gives it more of a horchata taste.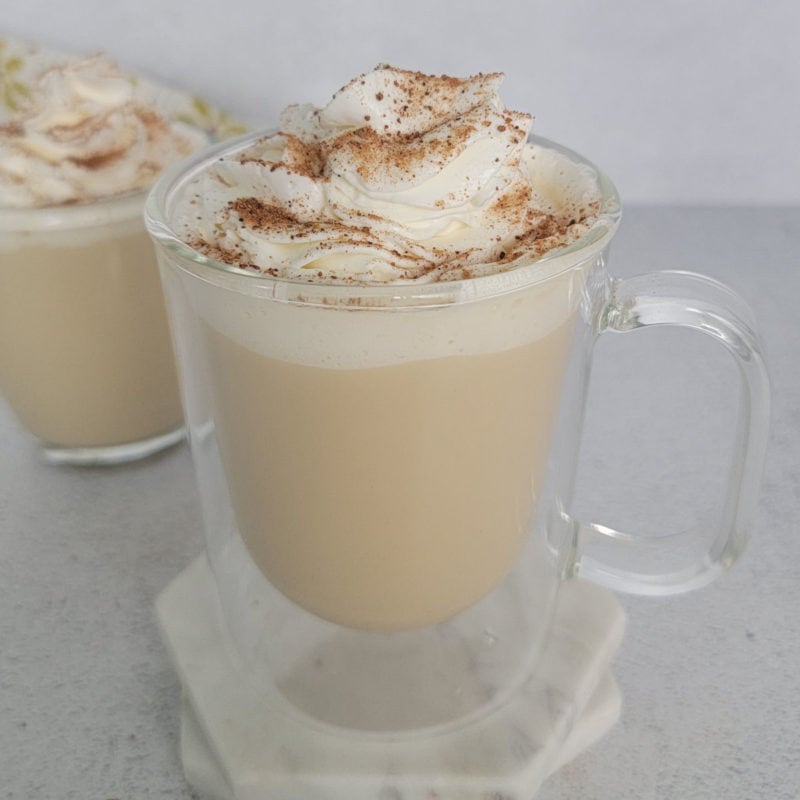 I am a morning person who enjoys lots of chai tea, and John needs a full cup of coffee before he can begin his. This homemade Eggnog Coffee came out of the realization that we were wearing our pocketbooks thin with frequent Starbucks eggnog lattes and pumpkin spice lattes. Saving money and still enjoying our favorite treats is always a win-win.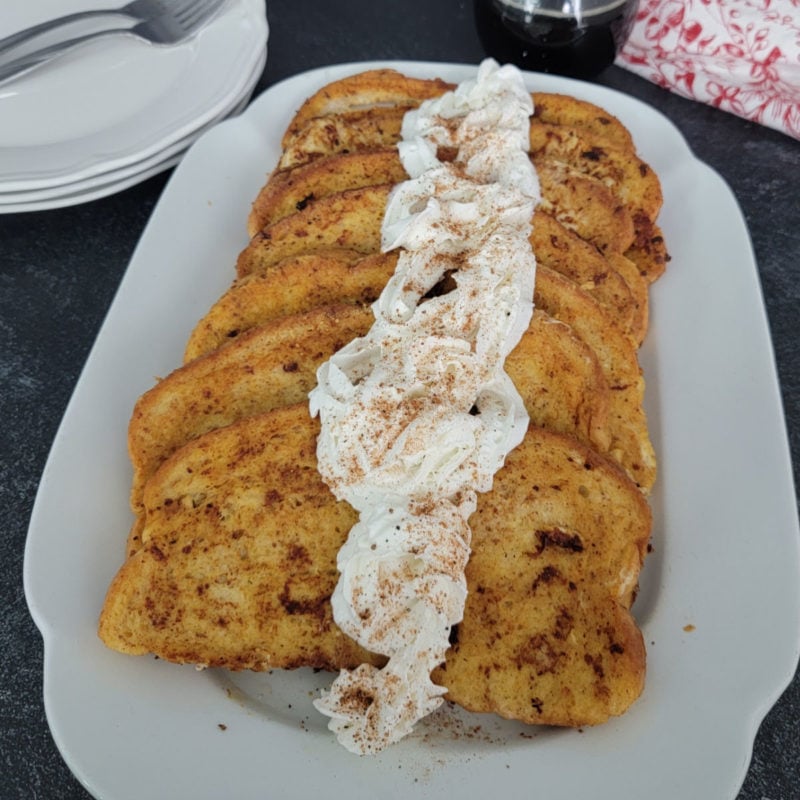 This Eggnog French Toast, aside from another use of the jugs of eggnog we bought from Costco one year, is one of our favorites to serve on Christmas morning! We love making an entire breakfast out of it with helpings of bacon, sausage, hash browns, and eggs. Check out our Breakfast Recipe collection for more ideas.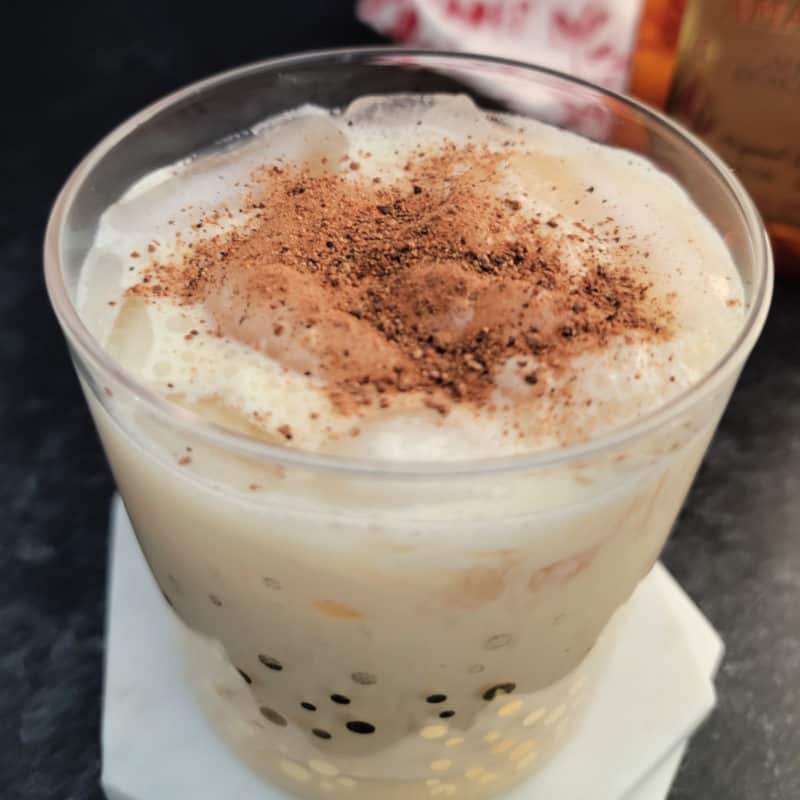 We love how the nutty flavor of amaretto perfectly complements creamy eggnog in this two-ingredient cocktail recipe. You can make this adult-only eggnog beverage neat or chilled with ice, depending on how cold you want to serve it. Sprinkle some nutmeg to finish off this great drink.
Scale the recipe up and combine it in a punch bowl for group serving!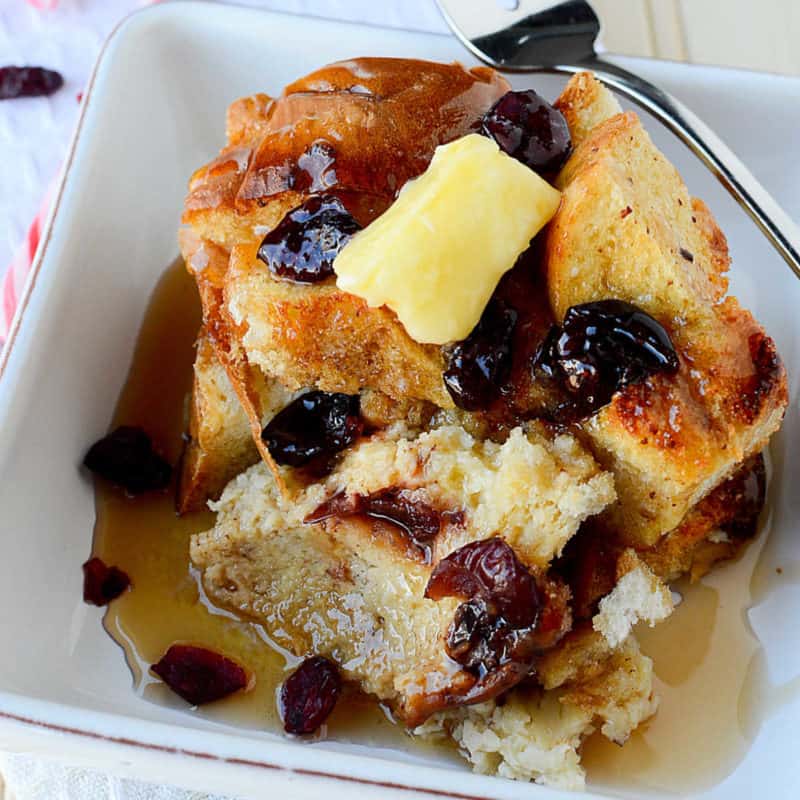 Here's the CrockPot version of our Eggnog French Toast! As with our oven-made recipe, add some rum or rum extract to make it extra decadent, and thick bread like brioche, challah, or Texas toast works like a dream. We've even topped it with a helping of cranberry jelly or compote to keep the Yuletide cheer going strong.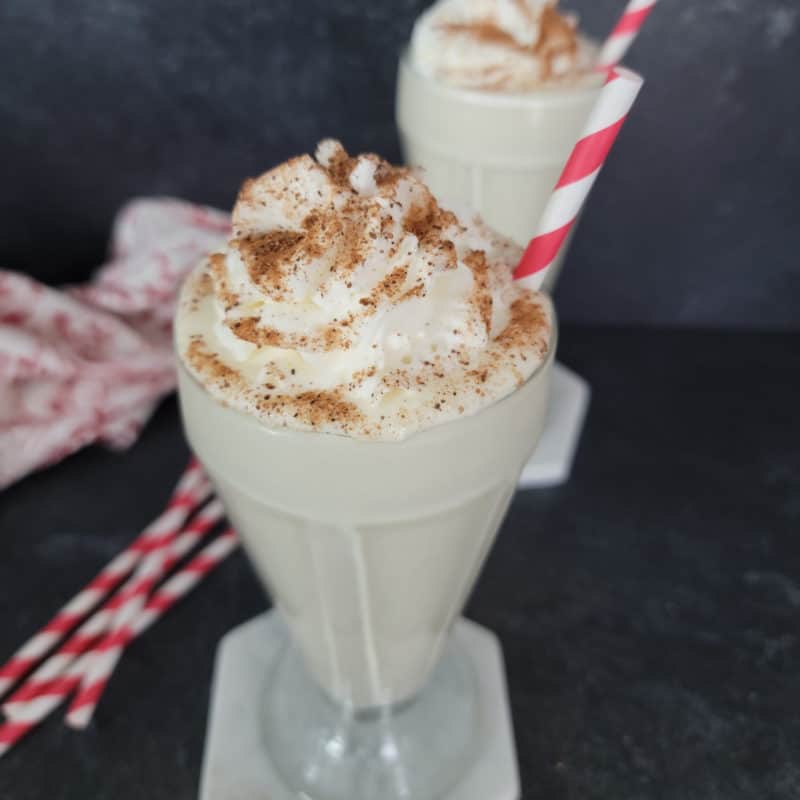 This swoon-worthy Eggnog Shake would be fantastic if you live in a warmer climate but still want to enjoy all the eggnog to your heart's delight. Unlike the McDonald's version, you can make it anytime you have the ingredients and a craving for it and can deck it with your choice of toppings.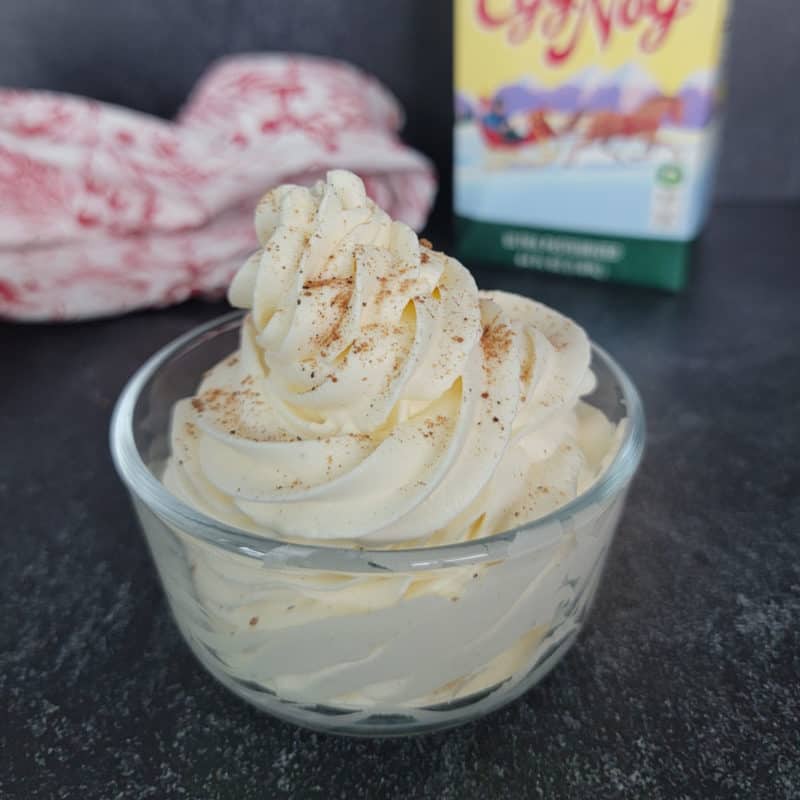 Eggnog does not have the consistency to turn into whipped cream alone, but in this recipe, adding heavy cream and beating it chilled with an electric mixer does wonders at producing a delectable eggnog-flavored whipped topping for coffee, hot chocolate, ice cream sundaes, and other sweet treats you might find yourself savoring this holiday season.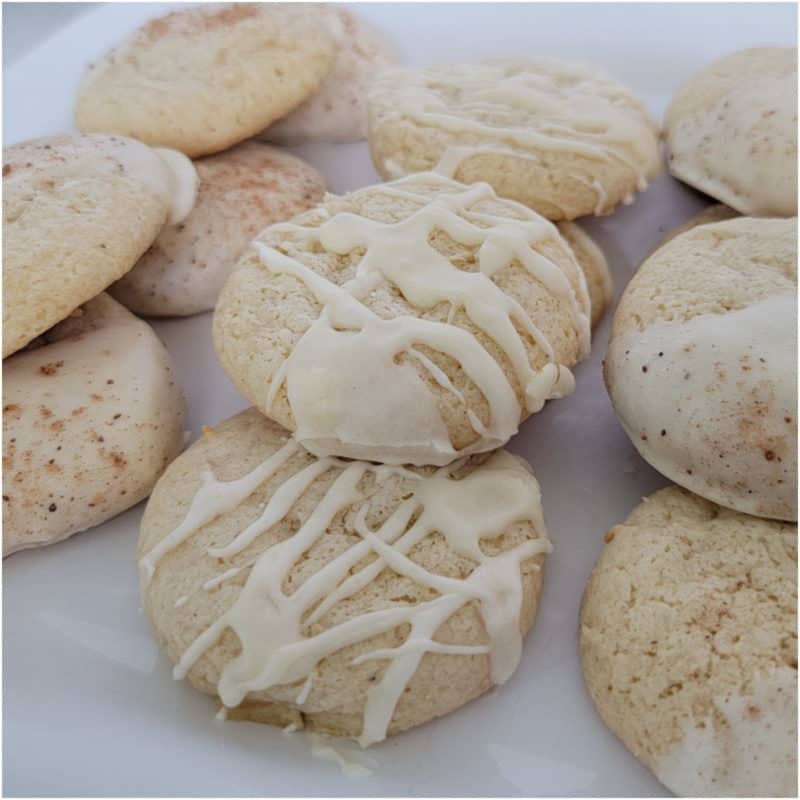 As soon as we discovered that you can make more than cake with a box of cake mix, we grew to love making cake mix cookies and adding fun holiday twists to make them unique. Adding eggnog feels like it makes everything perfect for the Christmas holiday.
Jazz up this eggnog cookie recipe with your favorite holiday spices, frosting, or dustings of powdered sugar on top.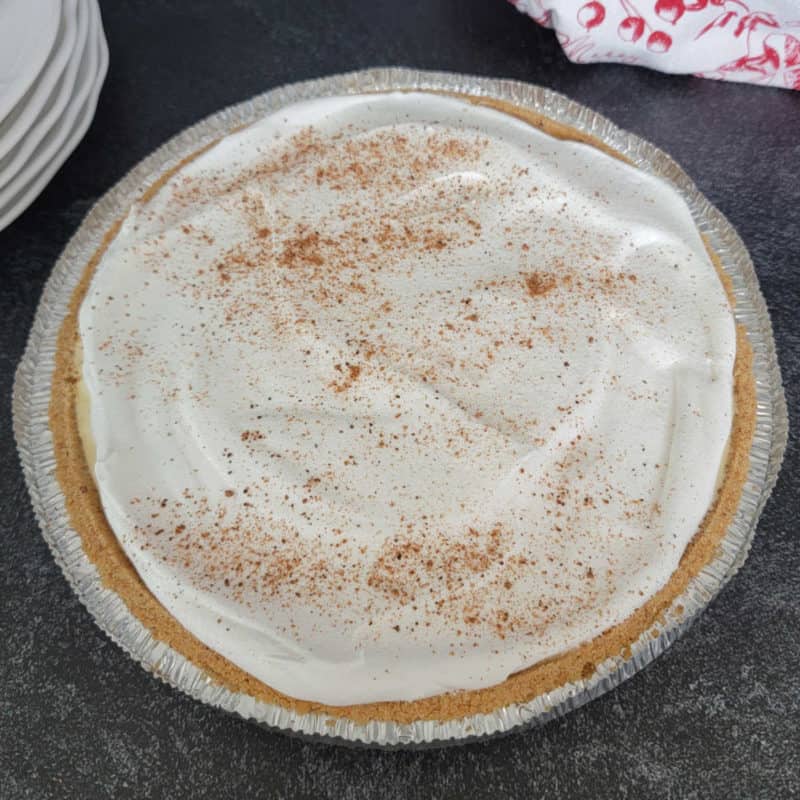 While a no-bake pie may make you think of lemon or lime, ours uses eggnog and instant vanilla pudding mix for a seasonal take ready to star on your holiday dessert spread. Feel free to use a store-bought or homemade pie crust.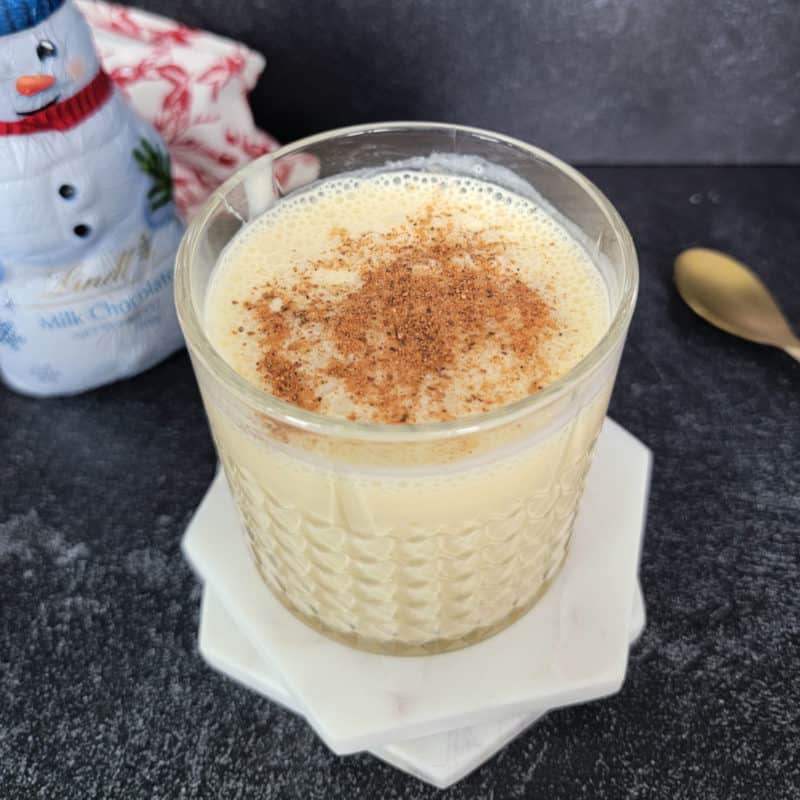 Boozy eggnog typically uses spiced rum or sherry, but bourbon has many warmer flavors that pair well with eggnog. We've included some suggestions for bourbons you can use in this boozy eggnog cocktail, but any kind you enjoy and can pick up from a store near you would be excellent!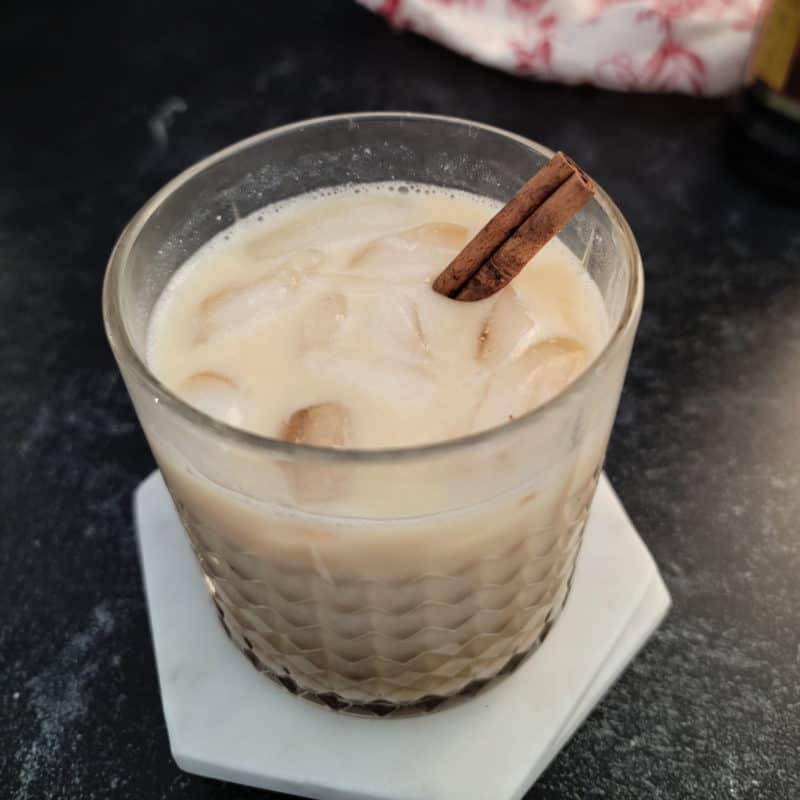 Garnish this festive twist on the white Russian with whipped cream, nutmeg, cinnamon, and star anise for a treat you'll enjoy as you warm up by the fireplace this winter. Add a dollop or two of our Eggnog Whipped Cream if you love eggnog!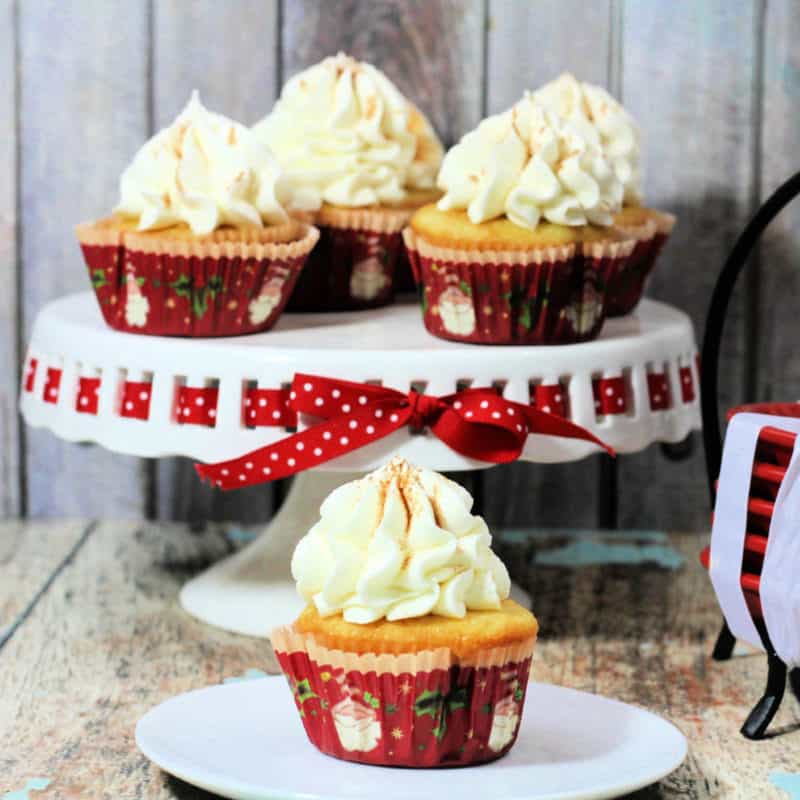 This eggnog cupcake recipe is 100 percent scratch-made, even down to the frosting! This recipe was part of our Cupcake Saturday series we ran a few years ago, where we had loads of fun sharing new cupcake recipes each Saturday. These cupcakes would be great for a holiday party or potluck!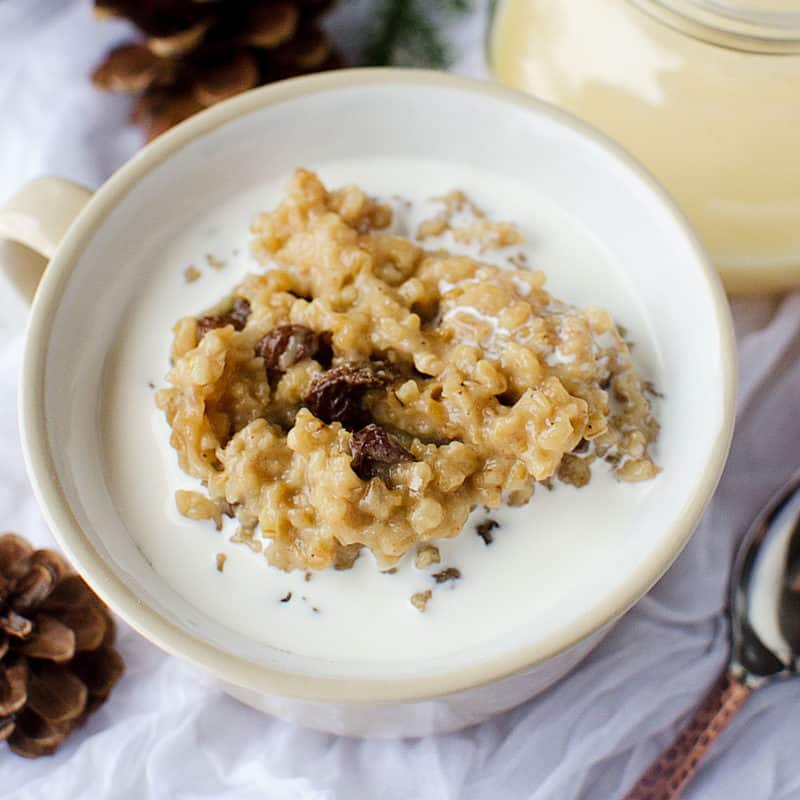 Do you need a quick break from Christmas Eve festivities and like the idea of a breakfast ready to go when you wake up on Christmas morning? It only takes fifteen minutes of prep time and setting the timer for a few hours to whip up this slow-cooker Eggnog Oatmeal and ensure everyone has a piping-hot bowl at the dining table the next day as they open gifts.
Recipe Tips
Printable recipe card instructions are available in each individual post.
Nutrition information, including calories, protein, calcium, carbohydrates, fiber, vitamin c, potassium, cholesterol, sodium, trans fat, monounsaturated fat, polyunsaturated fat, and more, will vary depending on the products used.
Great Recipe Collections
Peppermint Schnapps Drinks - A fun collection of drinks made with Peppermint Schnapps
Side Dishes for Ham - What to serve with leftover ham for a great meal.
Frangelico Cocktails - Everything you need to know to mix amazing Frangelico Cocktails that taste amazing!
Christmas Cocktails - Epic Christmas Cocktails everyone will love! Make these great drinks for your holiday party and celebrate the holiday season with these great cocktail recipes!
Potluck Recipes - Our favorite easy potluck recipes including perfect dishes for holiday parties.
Do you love recipes? Check out our copycat recipes, dessert recipes, and our CrockPot Recipes.
Follow Tammilee Tips on MSN, Facebook, Instagram, and Pinterest, for all of our recipe posts.