Today is a big day! The Signature Edition of "The Little Mermaid" is out of the vault and available for purchase! Woohoo!!! We are going to skip right over the fact that it is the 30th anniversary of Little Mermaid because it makes me realize I was 12 when the Little Mermaid came out...how is this possible!
To celebrate we are sharing these great Little Mermaid Quotes that are perfect for Instagram, emails, cards, or just saying to everyone you can today!
Little Mermaid Quotes
You're not getting cold fins now, are you? ~Ariel
We mustn't lurk in doorways. It's rude. ~Ursula
Somebody's gotta nail that girl's fins to the floor. ~ Sebastian
Teenagers. They think they know everything. You give them an inch, they swim all over you. ~Sebastian
Isn't this great? The salty sea air, the wind blowing in your face. A perfect day to be at sea! ~Eric
It's a dinglehopper. Humans use these little babies to straighten their hair out. ~ Scuttle
Now, let's eat before this crab wanders off my plate. ~Grimbsy
Look at this stuff. Isn't it neat?~Ariel
I'm sixteen years old. I'm not a child anymore.~Ariel
Who says that my dreams have to stay my dreams? ~Ariel
I wanna be where the people are, I wanna see, Wanna see 'em dancing, walking around on those…What do you call 'em? Oh… feet! ~ Ariel
Ariel, listen to me. The human world is a mess. Life under the sea is better than anything they got up there. ~ Sebastian
Ariel, please! Will you get your head out of the clouds and back in the water where it belongs? ~ Sebastian
We got no troubles…life is bubbles under the sea. ~ Sebastian
Have you ever seen something so wonderful in your entire life? ~ Ariel
The seaweed is always greener in somebody else's lake. ~ Sebastian
Jeez, mon, I'm surrounded by amateurs. You want something done, you've got to do it yourself. ~ Sebastian
Sweetie, it doesn't matter if you have fins or feet. We love you for who you are on the inside, our very brave little girl. ~ Ariel
Down here all the fish is happy
As off through the waves, they roll
The fish on the land ain't happy
They sad 'cause they in their bowl
But fish in the bowl is lucky
They in for a worser fate
One day when the boss get hungry
Guess who's gon' be on the plate
~Sebastian
He loves me. He loves me not. He loves me! I knew it. ~ Ariel
What would I give
If I could live
Outta these waters?
What would I pay
To spend a day
Warm on the sand?
Ariel
"Sebastian, you watch over her," he said. I'm too old for this! A crab my age should be retired! Getting a tan! Playing sea golf! Sipping a Tuna Colada! Not babysitting another teenager." ~Sebastian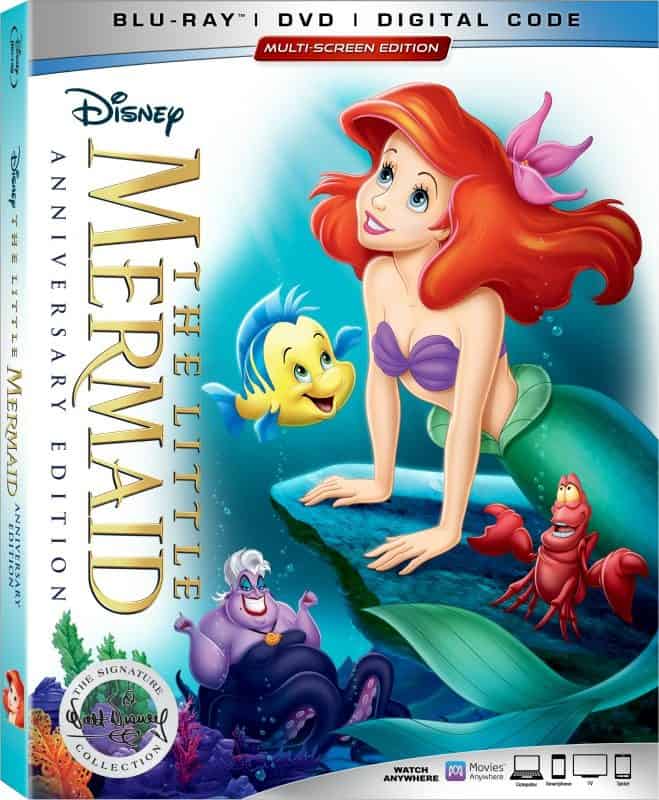 In honor of its 30th anniversary, two-time Academy Award®-winner (Best Original Score and Best Original Song "Under the Sea," 1989) "The Little Mermaid," dives into the highly celebrated Walt Disney Signature Collection with all-new bonus features and a sing-along mode.
The Signature Edition of "The Little Mermaid" showcases its award-winning musical score and iconic songs such as "Under the Sea" and "Part of Your World" with a sing-along mode allowing you to accompany this beloved cast of characters on their journey.
Never-before-seen bonus features bring legendary composer Alan Menken and some of Disney's most recognizable leading ladies together around a piano to reminisce, sing and celebrate "The Little Mermaid."
The latest installment of "Stories from Walt's Office" compares Walt and Ariel's love of collecting treasures. Viewers will also receive an inside look at the "The Little Mermaid" cast in their original recording sessions, explore hidden treasures and fun facts from the film, and enjoy a special performance of "Part of Your World" by a cappella singing sensation DCapella.
Plus, fans will have access to hours of additional classic bonus features!
ALL-NEW BONUS FEATURES: *
BLU-RAY & DIGITAL
Sing-Along Mode – Sing along to the movie in this sing-along version of the film.
Alan Menken & the Leading Ladies Song – From the voice of a mermaid to the tunes of a muse, the music of Alan Menken has scored the soundtrack for some of Disney's most iconic leading ladies. Join Alan, Jodi Benson (Ariel), Paige O'Hara (Belle), Judy Kuhn (Pocahontas Singing Voice), Lillias White (Calliope) and Donna Murphy (Mother Gothel)as we celebrate the music of their films in honor of the one that started it all … "The Little Mermaid."  In this discussion, the ladies will share their memories of musically creating their characters with Alan, discuss what it means to be part of the Disney Princess/leading lady legacy and create new memories as they sing with Alan around a baby grand piano.
"What I Want From You…Is YOUR VOICE" – Enter the recording studio and get an inside look at the cast of "The Little Mermaid" in their original recording sessions.
Stories From Walt's Office – Gadgets & Gizmos – Like Ariel, Walt Disney was a collector of many different things from miniatures to early mechanical characters that inspired the invention of audio-animatronics. We take a look at some the collections that Walt kept in his office in the third episode of this series.
#TreasuresUntold – Join Ruby Rose Turner and Olivia Sanabia from the Disney Channel Original Series "Coop and Cami Ask the World" as they take a deep dive to explore some hidden treasures and fun facts about Disney's "The Little Mermaid."
DCapella "Part of Your World" Music Video
Classic Bonus Features – revisit four exciting bonus features from previous releases including:
Deleted Character: Harold The Merman
Under The Scene: The Art Of Live Action Reference
Howard's Lecture
Audio Commentary With Ron Clements, John Musker and Alan Menken
DIGITAL EXCLUSIVES
"Part of Your World" – A 30-Year Retrospective – Songwriter Alan Menken and Jodi Benson, the acting and singing voice of Ariel, sing the epitome of Disney "I Want" songs "Part of Your World" and discuss its impact since it was first heard 30 years ago.
Classic Bonus Features – Over 3 additional hours of previously released classic bonus features including Deleted Scenes, Easter Eggs, Music Videos and more!
*Bonus features may vary by retailer
Disney paid for my travel expenses to attend the press event in Los Angeles, CA for Ralph Breaks the Internet. As always, all thoughts and opinions are my own.