I have been hinting around at these Captain Marvel Set visit photos for what feels like months. It is so hard to keep these a secret when all I want to do is shout it from the rooftop that I got to wander the set of Captain Marvel and meet Brie Larsen and Samuel L. Jackson. EEEEK!!!!!!!
This was a total pinch me moment that I still can't believe is real life. When I lost my corporate job and started typing an online diary I NEVER could have imagined being invited to tour Marvel movie sets and attend red carpet premieres. If you would have told me 10 years ago that this would be a thing I would have fallen on the floor dying laughing and probably needed medical help I would be in such shock. Fast forward to my last trip to LA and it happened and I still can't believe it.
Captain Marvel Set Photos
CAPTAIN MARVEL arrives in theaters everywhere TOMORROW March 8th, 2019!
The first thing we did on set was to tour a few of the weapon trucks and props. The weapons look like they should be really heavy but they are made with plastic and easy to maneuver. They told us that they have different weapons based on the type of scene that they are shooting. I am always amazed at the details that are put into each prop for the movie.
We also had the chance to walk through the wardrobe trailer and see some of the costumes for this movie. As a teenager of the 90s, I fully appreciated seeing NIN t-shirts and other clothes that reminded me of high school and college.
The prop trailer was divided by actress or actor and then by type of prop. The level of organization could make Marie Kondo very very happy! Everything is labeled down to size and item name. It is amazing how many variations of the same outfit they have for pre and post-fight scenes and other scenes that can damage the clothes.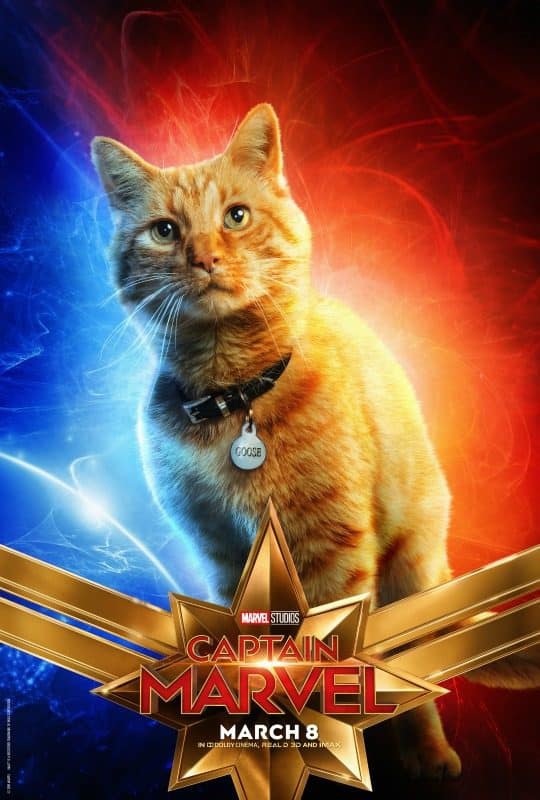 I know it won't surprise you that a highlight of our Captain Marvel Set visit was meeting Goose the cat!  So cute and so well trained!
I survived the mind fracker...especially since I think we were supposed to be upside down and hanging from it. LOL! Thank goodness Marvel didn't ask us to do acrobatics on set. I would still be in traction from the visit.
Have you seen the Captain Marvel Trailer!
Check out the Captain Marvel movie poster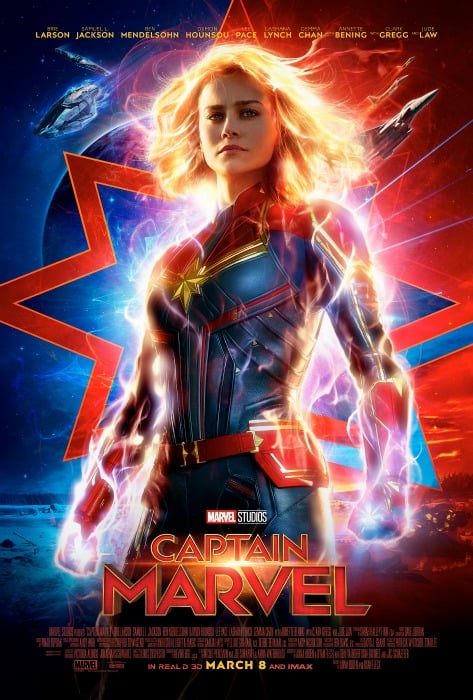 and this one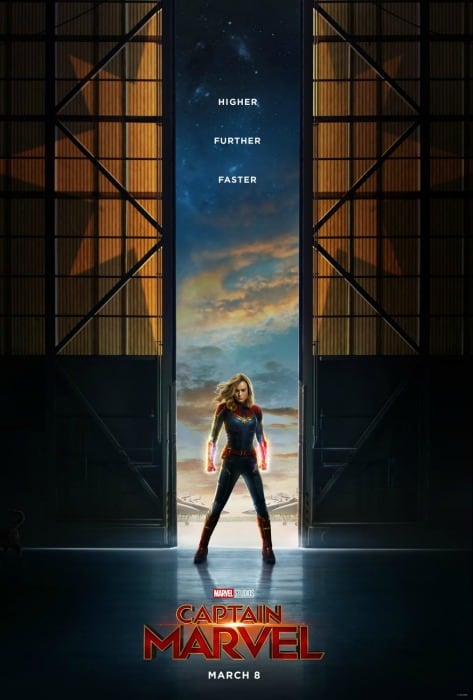 Check out what we know about Captain Marvel so far!
Set in the 1990s, Marvel Studios' "Captain Marvel" is an all-new adventure from a previously unseen period in the history of the Marvel Cinematic Universe that follows the journey of Carol Danvers as she becomes one of the universe's most powerful heroes. While a galactic war between two alien races reaches Earth, Danvers finds herself and a small cadre of allies at the center of the maelstrom. The film stars Brie Larson, Samuel L. Jackson, Ben Mendelsohn, Djimon Hounsou, Lee Pace, Lashana Lynch, Gemma Chan, Rune Temte, Algenis Perez Soto, Mckenna Grace, with Annette Bening, with Clark Gregg, and Jude Law.
Marvel Studios' "Captain Marvel" is produced by Kevin Feige and directed by Anna Boden and Ryan Fleck. Louis D'Esposito, Victoria Alonso, Jonathan Schwartz, Patricia Whitcher, and Stan Lee are the executive producers. The story is by Nicole Perlman and Joe Shrapnel & Anna Waterhouse, and the screenplay is by Anna Boden & Ryan Fleck and Geneva Robertson-Dworet and Jac Schaeffer.
Marvel Studios' "Captain Marvel" joins the Marvel Cinematic Universe on March 8, 2019! 
Additional Marvel Articles
Check out all of our Marvel posts