Are you heading out on your first cruise or thinking about planning a cruise vacation?
Here are 10 tips for first-time cruisers that will help make your vacation the best it can be!
We are avid cruisers and love sharing our favorite tips for taking a cruise vacation. We want to make sure that you have the best vacation you possible can!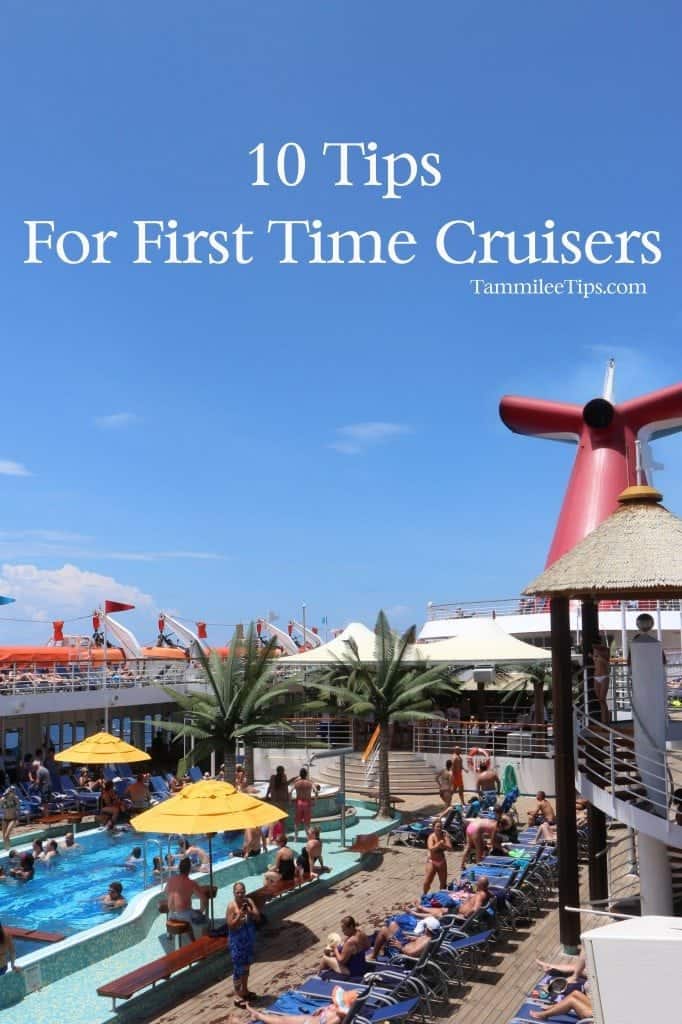 Our first cruise was our honeymoon in the Mediterranean, and it was a big learning experience.  I over-packed way to many clothes and made a few other mistakes I hope to prevent for you.
10 Tips for first-time cruisers!
1. Check the ships dress code ahead of packing.
Check photos on facebook, twitter and other social sharing sites to see what previous passengers are wearing for formal nights/casual dinings. Each ship has its own atmosphere and dress requirements.  Some ships are ok with Hawaiian shirts for sit down dining while others request a button-down shirt or nice polo shirt.
2. Pack a beach bag or back pack that can be used during port days and when you visit the pool.
A beach bag is a life saver for any cruise. You can use it to pack your book, towel, and other items to the pool deck. You can also use it in port for any shopping that you do. Not all shopping areas offer shopping bags when you make a purchase. Having a beach bag or backpack will help protect all of your purchases.
3. Pack your swimsuit or a change of clothes in your carry on. It can take a few hours for your luggage to arrive at your room.
If you are flying in the same day as your cruise or plan on visiting the pool as soon as you get on board, you want to make sure you have your clothes easily accessible. It can take a few hours for your suitcases to be delivered to your room once you board the ship. Make sure you also bring any medication and all of your valuables in your carry-on bags.
4. Pick up a map of the cruise ship as soon as you get on board.
The ship may be huge, and it is easy to get lost.  To help with this check out the cruise ship before you leave home. Get an idea what deck the dining room, pool, and other amenities are on.
5. If you get lost head for the elevator bays, there are ship maps in each of the elevator bays
I am always lost on cruise ships. For some reason, my sense of direction gets completely turned around. If you forget your cruise ship map you can always check the maps next to each elevator on the ship.
6. Worried about being sea sick- check out Sea-Bands
My Husband swears by these bands. He gets really motion sick and wore these for our first few cruises. Now that he is used to the motion of the cruise ship he doesn't need them very often but we always have them in the suitcase just in case.
7. Bring a power cord to plug in all of your electronics
Depending on the cruise ship and your room set up you may only have 1 or 2 power outlets that are accessible. Having a power strip with you will make life a lot easier. That way you don't have to run back to the room to change camera batteries or make sure your cell phone is charged. We use this Belkin power bar and love it! It has spots for both regular plug in and USBs!
8. Pack post it notes to leave notes for your room steward
This is a great way to let your room steward know if you need extra towels or have a request for the room. It is also a great way to communicate with other family members if you are doing different activities.
9. Check your cell phone plan before leaving for your trip
The Internet and cell phone use on the ship is not cheap! Calls seem to average around $1.99 a minute on the ship. This is the only option during sea days, but while you are in port, you may be able to use your phone. We have T-mobile, and they have a great international calling plan for $.20 a minute and free data usage. You may also be able to connect to free wi-fi in port and use it to make calls. I know a lot of cruisers that use face time, Skype and other apps to communicate with their family. Definitely, check to make sure everything is set up before you get on the cruise.
10. Have fun!
Cruising is absolutely amazing! There truly is something for everyone on cruise ships. Try new food, a new activity or relax by the pool this is your vacation and time!
If you have questions about cruising, please let us know! We are happy to answer any questions we can. We have had the opportunity to cruise to some truly amazing destinations.