As avid cruisers, we wanted to share 10 Things not to forget to pack on your Cruise Vacation.
These are the items that we have found that we need on each cruise. Many of them are things we have figured out after multiple cruises that make your vacation so much nicer!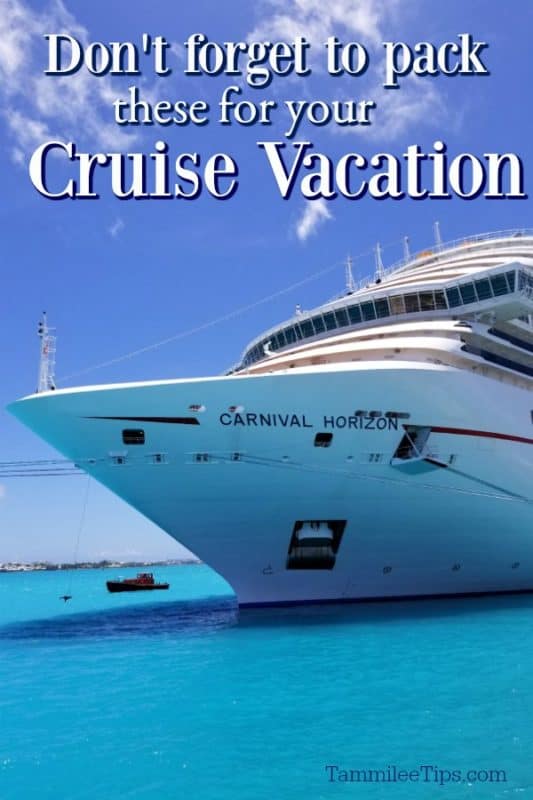 Things not to forget to pack on your Cruise Vacation
1. Tums/Antacids
Cruise ship food is amazing and wonderful but most likely not what you are used to eating for 7 days in a row. Packing antacids will help if you get heartburn during the cruise.
Let's be honest and admit the food we enjoy on a cruise vacation is not what we normally enjoy at home. Be prepared for an upset stomach by having tums with you. Many cruise ships do not sell stomach medicine at the gift store. You have to check with the doctor to get it.
2. Bug Bite Relief
If you are traveling to a tropical destination there will be bugs, unfortunately. Backing bug bite relief will help with any bites you pick up while in port.
3. Shout Cleaning Wipes
Dry cleaning is available on the cruise ship but it is not cheap. Having Shout wipes or other laundry wipes with you can help protect your clothes from staining during your trip.
It takes a day or two to get used to the motion of the ship on the water. It is really easy to misjudge while eating and end up with a few drops here and there on your clothes.
4. Plastic Bag/beach bag
We have found that many stores do not offer shopping bags when you make a purchase in port. Having plastic bags or a beach bag with you is a great way to carry your purchases without having to hold them the entire time.
Plastic bags also work for wet swimsuits and towels after you have been at the beach all day.
I tend to use plastic bags to double wrap our toiletries in our bags.
5. Liquor prices if you plan on buying liquor
If you plan to buy liquor during your cruise I highly suggest checking prices at home before you leave.  On a recent cruise, there was only a $1.25 price difference between duty-free and our local Costco. For that low of a difference I am not going to tempt having the liquor leak in my suitcase. Other varieties of liquor were $10+ cheaper at the duty-free shop.
6. Post-it notes to leave notes for your cabin steward
Post It notes are a great way to let your cabin steward know if you need anything for your room. You can also leave notes for family members if you are participating in different activities.
7. Electrical bar for charging everything
Depending on your room you may only have 1 or 2 electrical outlets available for charging your electronics. Carrying an electronic bar can help minimize the stress of trying to get multiple camera batteries, cell phones, lap tops and other items charged.
8. Envelope/folder to keep the paperwork you receive on the cruise
We pack a 6-Pocket Expanding File
 with us on each cruise. This is a great way to keep track of the papers you receive on the cruise. We like to hold onto the daily schedules and port packets so we can reference them when we go through our photos.
9. Sunglasses and Sunscreen
It is bright at sea! Sunglasses are your friend on a cruise. We tend to pack multiple pairs just in case something happens to our primary pair. You can find new sunglasses in port and on the ship but they will not be cheap.
10. Bottle Bags
If you plan on purchasing liquor or fragile items on your cruise bottle bags are a great way to bring them back and protect your luggage. We have brought back items on multiple cruises and been really happy we had bottle bags with us. On a recent cruise, we had a bottle of Blue Curacao Liquor implode inside the bottle bag. I was so happy we came prepared and our clothes did not end up blue and smelling like liquor.
Wine Diaper Reusable Padded Absorbent Bag, Eco-Friendly Travel Accessory, Set of 3
Jet Bag Reusable Padded Absorbent Bottle Bags, Bio-Degradable Travel Accessory, Set of 3
Bonus items not to forget for your cruise vacation!
Luggage Scale
 ~ Save money and make sure that your bag is well within the airline weight limits before you get to the airport. Especially after shopping on your vacation.
Rhinestone Badges and Lanyards  - These lanyards are a great way to carry your cruise card so you don't have to worry about your card falling out of your pocket. 

Flip Flop Sail Pass Key Holder
 this one is super cute!
Dry Pak Camera Case
 - protect your cell phone and camera from getting wet. This is a great way to protect your items and know that they are not sitting on the beach unattended.
Amazon Kindle
 ~ Bring all of your favorite books to the pool without carrying the weight of actual books. There are tons of great places on a cruise ship to curl up with your Kindle and relax with a great book.
Wrist Watch
Don't rely on your cell phone. A wristwatch is a great way to make sure you are set to the correct time. Especially on a cruise that visits multiple time zones.
~Power Strip
We love this what not to pack for your cruise vacation
. We have taken it on more trips than we can count and it has been fantastic.
~Sunscreen
~Tide Pen
These Tide Stain Remover Pen
have come in handy more times than we want to admit. For some reason we tend to get a bit more mess on our clothes during a cruise vacation. I am not sure if it is the gentle rocking of the ship or we are just enjoying messier food but the Tide pens have saved many a shirt.
~Water Bottle
~Travel Coffee Mug
~Comfortable Shoes
I love these Sanuk Flip Flop
. They are made from yoga mats and are super comfy. I have worn them all day on cruise excursions and never had a problem.
~Sweater or wrap
~Extra duffel bag
Even if you don't plan on buying a lot of gifts or souvenirs an extra duffel bag is a great way to store dirty clothes during your cruise.
~Beach bag or backpack
A bag that is great for carrying items while in port but also while visiting the pool deck
Many stores do not offer great bags when you make purchases. Having a bag with you will make life a lot easier not having to carry individual items.
If you get seasick or are worried about getting seasick I would recommend picking up a pair of Sea Band
 motion sickness bands. We carry a set with us just in case. We have used them a couple of times and they have really helped when we felt motion sick.
A Waterproof Pouch
 is great for keeping your phone and room key dry while visiting the beach. They come in a variety of sizes. We use them to make sure we have our valuables with us at all times while visiting the beach. They are also great if you are traveling to an area that gets a lot of rain.
These Waterproof Camera Floats are great if you have a waterproof camera or phone so you know it will float.  If you have a GoPro we use this Bobber for Gopro
 and have had great luck with it.
If you are worried about being in your photos you may want to check out a Selfie Stick
don't worry you will see a ton of them on your cruise!
Additional Cruise Tips
Tips for going onshore during your cruise
Check out all of our Cruise Travel Guides