My dear Husband has been a Park Ranger for over 15 years. I figured I would pick his brain this week and bring all of his best camping essentials and camping tips to you! Trust me he is a wealth of knowledge when it comes to the parks and camping in parks. Some days I am amazed at everything they see and do in the parks.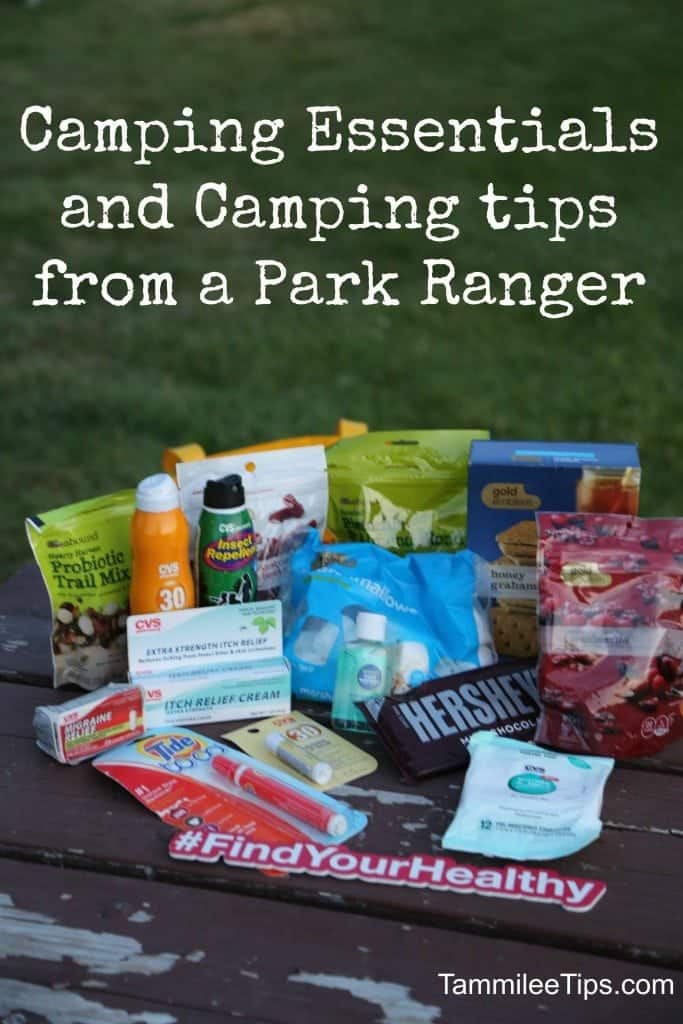 Camping Essentials
These are the essentials we pack for every camping trip. We also pack our tent, sleeping bags, and other items, but we figured you know to pack something to sleep in and on 🙂
Smores Kit ~ What camping trip is complete without smores! You can pick up Golden Emblem Honey Grahams and Marshmallows at your local CVS. We like to make gourmet smores and use Gold Emblem Select Gourmet European Milk Chocolate with Sea salt caramel in our smores. Hello YUM! Don't forget to bring smores sticks and napkins for easy cleanup. I don't know about you but I always seem to get marshmallow all over myself.
Sunscreen and Lip Balm ~ I love the CVS brand sunscreen and lip balm! I bring it on all of our travels. The new packaging is so easy to pack and throw in your backpack so you have it while hiking.
Insect repellent and itch relief cream ~ I am pretty sure the mosquitos have a radar to find the one spot I miss with insect repellent. Plan ahead and have both repellent and itch cream with you.
Laundry Pen ~ These pens work great for when you have an accidental spill or stain and you can't do laundry for a day or 2. Plus they help with the mud and grime you may run into while camping.
Hand and Face towelettes ~ These work great for removing not only makeup but making sure your face is clean before you hit the tent for the night.
Snacks~ We like to bring snacks that can withstand warm weather or the rain without too many issues. Check out CVS Gold Emblem Chewy Protein Bars, dried cranberries, red soft licorice, pistachio, and almond blend of gold emblem abound trail mix or the Hearty Harvest Probiotic Trail Mix!
Water ~ Pack water bottles with you and make sure you have enough water so everyone stays hydrated
Rainy weather activities - We all hope for great weather when we go camping but just in case pack a few rainy weather activities. Cards, board games, a movie on the iPad, etc.
Calling Card - Just in case you are in an area that doesn't have cell phone service and you want/need to call someone. Most campgrounds still have payphones in them for emergencies.
Hand Sanitizer
First Aid Kit ~ We picked up a great first aid kit at CVS. We keep it in the Jeep at all times. We are going to pick up a second one the next time we go shopping so we can add them to our travel bags.
Lighting - Don't forget to pack a flashlight or lantern or maybe both for your trip! The walk to the bathroom can be really dark at night and a flashlight will be your best friend. We downloaded a flashlight app to our phones for just in case the batteries die in our flashlights or lantern. We know we always keep our phones charged so we have a flashlight just in case.
Shower shoes and money for the showers- One of the nice things about many campgrounds is the showers! You don't have to go days without a shower. Just remember to bring shower shoes.  In many parks you have to pay for the showers with quarters or tokens. Make sure and have quarters ready just in case. You can always use them to buy tokens if needed.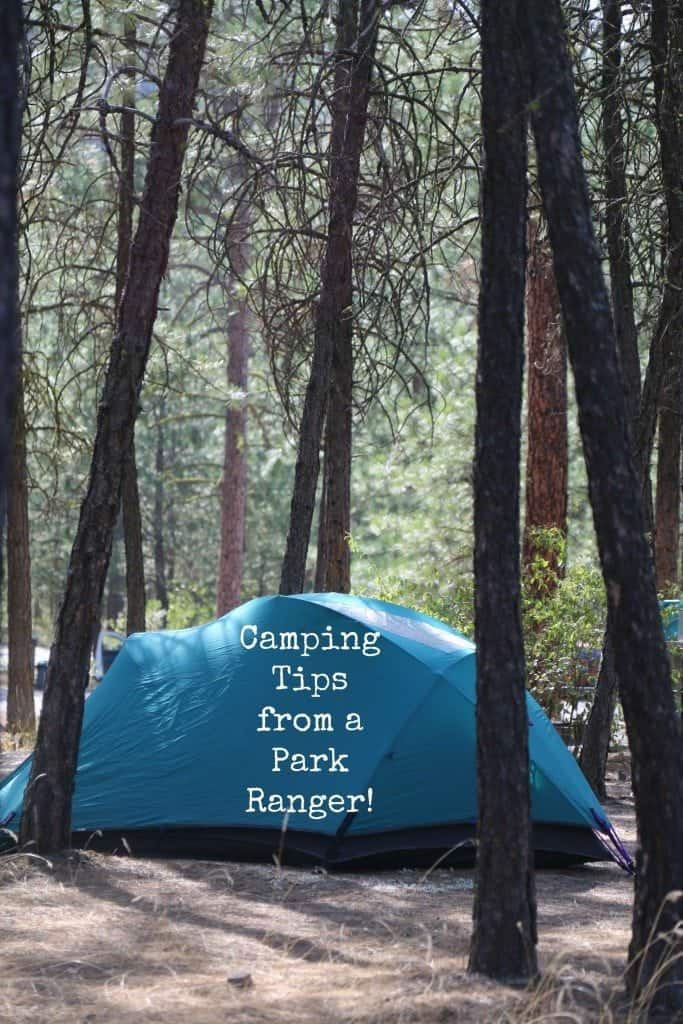 Camping Tips from a Park Ranger!
1. Make a reservation early! Especially if you want a specific part of the campground or a specific site.  Depending on where you are camping you may need to check with the park office to see if you need backcountry permits.
2. Buy firewood on-site, do not transport wood from one place to another. This helps prevent the spread of bugs and diseases that can affect the trees and forest.
3. Bring a bin for dirty dishes
4. Do not bring food or toiletries into your tent EVER! Once you bring food/toiletries into your tent your tent permanently smells like food. The last thing you want to do is attract woodland creatures to come to visit in the middle of the night to see what food you have.
5. Ask rangers for tips on hikes and things to do
6. Check in with the camp hosts for ideas on things to do and see. Tips on exploring the area.  Camp Hosts live in the campground and give you a real insight into what to see and do, plus they can give you tips on what to avoid! They are the eyes and ears of the campground.
7. Check to see what fire levels are in the area and if fires are permitted. With the extremely hot summer, we have been having fires that are not permitted in Washington State Parks currently.
8. Charge all of your devices before you leave. Most campgrounds do not have individual electric plug-ins at the campsite. Make sure your phones, iPads, video players, or any other electronics you may want with you are charged. Otherwise, you may be sitting in the bathroom trying to keep them charged.
9. Dress in layers! You never know how quickly the weather will change while you are in the park.
10. HAVE FUN! The parks are amazing! Make sure and give yourself enough time to relax and enjoy the park. Don't try to cram every nook and cranny into a quick trip. Give yourself time to soak up the park.
Looking for more tips from a Park Ranger? Check out John's new blog - Park Ranger John for great travel and park tips from a Park Ranger!
Check out these great tips on camping with kids.
I'm proud to partner with CVS/pharmacy for the #FindYourHealthy campaign. I am being sponsored by CVS/pharmacy for my posts and activities, but all opinions expressed are my own, and all product claims or program details