Lulu's Gulf Shores is a must-visit restaurant with a tropical feeling and great food! Located on the Intercoastal Waterway you can enjoy your meal by the water with live music.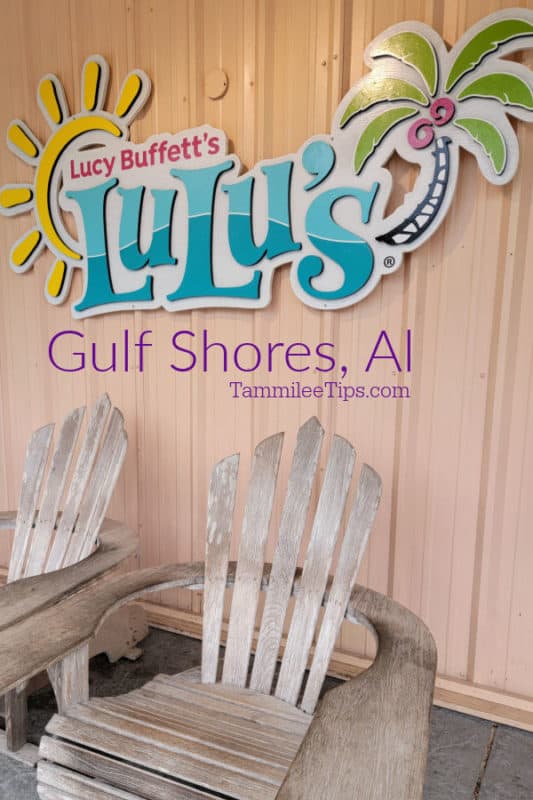 Lulu's Gulf Shores
LuLu's theme is "Fun, Food, and Music" and I have to say they deliver on all three. This is a Gulf Shores restaurant that was created to bring you an amazing time.
You can dine on Southern comfort food and Gulf coast classics including seafood gumbo, fried okra, fried green tomatoes, shrimp, oysters, and fish, along with burgers, po'boys, and more! Do not miss getting a slice of epic key lime pie!
Make sure to order a Bama Breeze Cocktail and LuLu's Word Famous Bushwacker! They both taste amazing.
Did you know LuLu's is owned by Lucy Buffett, sister of musician Jimmy Buffett?
LuLu's is perfect for all ages! They have an outdoor play area for kids, an arcade, comfy Adirondack Chairs spread out over the property, and so much more.
Even if you have to wait a little bit don't worry there is so much to do! There is a fantastic photo spot near the front with Adirondack Chairs and a LuLu's Sign! It is the perfect place to grab a family photo!
Now that we live in Gulf Shores I don't think I can count how many times we dropped into LuLu's for lunch. It is so easy and always tastes amazing.
Lulu's Gulf Shores Menu
One of the best things about LuLu's is the allergy menu options. They have a dedicated kitchen for cooking gluten-free, shellfish-free, seafood-free, egg-free, soy-free and dairy-free.
They truly go out of their way to make sure that guests who have dietary restrictions are taken care of safely. When I asked if something was cooked near meat the server immediately asked if I had an allergy and assured me that they would make sure my food was cooked properly.
A lot of times you go to a restaurant and they have maybe one option for anyone with dietary restrictions. This is not the case at LuLu's! You can expect to find a full menu of allergy-friendly choices that taste amazing.
Menu favorites include but are not limited to these epic scratch-made menu options.
Appetizers - onion rings, tortilla chips with salsa and queso, smoked tuna dip, quesadillas, fried okra, Crazy Sista's Crab Dip, Fried Green Tomatoes
Seafood Favorites - Mahi Mahi, Grouper, Jumbo Shrimp, fried oyster, fried crab claw, crab melt, and more.
All entrees served with French Fries, Cole Slaw and Hushpuppies. A small salad can also be chosen.
Key West Bowl - Bowl of Cuban Yellow Rice, Island Black Beans, and "Mama's Turnip Greens."
+ Guac Topper for additional fee. Served with your choice of sauces: LuLu's Ginger Lime, Mojo Sauce, LuLu's Sassy Salsa, or LuLu's Wow Sauce
Tacos - Three Soft Corn Tortillas with Jack-Cheddar Cheese, Shredded Cabbage, Pickled Red Onions, Island Black Beans, and Mojo Sauce. Served with Tortilla Chips and LuLu's Sassy Salsa.
Shrimp and Grits - Shrimp and Andouille Sausage in a Tasso and Tomato Cream Sauce. Served with Gouda Grits.
Big Ole Salads - with a choice of house made dressings - LuLu's Ginger Lime, LuLu's Ranch, Bleu Cheese, Honey Mustard, Balsamic Vinaigrette, Greek and Oil & Vinegar
Enjoy a cheeseburger in paradise at LuLu's! Crazy fun, epic water views, and great food is the waiting for you.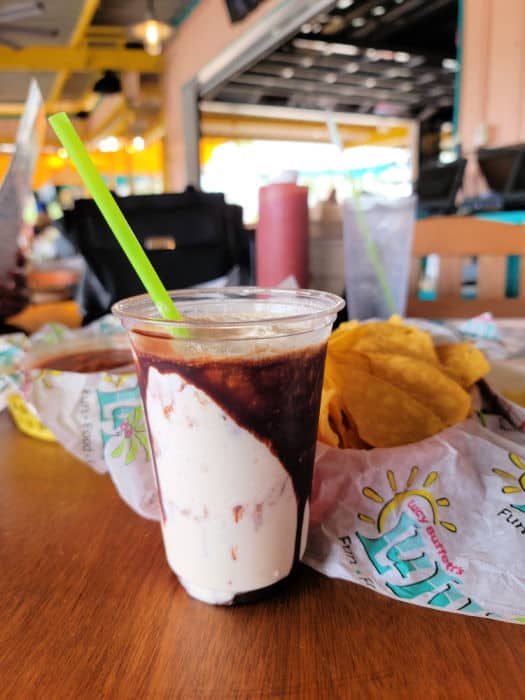 Make sure to try a world-famous LuLu's Bushwacker!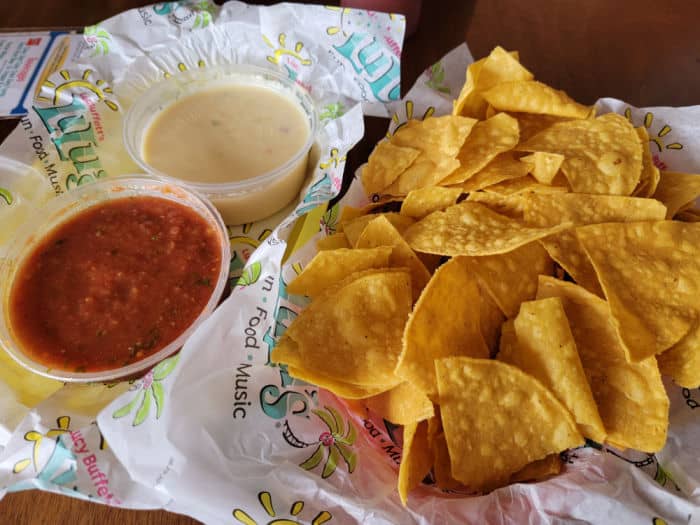 You need to order the chips with queso and salsa! Trust me you need them in your life!
When you get your order I highly suggest mixing the salsa and queso together and then bathing your chips in as much of it as you can. I told my husband I would swim in this mix which is a bit of a stretch but dang it is delicious.
My sister-in-law had the shrimp po'boy and said it was great.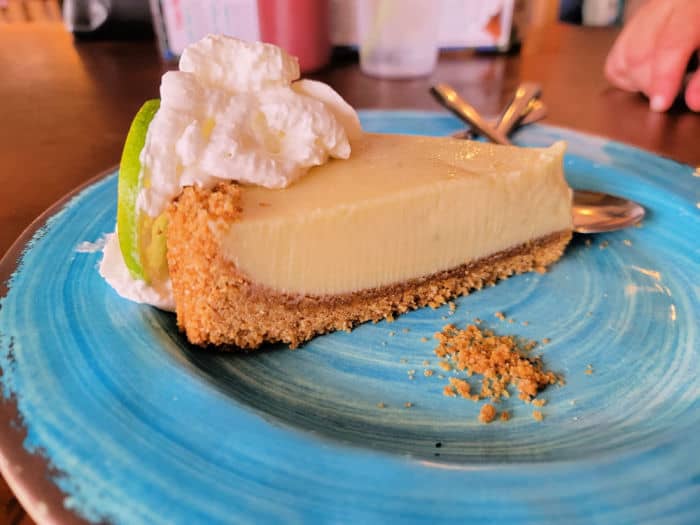 No trip to LuLu's Gulf Shores is complete without at least one slice of key lime pie! It is so good that it is hard to share.
We love the key lime pie so much we put it on our must-try sweet treats in Gulf Shores list!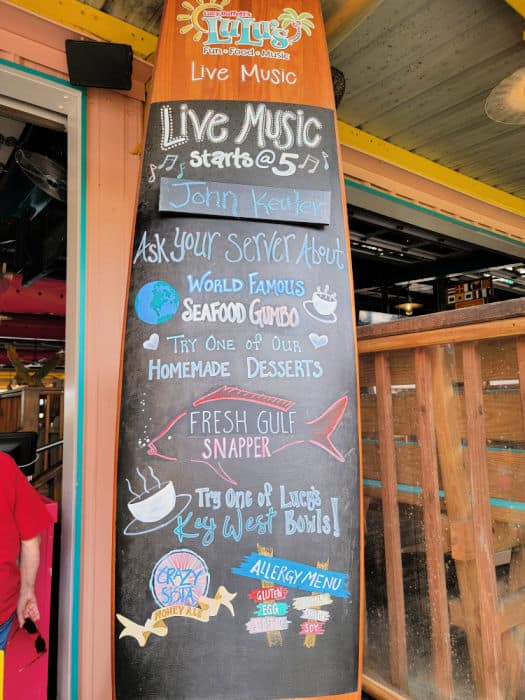 Live Music
There is live music nightly at LuLu's! You can check out their website to see who is playing each night.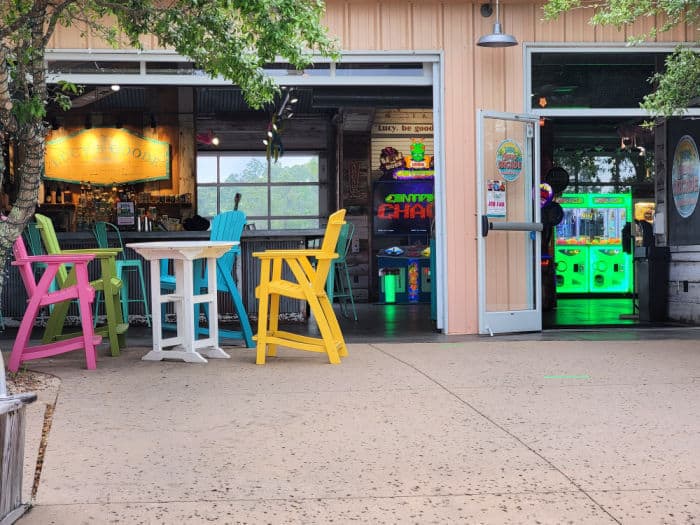 LuLu's Beach Arcade
The Beach Arcade features old-school games we all grew up with along with new favorites.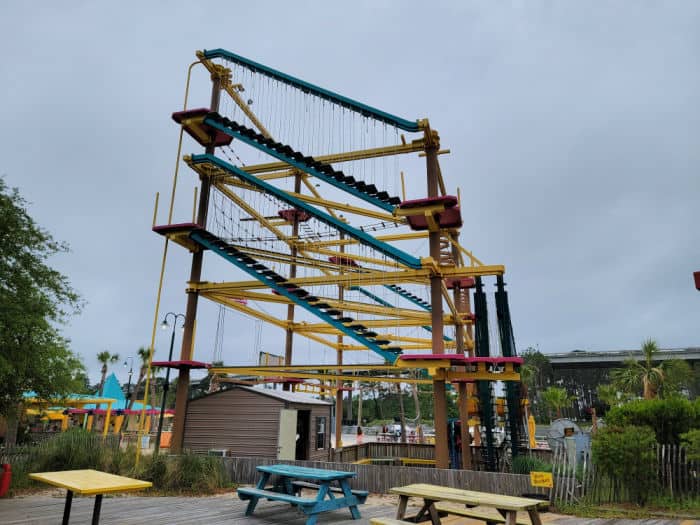 Mountain of Youth Ropes Course
Do you have kids with a ton of energy and a zest for adventure? If you answered yes you are going to love the Mountain of Youth Ropes Course!
This three-story ropes course has tightrope walking, stairs, and is perfect for a fun vacation adventure.
Requirements:
You must be 48 inches or taller
The cost is $14 per person
Weight limit 300 lbs
Munchkin Mountain Ropes Course
If you have little ones who are under 4 feet don't worry the Munchkin Mountain Ropes Course is perfect for them!
Requirements:
Must be UNDER 48 inches tall
The cost is $8 per person
Must be accompanied by an adult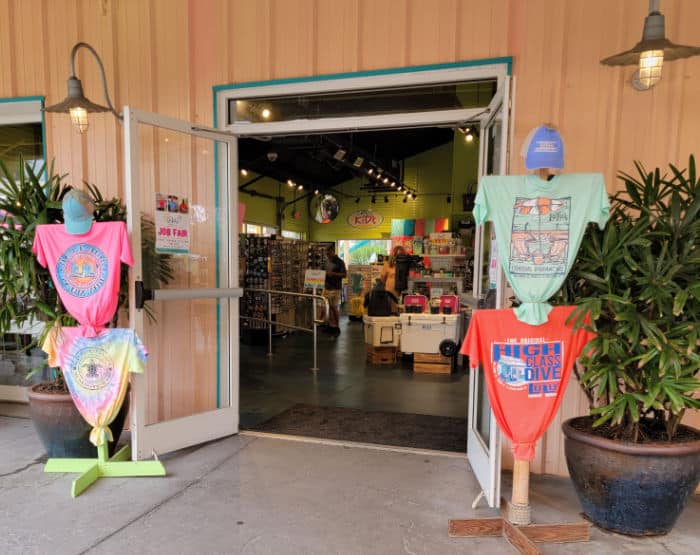 Gift Shop
Make sure to take a spin around the gift shop! You can pick up Crazy Sista and LuLu's gear along with fun vacation souvenirs.
We bring home at least one bottle of Bad Boy Blackening Spice and Southern Jerk Spice every trip.
You can also pick up copies of Lucy Buffet's lulu Cookbooks Gumbo Love, LuLu's Kitchen, and Crazy Sister Cooking.
Make sre to pick up a souvenir to remember your visit!
Events
We had the opportunity to celebrate Mardi Gras at LuLu's a few years ago and it was a blast! This Gulf Shores Restaurant knows how to celebrate and have fun!
Lighted Boat Parade
Celebrate the holidays Gulf Coast style with the Lulu's Lighted Boat Parade!
Arrive to the restaurant early to grab a seat on the deck and get ready for epic lighted boats to cruise by!
Christmas Cookie Movie Nights - Every Tuesday in December
Enjoy free family fun while watching an epic Christmas movie! Complimentary popcorn, Christmas Cookies, and Hot Chocolate! Bring a beach blanket or chair and enjoy a movie on the beach.
NOON Year Eves - December 31st
The perfect New Year's celebration for kids and adults. Enjoy kids safe fireworks AKA bubble wrap, a sand castle contest, crafts, and a super fun beach ball drop!
Plus face painting, balloon animals, inflatable slide, and so much more! Kick off the new year with fun for all ages!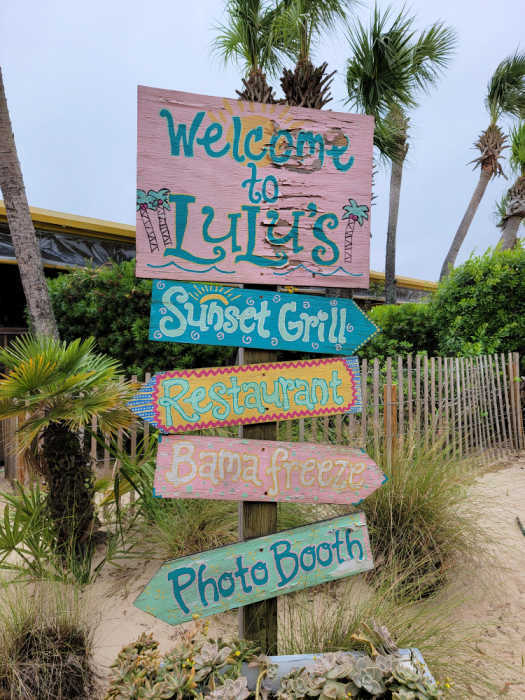 Things to know when planning a visit to Lulu's Gulf Shores
Address - 200 East 25th Avenue, Gulf Shores, AL US
LuLu's is located on Portage Creek across the water from Tacky Jacks another great Gulf Shores Bar.
Phone: (251) 967-LULU (5858)
Hours: Open daily at 11 a.m. (seasonal closing hours may vary)
Parking: There is ample parking near the restaurant.
Tesla EV Chargers - 3 Tesla Connectors, up to 16kW
Additional Locations - Destin Florida and North Myrtle Beach
Limited Reservations - A small number of reservations can be made online up to two weeks before visiting.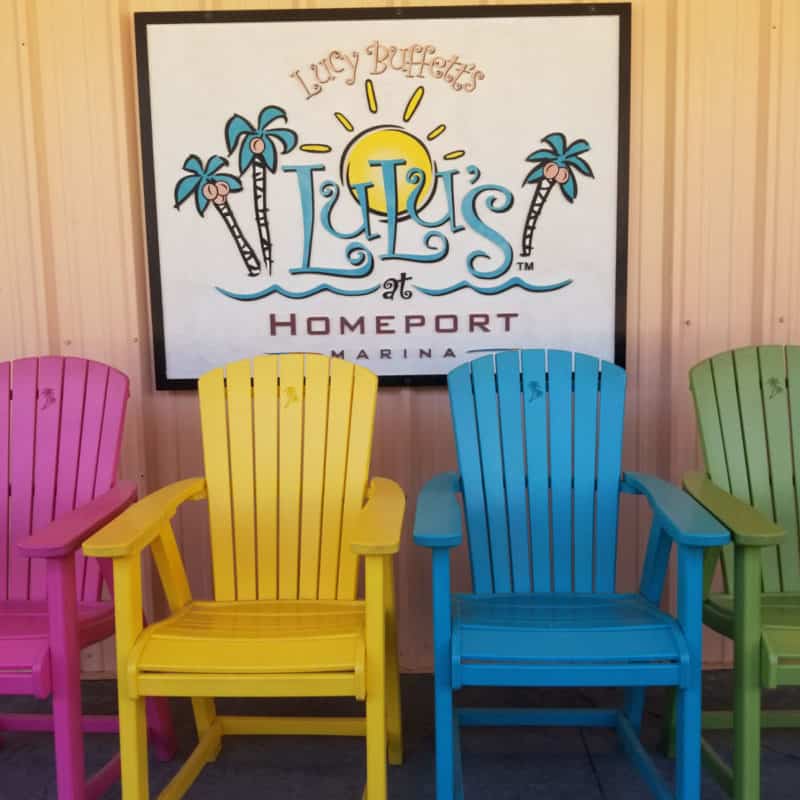 Additional Gulf Shores Resources
Best Coffee Shops in Gulf Shores - Check out all of the different coffee shops in Gulf Shores, Alabama
Best Ice Cream in Gulf Shores - Check out all of the best ice cream shops in Gulf Shores you do not want to miss.
Gulf Shores Breakfast Restaurants - The best of the best breakfasts including southern comfort food, diner classics, and more.
Donut Shops in Gulf Shores and Orange Beach - Start your morning with a sweet treat!
The Gulf Orange Beach - Epic waterfront views and great food.
Check out all of our Alabama Articles