Epic Guide to the Madera Wine Trail in the Central Valley of California near Yosemite National Park.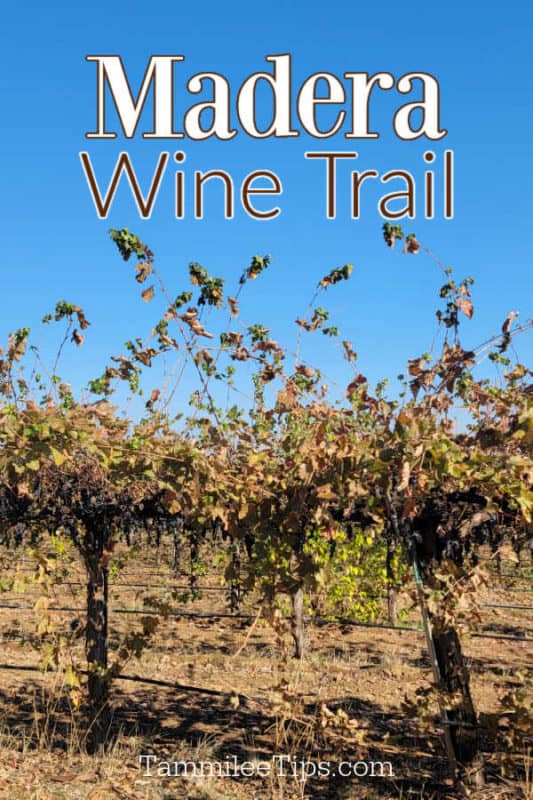 Madera Wine Trail
One of our favorite things to do while traveling is wine tasting. Learning about the area from the winemakers and why they are passionate about their family-owned wineries.
This year we have partnered with Visit Yosemite Madera County to explore as much as we can around Madera County including the amazing Madera Wine Trail!
If you are visiting Yosemite National Park and want to spend a day exploring outside of the park, this is a great way to do it!
I have listed the Madera Wine Trail wineries in alphabetical order, so they are easy to go through. Most of the wineries are located in Madera, California with a couple closer to Oakhurst and Friant.
Make sure and check the events page on the Visit Yosemite Madera County Website for wine events!
Visiting the Madera Wine Trail is the perfect way to enjoy an afternoon of award winnings wines. You can learn more about this grape-growing region that is one of the oldest in America.
Guests visiting the oldest grape growing regions in America can expect to enjoy amazing wines.
This winemaking region is an amazing rich wine-producing region that has a rich history.
Many of the wineries along the Madera Wine Trail are award-winning including winning accolades at the prestigious Sunset International Wine Competition. Recently, two of Madera County's wineries took home Double Gold!
San Joaquin Winery's 2021 Toschi Vineyards Red Moscato won Double Gold which is their highest award to date! They also won silver medals for their Moody Press Cellars Brut Blanc de Blanc and Toschi Vineyards Family Blend.
San Joaquin Winery also won silver medals and 91 points at the California State Fair for the 2021 Toschi Vineyards Sauvignon Blanc, 2020 Moody Press Cellars Cabernet Sauvignon, and the 2019 Toschi Vineyards Pinot Noir.
Westbrook Wine Farm also took home Double Gold and Best of Class for the Westbrook Wine Farm NV Malmsey Dearest.
One of the best parts of visiting the Madera Wine Trail is you will most likely get to meet some of the innovative winemakers that are happy to share their wines with you.
Wines were first planted in this region over 100 years ago though few survived prohibition in the 1920s.
The warm summer temperatures and cool nights are perfect for wine making! The area was designated an American Viticultural Area (AVA) in 1985.
The warm climate produces high sugar content in the grape allowing winemakers to produce port wines and dessert wines.
The Yosemite Sierra Wine Road guides you between three wineries Fasi Estate Winery, Idle Hour Winery, and Westbrook Wine Farm.
Karine is a post-modern wine that is being produced in North Fork, California. It is still under development and does not have a tasting room quite yet.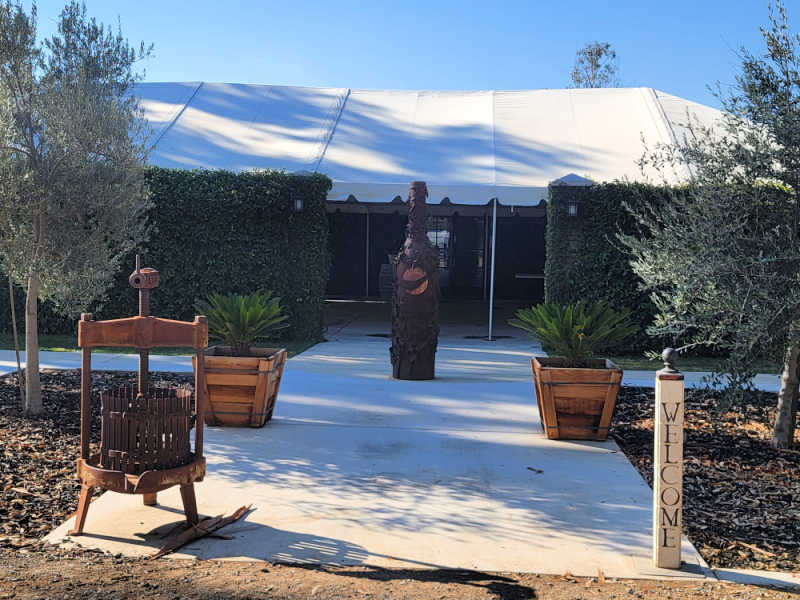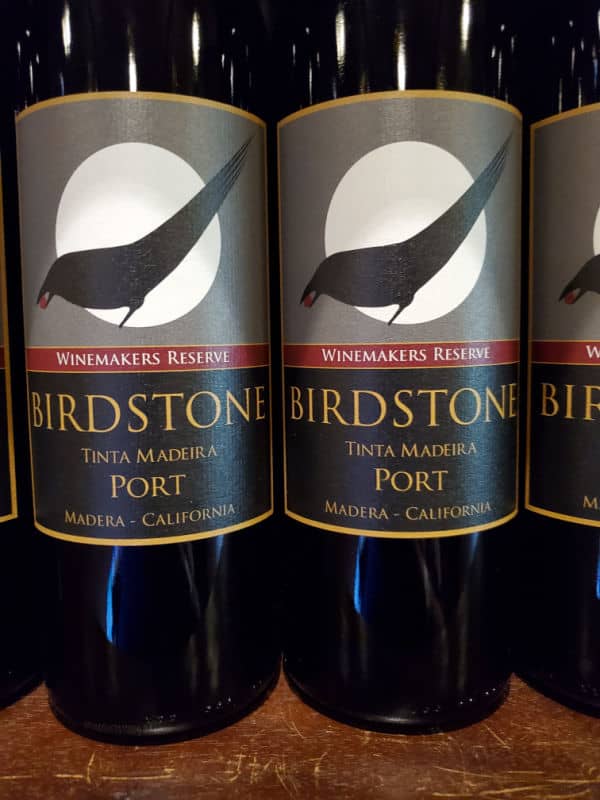 Birdstone Winery
Birdstone Winery is family owned and sources their grapes from a number of local grape growers.
Birdstone Winery produces a variety of wine varietals including Merlot, Chardonnay, Cabernet Sauvignon, Syrah, and Port along with wines from lesser-known grape varieties.
They release two wines annually to benefit Alegria Guild of Children's Hospital Central California which are listed as Alegria Reserve by Birdstone Winery.
One thing to know is Birdstone Winery is only open Friday through Sunday!
Address: 9400 Road 36, Madera
Phone: 559-645-1825

Fasi Estate Winery
Fasi Estate Winery is located off of Highway 41 and has gorgeous grounds, an amazing tasting room, and epic wines!
Fasi Estates offers wine from 3 regions: Madera county, the Central Coast of California, and Argentina.
Some of the wine varieties they offer include Malvasia Bianca, Chardonnay, Torrontes from Argentina, Syrah Rose, Petit Sirah, Syrah, Malbec, and a red wine blend.
The outdoor patio is the perfect place to relax with a high-end wine and soak in the views of the vineyard.
Ralph P Fasi also owns a winery in Mendoza, Argentina.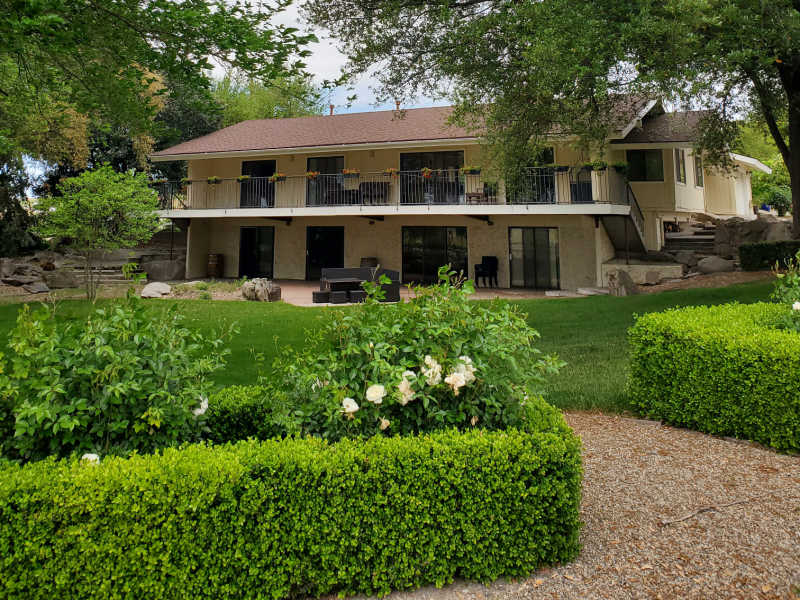 If you have ever dreamed of staying at a winery you can book the residence at Fasi Estate Winery. The large home is located on the 40 acres of the winery. It is the perfect setting for relaxing, family fun, and soaking in the winery.
The residence has 4 bedrooms, 3 bathrooms, and tons of space including a game room, gourmet kitchen, and 14-person dining table! There is a minimum of a 2 night stay.
Address: 42415 Rd 208, Friant, CA 93626
Phone: 559-822-2111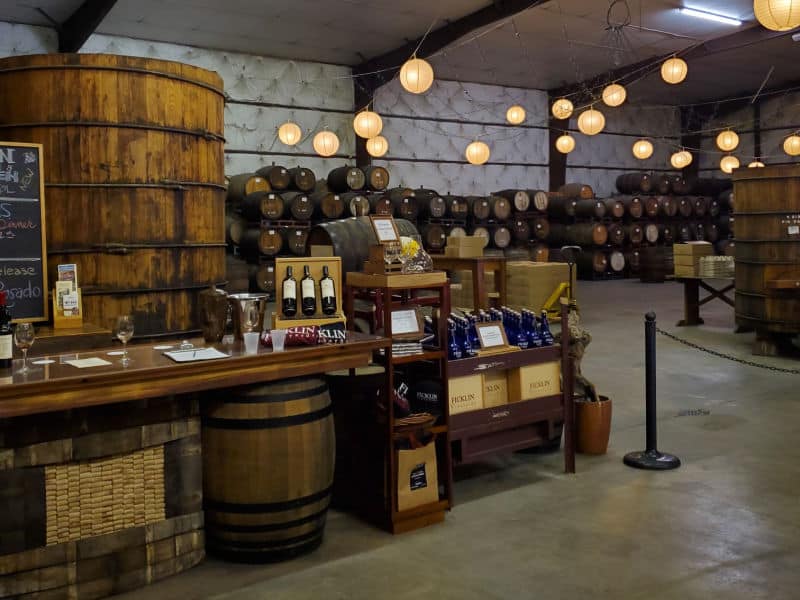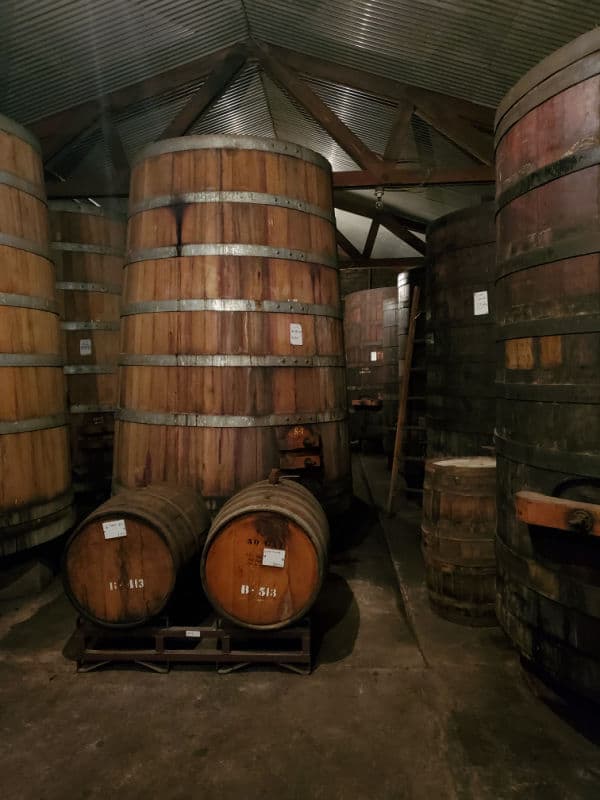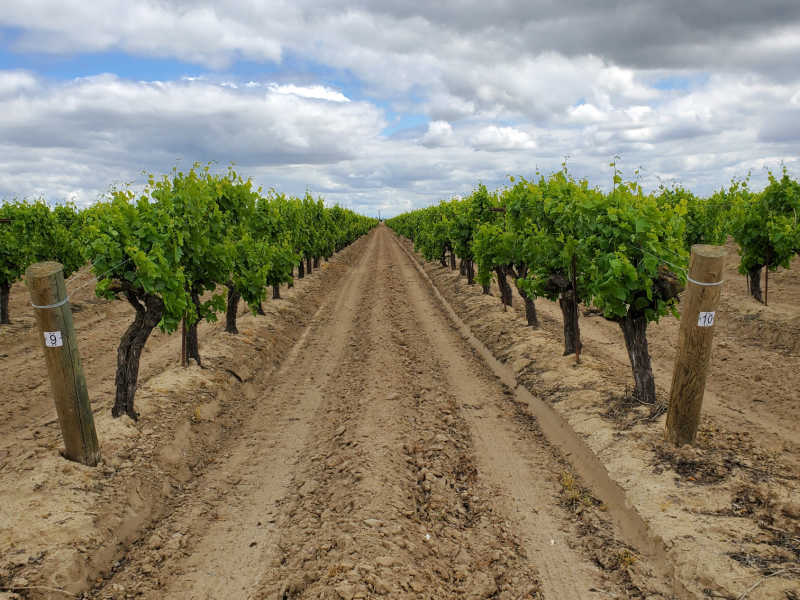 Ficklin Vineyards
Ficklin Vineyards is a port winery and so worth visiting. The grounds are absolutely gorgeous. As you drive up to the tasting room keep an eye out for birds and other wildlife. We saw a super cute bunny along with a ton of birds flying between the vines.
The road is lined with olive trees and you drive through 100's of rows of grapevines. The tasting room is located within the barrel room which is absolutely gorgeous.
Fickling Vineyards is a third generation winery that continues their family traditions.  With over 50 varieties of Port Wine available you truly can sample a little bit of every flavor. One thing we loved at Ficklin that we had never seen before is their port growler.
Yes! A growler filled with a port that you can bring in for refills. They produce small batch port wines specifically for the growler refills. The small batches may only last 2 to 3 weeks they are so popular. I love that every time you visit you can pick up something new to try and enjoy at home.
Ficklin Vineyards still uses casks that date back to the 1880s.
We also had to pick up their award-winning Tinta Port. The family goal is that everyone should be able to afford an award-winning port without having to break the bank.
The Old Vine Tina Port is made using an age-old solera process that is a blend of every vintage since 1948.  The vineyard still uses barrels from the 1880s.
Make sure and sign up for their weekly newsletter to hear about their latest releases and all of the recipes they share made with port wine.  Denise makes amazing recipes you do not want to miss!
Here are a few of the recipes we have made using Tinta Port!
Ficklin Vineyards is one of our favorite wine tasting experiences. We learned so much from their knowledgeable hosts about port wine.
Address: 30246 Ave 7 ½, Madera
Phone: 559-661-0075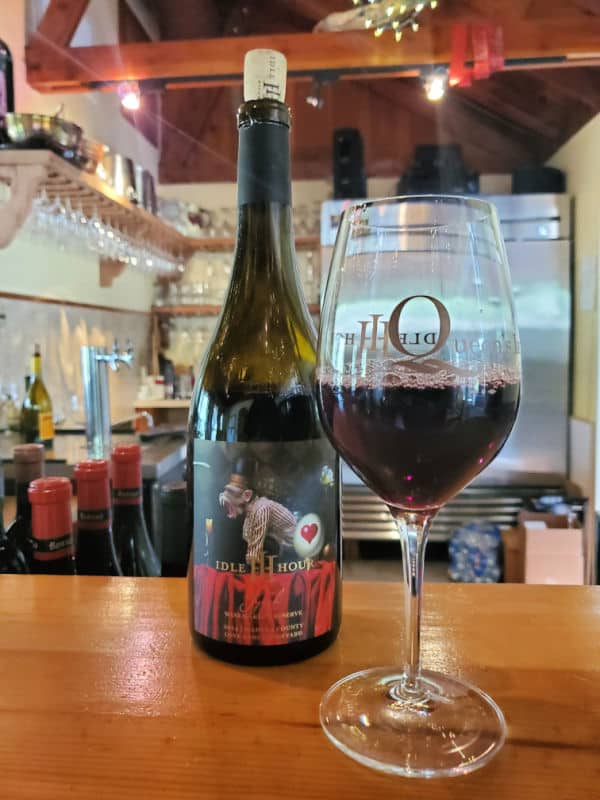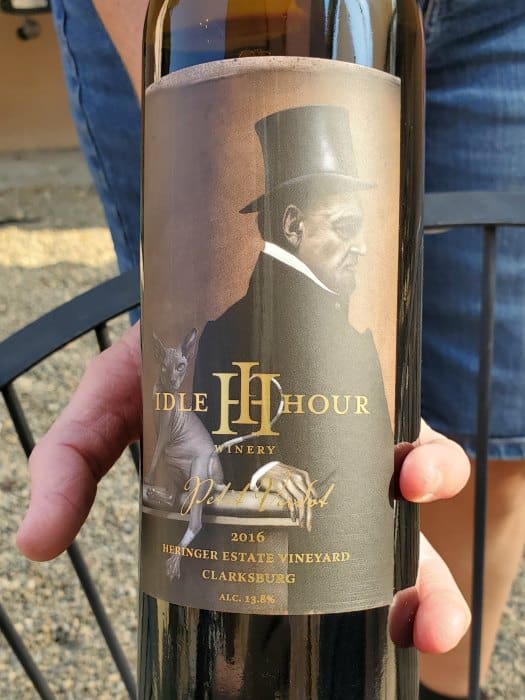 Idle Hour Winery
Idle Hour Winery produces handcrafted, small lot, single vineyard wines from some of California's best vineyards. Located in Oakhurst, California near the southern entrance to Yosemite National Park.
Winemaker and owner Anna Marie Dos Remedios focus on gentle winemaking, sustainably grown grapes, native yeast fermentations, gravity flow and other traditional methods of winemaking.
She uses aromatic single varietals along with native yeast and neutral French Oak barrels to produce unbelievable wines.
Idle Hour Winery specializes in Viognier, Syrah, Pinot Noir, Tempranillo, Petite Sirah, Petit Verdot, and Cabernet Franc from the Santa Lucia Highlands, Monterey County, San Benito County, Clarksburg, and Madera AVA's.
If you are looking for a great way to experience the winery check out the Queen's Inn by the River. You can relax in the modern luxury with the wine bar on site. During the summer the wine and beer garden is open at night and has live music on the weekends.
Don't miss the Idle Hour restaurant and market! Trust me when I say you need to purchase at least 2 bottles of the spiced honey.
Current releases include single vineyard designated Viognier, Petit Noir, Malbec, Cabernet Franc, Tempranillo, and Petite Sirah.
They are also producing Rhone Varieties including Syrah, Grenache, Mourvedre, Viognier, Roussanne, and Marsanne from Madera County.
Pinot Noir and Syrah are from Santa Lucia Highlands on the Central Coast. The Cabernet Franc, Petit Sirah, and Tempranillo are from Clarksburg on the Sacramento Delta.
The wine maker focuses on letting the vineyards flavors come through in the wine.
Idle Hour was named after Anna Marie's paternal grandfather who had a Chinese Junko boat that she enjoyed with her family in Hong Kong.
Idle Hour is the first winery in Oakhurst!
Address: 41139 Highway 41, Oakhurst
Phone: 559-760-9090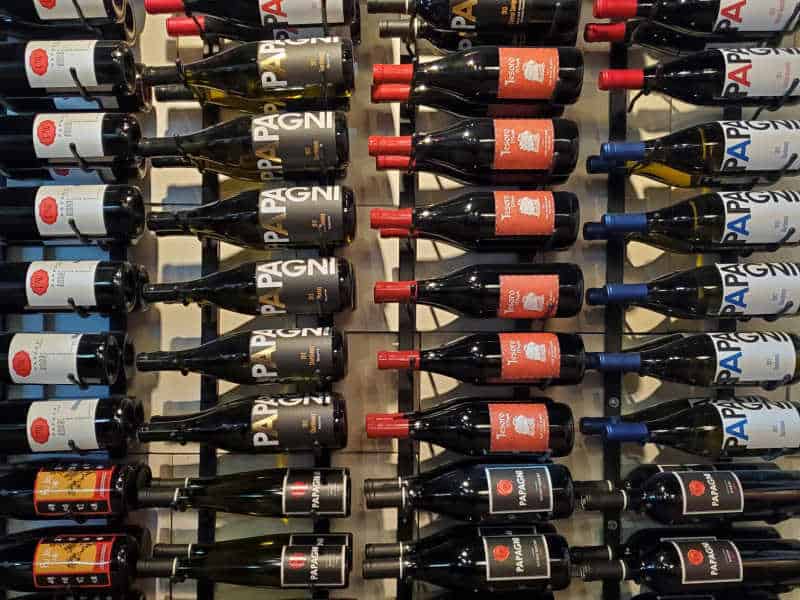 Papagni Wines
The Papagni family has passed down the art of grape growing from generation to generation. The winemaking tradition reaches all the way to Bari, Italy.
What started in Italy moved to Central California in 1912 with a dream of fine wines from the San Joaquin Valley.
They combine modern technical advances in cultivation and irrigation with ancient traditions to create premium wines.
Papagni Winery was the first to use stainless steel tanks and the first San Joaquin Valley winery to craft top rated varietal wines made from specific grape varieties instead of blended grapes.
Some of their wines varieties include Sauvignon Blanc, Alicante Bouschet, Cabernet Sauvignon, Nero D'Avola, Petite Sirah, Zinfandel, Sangiovese, and Chardonnay.
Their small lot, of hand-crafted award-winning wines is only available in the tasting room and in some local restaurants.
Visitors can call ahead and reserve a private tour of the winery's modern winemaking facility and also a barrel room tasting.
The wine tasting room is open from 12 noon till 5:00 pm every Saturday and Sunday, and by appointment during the week.
Address: 9505 Road 30 ½, Madera
Phone: 559-673-5754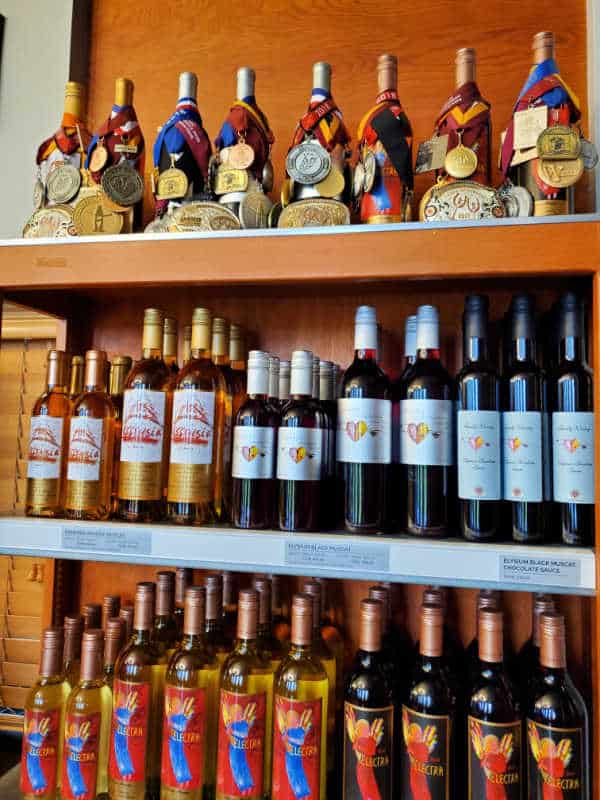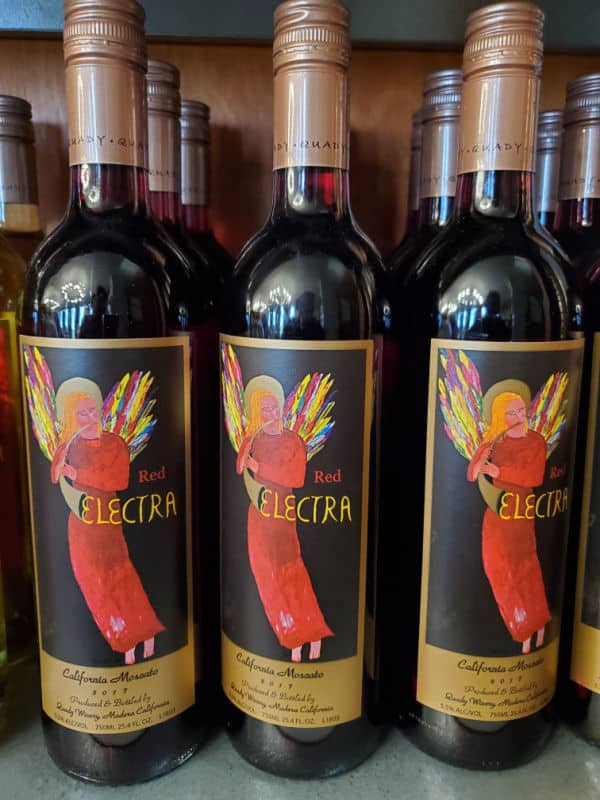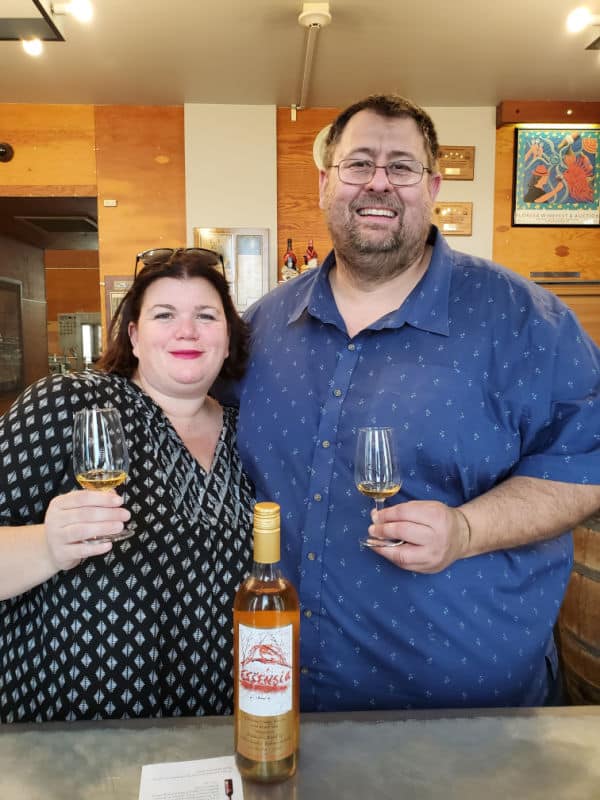 Quady Winery
Quady Winery focuses on muscats and moscatos and they are dangerously good! They do have a few syrahs and red blends but their main focus is on the sweeter muscats and moscatos.
Wines not to miss:
Essensia - California Orange Muscat Dessert wine
Essensia tastes like you are drinking boozy sweet orange juice and it is so good! This was the first wine that we tasted and John and I looked at each other and nodded as we took the first sip. This wine is definitely sweet but so good!
At 15% alcohol by volume Essensia is a wine that can pack a punch. This is the perfect chilled wine for warm summer evenings on the porch.
Electra Moscatos - Quady has two varieties of Electra Moscato and both are quite delicious.
Electra Moscato is a blend of  75% Orange Muscat and the balance is Muscat Canelli.  This wine is a light tropical vacation for your taste buds. Full of citrus, melon, and peach flavors with a hint of pineapple this is the perfect chilled summer wine.
Plus at only 4.5% alcohol you can still function at the barbecue after enjoying a glass or two.
Red Electra Moscato is a combination of  Orange and Black Muscat grapes fermented low and slow to bring out the full-bodied flavors of the Muscat grapes. This wine if full of cherry, pomegranate, and berry flavors that are delightful.
Make sure and try the Moscato slushies that Quady serves in the tasting room. They are dangerously good and perfect for a hot summer day!
The tasting room is open from Wednesday through Saturday from 11 am to 4 pm by reservation.
Address: 13181 Road 24, Madera
Phone: 800-733-8068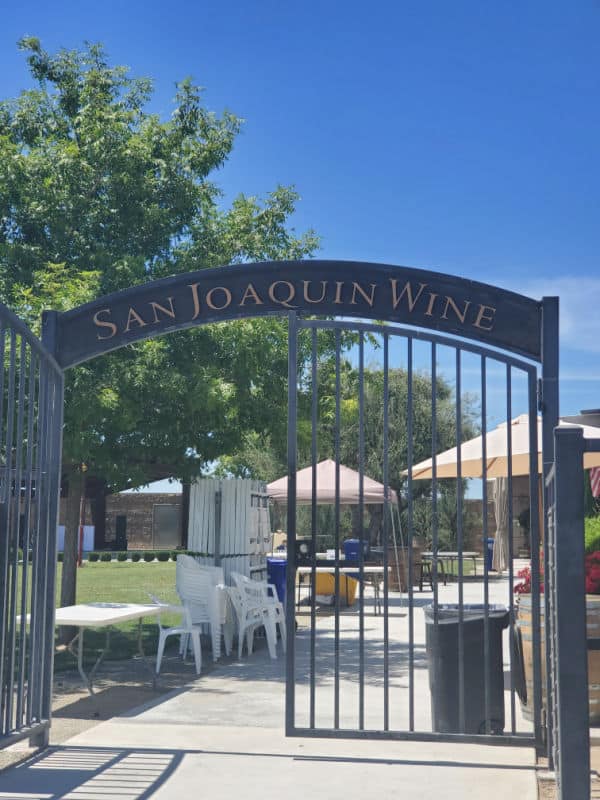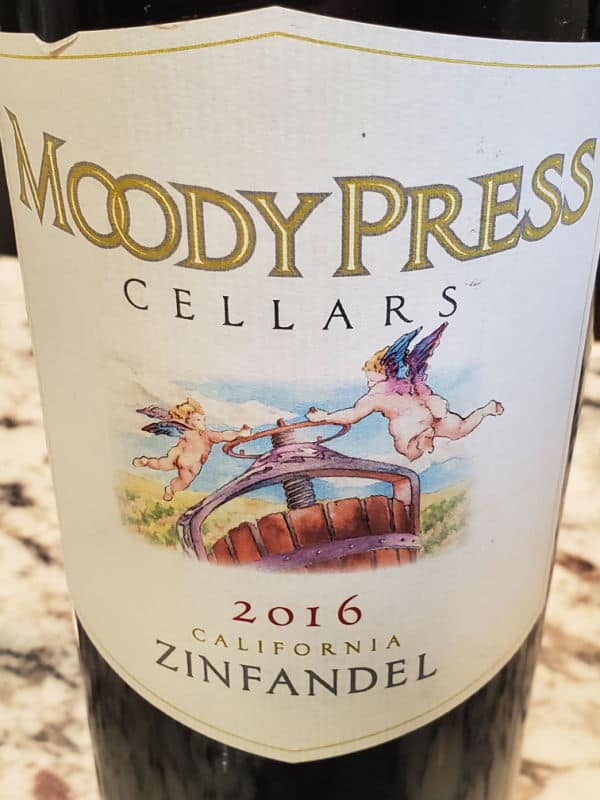 San Joaquin Wine Company
San Joaquin Winery farms 12 wine varietals in Madera, California including Zinfandel, Cabernet Sauvignon, Chardonnay, Merlot, Syrah, and Grenache.
The winery's mission is "to produce the highest quality wines possible at affordable prices from select local grape varieties".
Since 2008, all of the wine-making processes have happened on-site at the winery including bottling.
Address: 21821 Ave 16, Madera
Phone: 559-673-0066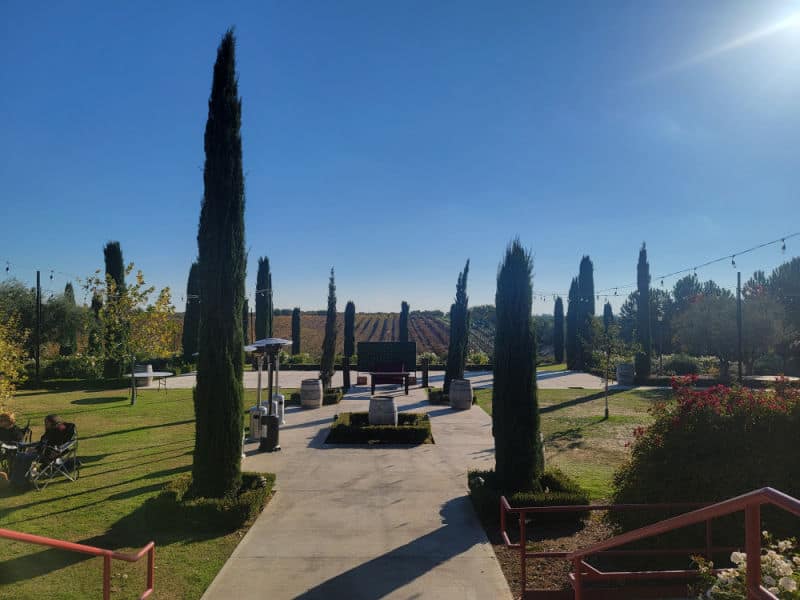 Toca Madera Winery
Toca Madera Winery is truly gorgeous and so worth visiting! This is a vineyard that will take your breath away and encourage you to pause for a moment to savor the views.
During our 1st wine tasting, I kept looking out the window and walking to the open doors just to look out over the vineyard.
The grapes seen at the winery were planted in 2011.
Red wines offered include Tempranillo, Zinfandel, Malbec, Dulce Rojo, and blends including Mourvedre/Syrah, Grenache, Cabernet/Syrah, and Grenache/Tempranillo.
White wines include Moscato, Mirame Rose, Conmigo, and Moscato Giallo.
Dessert wines include Dulce Vida which was stored for 40 months outside in the Madera heat it is a beldn of 59% Moscato and 41% Viognier. Dulce Rojo is a sweet red blend of Malbec and Zinfandel.
Toca Madera also has a wildlife conservation series that includes a 2018 Cabernet/Syrah and a 2021 Moscato with proceeds benefiting the Fresno Chaffee Zoo.
On Sundays, the winery has live music from 1 to 4 pm. We spent a really enjoyable Sunday afternoon relaxing at the winery and trying new wines.
They have an amazing outdoor space perfect for celebrating special occasions and weddings.
Currently, reservations are required for wine tasting.
Address: 36140 Ave 9, Madera
Phone: 559-474-8286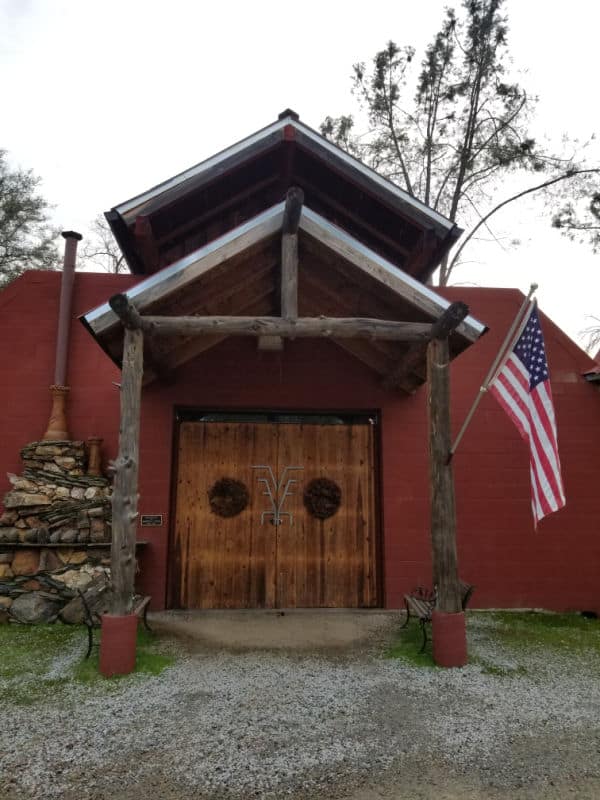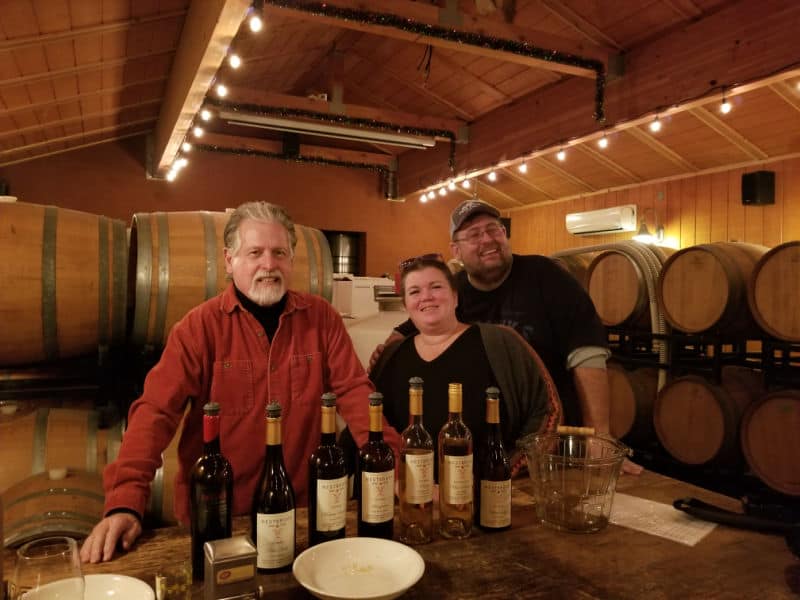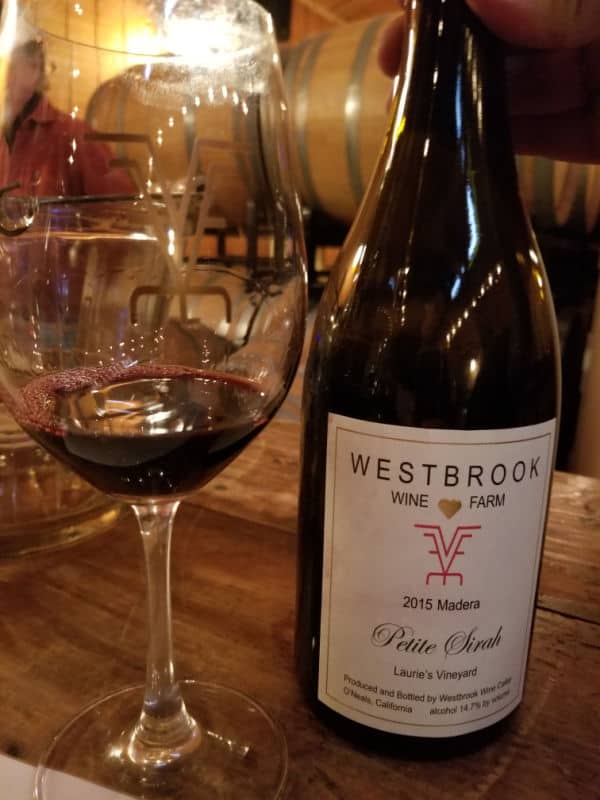 Westbrook Wine Farm
Westbrook Wine Farm is open by reservation only and you are going to want to make reservations!
Ray Krause is a character that you need to experience. Be prepared to laugh, taste amazing wines and most likely take a bottle or four home with you.
Ray has a passion for wine that you honestly don't see a lot. His knowledge of wines, the benefits of the region for growing grapes, and his passion for producing excellent wine shows when you visit the winery.
The winery focuses on Bordeaux grape varieties and produces rich-bodied red wines. You do not want to miss trying their Fait Accompli! It is the flagship wine for Westbrook Wines for a reason! An amazing blend of Cabernet Sauvignon, Cabernet Franc, Malbec, Merlot, Petit Verdot, and Carmenere.
Westbrook Wine Farm grows all eight of the historically approved red Bordeaux grapes (Cabernet Sauvignon, Cabernet Franc, Malbec, Merlot, Petit Verdot, Gros Verdot, and Saint Macaire).
Address: 49610 House Ranch Road, O'Neals, Ca
Phone: 559-868-3499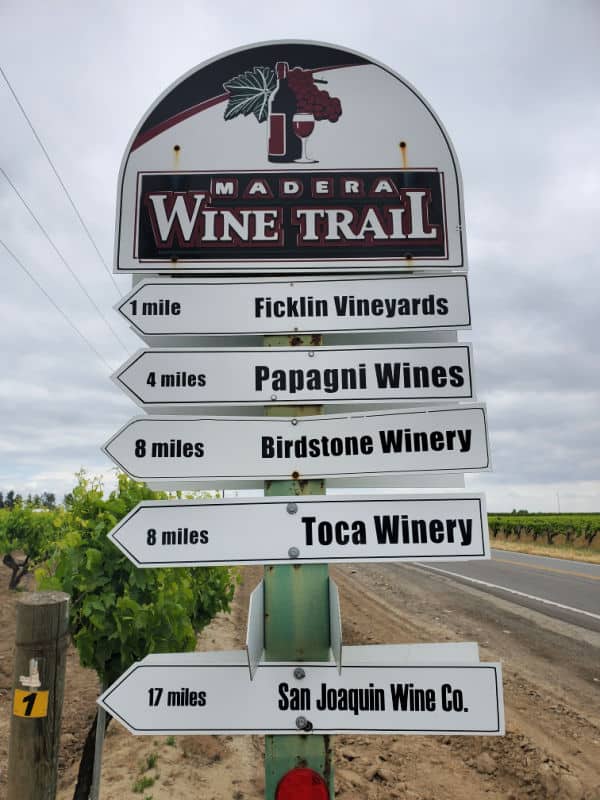 The Vineyard Restaurant & Bar
While not a winery on its own they do have an extensive wine list that is well worth checking out.
The Vineyard Restaurant and Bar in Madera is a gem that you do not want to miss! Their food is exceptional and trust me when I say you want to try the olive tapenade.
Address: 605 S I St, Madera, CA 93637
Tips for a great wine tasting
Don't wear perfume or cologne! The smell of the perfume/cologne will detract from your ability to smell the wines
Don't rinse the glass with water
Skip the gum, coffee, and smoking before and during your wine tasting. Each of these will change the way a wine tastes
Have fun! Ask questions!
Don't come into the winery with preconceived notions!
Open yourself up to new tastes and flavors! You never know when a wine may surprise you.
Don't be in a hurry! Enjoy your time at the winery. You can estimate at least 25 minutes to taste 3 wines if not longer.
Plan out your tastings so you are not running around in between them and can truly enjoy your time at each winery.
If you are looking to speak one on one with a wine specialist try visiting Monday through Thursday. If you are looking to have a more lively and party-like atmosphere visit on Friday and Saturday.
Remember that tasting rooms are not bars. They are set up to taste and enjoy the wine not to be a party scene.
If you plan to visit multiple wineries in a single day you may want to book a limo, party buses/shuttles, or luxury transportation so you don't have to worry about driving.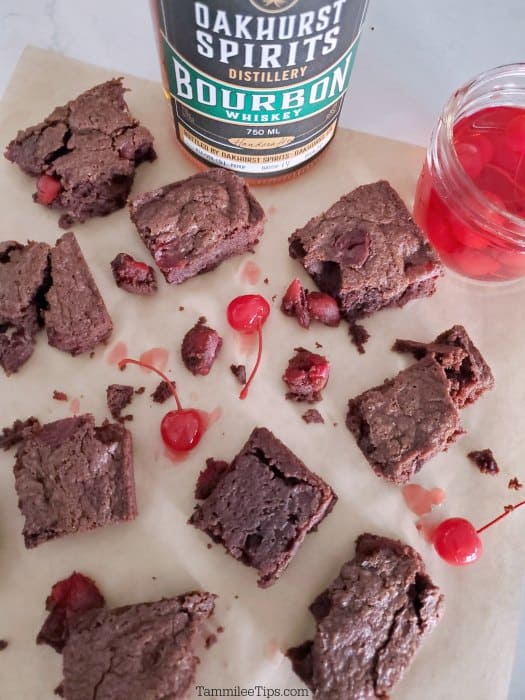 Oakhurst Spirits
Oakhurst Spirits is located in the heart of Oakhurst, California. This craft distillery produces Whiskey, Rum, Vodka, Gin, Brandy, and Bourbon.
They produce small batches of each craft spirit using locally sourced ingredients.
Address: 40300 Greenwood Way, Oakhurst, CA 93644
Phone: 559-641-5400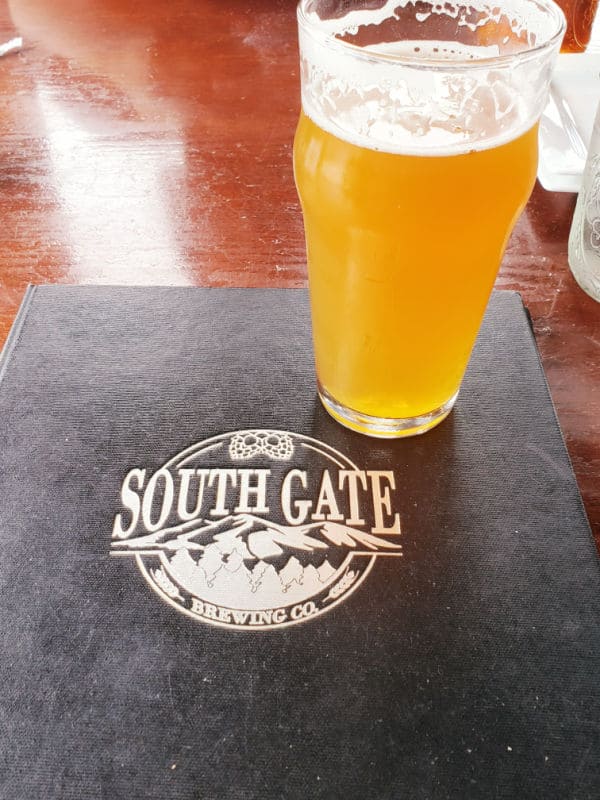 South Gate Brewing Company (Brewery and Pub)
Southgate Brewing Company is an amazing craft brewery and one of our favorite Oakhurst Restaurants.
They produce craft beers along with their house made root beer.
They have a seasonal rotation of craft beers along with their regular craft selection.
Eureka Hazy Double IPA boasts the juiciness of Eureka, Citra and Mosaic hops intensified by Helio Gazer yeast (8% ABV)
Blood Tang Sour is sweet and tart and made with Blood Orange Purée! (5%)
Easy Ryder IPA is an intensely tropical unfiltered West Coast Rye IPA brewed with Citra, Mosaic and Bitter Gold Hops and 25% Rye Malt in the grain bill. (7.2 % ABV.)
Address: 40233 Enterprise Dr, Oakhurst, CA 93644
Phone: 559-69-2739
We hope that you have an amazing time exploring the Madera Wine Trail!
Currently, Wine Trail Weekend are on hold while the wineries figure out life after the past few years of craziness.
Additional Resources