This is a sponsored post written by me on behalf of Royal Canin. All opinions are 100% mine.
Did you know that we have six cats? Yes, it is true we are a family of 8 that includes me, my amazing Husband John and 6 rescue cats. I realized that I have never told the stories of how we came to have six cats and how important they are to us.
The past few months of staying at home would have been so much harder without our fur babies. They make me smile on a daily basis and help me calm down when stressed.
One thing that is really important to us is cat health. We want to make sure our fur babies are happy and healthy. When we learned that Royal Canin was celebrating their annual Take Your Cat to the Vet Campaign we had to join in.
Did you know that 75% of American cat owners couldn't have gotten through the quarantine without their pet and 57% said having a pet made them feel less alone, while 49% said it helped them feel less anxious.
During this time more than two-thirds (66%) of cat owners surveyed learned or noticed something new about their pet. I have definitely learned a lot more about our rescue cats.
They all have such distinct and unique personalities.
Here are our 6 rescue cats...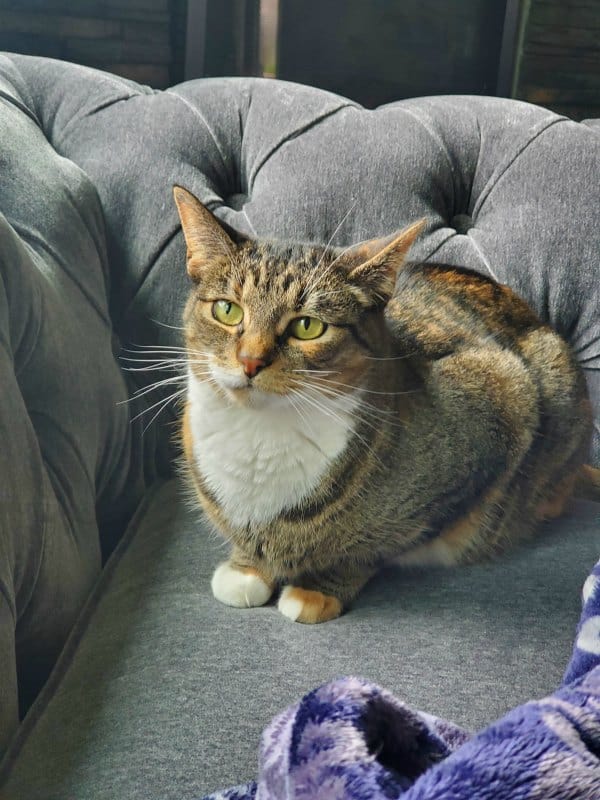 Kitty Kitty
She was our first rescue cat when we lived in park housing while my husband was a park ranger. Just after we lost our cat of 16+ years she showed up on our doorstep.
One day we were doing work outside and someone walked up with a cat following them asking if she was ours. We had never seen her before but she decided she was going to live with us.
She walked into our house and has never left.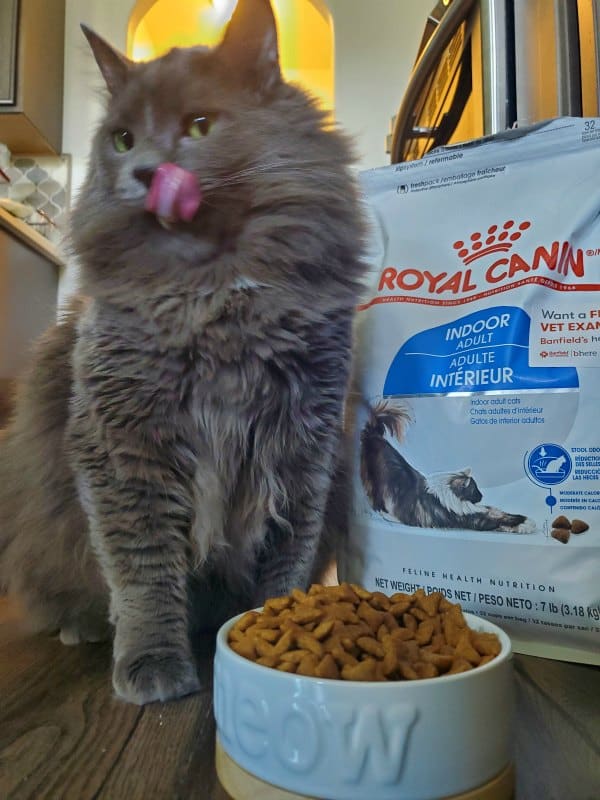 Fluffy
Fluffy was the 2nd cat we rescued in park housing. We went to get something out of our outside garage and all of a sudden saw a grey streak run by. It took me months of patiently getting him to trust me before I could even touch him.
Now he is the biggest love and wants his belly rubbed at all times.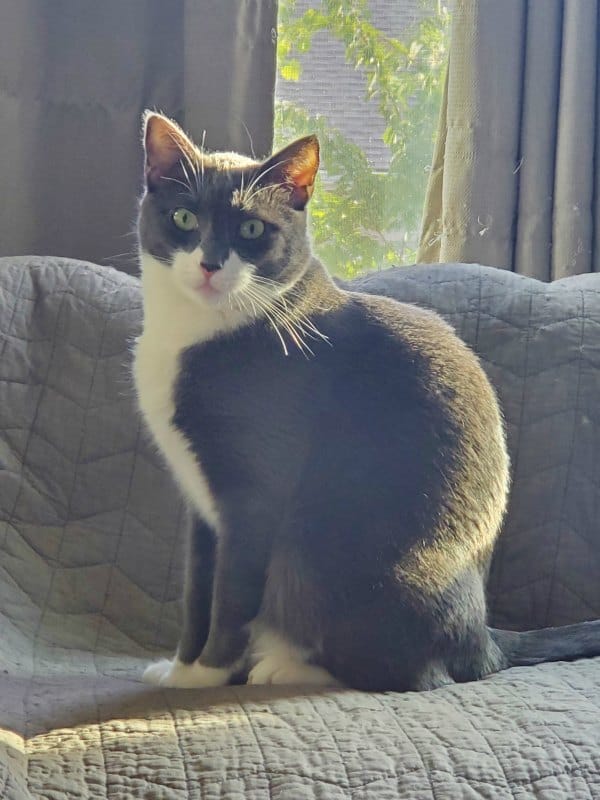 Bandit
Bandit is one of three siblings that we rescued while at the park house. We heard squeaks in the garage and had no idea what we were going to find. You can imagine our surprise when we climbed up a ladder and found kittens maybe a few days old in one of our old pool floats.
They grew up in our backyard until we were able to catch them over time. Bandit is the friendliest of the three siblings and lets me pet/cuddle him especially when he is near Fluff who he LOVES.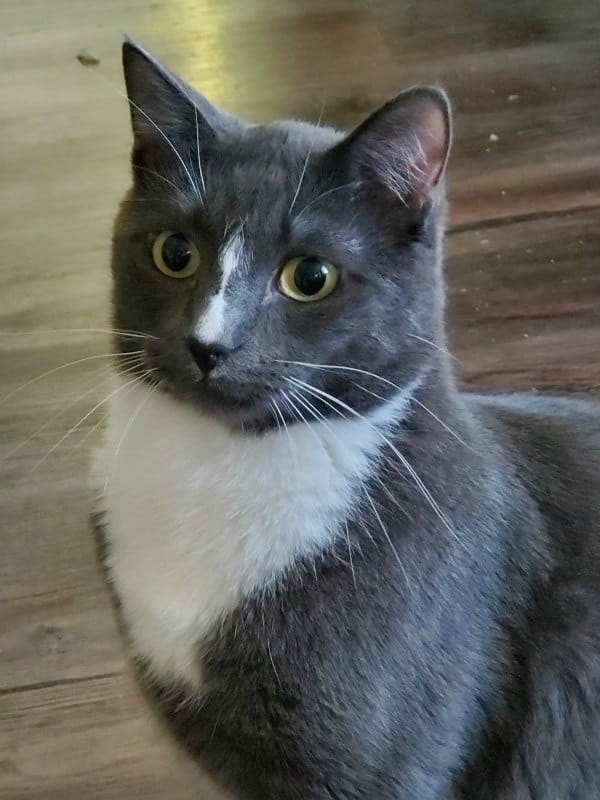 Squeaky Pee
Squeaky Pee is a funny cat who wants nothing to do with us unless there are treats involved and we are 3 feet away from him. LOL! He is a scaredy-cat but we love him.
He is one of the siblings we found in the garage. He got his name because when he is scared he squeaks and then pees all over the place. Thankfully it has only happened a couple of times but the name stuck.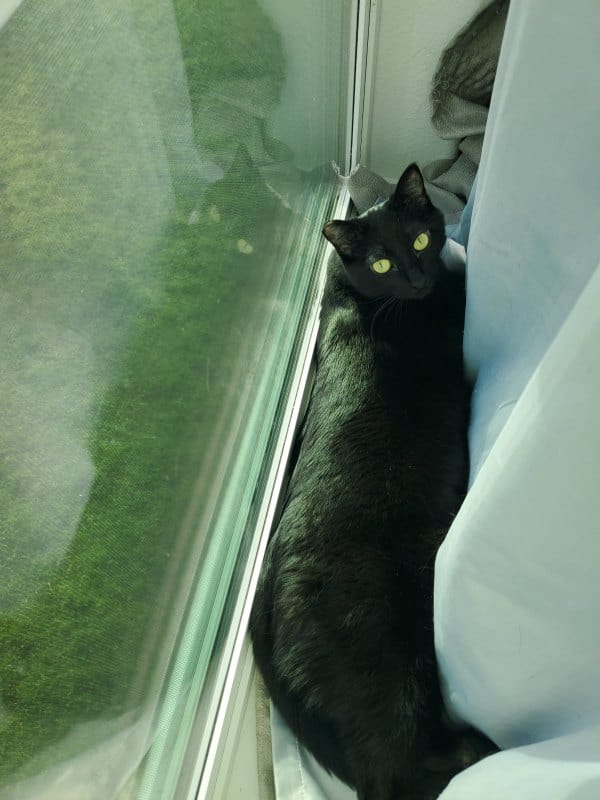 Ninja
Ninja was the last of the three siblings we caught. She is similar to Squeaky Pee and doesn't really want anything to do with us but loves curling up with Fluffy.
She earned her name when we moved into our new house and had to catch her for transport from the old house. Little did we know she had secret ninja moves and would end up bouncing off walls and twisting and turning before we caught her.
She loves to chase and play with our newest addition...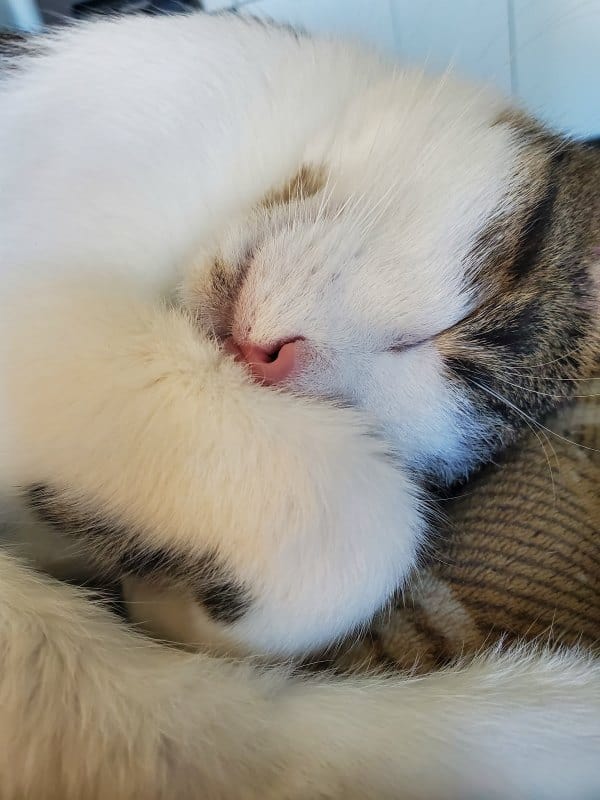 Little Bit/Itty Bitty
This cute purr baby joined our family this past fall totally not planned. John and I were traveling in Kentucky and went to leave our hotel at 5 am and found a tiny barely 3-pound kitten standing at the door.
The hotel had given him a slice of pizza and a box and said what else do you want to do. Well, I know you are not going to be surprised that we could not leave a tiny kitten out in the snow so we made the decision to bring him home with us.
He has been such a huge unexpected blessing that we honestly never could have imagined.
Bringing a new baby into a house of 5 cats was a crazy thought but he has adapted and loves up/plays with all of the other cats. He even managed to fly home quietly under the seat in front of me on the airplane.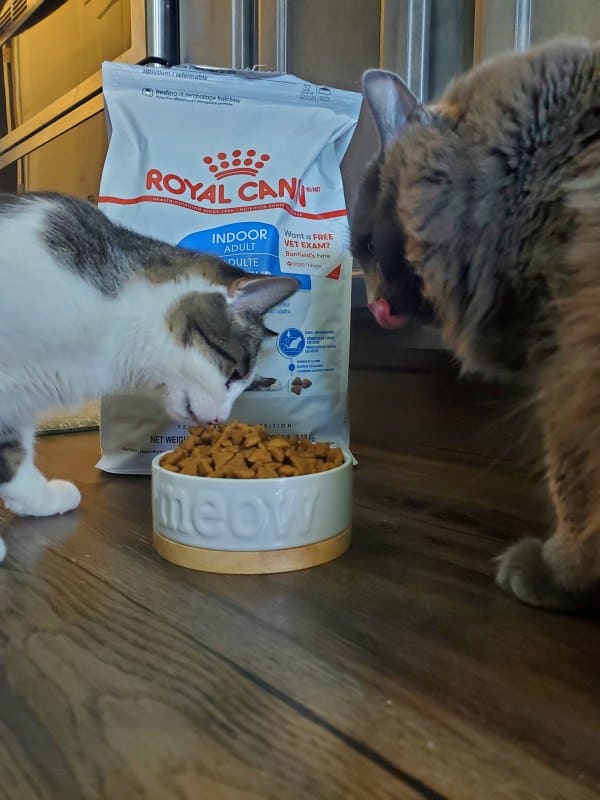 Taking care of our purr babies is one of my most important things every single day. We want them healthy, happy, and loved!
Royal Canin shared with us some things to look for to tell if your cat isn't feeling well!
Here are some things to look for to tell if your cat isn't feeling well, although there could be other signs that your cat isn't feeling 100%:
Changes in appetite or water intake
Coughing or sneezing
Acting lethargic or not like herself
Vomiting
Changes in stool quality – either softer or harder than usual
More or less urine in the litter box
How do I get my cat to the vet during a pandemic if needed:
Many clinics are doing curbside services where pet owners stay outside in their cars versus entering the clinic with their pets. You can tell your veterinary team what's going on over the phone while they examine your cat.
Mobile veterinary services are available in many areas, so the vet could come to you. Mobile services can be available for routine visits, sick visits, and hospice visits, or other specialized care.
Emergency clinics and specialty hospitals are also open if they are needed.
Ask your veterinarian about virtual appointments! Telehealth is on the rise, and some veterinarians are offering this service for pet owners.
Check out these great cat activities!
Watch – A new cat-centric web series: Catology Presents Kitten Lady and Friends, covering everything cat…from behavior to health and nutrition.
Learn – Ready to learn more about cats and their specific needs? The best way to keep your cat healthy is to learn more about them. Stay Curious.
Chat – Be curious about your cat's health – receive a complimentary chat with a veterinarian 24/7, brought to you by Royal Canin and Ask.Vet.
Shop – Purchase your favorite Royal Canin cat food from PetSmart and receive a free vet visit from Banfield.
Donate – Your Royal Canin cat food purchase from Chewy.com supports veterinary care for shelter cats through GreaterGood.org.
Win – Enter the #Cat2Vet sweepstakes to win a prize pack to help you get ready for your cat's next vet visit. Every entry will also receive a free sample of Royal Canin Hematuria Detection by Blücare.