Sponsored by Best Buy
Can I confess that the only thing on my holiday wish list this year was a smartwatch? I have been dreaming of a smartwatch that looks classy but still helps me stay in touch with life day to day. Enter in the gorgeous, oh so beautiful Michael Kors Smartwatch with Wear OS by Google from Best Buy.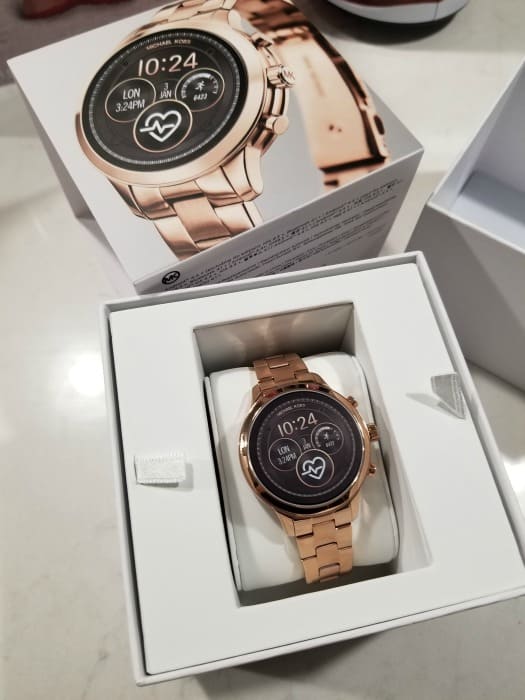 Michael Kors Smart Watch with Wear OS by Google from Best Buy
I am just going to admit right now that I stalked the FedEx shipment status when I knew the watch was on its way. I received the notice that it was delivered as we were out grocery shopping. Poor John didn't know what hit him as I was rushing through the store to get everything we need so we could get home. I was honestly that excited to get the Michael Kors Watch charged and ready to use.
Thankfully we don't live too far from the grocery store and were home in a flash. I headed straight for the box and couldn't wait to dive into it. I had to remind myself that the smartwatch would need to be charged and I couldn't start wearing it instantly. This is a great holiday gift but make sure you charge it if you can before you gift it! That way the recipient can slide it right on and start enjoying it.
It was honestly a bit of torment watching it charge and not being able to wear it instantly. LOL! Yes, I am that impatient at times I admit it.  It actually turned out to be a really good thing I was so impatient. When we got home there was a random group of guys walking up to houses knocking on doors and looking around. I am honestly not sure what they were doing but I hope it wasn't anything bad.
It only took a few minutes to pair it with my android phone. All I had to do was download the Wear OS app and pair the watch to my phone. That was it.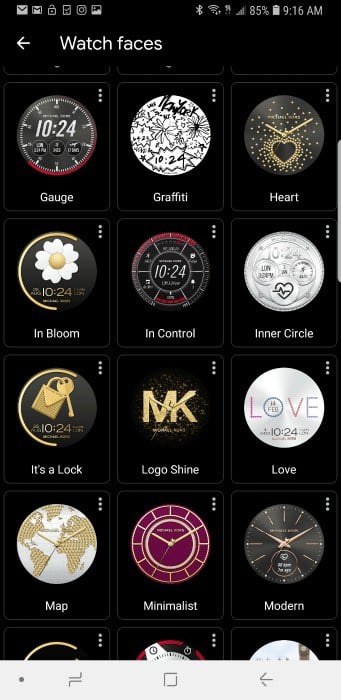 Check out some of the watch faces you can choose from. There are a ton of them! You can truly personalize the look of the phone to fit your outfit, day, mood, or what makes you smile for the day.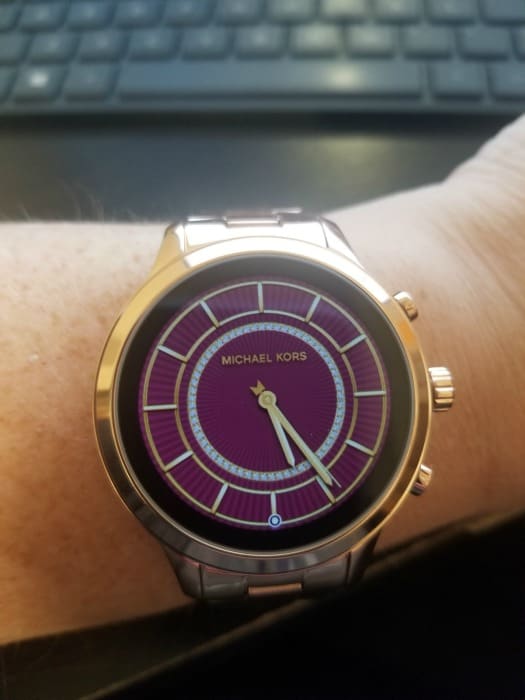 I am loving this purple face. It is simple and so elegant. I have also been switching to the watch face that clearly shows how many steps you have done for the day. I have to say it is super motivating to walk around the house a bit more and get in more steps. I find myself cooking and taking walks around the kitchen island. It has been a big reminder that working from home I am not getting near the steps I need to get in during the day.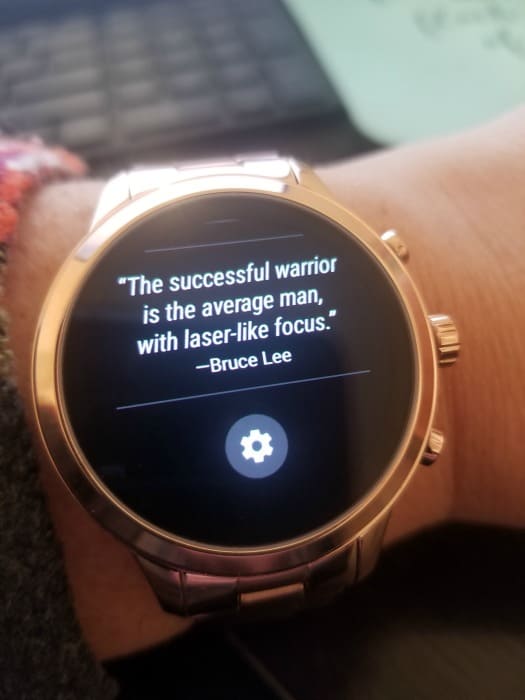 If you have seen my Instagram stories lately you know that I am loving inspirational quotes right now. You can imagine my joy when I realized the Michael Kors Smartwatch shows quotes! I love these daily bits of motivation and inspiration.
Check out this video from Michael Kors on how to work the Michael Kors Access Runway Smartwatch.
Being my first smartwatch I ended up watching this video a couple of times to make sure I had everything figured out. I have to tell you that it is jarring the first few times the watch buzzes with a notification. One tip I have is to go in and check which apps are set to notify you. I didn't want to have every single social share and update hit my watch. I was able to easily customize the watch within the Wear OS app so I am only getting notified of the things I want to see.
I can't believe I am typing this but I have also been doing a squat challenge on the watch. Every day I am trying to hit a specific number of squats and complete the 30-day challenge...what is this watch doing to me!
Not only is it beautiful but it has so many life benefits built in! You can enjoy proactive, personalized help from Google Assistant, even before you ask, Google Fit app's two new activity trackers—Heart Points and Move Minute have coaching and activity tracking based on guidelines from the American Heart Association & World Health Organization, and Quick access to Google Pay!
If you have been thinking about a smartwatch or know someone who has I would definitely recommend checking out the  Michael Kors - Access Runway Smartwatch 41mm Stainless Steel watch!
You can visit your local Best Buy or visit BestBuy.com to learn more!
Great Products
LulaaBed Remote Controlled Bed
The reviewer has been compensated in the form of a Best Buy Gift Card and/or received the product.