This post is sponsored by Tyson Foods, Inc. , but all opinions and images are my own
I am so excited to share some of our favorite easy lunch wrap ideas with everyone. You will not believe how easy it is to make a Turkey Club Wrap and Grilled Chicken Wrap in minutes!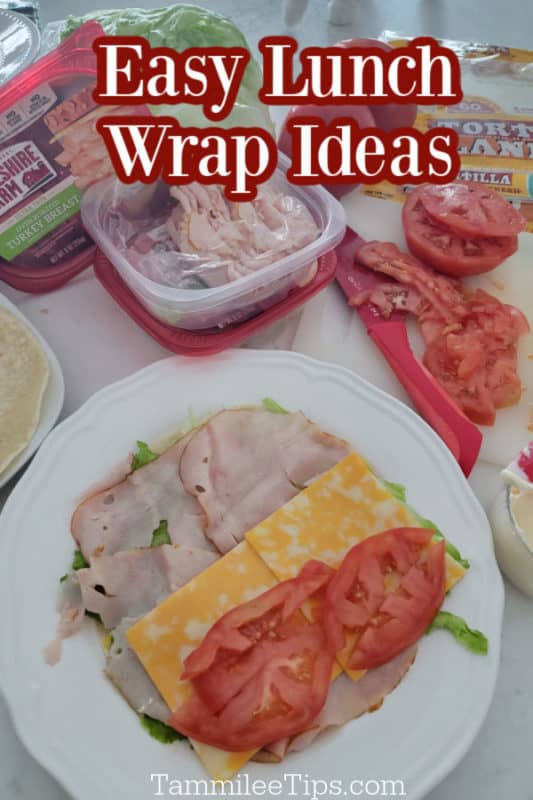 Easy Lunch Wrap Ideas
I am going to admit that I fell off pre-planning lunches and meal planning at the end of this past year. I was so focused on making all the holiday recipes I possibly could that I somehow forgot to make day-to-day life and meals a priority.
To be honest I ended up buying pre-made wraps and sandwiches for a couple of weeks for my husband for lunch. While these worked in a pinch they are more expensive than making our own and they are not personalized to our favorite flavors.
With the new year, I am refocusing on getting back to the basics and making sure we have a plan each week. Our house functions so much better when we have a plan and get the week started with meals planned and shopping done.
I picked up a basic 7 day a week paper tear-off planner that is going to live on the refrigerator. My goal is to sit down on Sunday mornings and talk with John about what the week looks like so meals are pre-planned out.
To kick off my new plan I am sharing some of the quick easy lunch wrap ideas I am making for John's lunches. Many days he is out of the house for lunch so I need something he can easily grab and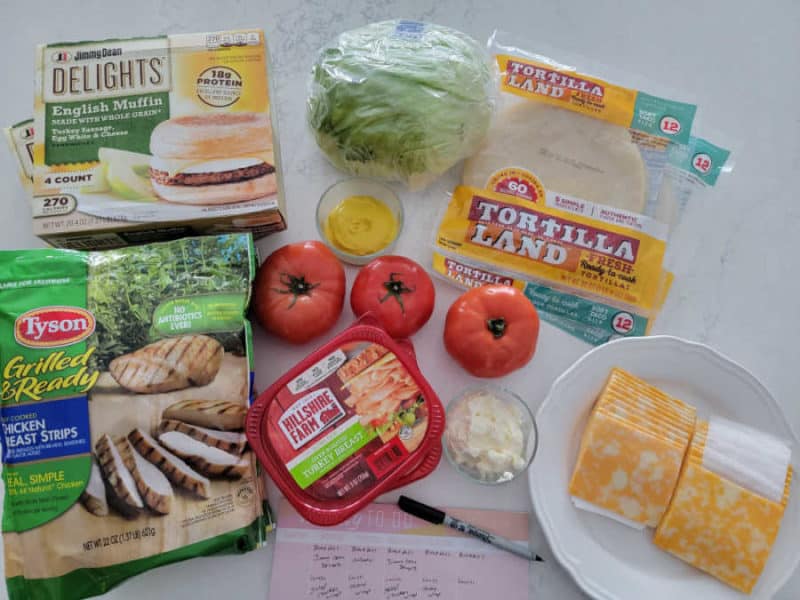 Turkey Club Wrap
I love making these modified Turkey Club Wraps. I say they are modified because I used TortillaLand tortillas instead of bread. You can find TortillaLand tortillas in the refrigerated section of Randalls.
These fresh tortillas are ready after cooking on the stovetop for 60 seconds. The flavor is amazing!!! There are no preservatives, cholesterol, or trans fats in the TortillaLand tortillas and they taste so good.
Once the TortillaLand tortillas are cooked I give them a few minutes to cool down while I grab the rest of my ingredients. For these Turkey Club Wraps, I use Hillshire Farm Ultra Thin Oven Roasted Turkey Breast, sliced cheese, fresh tomato, lettuce, and a bit of mayo.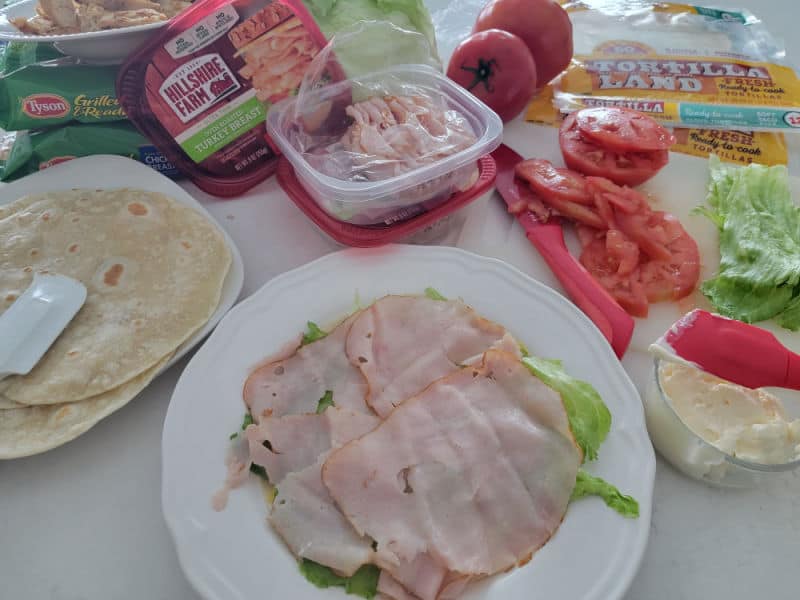 Layer the ingredients starting with mayo on the TortillaLand tortilla, then lettuce, and Hillshire Farm Ultra Thin Oven Roasted Turkey Breast. I then take the sliced cheese and fresh tomatoes and layer them on the lower portion of the wrap. Carefully roll the wrap until you have everything rolled up.
Depending on how big you make your wrap you may want to put in a large toothpick to hold it together.
I cut the wrap in half and serve them. Next week I am going to use the Hillshire Farm Ultra Thin Oven Roasted Turkey Breast to make Turkey Guacamole Wraps, and BLT plus Turkey wraps.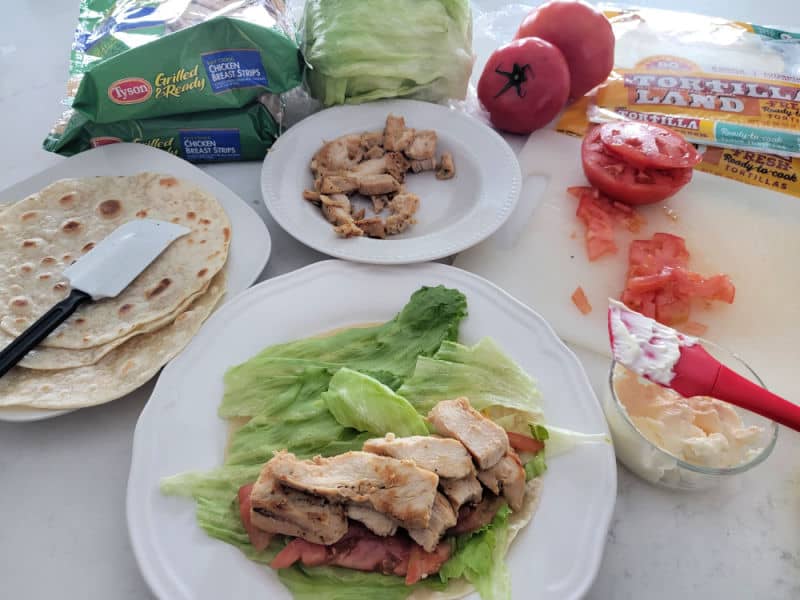 Grilled Chicken Wrap
I think you guys are going to love these grilled chicken wraps and how easy they are to make!!!!
The TortillaLand Tortillas take about 60 seconds to cook on the stovetop. Once I have them done and ready to cool I simply toss in Tyson Grilled & Ready Chicken Breast Strips that I keep stored in the freezer.
These grilled & ready chicken breast strips are going to be your new BFF!!! All the work is done for you! All you have to do is reheat them in a pan for a few minutes and they are ready for your Grilled Chicken Wrap or you can toss them on an epic salad!
I love that with one pan on the stovetop I can get everything I need ready for these wraps.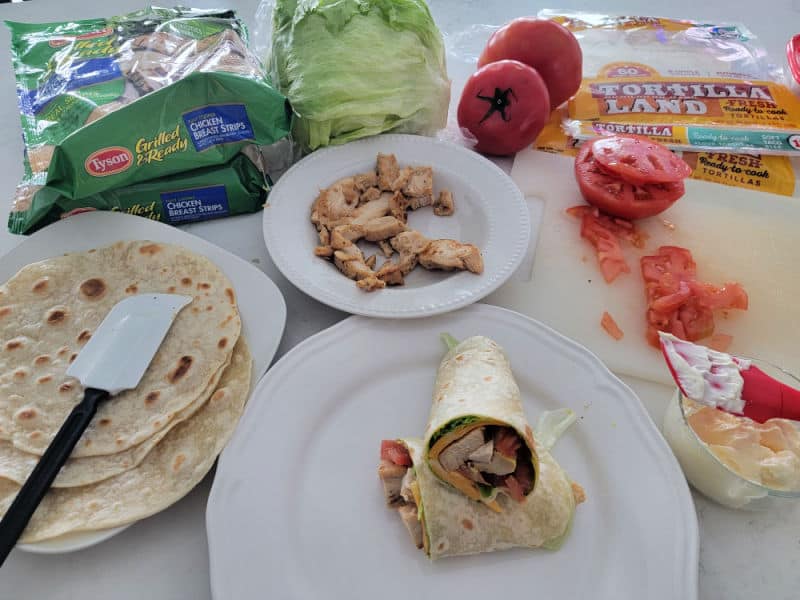 For the grilled chicken wraps I added a bit of mustard and mayo to the TortillaLand Tortilla, topped it with lettuce, sliced cheese, and then added in sliced tomato and the Tyson Grilled & Ready Chicken Breast Strips.
I rolled the tortillas until everything was wrapped up and cut them down the middle.
When I served these wraps to my husband, he asked if there were more ready for dinner. He LOVED them.
He told me they are so much better than the pre-made wrap options I have been spending way to much money on each week.
I am thinking about making Buffalo Chicken Wraps, Chicken Caesar Wraps, and Bruschetta Chicken Wraps with the Tyson Grilled & Ready Chicken Breast Strips in the future.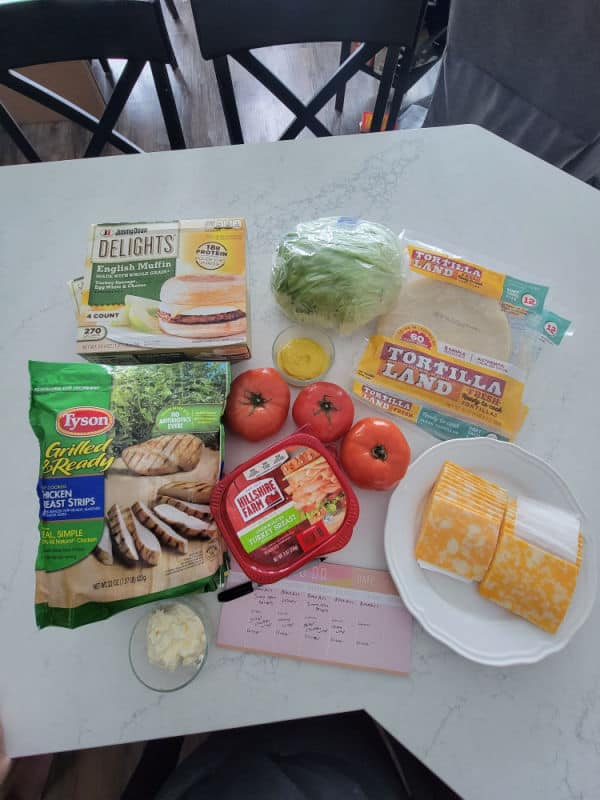 Making these easy lunch wraps felt so good! A simple step towards getting back into our life routines after the holidays.
It felt so good making lunches that fit our schedule and taste amazing. One easy shopping trip to Randalls and I had everything I needed to plan our week out. I even picked up Jimmy Dean Delights for an easy breakfast.
My husband IS NOT a morning person. LOL! I love that the Jimmy Dean Delights can be quickly made each morning and he doesn't have to stress over what he is having for breakfast.
Are you working on getting back to routines now that the holidays are over?