Movie date nights at home are one of my favorite things. I don't have to get dressed up, we can wear super comfy clothes and if my hair is in a bun no one is going to see it. These date nights are just plain magical and one of my truly favorite ways we spend time together. When Best Buy asked if we would share the Epson Home Cinema 4010 Projector I jumped at the chance.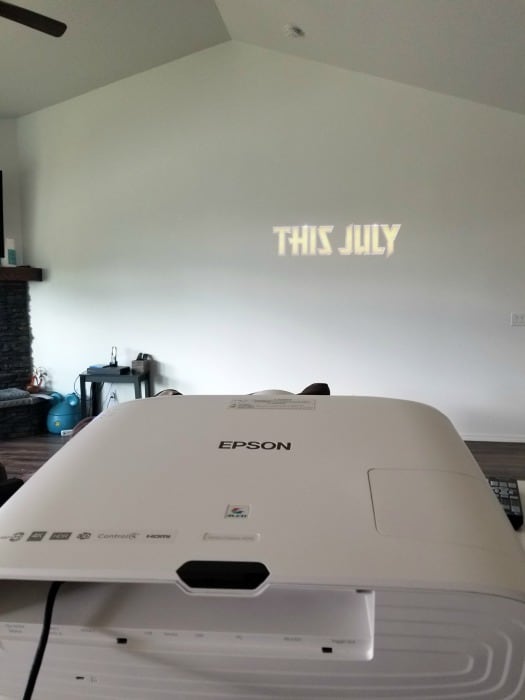 Epson Home Cinema 4010 Projector from Best Buy!
I was reading on BestBuy.com all about the projector before it was delivered and couldn't wait to get it set up. We had quite the discussion on what movie would be first to play and when we were going to have date night.
I am going to confess right now that as soon as the box arrived I ripped it open and set up the Epson projector while John was at work. I wanted to surprise him and honestly I couldn't wait to get it set up.
The first movie I put in was Black Panther just to test and see how the projector handled the action sequence and 4k resolution. WOAH! I was in awe instantly at the screen size, clarity and how good it looked. I even set it up during the day when the light was not the best.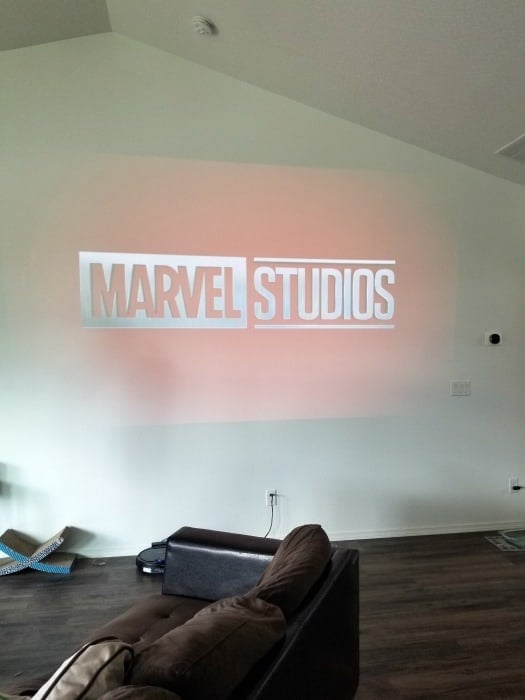 I wish I would have measured how big the screen size is but it is at least 10 to 12 feet long if not more. This is the big white wall in our open concept living room if that helps with size measurements.
Set up was pretty darn easy! One thing to know about the Epson Home Cinema 4010 is you do need to have it connected to a streaming device or system to play the movie. I moved our blu-ray player to the counter to set up with the projector. You will need to USB connect a Blu-Ray player or system or use a streaming device.
I am excited to see how it plays with a streaming device soon. I need to get to our device behind the TV or order a new one to make it easier. LOL! When I put the TV above the fireplace I never thought about how hard it would be to connect and disconnect devices.
OK, Back to this amazing home projector! Check out how amazing it looks at night!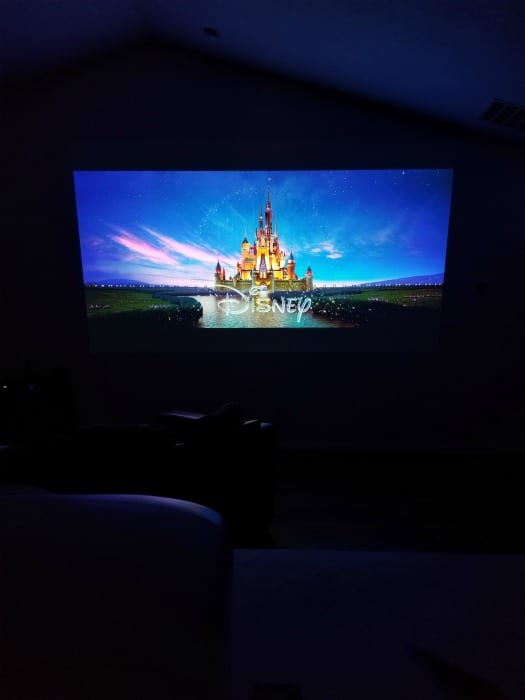 The crazy thing is this pic was snapped on my cell phone of a movie picture and the image is that clear! I was honestly in awe of how crisp and clear the image is played on my living room wall. It felt like we were in a theater.
John and I are now talking about how we can permanently mount the Epson Home Theater Projector from our ceiling so we can play it any time we want. I went to our local Best Buy and talked with them to find out what I would need to do and how to make it work for amazing movie nights.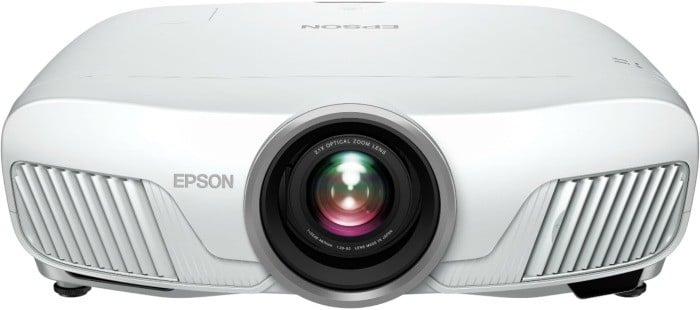 Epson Home Cinema 4010 features you are going to love!
Home Cinema 4010 4K Pro-UHD Projector with Advanced 3-Chip Design
High dynamic range (HDR) creates a more realistic picture
2,400 lumens color and white brightness
Contrast ratio up to 200,000: 1
4K Enhancement
±30° vertical keystone correction for distortion-free images.
Included remote provides simple control from across the room.
What comes in the Epson Home Cinema 4010 box?
Epson Home Cinema 4010
Wireless remote control
2 x HDMI cable
Head to your local Best Buy or visit BestBuy.com to find out more about this great home theater experience with Epson!
Additional Best Buy Products
LG 77" 4k TV
The reviewer has been compensated in the form of a Best Buy Gift Card and/or received the product/service at a reduced price or for free.