The Gerald Ford Presidential Museum shares how Mr. Ford went from growing up in Grand Rapids to serving as our 38th President
The galleries and exhibits include the oval office decorated as it was during Gerald Ford's administration, a cabinet room that you can take a seat at the table and learn about issues during the presidency, documents and information pertaining to President Nixon, and so much more.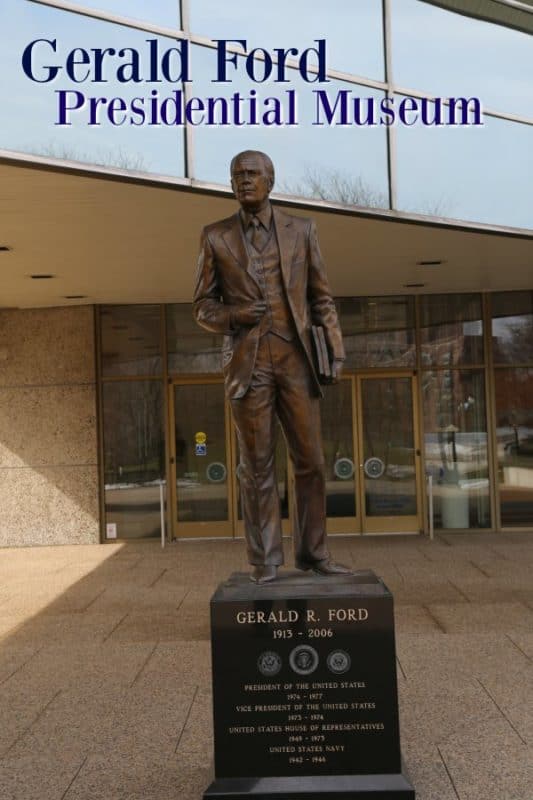 Gerald Ford Presidential Museum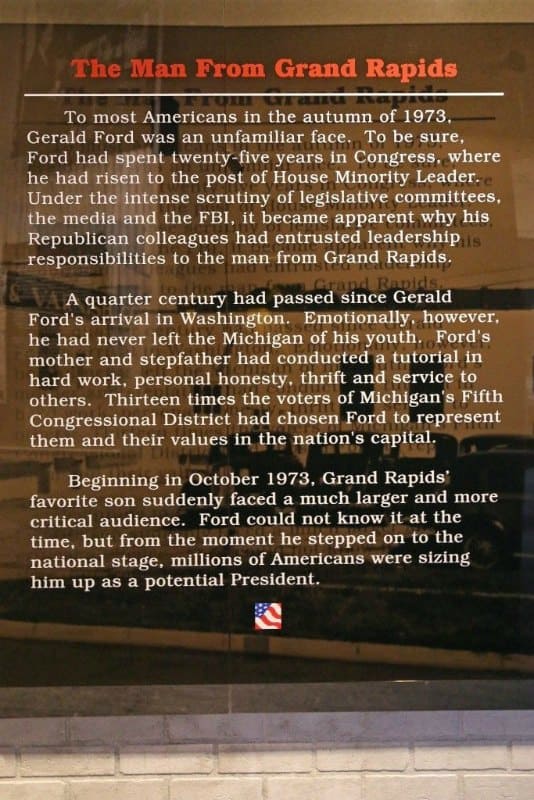 Going into our visit to the Ford Presidential Museum I didn't know much about Gerald Ford. Walking through the museum was really interesting. I learned a lot about US history along with insights into Gerald Ford as our president.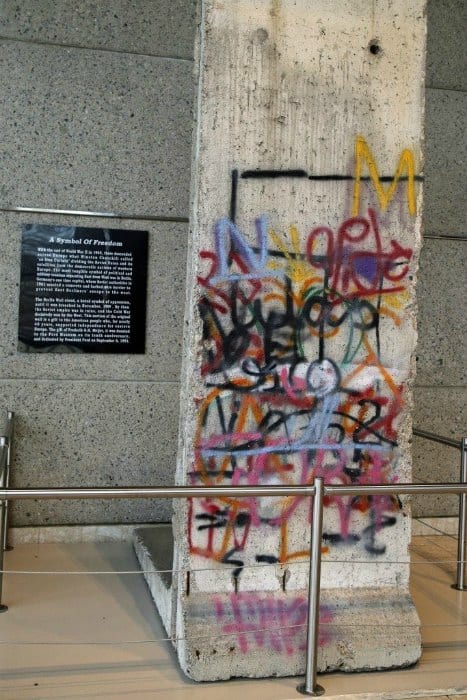 One of the first things you see when you walk into the museum is this piece of the Berlin Wall.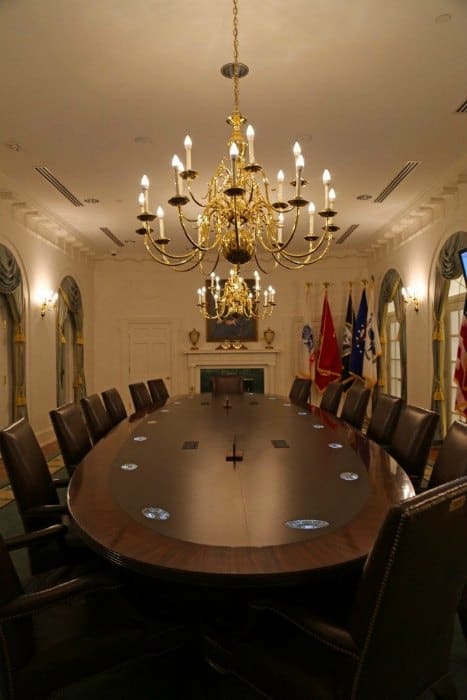 I love that museums are becoming more interactive and hands-on. Giving you the chance to feel what it is like to make decisions. At the Ford Museum, you can sit at the table in the cabinet room and answer questions and see the results. We spent a lot of time sitting here going through the questions. It was a great hands-on learning activity that we both enjoyed.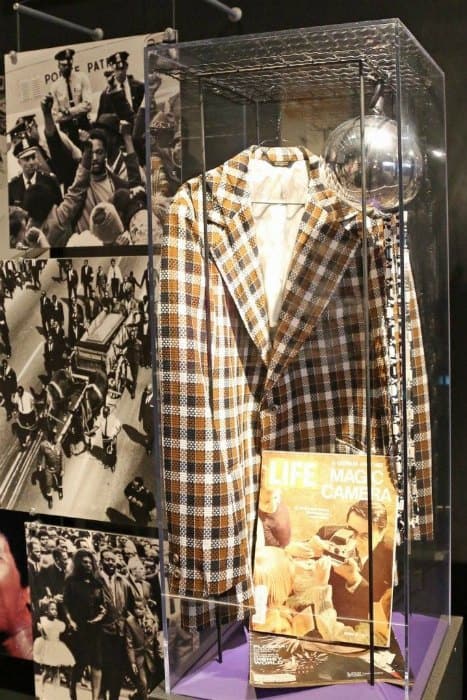 Walking through the Ford Museum is like walking back in time. The clothes, the cameras, the music, the magazines all show what life was like during Ford's era.  I saw a few suits that I think my Dad may still have buried in his closet. The cameras on display are amazing. To see just how far we have come with technology in a short period of time.
One of the highlights of our trip to the Ford Museum was interacting with one of the security guards. She saw John taking pictures and pointed out a few artifacts that we had missed during our walkthrough. She explained their importance and why she thought John would love them. It was a great moment talking with her.   We could tell how much she loved the museum and sharing it with guests. She told us about how many school kids come through each year and how much she loves sharing the museum with them.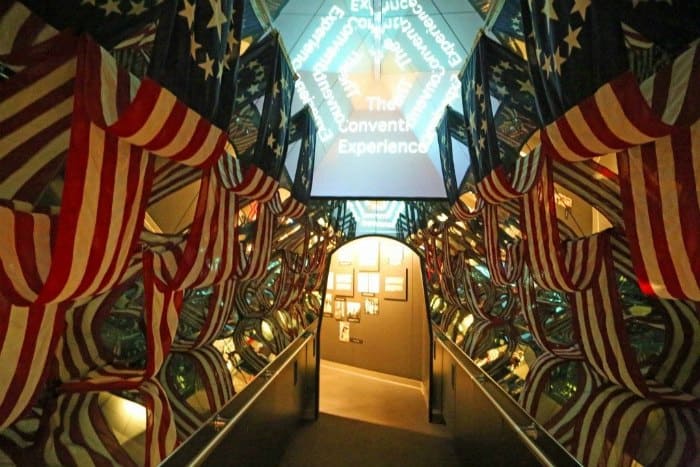 If you are visiting Grand Rapids a trip to the Ford Museum is well worth it! You can take as little or as long as you like to visit the museum. There is something for everyone.  We really enjoyed our time in the museum and we are not normally museum people. The interactive displays and information were great. We both learned a lot and enjoyed our time wandering through the museum.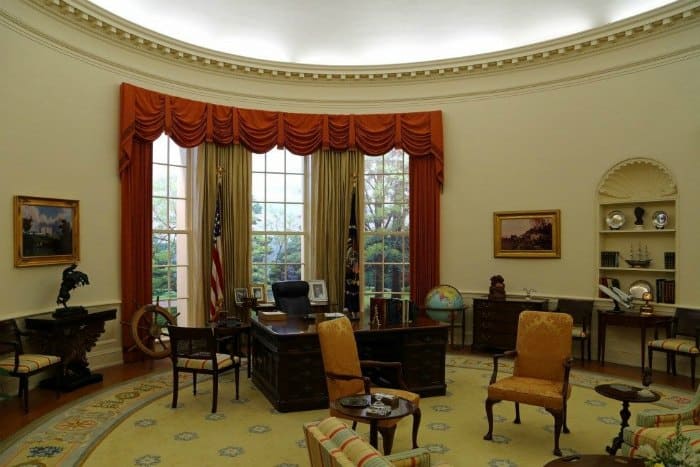 Travel Information
Gerald Ford Presidential Museum is located at 303 Pearl St, NW Grand Rapids, Mi
Phone - 616-254=0386
Hours of operation
9 am - 5 pm Open daily except for Thanksgiving, Christmas, and New Years Day
For additional information on the Gerald Ford Museum please visit their website at www.fordlibrarymuseum.gov
Additional Michigan Travel Articles
Top things to do in Grand Rapids
Sleeping Bear Dunes National Lakeshore
Check out all of our Michigan Travel Guides