When the email came in from Best Buy asking if I wanted to check out the Supersonic Dyson Hair Dryer I squealed out loud. Now, this might now have been a big deal except I was sitting in first class on a flight to Los Angeles with John and the plane doors had just been closed. I grabbed hold of John and shoved my phone in his face in excitement.
Now I want you all to picture my husband trying to grab my phone, calm me down, and balance his coffee at the same time. It was hilarious or at least it is now when I look back on the moment. He gave me one of those husband looks with his eyebrows raised and a question in his eye. Asking why in the world I was doing a happy dance on the plane over a hair dryer.
Because this is not your ordinary hair dyer...no this is a Dyson which means you know it is going to be amazing and possibly life changing. You would think he would be prepared for my gushing over anything Dyson. Every time I use my new Dyson V8 Absolute Cord-Free Vacuum I tell him how amazing it is and how I can't believe what it pulls out of the carpets. This is one part amazing and one part scary most days. Seriously, where does this stuff come from.
But I digress, and we need to talk about the Dyson Supersonic Hair Dryer that is available at Best Buy. When the package came in I again did a little happy dance and then decided it was time to shower so that I could blow my hair dry. Not that I hadn't washed my hair a few hours before, but it was time to test out this baby and see how amazing it was.
I honestly had no question that it would be amazing but I needed to see it in action. I needed to feel my hair in the wind and see just how quick it would dry. OH YES!!!! It lived up to my expectations as big as they were. Now I must admit I recently cut my hair so my drying time is faster than it used to be but the Dyson still cut down my normal time.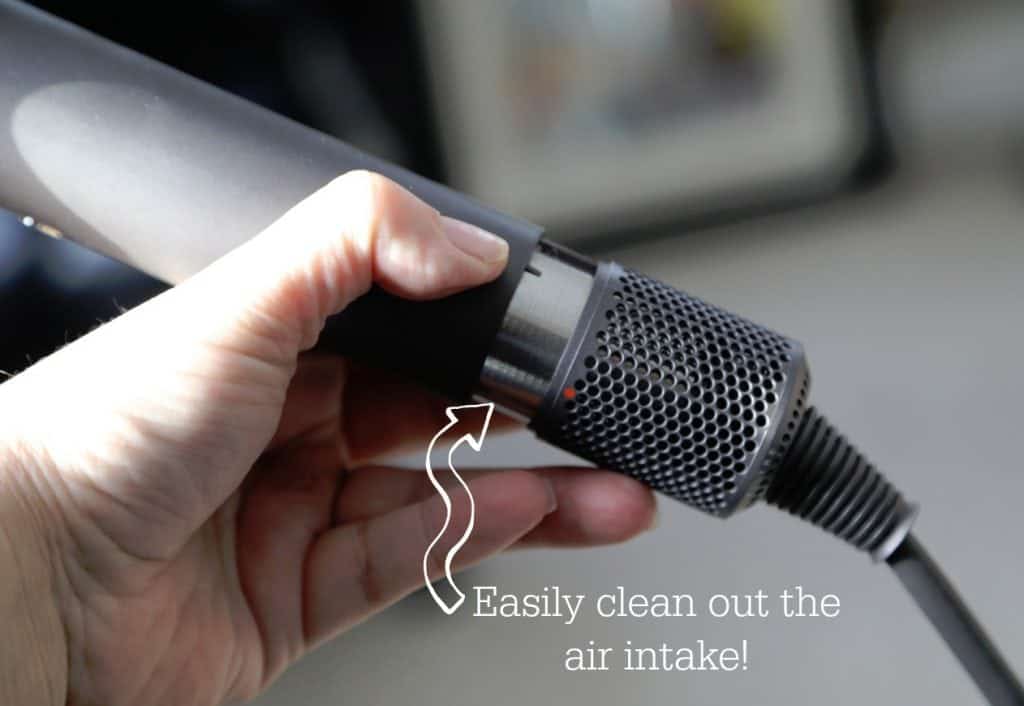 A few of the things that I instantly loved include the magnetically attached styling tools, the fact that your hair doesn't get sucked up in the back of it and you end up with a bathroom that smells like burnt hair and that you can easily clean out the air intake area to make sure that it is not sucking in dust or hair.
One thing I will say is you need to be prepared for the cord that is quite large. I had to re-arrange my bathroom a bit, so the cord didn't knock anything over and into the sink. It is hefty and has a medium size box part way between the hairdryer and plugin that you will need to maneuver.
The cord is truly the only part of the entire process that had me pausing in my joy for about a millisecond and then it was back to happily blow drying my hair.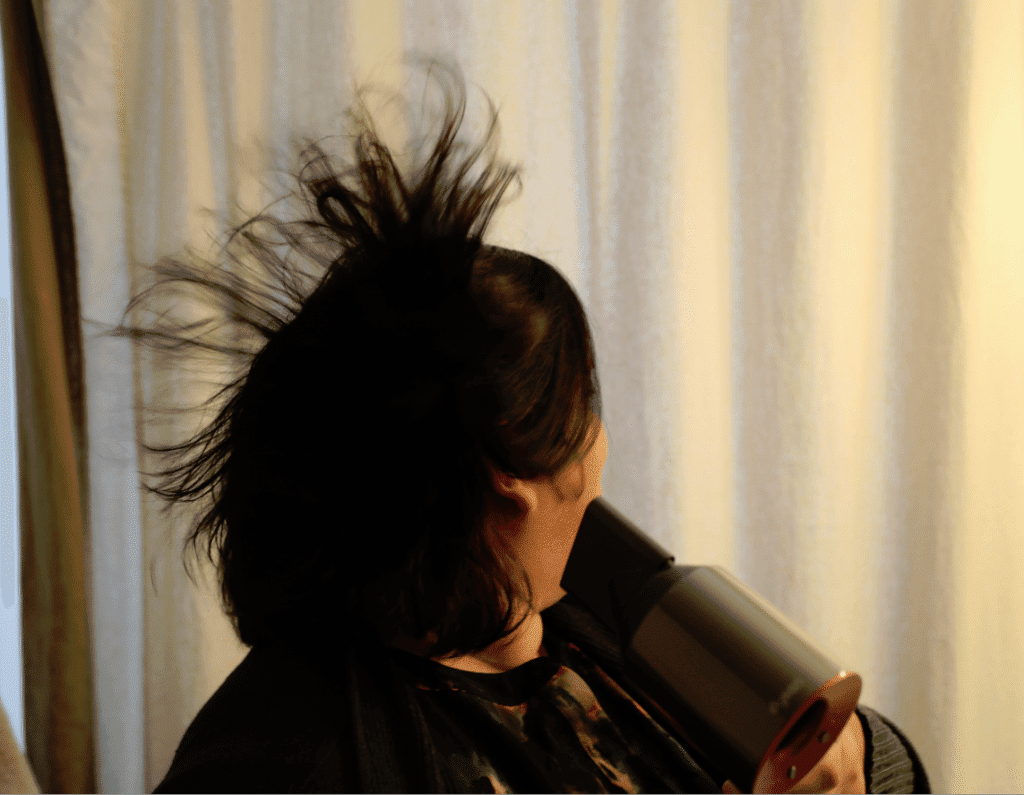 This is what happens when you ask your husband for a pic with the hairdryer...he of course, gets it when I have hair all over the place.
Here are the details/super cool things you need to know about this amazing hairdryer...
3 precise speed settings. Fast drying, regular drying, and styling. 4 heat settings: constant cold, low, medium, and high.
Acoustically tuned. The powerful motor is tuned to produce one inaudible frequency, and it's enveloped by a vibration reduction system.
Magnetic attachments. Only the Dyson Supersonic™ hair dryer comes with magnetic attachments - so you can easily adjust quickly and easily.
o   Dyson smoothing nozzle. Dries hair gently using smooth, wide air, allowing you to dry and style at the same time.
o   Dyson styling concentrator. High-velocity, focused air that lets you style one section at a time – without worrying about disturbing the rest.
o   Dyson diffuser. Engineered to disperse air evenly around each of your ringlets. Simulates natural drying to help reduce frizz and improve definition.
Lightweight and balanced. Dyson has turned convention on its head and put the motor in the handle. Completely rebalancing the dryer's weight and shape.
Helps prevent extreme heat damage to protect natural shine. Air temperature is measured 20 times every second, keeping the temperature under control.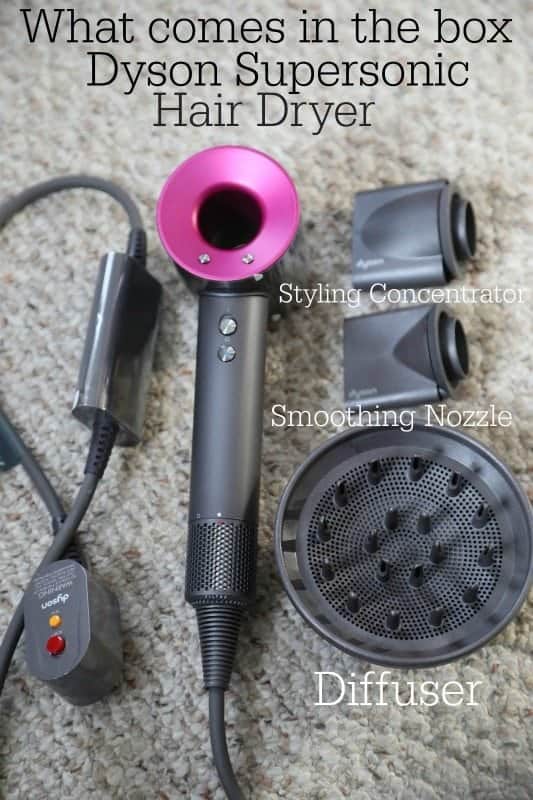 Seriously, so dang amazing! I keep dreaming of what other appliances and house tools Dyson could start producing that could make my life easier. So far they are rocking my world with this hairdryer and my cord free vacuum.
Head over to Best Buy to find out more and order one of these amazing Dyson Hair Dryers! Trust me you will LOVE IT!
The reviewer has been compensated in the form of a Best Buy Gift Card and/or received the product/service at a reduced price or for free