One of the things that have driven me nuts since we moved into our house is the TV cords hanging down the wall. They are the first thing I see when I walk into the room and daily I give John a bit of side-eye that they annoy me. I was so happy when Best Buy emailed and asked if we wanted to try the Legrand in-wall power kit. I don't think I could have replied fast enough on that email.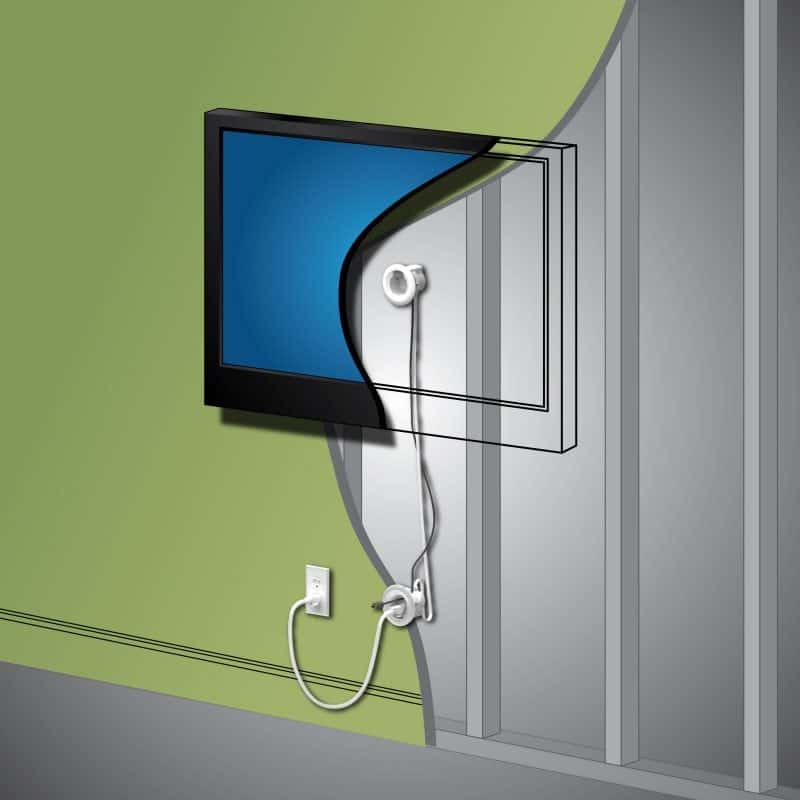 Hide your TV cords with the Legrand in wall power kit from Best Buy!
But a funny thing happened since I answered the initial Best Buy email...we are moving in the next few months. More to come on this info soon I promise.
I still wanted to be able to show you how the Legrand In-Wall Power Kit available at Best Buy worked so we came up with a way to show even more than we could have here in our house.  I figured we probably shouldn't punch a few holes in the wall when we know we are moving in the next couple of months. lol!
Here is a look at the final set up and how the Legrand In-Wall power works! Now check out the step by step process below: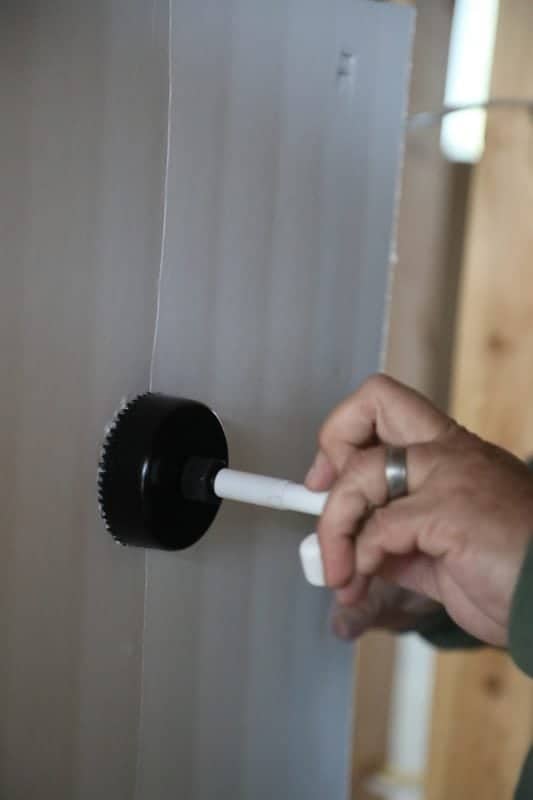 The first step is to cut a hole in your wallboard. We used a piece of poster board so we can show you both sides of the installation. The box comes with a cutting tool. You can hand crank it or if you have a power screwdriver you can also attach that to the cutting tool.
One thing to know before you cut into the wall is where your electrical cords are located. You want to make sure that you are not going to cut into your electrical wires causing a short or nicked power line.
If you are cutting into an interior wall it may be easier than an exterior wall that has insulation in it. If you are setting up the Legrand In Wall power on a wall with insulation you may need to shift the insulation around to get the cord through it.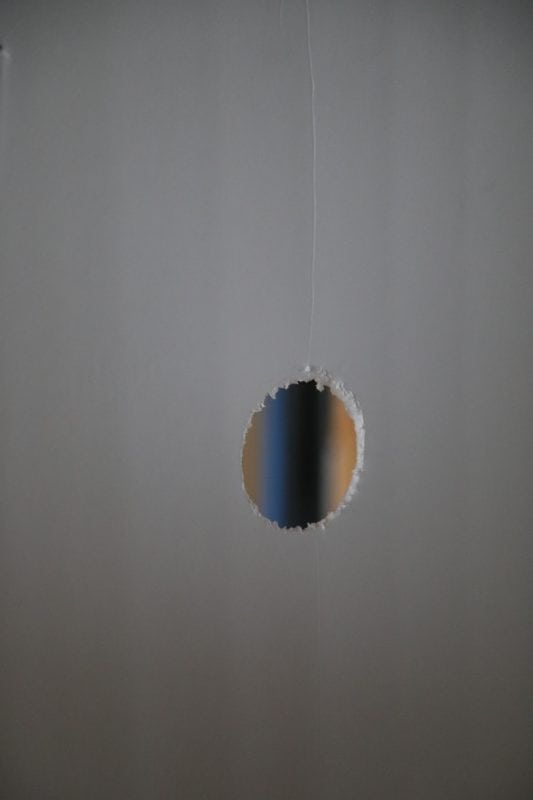 After using the cutting tool you will be left with a perfect circle that fits the Legrand In Wall power unit.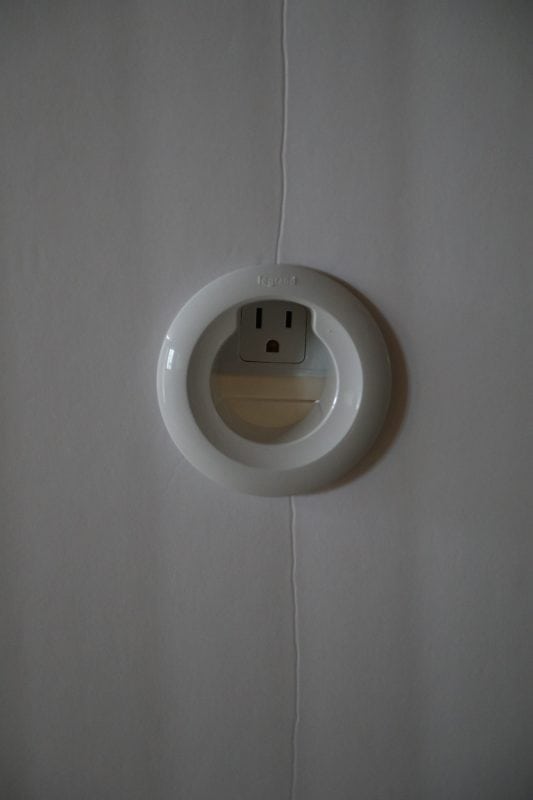 The plastic front of the Legrand In-Wall Power unit is paintable so you can have it match your walls easily. It has a bit of extra space at the base if you need to feed other cables through it. One thing to check before you cut a hole into the wall is to make sure your TV power cord and plug in fit the base. Ours fit without a problem but definitely check before cutting into your wall.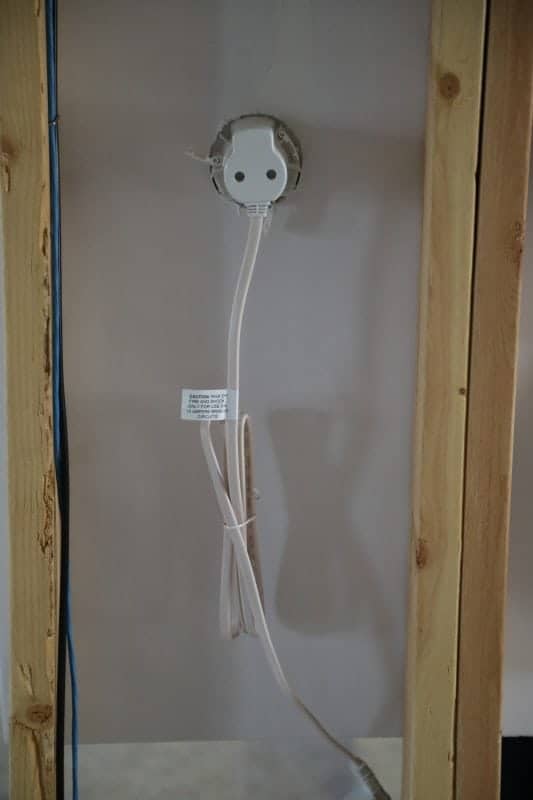 Once you have the hole cut you can feed the cord through the hole to the lower hole with the power plugin. The Legrand in-wall power set up comes with a hook that you can feed up from the bottom hole to pull the power cord down in the right place.
When you screw in the front plate it puts tabs along the side of it to hold it onto the wall. You do not have to worry about it falling out of your wall or being easily pulled out.
Check out this video from Best Buy showing just how easy it is to install the Legrand In Wall TV Power Kit.

What comes in the Legrand In Wall Power Kit Box:
Power grommets, 54" power harness, 6' power cord, fish tape
Hole saw, hole saw handle
If TV Cords have been driving you insane and you need to hide them asap head over to your local Best Buy and pick up the Legrand In Wall TV kit! You can also order the kit and find out more info on BestBuy.com
The reviewer has been compensated in the form of a Best Buy Gift Card and/or received the product/service at a reduced price or for free.