This is a sponsored post written by me on behalf of LulaaBED
All opinions are my own.
Why I love our new LulaaBED and you will too! Well, not my bed but your own. I am pretty sure John is not ready or willing for me to let others test out our new LulaaBED that we have fallen madly deeply in love with. Have you ever had something come into your life right when you needed it? That is what happened with the LulaaBED. We had just moved into our new house and we were hurting! The pain and sore muscles that remind you that you are not a teenager any longer and have crossed into the realms of being 40+ were a daily feeling.  When I got the email that we were chosen to work with LulaaBED I literally squealed with excitement. This was the good news that I had been needing in our lives!
We ended up having to move our entire life into storage and then 2 weeks later into our new house finally due to some crazy complications. This resulted in us feeling sore for weeks and not sleeping very well due to stress and anxiety. Our previous mattress we bought from a large hotel chain and we thought it would be amazing. Well after a couple of years we had such deep divets that we had to sleep in the exact same position night after night which was getting super uncomfortable.
When the white glove delivery service guys delivered the new LulaaBED 10″ Emerald Plush Mattress I thought I might tear up a bit with joy. I had such high hopes for finally getting a good night's sleep and starting to feel normal again. I was so tired from the move and house craziness that I was exhausted and grumpy all the time. When the guys set the bed up and showed me the remote control my heart went pitter-patter a bit. I have dreamt of a bed that I could lift the head and feet on and now my dreams were coming true.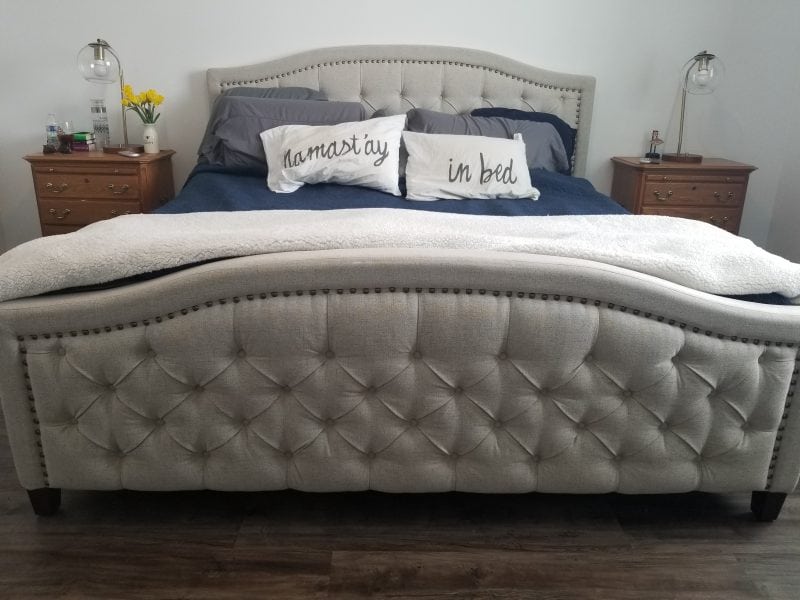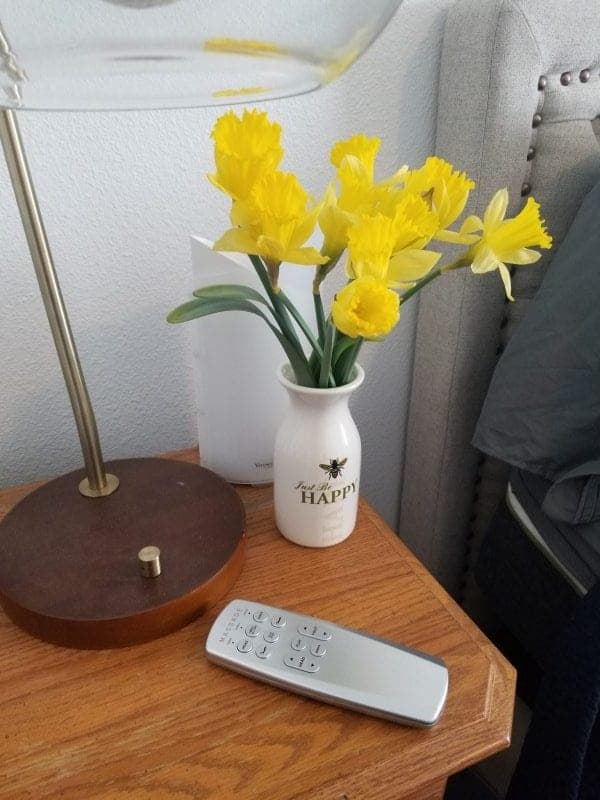 I wish I would have videotaped the giggles that John and I had of pure joy when we laid on the bed the first time and started playing with the remote. We love that each of us has our own separate bed next to each other, so we can be as comfortable as possible but still sleep next to each other.
One thing I didn't know was a thing but soon fell in love with is the ZeroG setting on the remote. This setting is pure heaven if you have a sore back or just want to relax. So much so that we moved a TV into our bedroom, so we can relax in ZeroG and watch TV together. This makes me giggle since we just bought a monster 65-inch tv for the new living room and now spend more time in bed watching TV because it is so comfortable in our new bed.  The Zero Gravity Position raises the feet above the heart for improved circulation and is pure bliss!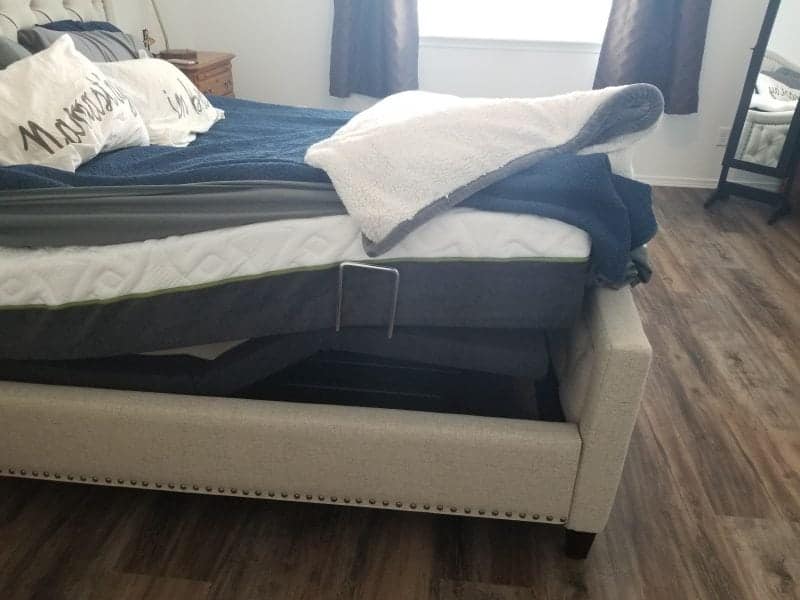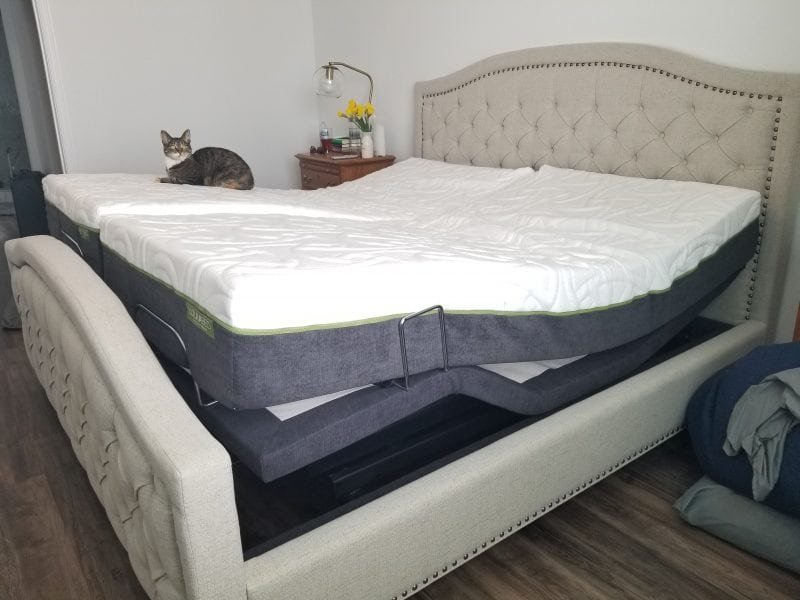 The practical side of my brain loves that the bed is CertiPUR-US® certified foam, and the foam is free of flame retardants, heavy metals, formaldehyde, and phthalates. We have talked before about how my brain goes to the dark side quickly so reading this info about our new LulaaBED was so comforting. Plus, it has a machine washable zip-off mattress cover. I can easily remove the mattress covers and wash them to keep the mattress looking fresh and amazing.
Plus, there is a 20-year limited warranty and no-risk-guarantee so why wouldn't you visit Sam's Club and order one!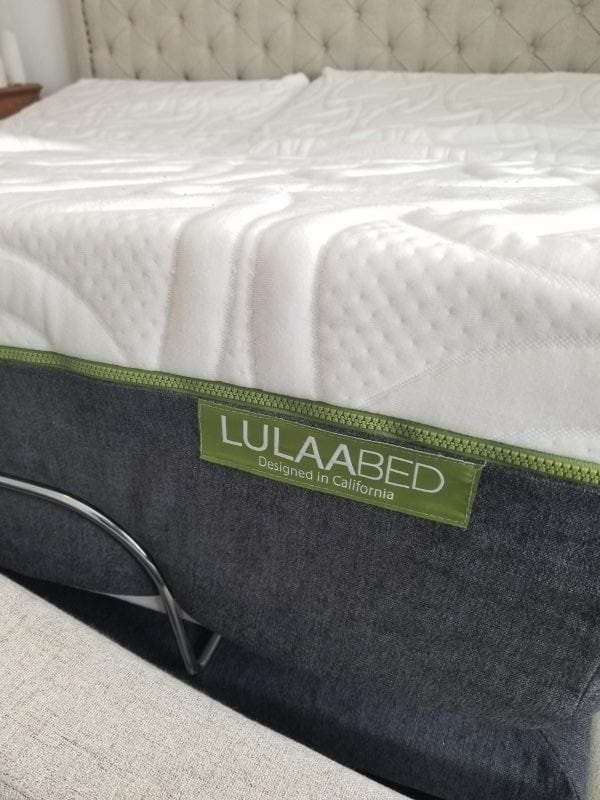 Now when we travel I honestly miss our bed. John had to leave for training for a few days and called the 1st morning he was there to tell me that the hotel bed was not our LulaaBED and he missed it greatly. He said he did not sleep as well as he does in our bed and he missed the remote-control settings. I should mention that the bed has a massage function which my husband has fallen deeply in love with. Every night he crawls into bed and turns on the foot massage on his mattress. He is sleeping so much better even with his knee issues on our new mattress. He said that he feels like he can finally move the bed to a point that his knee feels better, and he is getting some sleep.
It is hard to put into words how much we have fallen in love with this LulaaBED mattress and adjustable bed set.  I had such high hopes when I read about it on the Sam's Club website, but it has far exceeded my biggest hopes for it.
We are not the only ones that have fallen in love with the bed….Kitty Kitty has decided that the bed is hers from day 1!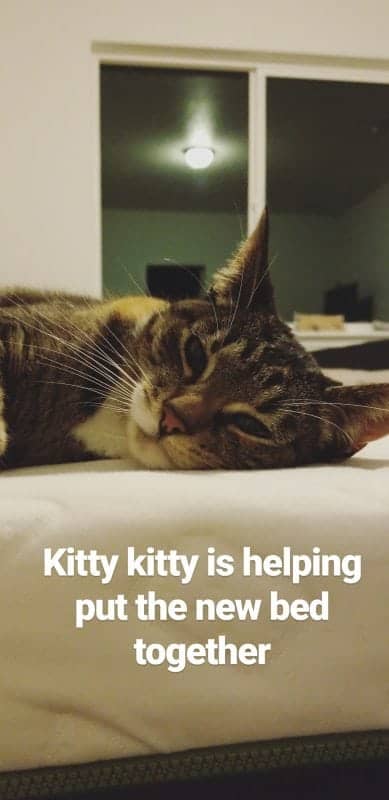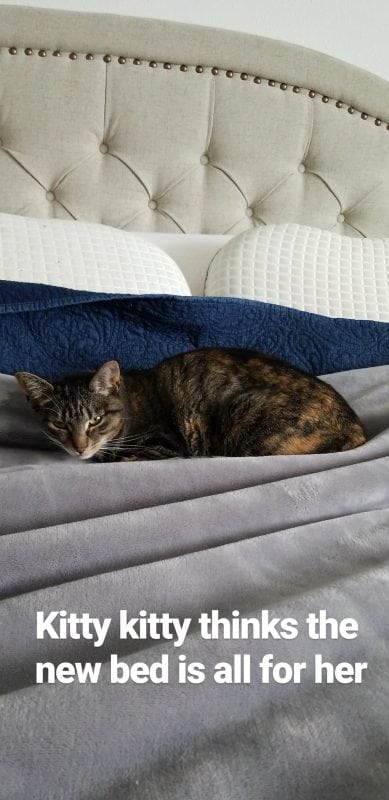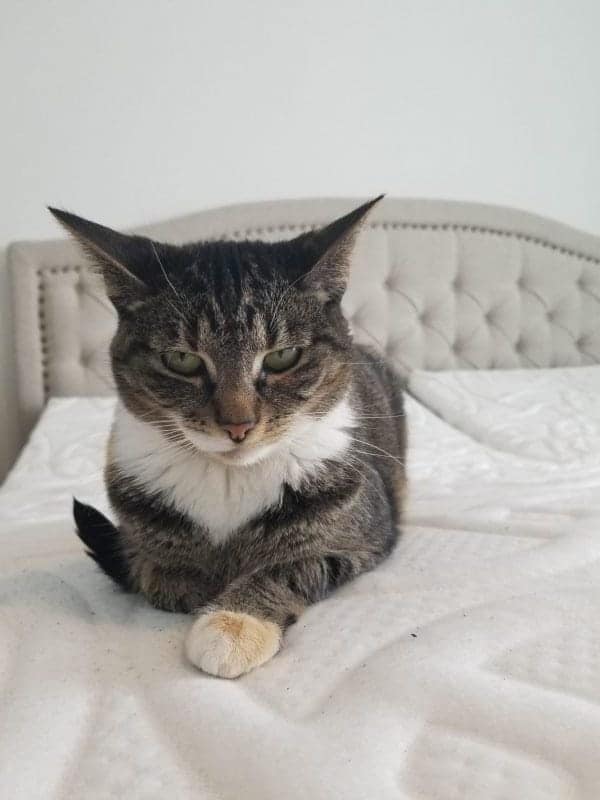 It doesn't matter if the bed has sheets or not Kitty Kitty can be found curled up sleeping on the bed. There was no way I was getting pics of the bed without her unless I locked her out of the room. She is just as in love with the LulaaBED as we are.
Don't miss these great bedroom deep cleaning tips
This is a sponsored post written by me on behalf of LulaaBED