Thank you to the Mount Rainier Scenic Railroad for providing us with a fantastic family outing. We had a wonderful time riding the train and learning about the Mount Rainier Scenic Railroad!  We spent the afternoon relaxing, soaking up the sites, and thoroughly enjoying our experience on the Mount Rainier Scenic Railroad!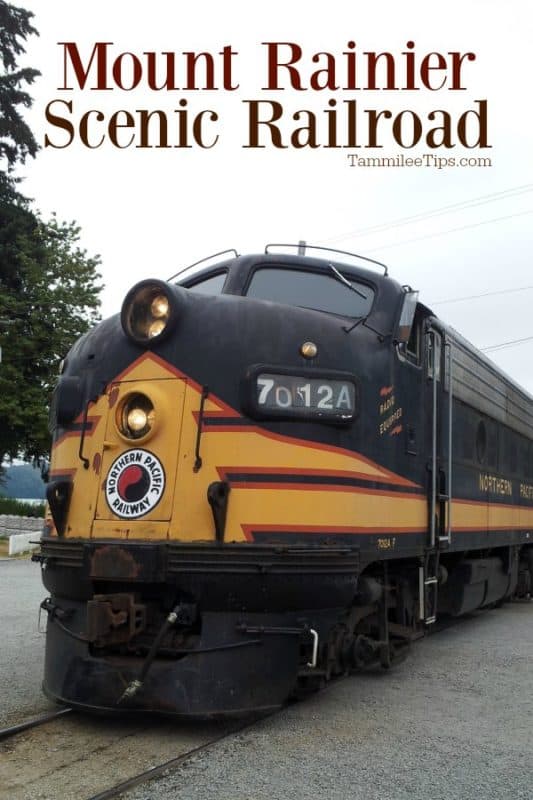 An amazing day on the Mount Rainier Scenic Railroad
If you love trains, love being outdoors, are looking for a fun family adventure, or just want to try something fun this is the trip for you! I am not really a train person but after this trip, I have so much respect for the men and women who run this railroad.
We had the opportunity to ride on an F9 Diesel Train. This train is known for its snub nose. The train was built in 1956 and tips the scales at 230,000 pounds.  The Mount Rainier Scenic Railroad is run by a combination of employees and volunteers.
The men and woman who run this railroad share their passion and excitement for trains and the Mt. Rainier Train. Everyone we talked to was so enthusiastic and happy to share their passion for trains with us. I can't express in words how truly impressed I was with the dedication and heart that they put into this railroad.
We took an afternoon train ride out of Elbe and were able to pick up a pizza for a picnic on the train. There is a pizza stand inside of a train car right near the Mount Rainier Scenic Railroad Train Depot. Taking a pizza on the train worked out great. We had a really good lunch that all of us enjoyed and watched the amazing scenery go by.
There is a snack car on the train that carries candy, chips, popcorn, and other small snack items. You can bring food on the train and enjoy it during your ride or at the museum area.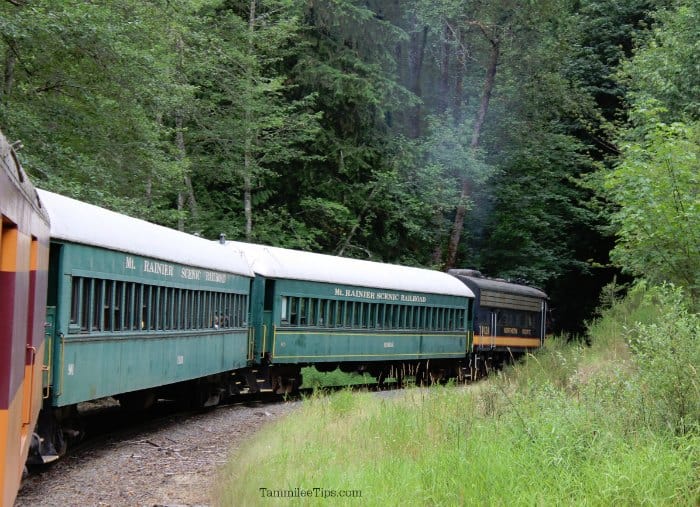 The Mount Rainier Scenic Railroad offers both indoor and outdoor seating. We decided to enjoy outdoor seating and thankfully the Pacific Northwest weather cooperated with us. It was a bit gray and cloudy so we could not see Mount Rainier but we didn't get rained on so that worked out great. There is ample seating on the train both inside and out.
One of the things I really enjoyed during our train ride was seeing the other passengers' excitement as the train entered the forest and headed to the train museum. It didn't matter if the passengers were 2 or 92 everyone was smiling and really enjoying the ride. There is just something about trains that brings out the kid in all of us. Who doesn't want to talk with the conductor and feel like you are riding the rails on an adventure!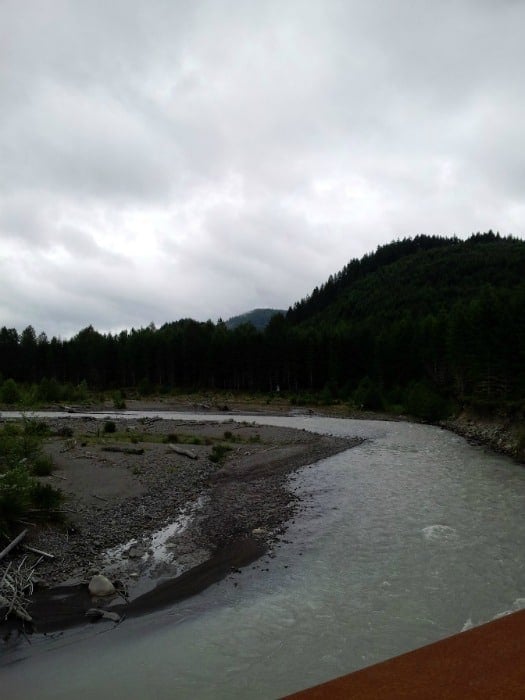 The scenery along the train route is spectacular even on a gray Pacific Northwest day. You can see the glacial silt from Mt. Rainier in the water. We passed a huge beaver dam that was really quite impressive. On a clear day I can not imagine how amazing the views of Mt. Rainier and the surrounding area would be.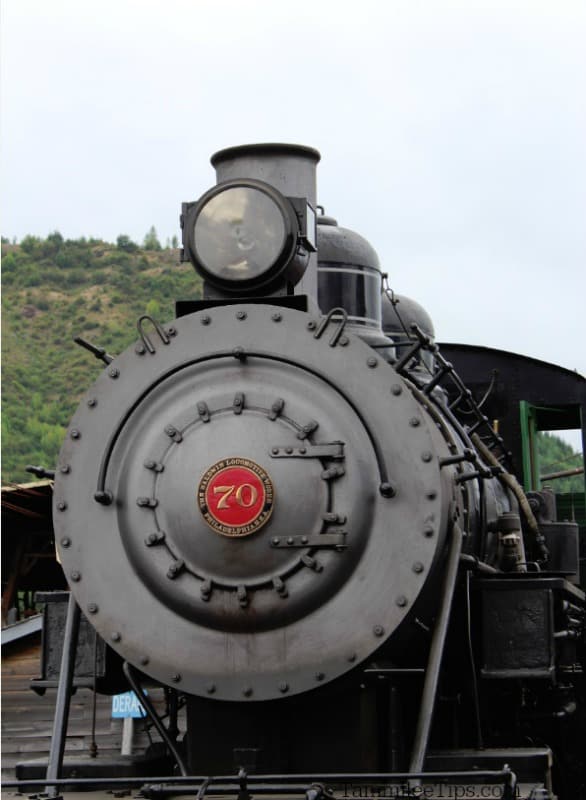 The train makes a stop at the Mount Rainier Scenic Railroad museum area. This is a great opportunity to wander around the complex and see the amazing work that the crew is conducting on the trains. While we were in the museum area John started talking with one of the workers and I had to drag him away to get back on the train. It was so fun watching my Husband talk with the museum worker and hear them sharing their passions for the railroad and train systems. Part of the trails that John works on as a Park Ranger are old train routes. He was so excited to see some of the trains that would have run on his trails.
I can't say enough about the passion and dedication the staff at the Mount Rainier Scenic Railroad shared with us. You can tell that they are so excited to share a piece of their love of trains with you. They are willing to stop and just chat about specific trains like the steam engine above, the work they are doing on other trains, and the history of the area. They were all so open and friendly during our visit.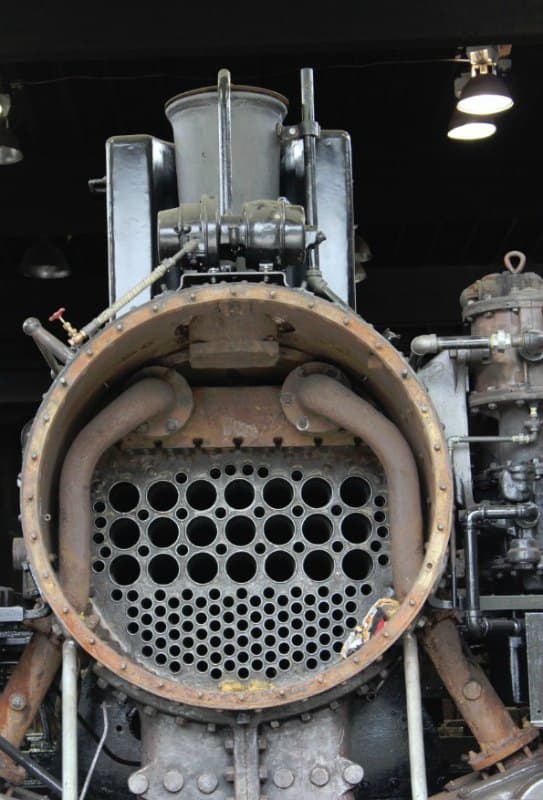 This is one of the train engines the staff is currently working on. I learned that they will recreate and produce each piece that is needed to get the train back up and running. They do it all by hand and make sure each piece fits exactly as it should.   They want to make sure that each train that is on the route is restored to its original glory and wonder.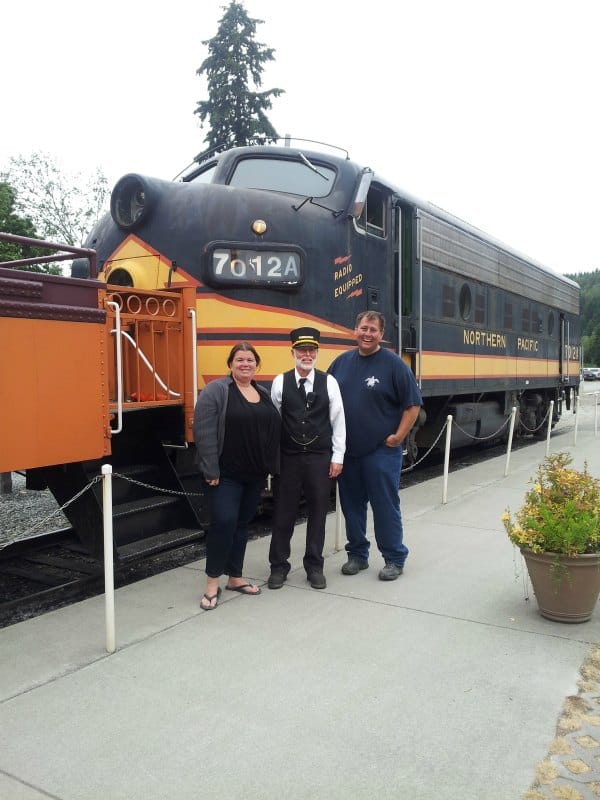 The Conductor on our train ride made me smile each time we talked with him. He worked like crazy to make sure everyone had a fantastic trip and was nice enough to pose for a photo with us.
We had a wonderful time riding the Mount Rainier Scenic Railroad as a family. It was so great spending the afternoon with my parents.  I learned from my parents that we had actually ridden the railroad back in the 80s when I was a kid. We took a Santa ride and visited with Santa while enjoying the train. It was so much fun hearing my parents talk about how excited we were as kids to meet Santa and ride the train.
Mount Rainier Scenic Railroad can be found at 54124 Mountain Hwy E
You can find out more on their website -> Mount Rainier Scenic Railroad You can also find Mount Rainier Scenic Railroad on Facebook and Pinterest.
Additional Mount Rainier Travel Posts
Top things to do at Mt Rainier
Washington State National Parks
Check out all of our Washington State Travel Guides
 We were provided with our rides on the Mount Rainier Scenic Railroad. All opinions expressed are our own.