There is something magical about walking into a candy store and seeing all of the sweet treats. This best Candy Store Spokane Guide was created to highlight the local Spokane Candy Stores offering amazing sweet treats we all need to try.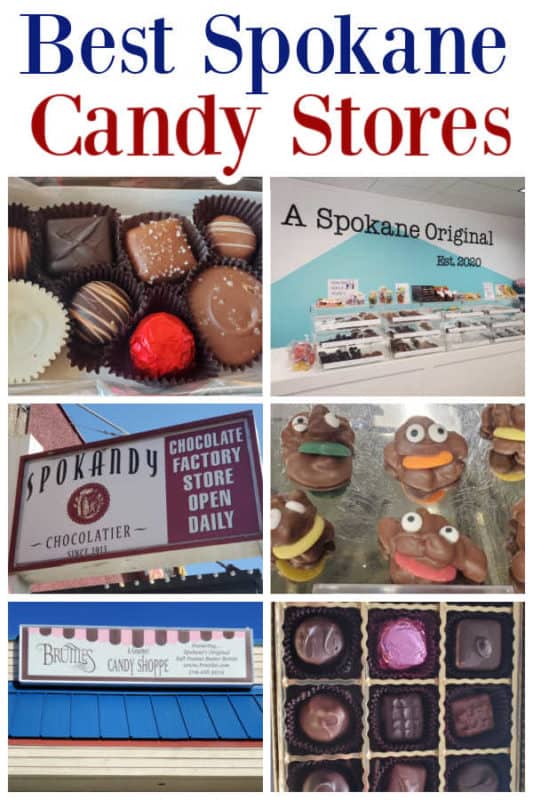 Best Candy Store Spokane Guide
Our goal with this food guide is to share the best of Spokane with you. Our focus is on locally owned stores as much as possible. Don't get me wrong we love that there is a See's Candy in Spokane on Division but we really want to highlight the locally owned businesses that are putting all of their love, hard work, and time into making Spokane a great place to live and visit.
I love that we have chocolate stores in Spokane that have been in business for well over 100 years. They offer amazing chocolates and candy while holding a place in Spokane history.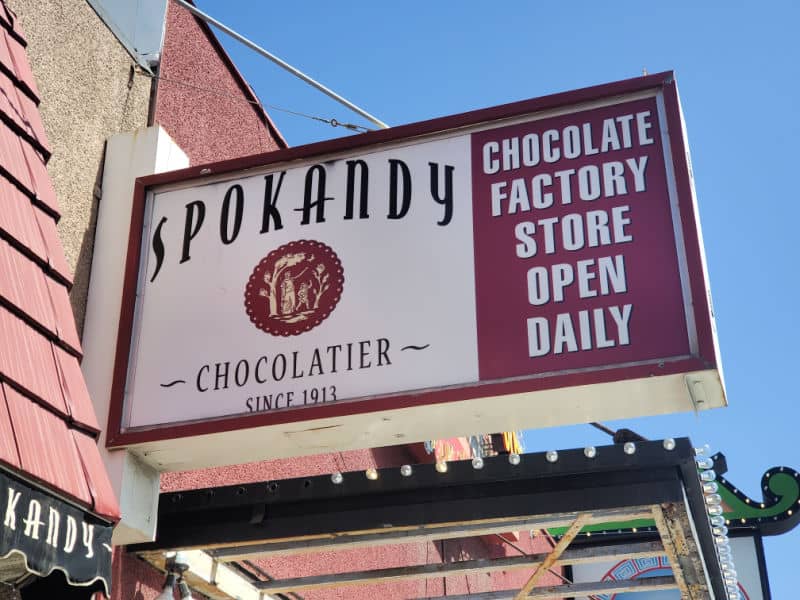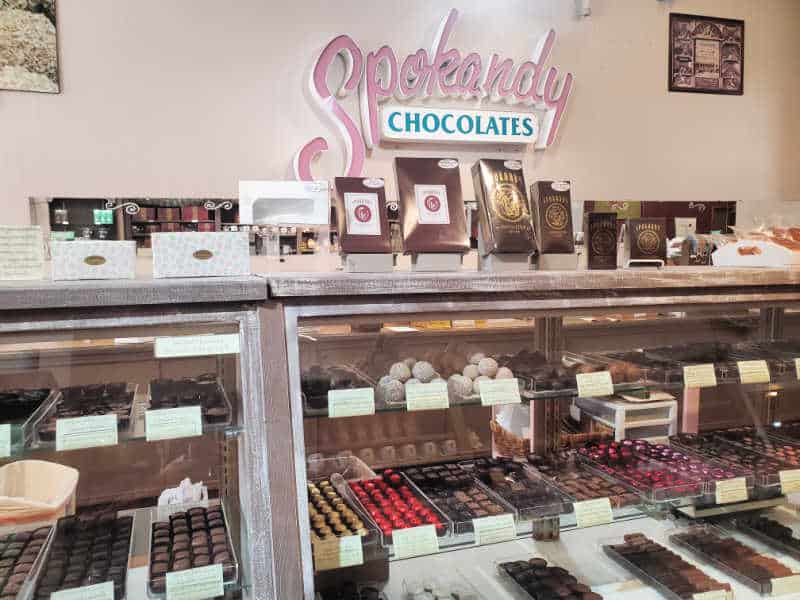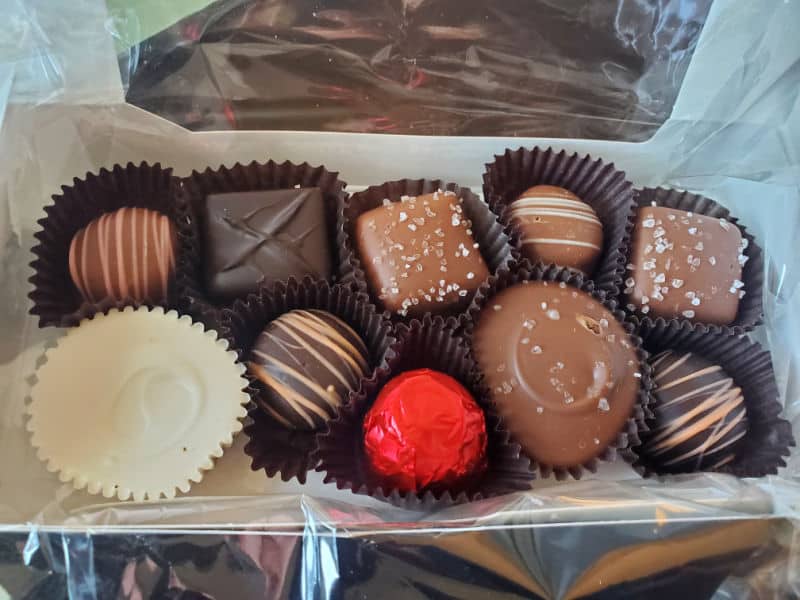 Spokandy
Location - Downtown Spokane
Spokandy has been in Spokane since 1913. They still use the same techniques that were used 100 years ago when Terrence J. Riley opened a shop in Spokane.
They use fine ingredients, no additives, and pure chocolate in all of their chocolate confections.
The moment you walk into Spokandy you know you are in for a treat. This candy store has been open for over 100 years and trust me they know what they are doing when it comes to chocolates. They offer a great daily selection of chocolates, truffles, and treats along with many holiday specials.
Be prepared to spend a few minutes trying to decide what you need to try! I walked up and down the chocolate cases carefully decided which of the epic chocolates I needed to try. You can't go wrong with a peanut butter cup, cherry cordial, or really anything. It was all delicious.
Spokandy Address - 1412 W 3rd Ave, Spokane, WA 99201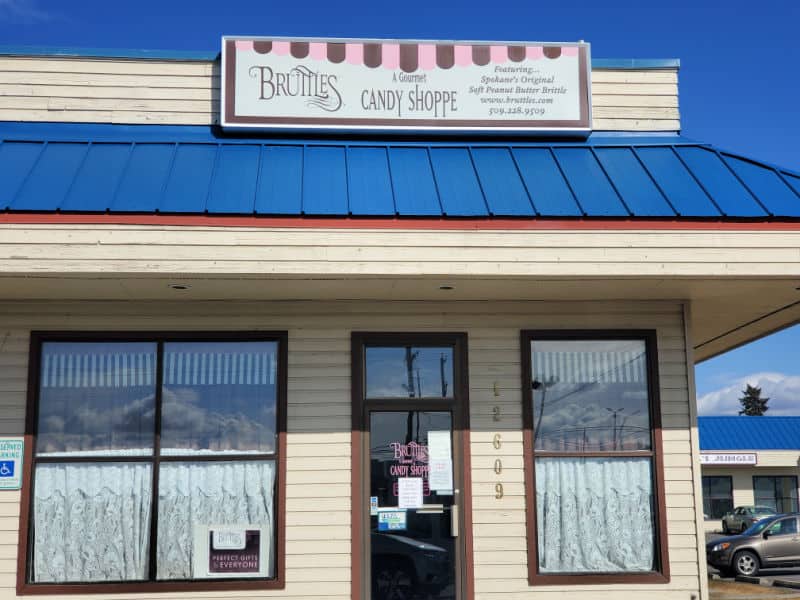 Bruttles Gourmet Candy Shop
Location - Downtown Spokane and Spokane Valley
One cool thing is everything in Bruttles is gluten-free except for the Bruttles crunch which has pretzels in it is.
Make sure to read about the founder of Bruttles on their about us page. I absolutely loved reading about Aunt Sophia and how she started working with chocolates and candy in 1914 and went on to make the soft peanut brittle they are famous for.
If you are wondering where the name Bruttles came from it is a cross between peanut butter and peanut brittle.
Downtown Address - 828 W Sprague Ave, Spokane, WA 99201
Spokane Valley Address - 12609 E Sprague Ave, Spokane Valley, WA 99216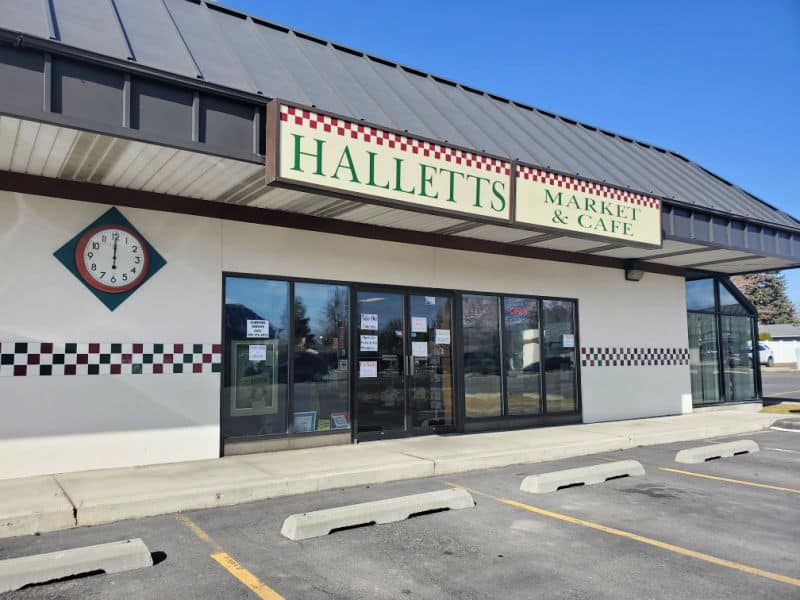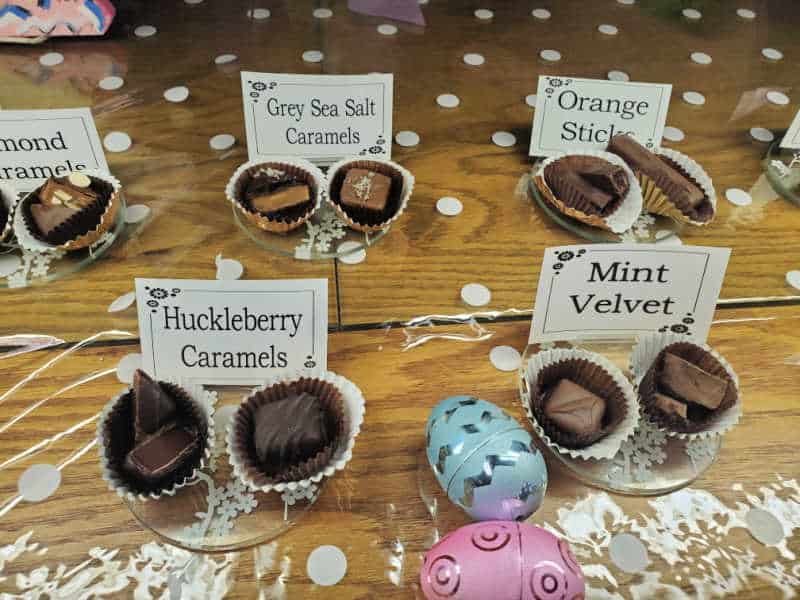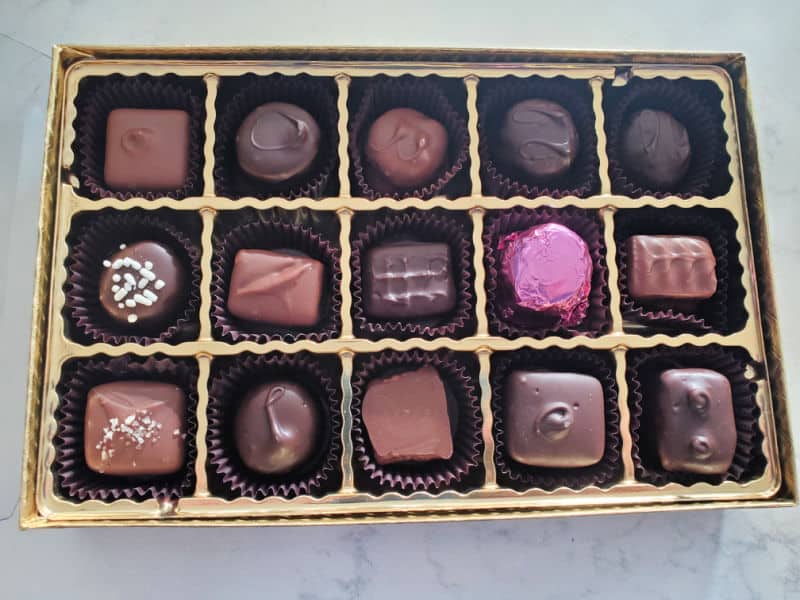 Hallet's Chocolates
Location - Spokane Valley
Hallet's is located in the valley near Safeway on Sprague Ave. They offer a great variety of locally Spokane-made chocolates along with other locally made products. You can also enjoy their deli and amazing sandwiches.
I need you to try the Grey Salt Caramels...oh my! Every chocolate we have tried from Hallets has been amazing and so decadently delicious.
One thing I love about Hallet's Chocolates and Deli is the family atmosphere. This is a deli and chocolate shop you want to bring your grandmother to or your best friend and spend time relaxing with a great meal and decadent chocolates.
This is not a fancy chocolate shop you are worried about fitting in at. This is a comfortable family restaurant/store that is filled with love and so much joy.
Address - 1419 E Holyoke Ave, Spokane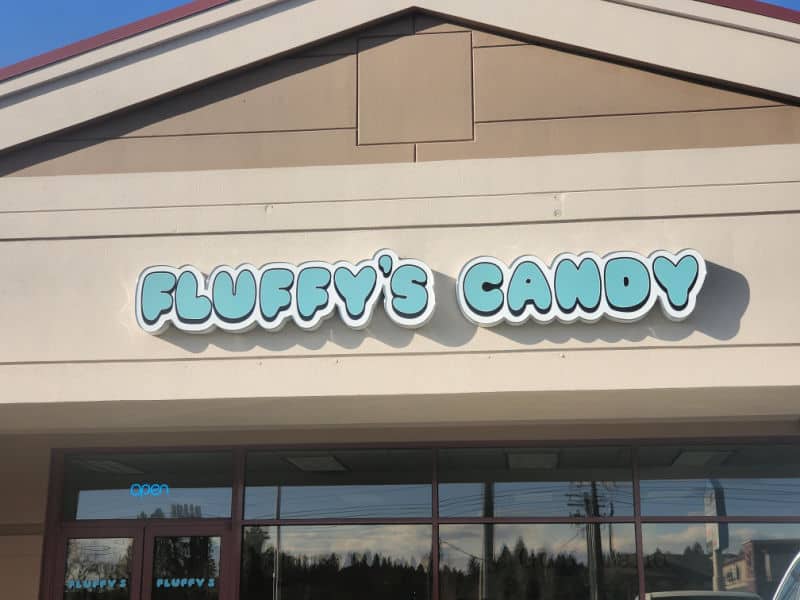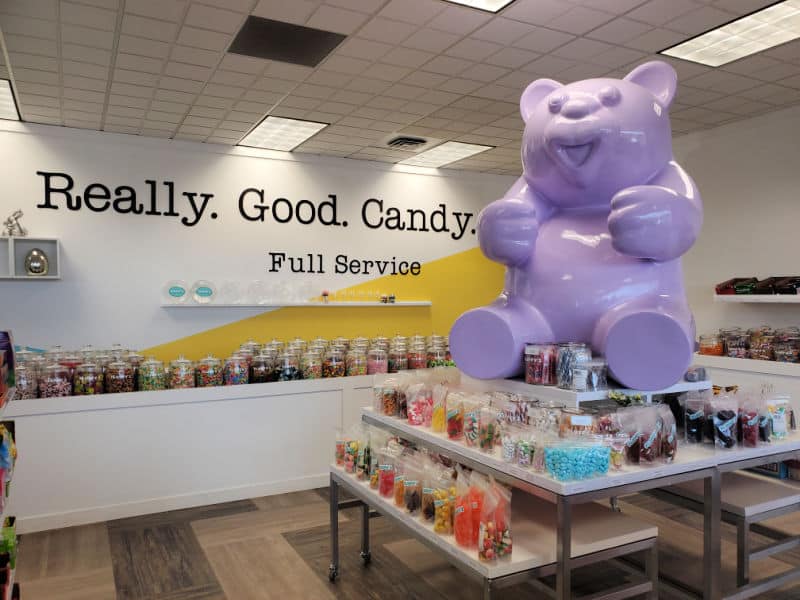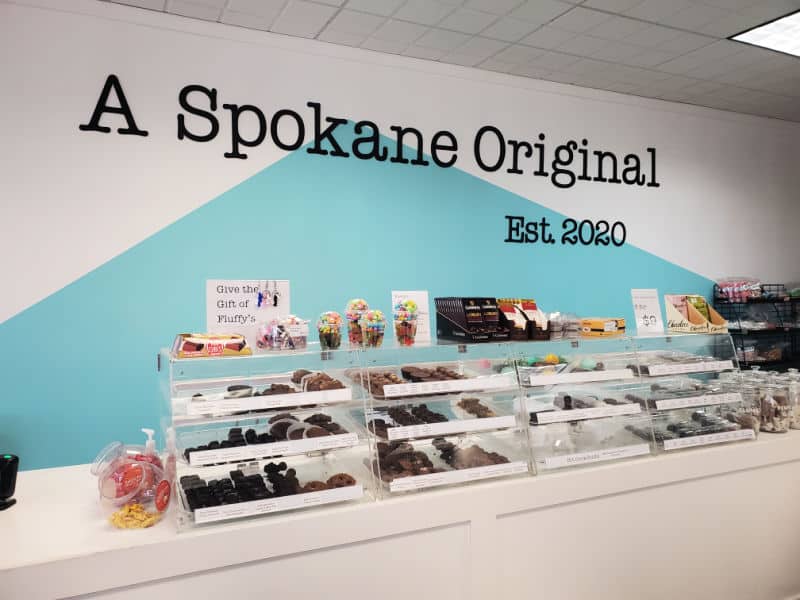 Fluffy's Candy
Location - North Spokane
Fluffy's Candy opened in North Spokane in 2020 during the middle of all the craziness happening.
If you love candy you will love Fluffy's Candy! They have everything and then more candy!
They make house-made flavored marshmallows, caramels, and chocolate-dipped treats. I NEED you to go and get some caramels. They melt in your mouth and it is really hard not to eat all of them faster than you think you will.
House-made marshmallows include lemon drop, huckleberry, cookies and cream, and chocolate-dipped. The marshmallows were soft and so good.
I was in awe of the huge variety of candy available at Fluffy's Candy. From taffy to candies from England, Canada, and Europe. They also have gummy everything and more chocolate than you can imagine.
Address -9502 N Newport Hwy Suite 4B Spokane, WA 99218
Phone - (509) 279-2527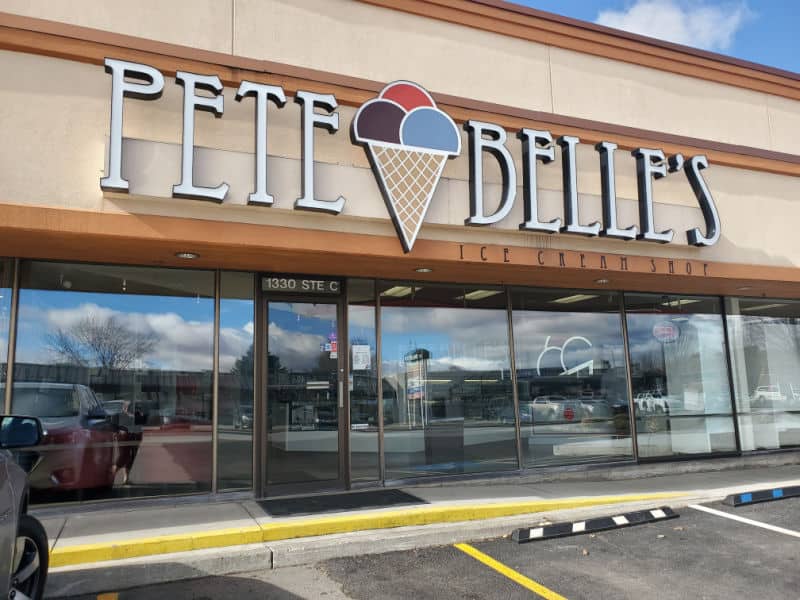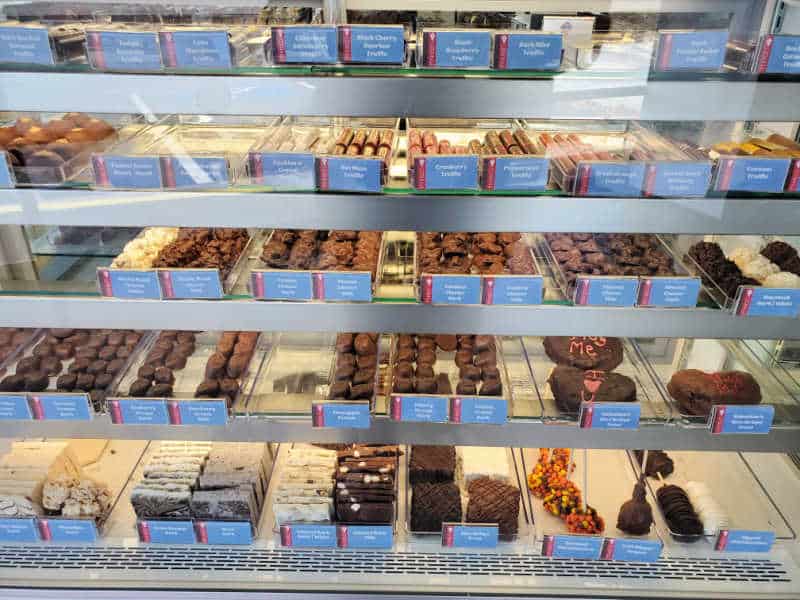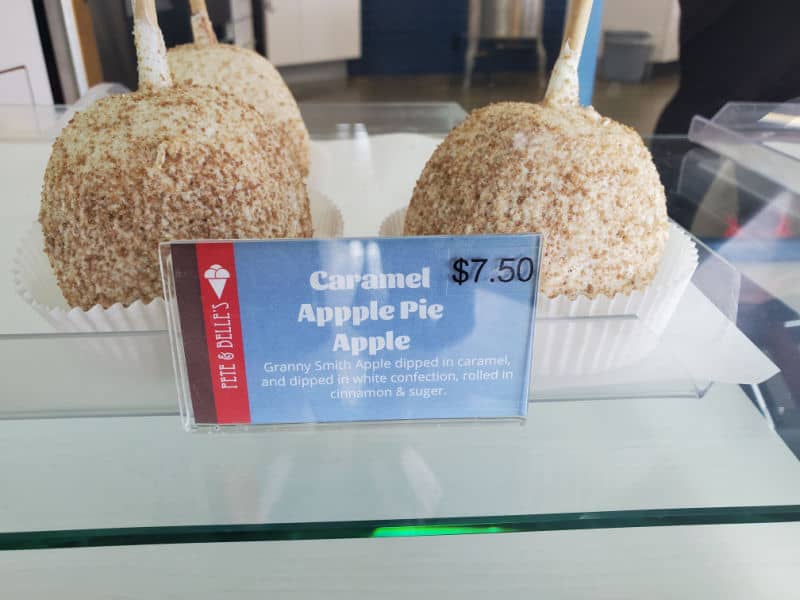 Pete & Belle's Ice Cream
Locations - Spokane Valley on Argonne and Spokane Valley Mall
Pete and Belle's is a Spokane ice cream shop, chocolate shop, and they carry an amazing variety of caramel apples. If you are looking for beautiful truffles and chocolates they have an amazing assortment. Some of their truffles look like works of art done in chocolate. I am always in awe of how gorgeous these chocolates are.
The caramel apples are decadent and gorgeous.
Address - 1330 N Argonne Rd, Spokane Valley, WA 99212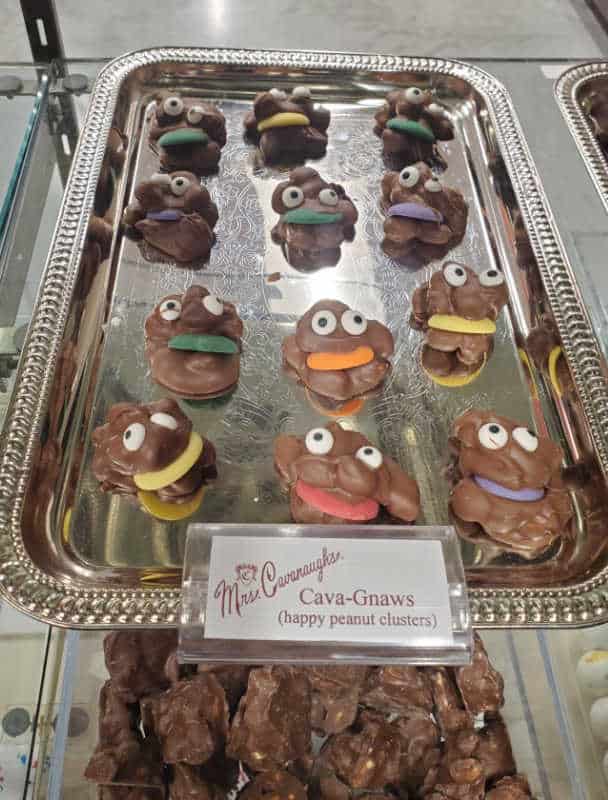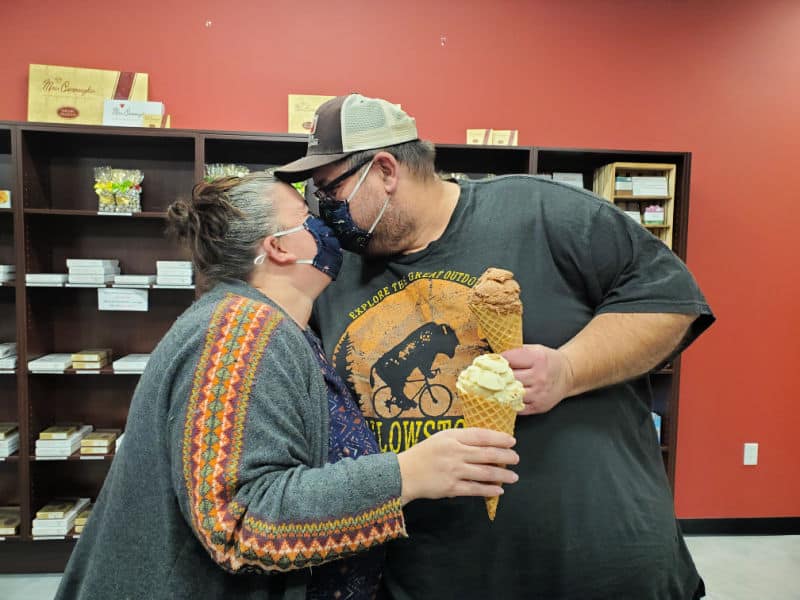 Mrs. Cavanaugh's Chocolates and Ice Cream
Location - North Spokane
Mrs. Cavanaugh's Chocolates and Ice Creams is based in Utah with one location in North Spokane. I feel like I should almost apologize for sending you to Mrs. Cavanaughs because their chocolate is so good you will be heading back there quickly.
Seriously! I have Mrs. Cavanaughs on both our Spokane Candy Guide and Best Ice Cream in Spokane Guide for a reason. HELLO YUM!
Their chocolate-covered gummy bear should come with a warning label. The bag of them disappeared a lot faster than I realized I had been eating them. My husband can't stop talking about their ice cream and chocolates.
They have everything from hand-dipped chocolates to chocolate bars and every single thing we have tried has been amazing.
One of the best parts of Mrs. Cavanaughs was Tish! She was bursting with joy and happiness that was so infectious. She had us laughing and not wanting to leave the store she was so wonderful. You guys! She took photos of us with our ice cream when we said we were there for a date night. It was so cute and fun!
Address - 513 E Hastings Rd, Spokane, WA 99218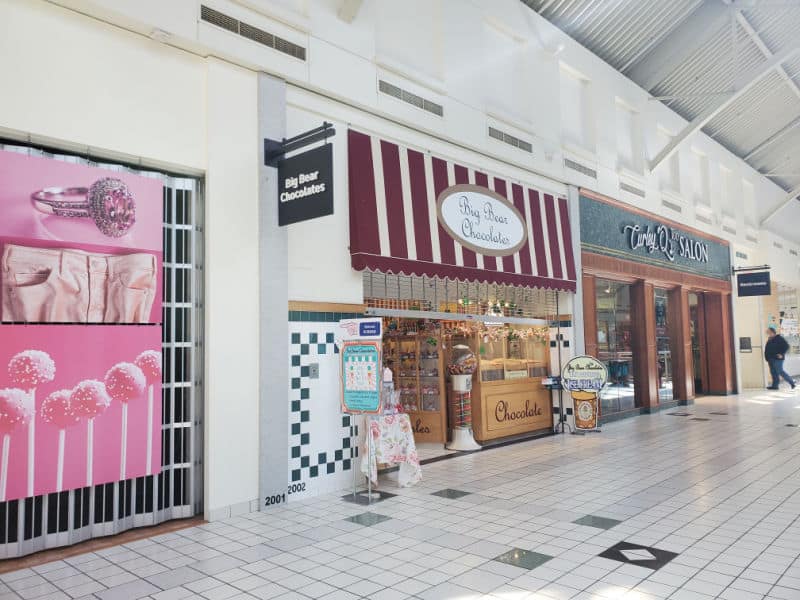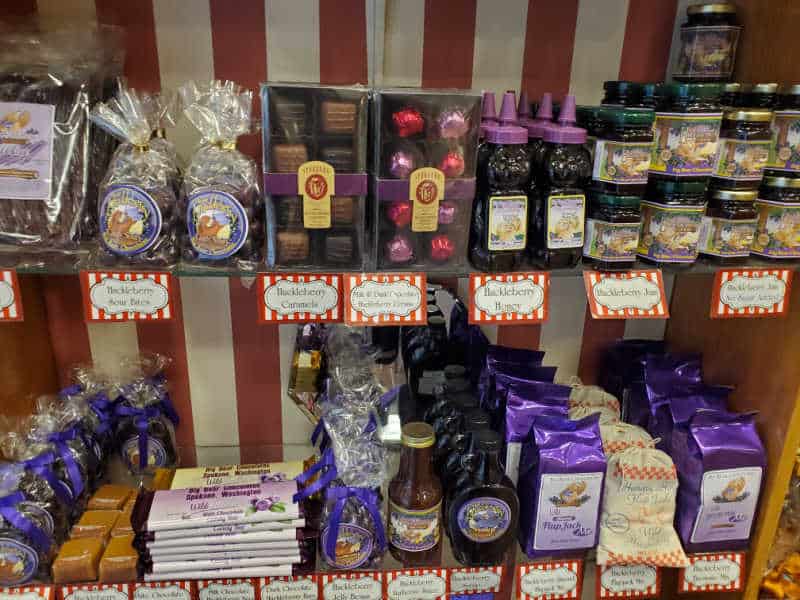 Big Bear Chocolates
Location - Spokane Valley Mall near Sears and the Food Court
Big Bear Chocolate is located on the 2nd floor of the Spokane Valley Mall. This cute Spokane Candy shop is filled with delicious chocolates, caramel apples, fudge, and so much more.
They even have ice cream available that is made in Oregon available. They are known for their epic caramel apples that they ship around the country.
One really great thing is all of the holiday-themed chocolates and treats. If you are looking for a holiday gift this would be an amazing store to visit.
I will say that these were not our favorite chocolates. I don't know if the mall has been getting the visitation it normally does so a few of the chocolates tasted stale. I will say that this store has a huge selection of huckleberry gifts which are fantastic.
Additional Spokane Food Guides
Make sure to check out the best things to do in Spokane all year round!
We have a giant Spokane Restaurant guide that highlights a ton of great restaurants in town.
Let us know your favorite Candy Store in Spokane!