Ellensburg, WA is home to Central Washington University, a historic downtown, and the famous Ellensburg Rodeo.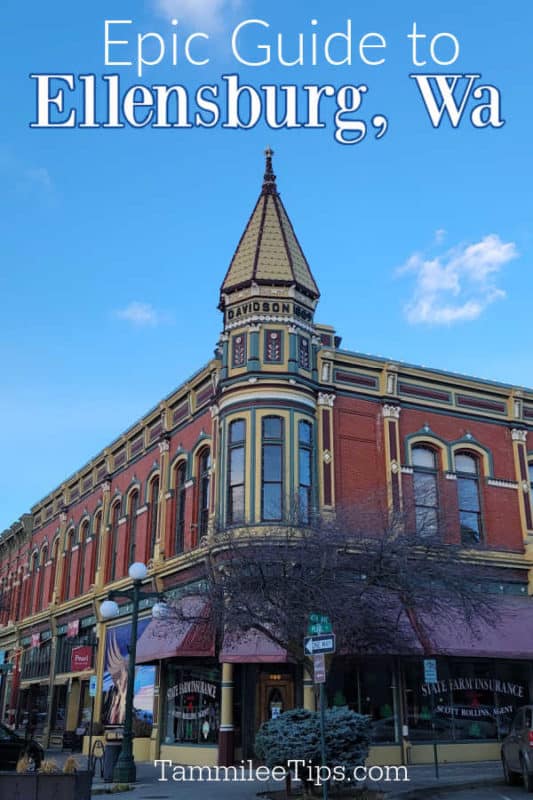 Epic Guide to Ellensburg, WA
I have to admit that I have driven past Ellensburg on I-90 hundreds of times. We normally stop for gas, coffee, and a restroom break on our way to Seattle from Spokane but had never spent a ton of time exploring the city.
We recently made the goal to explore more of our home state of Washington. We have spent years traveling the world but the craziness of the past few years reminded us of how amazing our local areas really is.
When we were invited to check out the Hotel Windrow we decided it was the perfect reason to spend time exploring all of the things to do in Ellensburg, WA.
Ellensburg has become one of the best places to get away to a small town in Washington.
Easily reached from either side of the state Ellensburg is truly centrally located right off of Interstate 90.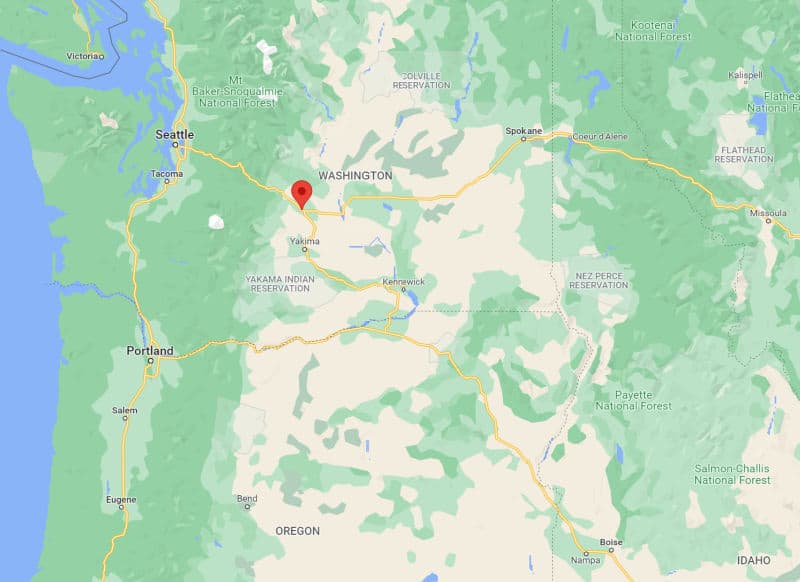 Where is Ellensburg, Washington?
Ellensburg is located in Central Washington near Interstate 90 in the Pacific Northwest.
A two-hour drive from Seattle on the east side of the Cascade Mountain Range.
Home to Central Washington University (CWU) Ellensburg is a great combination of a college town with a great historic downtown.
Distance from Nearby Large Cities
Spokane, WA - 173 miles, 2 hours 35 minutes
Seattle, WA - 107 miles, 1 hour 45 minutes
Portland, OR - 221 miles, 3 hours 45 minutes
Vancouver, BC - 270 miles, 4 hours 30 minutes
Ellensburg, WA Weather
Ellensburg lies on the dry eastern edge of the Cascade Mountains. The city experiences all four seasons including an average of 9 inches of precipitation each year.
Ellensburg Restaurants
We were really impressed with the number of great Ellensburg Restaurants there are to choose from. We are already talking about which restaurants we will enjoy during our next trip to Ellensburg, WA.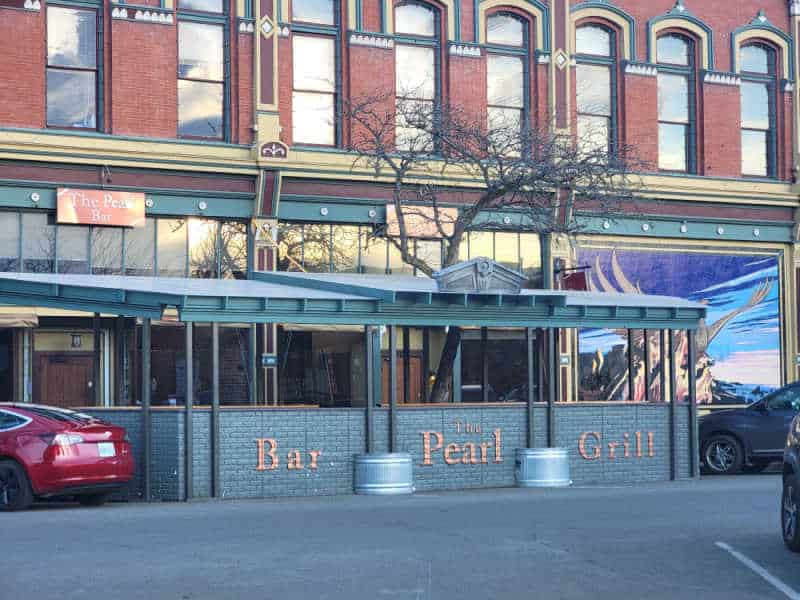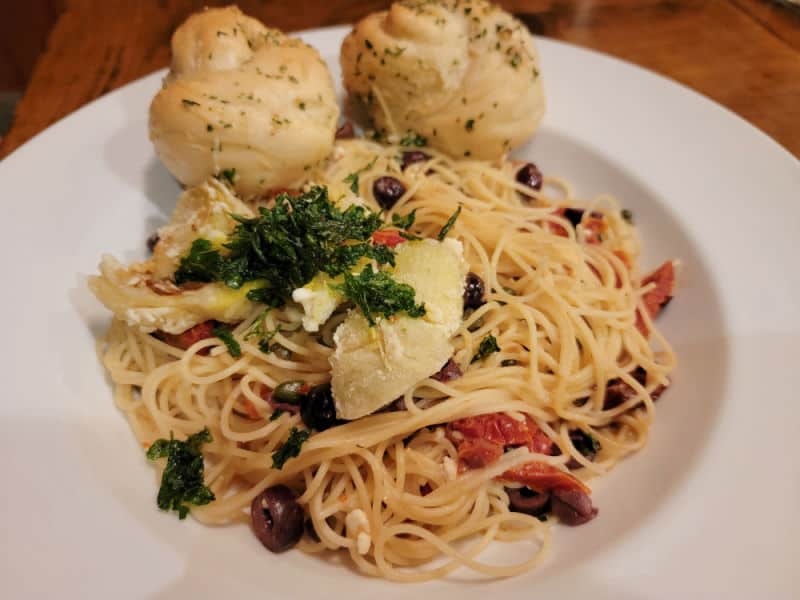 The Pearl
The Pearl is located next to the famous Phoenix rising mural in Ellensburg. The restaurant has an amazing polished casual vibe.
Think jeans and a comfy but cute top. Nothing too fancy but still comfortable and put together.
The menu is filled with options for everyone including vegan, vegetarian, and gluten-free diets. We had a hard time deciding what to order due to all of the delicious-sounding options.
The cocktail menu is filled with classic cocktails with a bit of a twist. The owner of the restaurant was a bartender and knows how to craft a delicious cocktail. The cocktail menu features house-crafted cocktails and your favorite classics.
Don't miss the Corpse Reviver No. 2 and the Bad Skydiver made with bourbon with cinnamon and fresh orange flavor.
The Mediterranean Pasta is epic with capers, sun-dried tomato tapenade, tomatoes, and Kalamata olives tossed in a wine butter sauce with feta and artichoke hearts.
The veggie burger was delicious. I asked for a few different modifications and our server was amazing about it. I always feel picky and a bit bad asking for changes but our server made the comment that you have to like the food you are ordering to truly enjoy it.
We were so full from our epic dinner that we had to skip dessert. The options sounded truly amazing and next time we visit the Pearl in Ellensburg we will plan to leave room for dessert.
The Pearl is the perfect spot to enjoy an epic meal after a long day of work.
Address: 402 N Pearl St, Ellensburg, WA 98926 / Website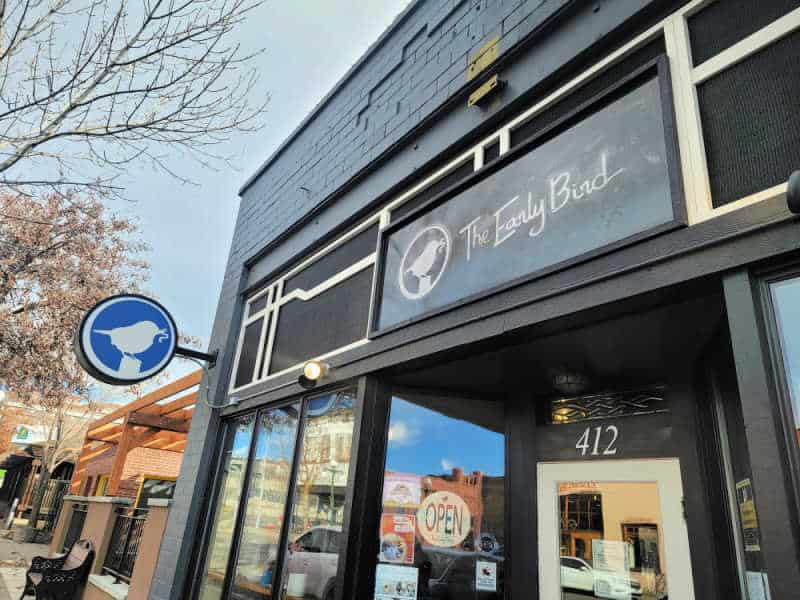 The Early Bird
The Early Bird really does get the worm...or a really great breakfast! This super cute Ellensburg restaurant has a great breakfast menu.
The menu is so good it was hard to decide on what we wanted for breakfast. We ended up ordering three things so we could split the Churro Waffles. YES! Churro Waffles and they were delicious.
Menu Items not to miss:
Three Little Piggies Waffle - 2 fried eggs, bacon bits, sausage, grilled ham, white cheddar, green onions, maple syrup
Churro Waffle -  cinnamon sugar, sweet cream cheese, powdered sugar, whipped cream
Breakfast Grilled Cheese - Vinman's sourdough, 2 scrambled eggs, sausage, cheddar-jack cheese, American cheese, served with jojos, fresh fruit or house salad
Address: 412 N Main St. Ellensburg/ Website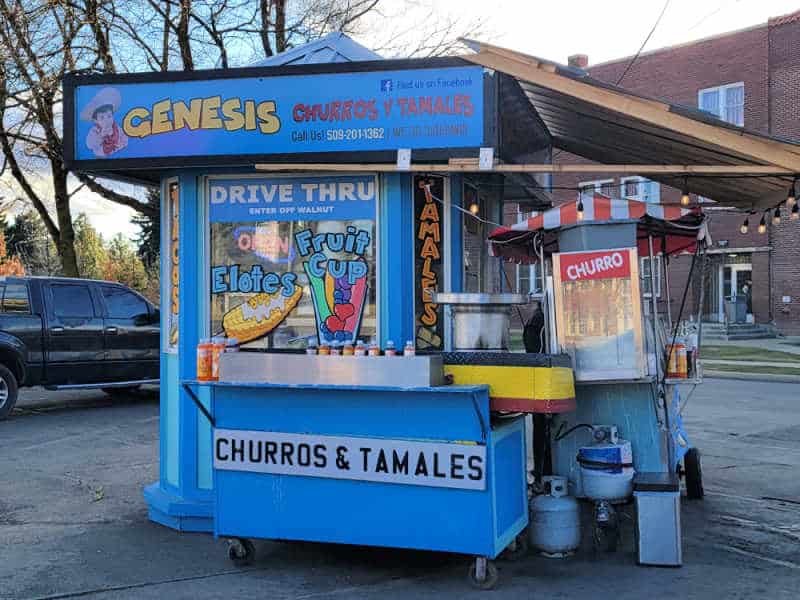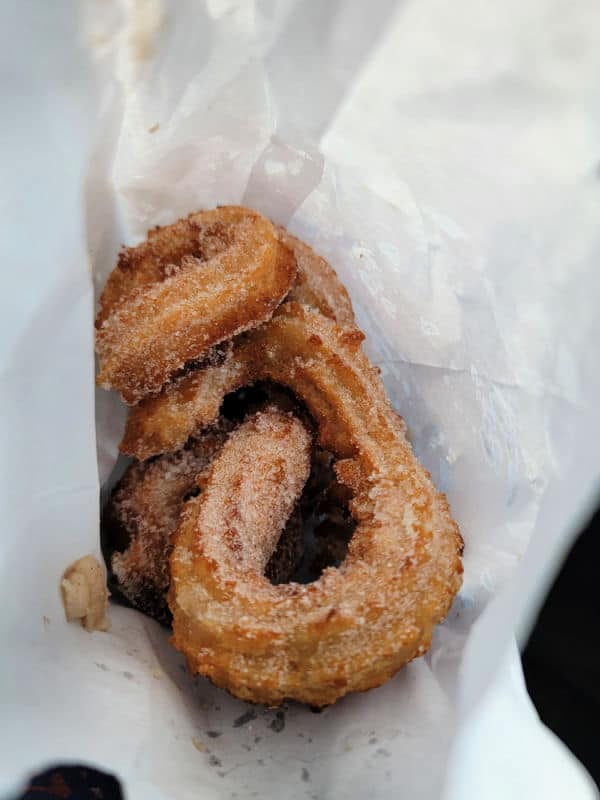 Genesis Churros Y Tamales
Look for this bright blue churros and tamale stand across from Central Washington University. During our visit, everything was $5.
I highly suggest ordering twice the amount of churros you think you are going to want. They were made fresh when we ordered and honestly were amazing. Served hot with cinnamon sugar coated on the outside. YUM!
The Barbacoa Taco was SPICY! Pre-warning that I sadly didn't know to give to my husband. LOL! He sputtered and coughed as the hot spicy sauce hit his taste buds. He normally loves spice but he said this was definitely spicy!
Address:  700 E University And, N Walnut St, Ellensburg, WA 98926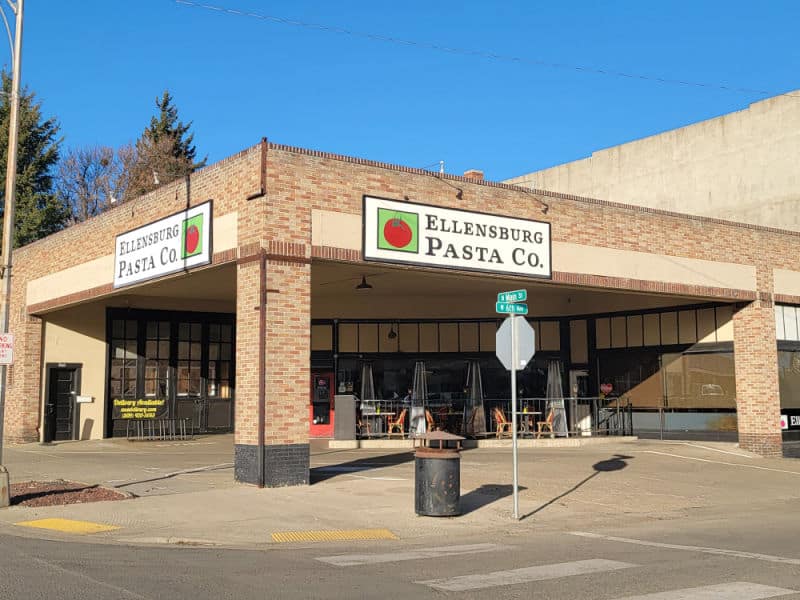 Ellensburg Pasta Company
Locally owned this downtown restaurant offers house-made pasta.
Address: 600 N Main St. Ellensburg, WA 98926 / Website
The Red Pickle
The Red Pickle looks amazing. This restaurant started as a food truck and grew into a comfortable restaurant for residents and visitors.
Address: 301 N Pine St., Ellensburg, WA 98926 / Website

Top Things to do in Ellensburg
There are quite a few things to do in Ellensburg including historic buildings, art galleries, murals, exploring the historic downtown core, local shopping, and enjoying a great meal.
If you are looking for a fun Eastern Washington weekend getaway this is a great option. You may be surprised at just how much there is to see and do in Ellensburg.
Ellensburg Rodeo
The Ellensburg Rodeo has been a tradition since 1923. It is the largest rodeo in Washington State.
The rodeo earned the title as one of America's Top 10 professional rodeos. Visitors from around the world converge on Ellensburg over Labor Day Weekend to enjoy the rodeo.
There are over 600 rodeo contestants and more than $400,000 in prize money!
The Kittitas County Fair runs at the same time as the Rodeo. You can enjoy an old-fashioned county fair making a great Labor Day weekend.
If you want to learn more about the Ellensburg Rodeo check out the new Ellensburg Rodeo of Fame exhibit.
You can also view the famous rodeo arena to see where the event is held.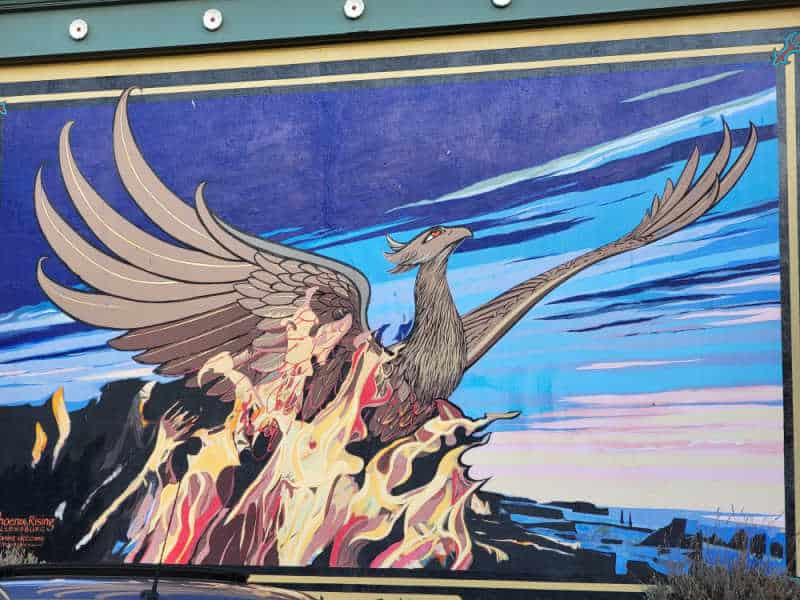 Public Art
Though Ellensburg is small the city is filled with local art.
Some of the public art highlights include the Ellensburg Bull, Kitt Coyote Statue, great murals, and more.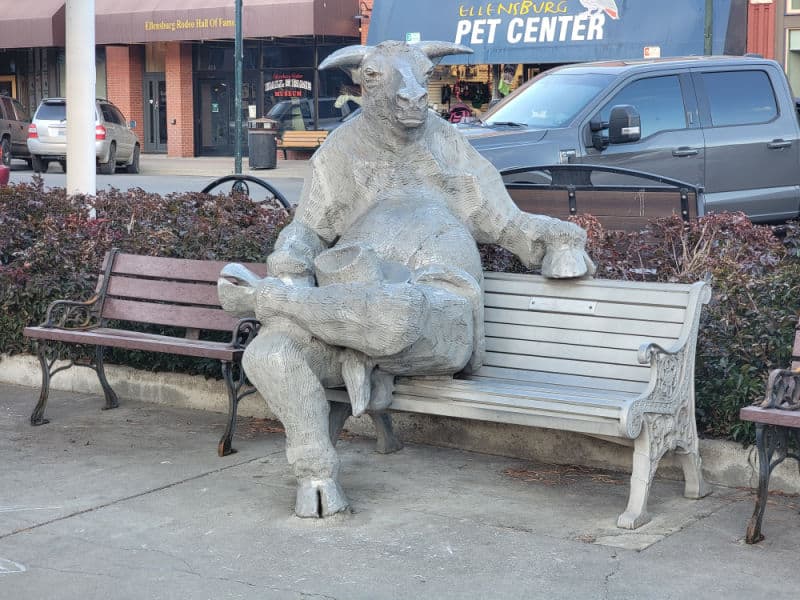 Ellensburg Bull
Fair warning the Ellensburg Bull is anatomically correct. This caused a bit of controversy when it was installed.
It is located in a small pavilion near the Pearl Restaurant and Phoenix Mural. If you drive down Pearl St. you can't miss the bull sitting on a bench.
I have to admit the first time I saw the bull I started giggling a bit. It is definitely anatomically correct and you have to walk around it a bit to see that it trust is its tail. LOL
Kids will love taking a photo with the bull.
Location - N Pearl St. at the Rotary Pavilion.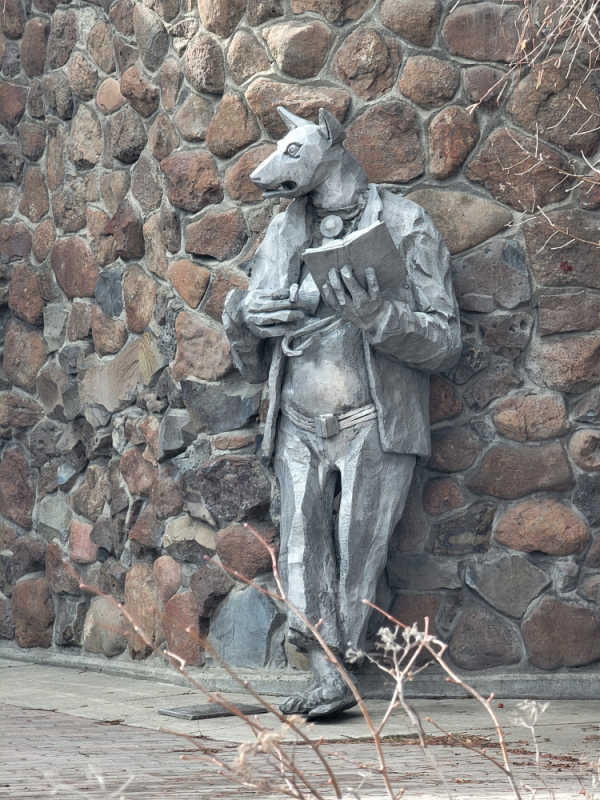 Kitt Coyote Statue
Location - Ellensburg Public Library
First Friday Art Walk
To learn more about the art scene check out the Ellensburg First Friday Art Walk from 5 pm to 7 pm in downtown Ellensburg.
Gallery One Visual Arts Center
Gallery One Visual Arts Center is located near the Pearl Restaurant. You can't miss the eye-catching displays as you walk down Pearl St.
They have a fantastic display of art along with a great gift shop.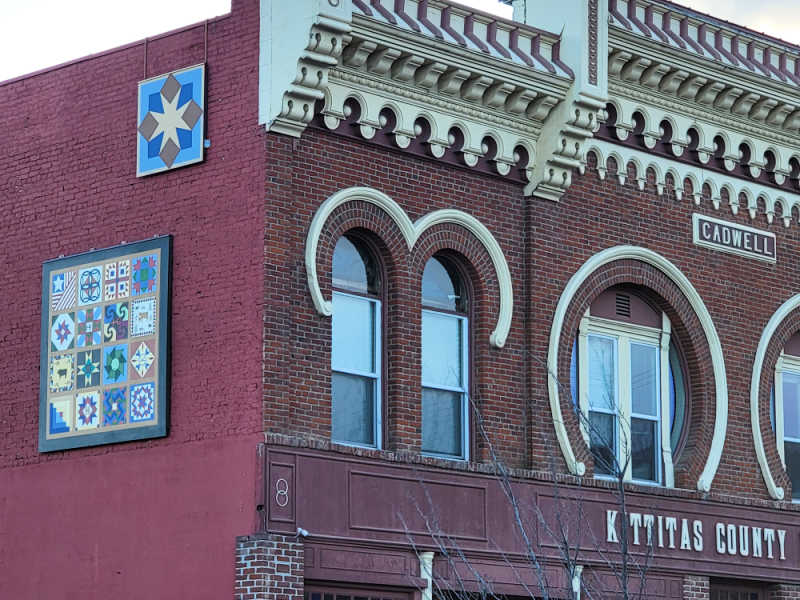 Barn Quilt Trail
As you are driving through the area you may see Barn Quilts pained onto the side of buildings and barns.
Kittitas County is the first Washington State county to have a Barn Quilt tour. You can download a Barn Quilt Map to make finding them easier.
There are more than 100 quilt murals on area barns and buildings. Each quilt block has a story and unique history.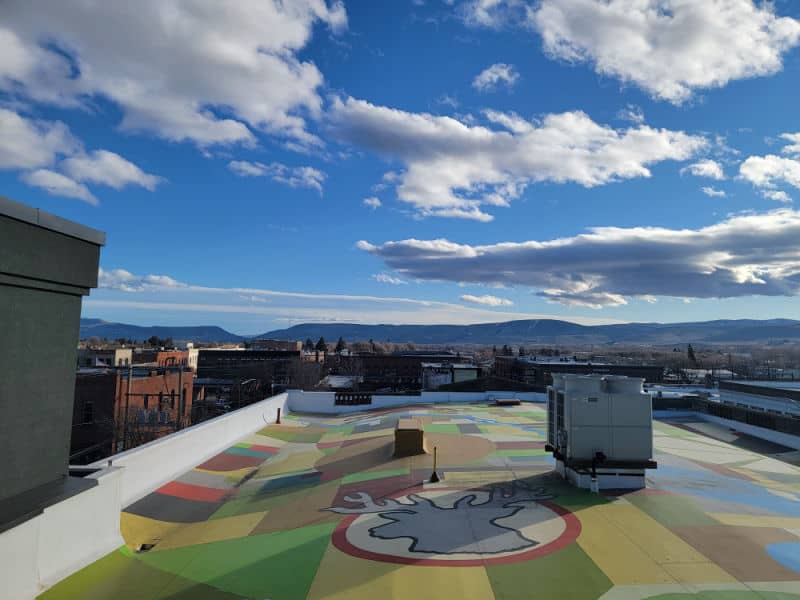 Top of the Burg
Top of the Burg is located on the roof of the Hotel Windrow. This rooftop deck offers sweeping views of the valley.
Open during the summer serving small bites and cocktails.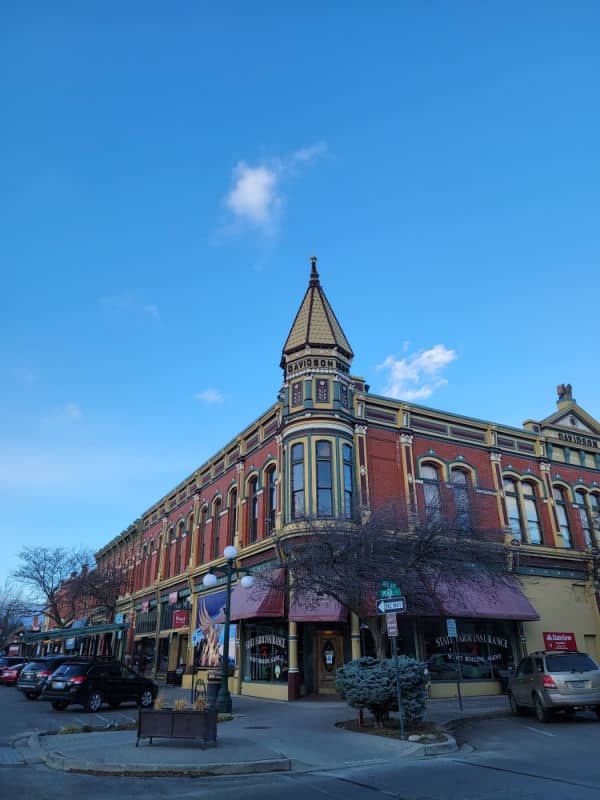 Historic Buildings
Ellensburg, WA was established in 1875 by John and Mary Ellen Shoudy. The town grew quickly as people moved to the area.
The Northern Pacific Railroad entered the area in 1885 which promoted the growth of the city.
A fire destroyed most of the city on July 4, 1889. Thankfully the town quickly recovered and brick buildings were constructed to replace the wood ones that burned.
Look for the Phoenix Mural on the side of the Davidson building that represents the rebuilding of the town.
One of our favorite things to do in the historic downtown district is to wander up and down the streets looking at the buildings.
Caldwell Building - built with one million bricks.
Ellensburg Blue Agate
Ellensburg Blue Agate is only found in Kittitas County. It is considered the third rarest gemstone found in the world.
Ellensburg Blue Agate ranges in color from a light sky blue to almost royal blue.
The first record of Ellensburg Blue Agates was in March 1905.
If you would like to search for your own Ellensburg Blue Agate you can visit the Rock N' Tomahawk Ranch and pay $5 for the opportunity to look for the gem.
Thrall & Dodge Winery
Thrall & Dodge Winery is the oldest commercially operating winery in Kittitas Valley.
The winery is located north of the Yakima Valley perched on Manastash Ridge.
Address: 111 Dodge Rd, Ellensburg, WA 98926 / Website
Gard Vintners
Gard Vintners vineyard is located 50 miles outside of Ellensburg on the Royal Slope.
Address: 311 N Pearl St. Ellensburg, WA 98926 / Website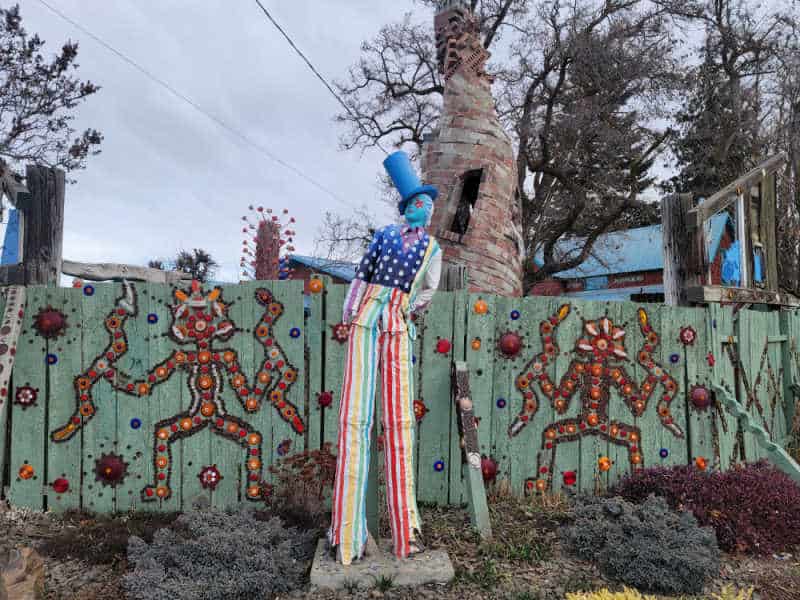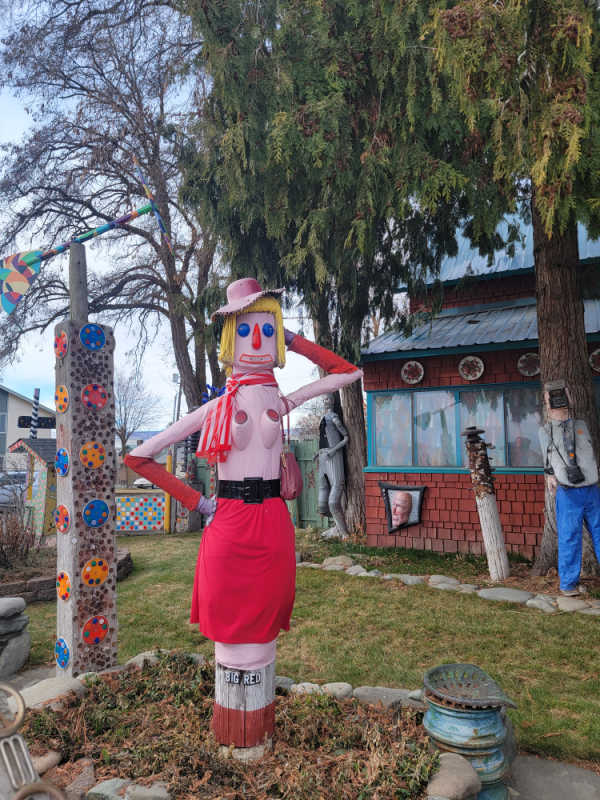 Dick and Jane's Spot
The Dick and Jane's Spot is a private home that you can view from 1st Ave.
The house and grounds are decorated with thousands of bottle caps and reflectors. While you can't walk into the yard you can enjoy the epic art from the sidewalk.
There is something to see in every corner of the yard.
Addres:: 101 N Pearl St. Ellensburg
Iron Horse Brewery
Iron Horse Brewery opened in October 2006 with distinct flavors and beer cans you can't miss.
They are known for their Irish Death and High Five Hefe.
Address: 1621 Vantage Highway, Ellensburg, WA 98926 / Website
Winterhop Brewfest
Looking for something to do during the winter? Why not head to Ellensburg for the Winterhop Brewfest.
Over 25 local breweries participate along with live music.

Kittitas County Historical Museum
The Kittitas County Historical Museum is housed in the historic 1889 Caldwell Building.
There are six themed rooms filled with the history of the area. The museum has over 50 displays spread throughout the 9,000 square feet museum.
The eight exhibits that are on permanent display include Neon Signs, Great Ellensburg Fire, Ellensburg Blue Agate, Antique Automobiles, Military Room, Intoxicating Elixirs, Medical, and Railroad.
Address: 114 E 3rd Ave, Ellensburg, WA 98926 / Website
Clymer Museum of Art
The Clymer Museum of Art celebrates Ellensburg native John Clymer.
He was an illustrator for the Saturday Evening Post.
Address: 416 N Pearl St, Ellensburg, WA 98926/ Website
Irene Rinehart Riverfront Park
Irene Rinehart Riverfront Park is a 117-acre park spread along the Yakima River.
The park is open seasonally from May through September.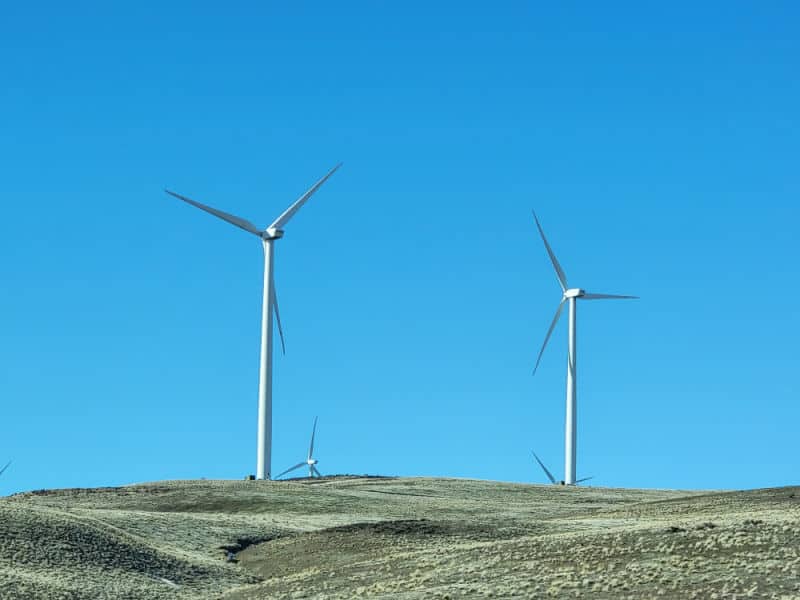 Wild Horse Wind Farm
The Wild Horse Renewable Energy Center is about 25 minutes outside of town.
If you have ever wanted to learn more about the giant white windmills you see along I-90 this is the place to go.
They offer tours from April through October 31 at 10 am and 2pm that give you the chance to see the wind turbines up close.
The tours a 60 minute walking tour that explore turbine generators, wind turbine blade, solar array, and gearboxes.
Closed-toed shoes are REQUIRED.
The tour covers a ½ mile on gravel trails. Tour participants with mobility issues can arrange vehicle access to the base of the turbine.
Dress for the weather. Wind speeds average 17 mph and it is typically cooler on the ridge.
All participants must sign a liability form. Minors must have the liability form signed by a parent or guardian to participate in the tour.
Tours can be canceled or modified at any time due to inclement weather, high winds or any unsafe conditions.
Address: 25905 Vantage Hwy, Ellensburg, WA 98926
Ellensburg Farmers Market
During the summer you can enjoy local and regional vendors selling fresh produce at the Ellensburg Farmers Market.
Museum of Culture & Environment
The Museum of Culture and Environment is located at Central Washington University. Admission is free though they do accept donations.
The Museum of Culture and Environment is located on the first floor of Dean Hall on the Central Washington University campus.
Address: 1200 Wildcat Way (1200 N. D St.), Ellensburg, Wa, United States/ Website 
Olmstead Place State Park
Olmstead Place State Park is a 217-acre day-use park. Visitors can learn more about pioneer life.
Timothy Hay
Timothy Hay is not a person it is actual Hay...yes the hay that horses eat.
While researching Ellensburg I found it fascinating to learn about Timothy Hay. Living in Eastern Washington you get really used to seeing hay bales along Interstate 90.
I didn't realize that the hay bales are actually Timothy Hay which is a prized type of hay for Kentucky Derby Horses and shipped internationally.
Colockum Wildlife Area
The Colockum Wildlife Area is located north of Ellensburg. The area has a mix of habitats that make it a great place for bird watching.
Make sure to look for wildlife including elk, bighorn sheep, mule deer, and possibly a coyote.
Suncadia Golf Course
Located 40 minutes from Ellensburg Suncadia Golf Course offers world class golfing surrounded by beautiful pine forests.
Ellensburg Hotels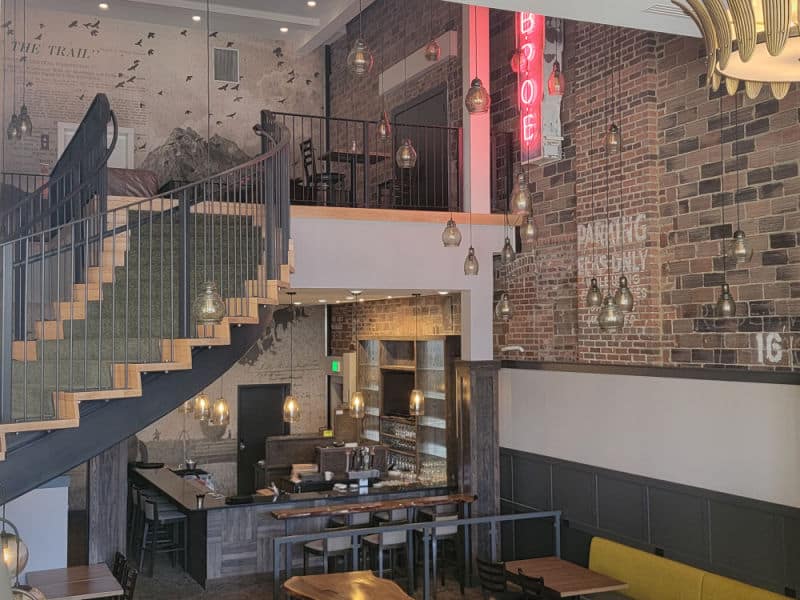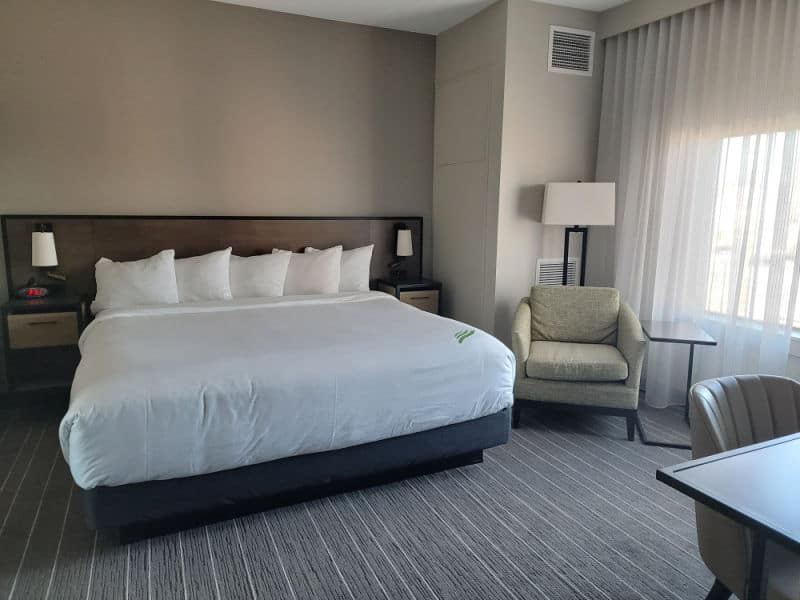 Hotel Windrow is located in historic downtown Ellensburg. The hotel has 59 guest rooms designed for comfort.
Every guest room features local art, barnyard doors, high-end pillowtop mattresses, and signature linens.
We stayed in a king room on the third floor and it was fantastic. I would like to bring the signature linens and pillowtop mattress home with me.
The room had everything we needed for a great weekend couples getaway.
Amenities included a comfortable bed, flat screen tv, free Wi-Fi, mini refrigerator, coffee maker with k-cups, in room safe, and space to relax.
The Hotel Windrow is located right downtown Ellensburg making it really easy to walk around town, spend the day shopping in local stores and walk to a great place for dinner.
We would happily return to the Hotel Windrow for a romantic getaway. The mix of historical features from the original Elks building to the modern comfortable luxury of the new boutique rooms is fantastic.
Address: 502 N Main St, Ellensburg
Hampton Inn Ellensburg - Take advantage of free continental breakfast, dry cleaning/laundry services, and a 24-hour gym at Hampton Inn. Free in-room Wi-Fi and a 24-hour business center are available to all guests.
Best Western Plus Ellensburg -  free full breakfast, a terrace, and dry cleaning/laundry services at Best Western Plus Hotel. For some rest and relaxation, visit the hot tub. Stay connected with free in-room Wi-Fi, and guests can find other amenities such as a fireplace in the lobby and a 24-hour gym.
Days Inn by Wyndham Ellensburg - Free to-go breakfast, dry cleaning/laundry services, and a gym are just a few of the amenities provided at Days Inn by Wyndham. Stay connected with free in-room WiFi, and guests can find other amenities such as a 24-hour business center.
Holiday Inn Express Ellensburg - Free continental breakfast, dry cleaning/laundry services, and a 24-hour gym are just a few of the amenities provided at Holiday Inn Express, an IHG Hotel. Free in-room WiFi and a 24-hour business center are available to all guests.
Click on the map below for additional vacation rentals and hotels in Ellensburg, Washington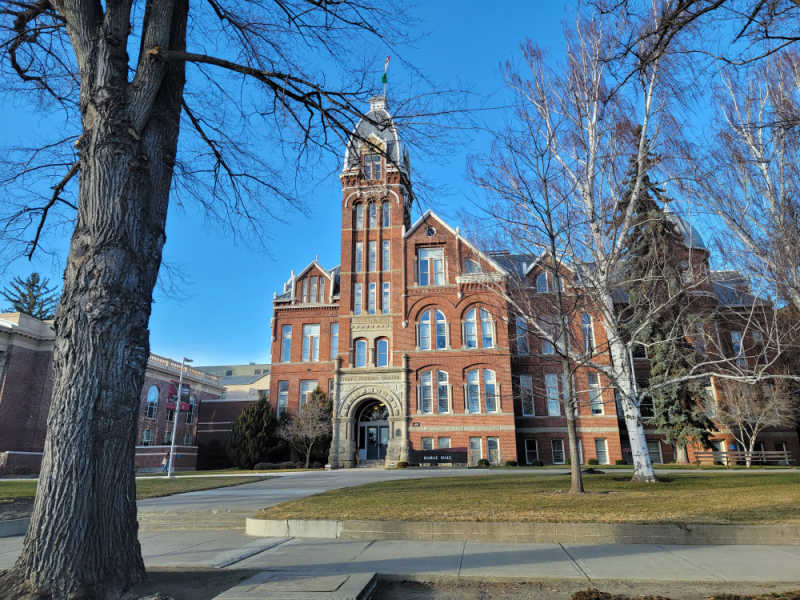 Additional Washington Resources
Check out some of our favorite towns in Washington. I have lived in Washington for over 45 years and love sharing my favorite places.
Check out all of our Washington Travel Articles.