Roslyn Washington is located a little over 80 miles east of Seattle making it an easy weekend getaway. This small town offers everything you need for a romantic fun getaway including great food, local history, a brewery and distillery, shopping, and easy access to hiking trails.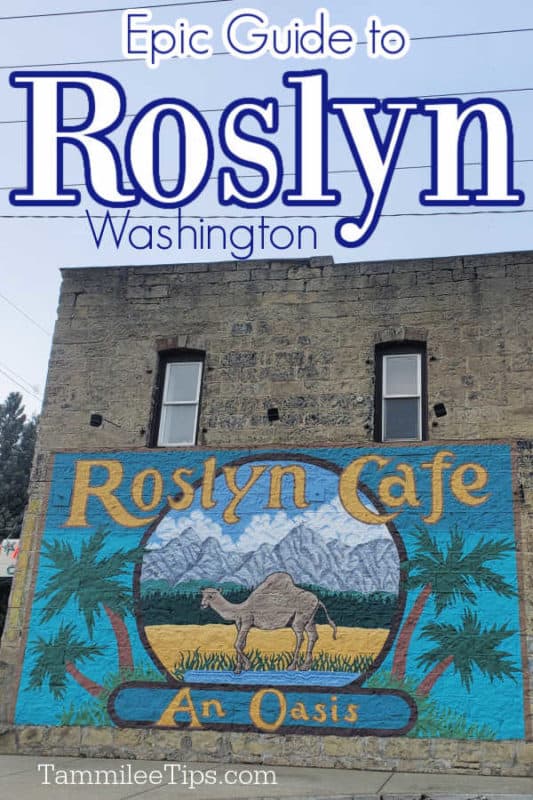 Roslyn Wa Guide
The town Roslyn. Washington is the perfect day trip from Seattle or Spokane. This cute town has everything you need to get out of the city and enjoy the perfect Pacific Northwest adventure.
You will recognize many of the buildings in Roslyn from the 1990s TV series Northern Exposure which was set in Cicely, Alaska but exteriors were filmed in Roslyn and nearby North Bend. The Roslyn Café camel mural, Ruth Ann's Store, KBHR Radio Station, and the views of Main Street are all recognizable from the opening credits of the TV series.
Some of the top things to do in Roslyn, Wa include taking pics with the camel mural, visiting the Roslyn Brewing Company, Heritage Distilling Company for some brown sugar bourbon, enjoying epic food, and soaking in the views.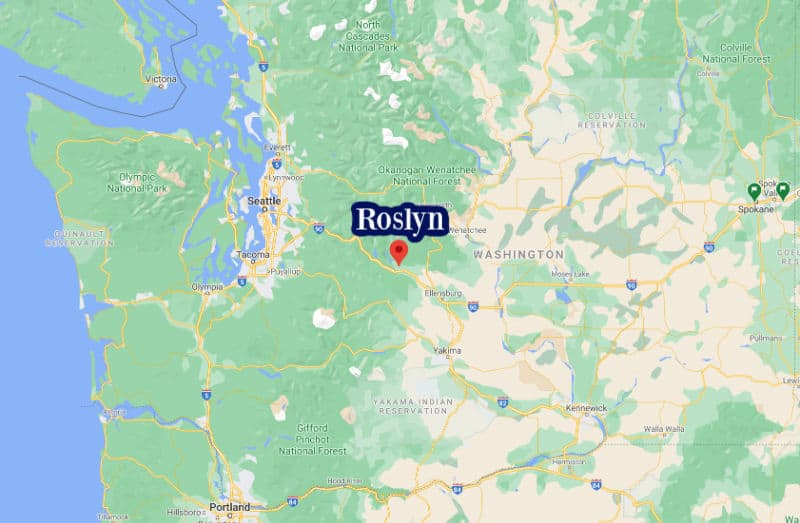 Where is Rosyln, Washington
Roslyn is located approximately 80 miles east of Seattle in Kittitas County. This small city is nestled in the Cascade Mountain Range. Coming from Seattle you will need to go over Snoqualmie Pass to reach Roslyn.
It is about 200 miles from Spokane to Roslyn via I-90. It took us a little over 3 hours to reach Roslyn.
The next closest "big town" is Cle Elum and then Ellensburg.
Roslyn, Wa Weather
Roslyn experiences all four seasons and is a true Pacific Northwest town. Being at the base of the Cascade Mountains Roslyn definitely gets snow in the winter and into spring.
Roslyn averages 84 inches of snow!! Thankfully on average each year Roslyn experiences 204 days of sunshine.
We visited on the 1st day of Spring and started the morning with light snow. When planning your trip you will want to be prepared for weather changes.
Roslyn Wa Restaurants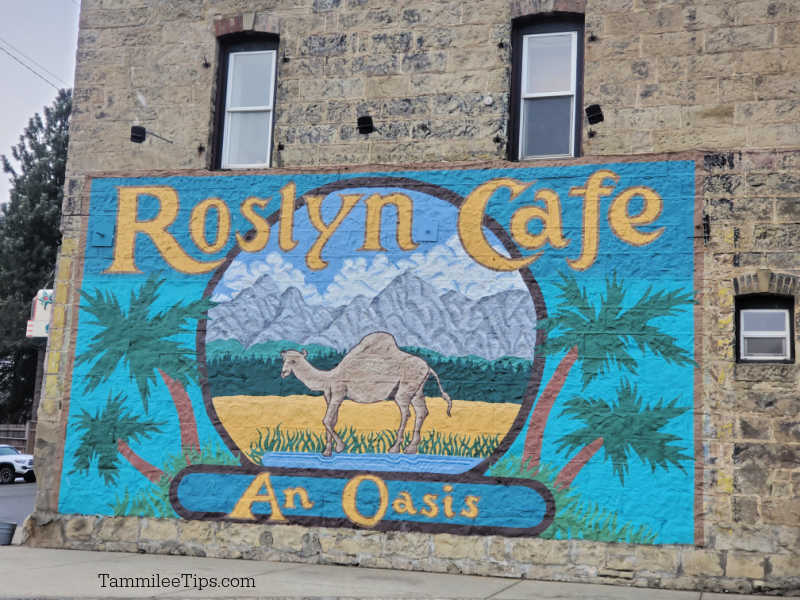 Roslyn Cafe
The Roslyn Cafe is also known as the Northern Exposure Cafe. If you have seen Northern Exposure you will recognize the camel mural on the side of the Roslyn Cafe. While the series was set in Cicely, Alaska many of the exterior shots for the show were shot in the town of Roslyn.
You may notice one difference in the camel mural for Roslyn's Cafe. The production company added the 's to fit the series theme but it has now been restored to Roslyn Cafe.
Roslyn Café Address - 201 W. Pennsylvania Ave., Roslyn, WA, United States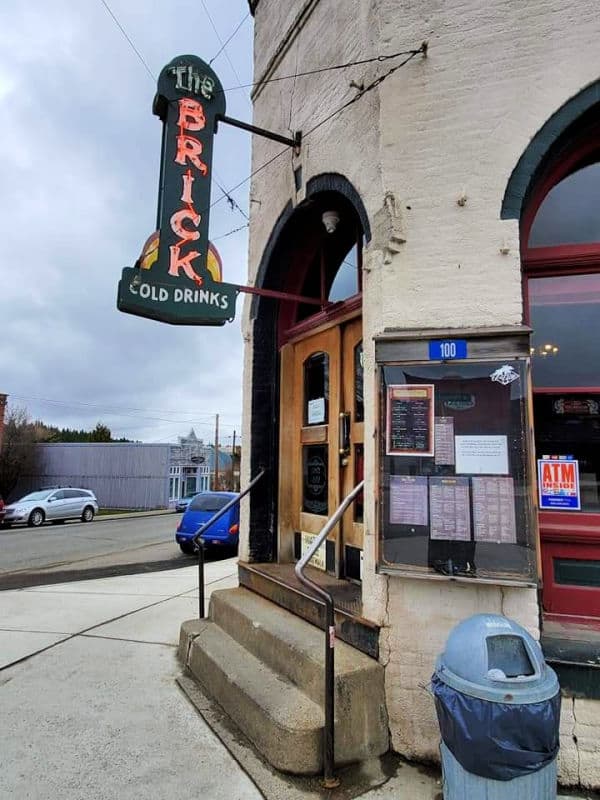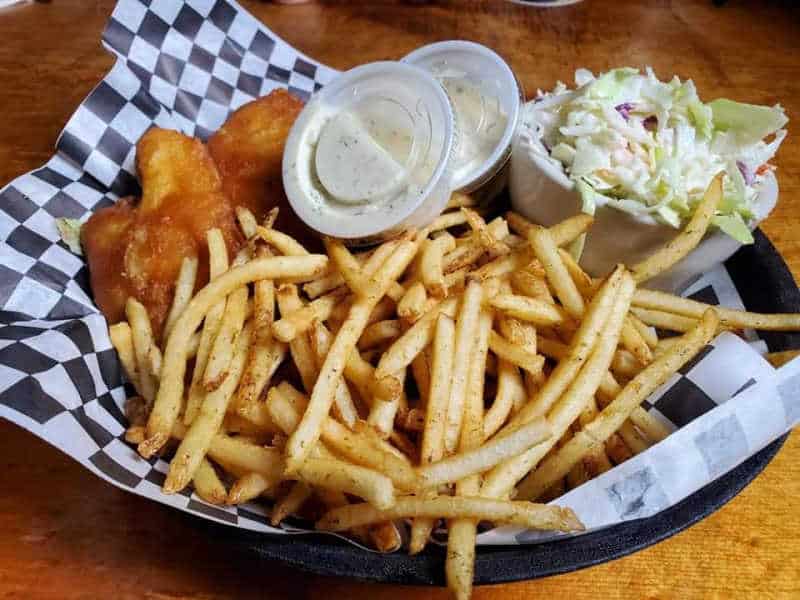 The Brick Saloon
The Brick Saloon is the oldest continually running saloon in Washington State. It opened in 1889 and is famous for its 23 foot running water spittoon. They also have a basement jail cell so make sure you don't have too much fun. lol
The saloon is aptly named the Brick after the original owners used 45,000 bricks to build the building.
Kids are allowed in the family dining area until 9 pm daily so the entire family can check out this famous Washington saloon.
The Brick Saloon has a fantastic menu for everyone. They have a designated vegetarian and vegan section, a wide variety of burgers, and the bar food you expect to find.
Address - 100 W Pennsylvania Ave, downtown Roslyn, WA 98941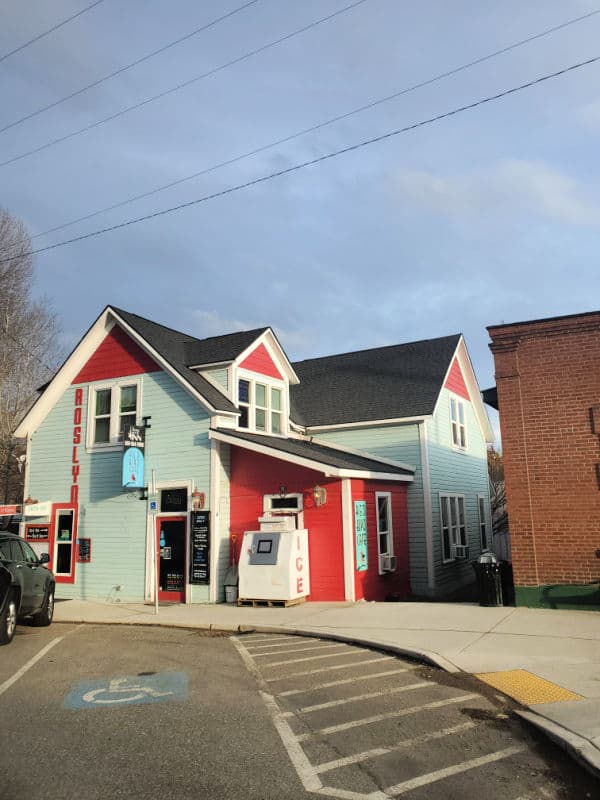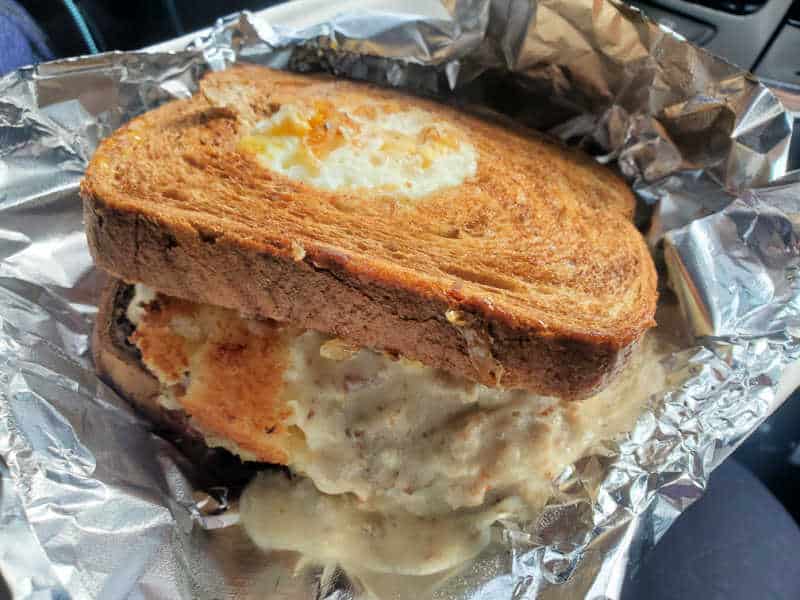 Red Bird Cafe
The Red Bird Café is bright red and you can't miss it! They are open for breakfast and lunch along with homemade baked goods and coffee. They have great vegan menu options.
I need you to try one of their breakfast sandwiches! They were so delicious I was sad when we were done with them.
Check out the  - ⅓ lb. Sausage patty*, Swiss-American cheese, homemade gravy, and your choice of smashbrown patty or sweet potato-vegetable hash!
Everything we tried was absolutely amazing! This is our current favorite place to eat in Roslyn
Roslyn Mexican Grill
Roslyn Mexican Grill offers pre-hispanic cuisine that focuses on the diet consumed in Mexico and Central America for over 6,000 years.
This cuisine is a bit different from what you may see in your local Mexican Restaurant. Today's Mexican restaurants serve a fusion of native Mesoamerican and European Cooking that was introduced by the Spanish in the 16th Century.
Roslyn Mexican Grill focuses on using corn, squash, beans, and chilis that make up the majority of dishes used before the Spanish conquest. They also use a variety of spices, chocolate, and tomatoes to create unique flavors that are specific to each locale.
Roslyn Mexican Grill has a large tequila list and offers tequila tastings. They also have a fantastic margarita and cocktail menu.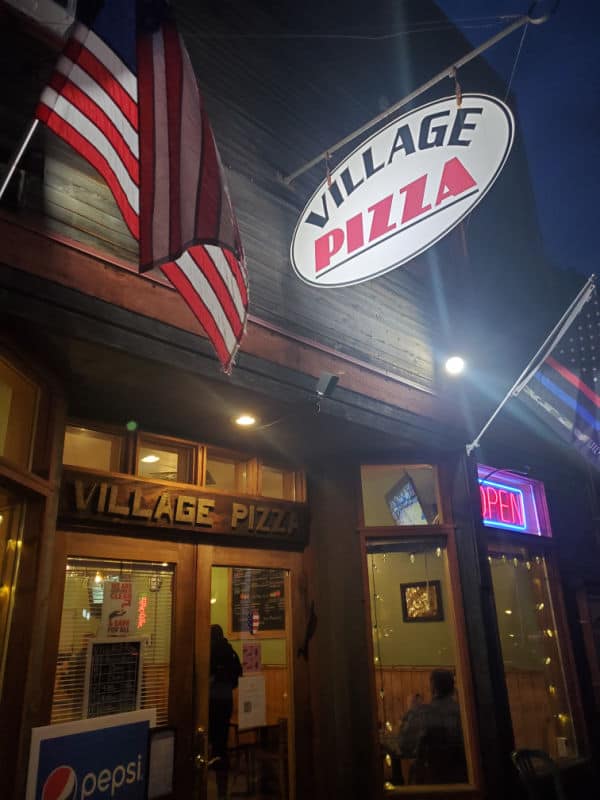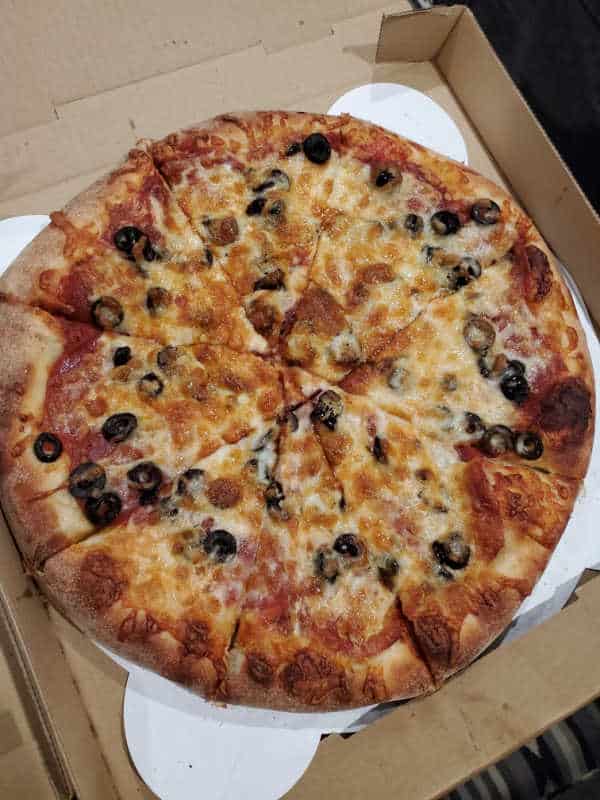 Village Pizza
Village Pizza is a local Roslyn pizza restaurant that has always been great. My husband has been getting pizza here for over 25+ years.
I have to say that during our last weekend getaway we were disappointed in the pizza we got at Village Pizza. The crust was different than it has been and super thick.
Please skip the cinnamon sticks. I am not sure if it was an off day or what happened but I couldn't get past two bites and we tossed the rest of them.
I hate saying anything negative about a restaurant but I want you to know if you have been there before that things may have changed. I am hoping it was just an off day and next time everything will be fantastic.
They offer the normal menu of pizza you are used to seeing plus a few unique pizzas to tempt those who want to try something new.
They have a polish sausage and kielbasa pizza for the adventurous type.
You can now order pizza directly from the Village Pizza Facebook page to save time.
Logan's
Logan's has great outdoor seating that is dog-friendly. They are the newest restaurant to open in Roslyn.
They offer classic American fare.
Top things to do in Roslyn, Wa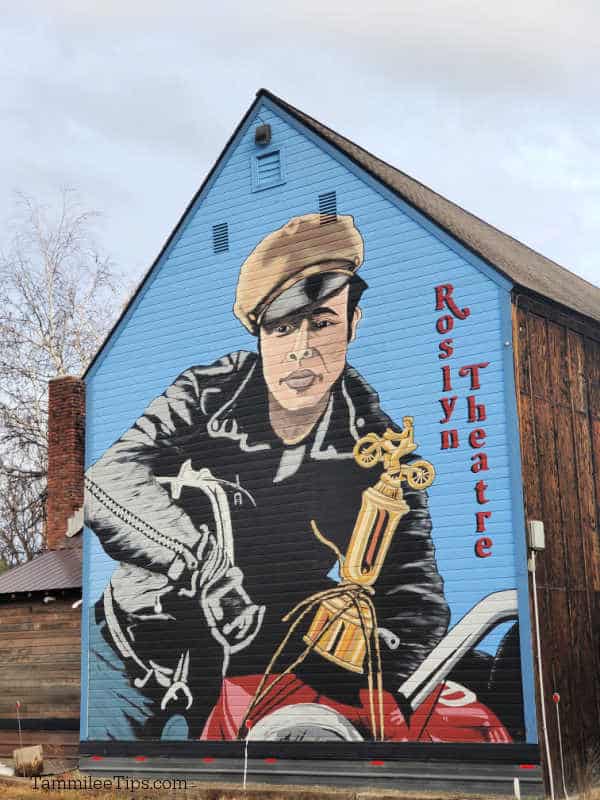 Roslyn Theater
The small Roslyn theater has a surprise on the back of the building. There is a large Marlon Brando mural that was painted in 1992. The mural depicts Marlon Brando from the film "The Wild One".
Roslyn Theater address - 101 W. Dakota Ave., Roslyn, WA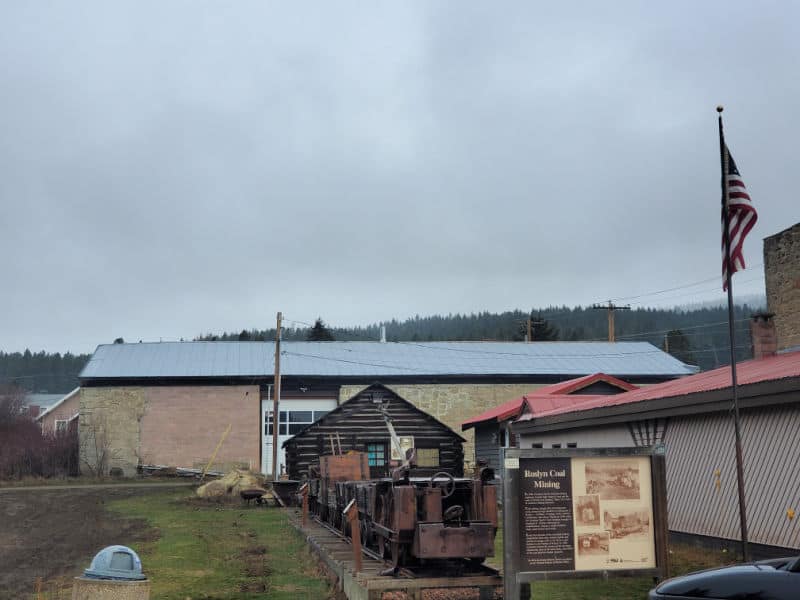 Roslyn Museum
The Roslyn Museum protects and shares the coal miners history of this historic town. Visit the Roslyn Museum and view the Ausburg clock along with other Northern Exposure memorabilia.
They also have a great display of coal mining equipment outside next to the museum.
Men from coal mining regions across the United States, Europe and more came to work in the Coal Mines near Roslyn.
After dealing with striking miners in 1888 the Northern Pacific Coal Company ended up recruiting 300 African-American miners from North Carolina, Virginia, and Kentucky.
The coal miners and their families moved to work and live in the coal mining town. This is one of the most interesting areas for Washington State History.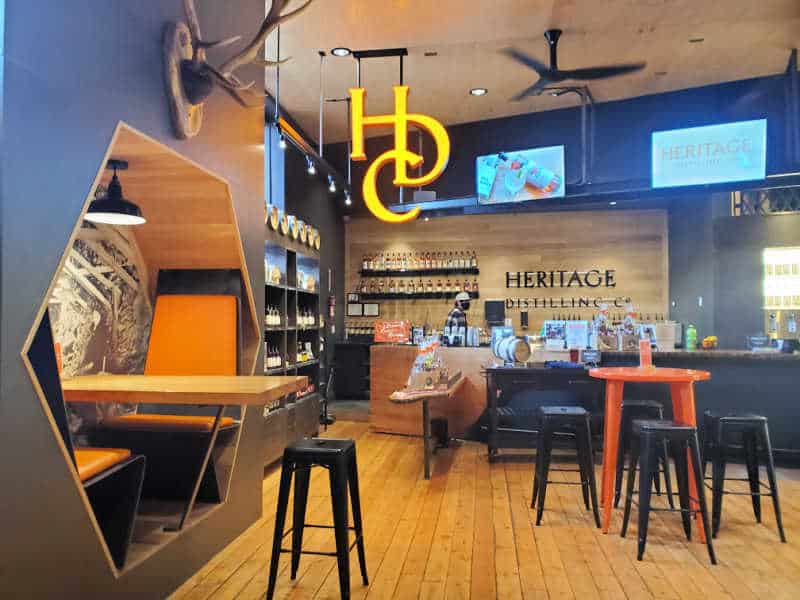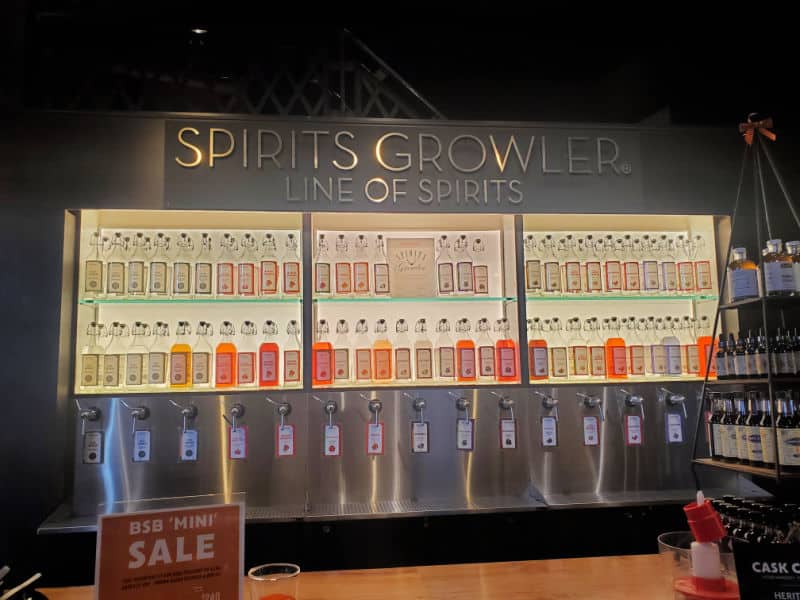 Heritage Distilling
Heritage Distilling Company (HDC) is the most awarded craft distillery in North America. You do not want to miss their Brown Sugar Bourbon!
The Heritage Distilling tasting room and cocktail bar are absolutely amazing! Honestly, the tasting room is breathtaking and so beautiful.
They have a spirits growler bar that is pretty unique and amazing. You can fill a growler with one of the featured spirits and there are quite a few of them.
You can pick from a large variety of fruit vodkas and Elk Rider Bourbon. They also have a full range of whiskeys including the Roslyn Reserve Bourbon Whiskey.
We stocked up on our favorite Brown Sugar Bourbon and can't wait to share some new bourbon recipes with you soon.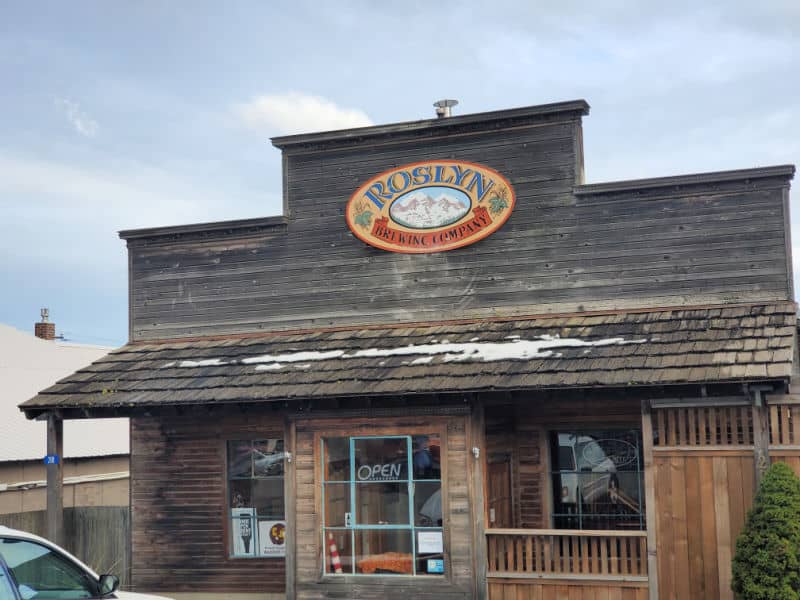 Roslyn Brewing Company
The Roslyn Brewing Company has been brewing hand-crafted and full-flavored beers in the old world tradition since 1990. They produce full-bodied, German-style lagers reminiscent of those brewed by the immigrant miners that lived in Roslyn.
Their beers are created with malted barley grown in the Northwest, hops grown in the Yakima Valley, and ice-cold snow-fed water from the heart of the Cascades.
The taproom is open year-round on Friday, Saturday & Sunday. There is a great beer garden that is perfect for enjoying a cold beer when the Pacific Northwest weather is playing nice.
Friday - Saturday: Noon to 7
Sunday: Noon to 5:30
Also, open on Labor Day and the Friday after Thanksgiving.
Roslyn Brewing Company Address - 208 W Pennsylvania Avenue, Roslyn, WA 98941
Roslyn Candy Company
Roslyn Chocolate Company produces chocolate, marshmallows, and other confections.
Chocolates include Hazelnut Caramel Praline, Holiday Spice, Orange Buttercream, Peanut Butter, Salted Caramel, 5 Spice, Brown Sugar Bourbon, and Lapsang.
They also have locally made ice cream that is perfect on a warm summer afternoon.
Roslyn Candy Company Address - Located in the historic bank building at 100 E. Pennsylvania Ave in Roslyn, WA, next to Red Bird Cafe, across the street from The Brick Saloon.
Coal Mine Trail
In 1886, Northern Pacific Railroad constructed a rail line between Cle Elum and Roslyn to transport coal and local residents. Today the railroad rails are gone but this historic line has been turned into a walking trail.
There are markers along the trail detailing the history of the area. The Coal Mine Trail is 5.5 miles one way with an elevation change of 453 feet.
The entire trail travels between Cle Elum to Roslyn and onward to Ronald, Washington. This is one of the great hikes near Roslyn, Wa.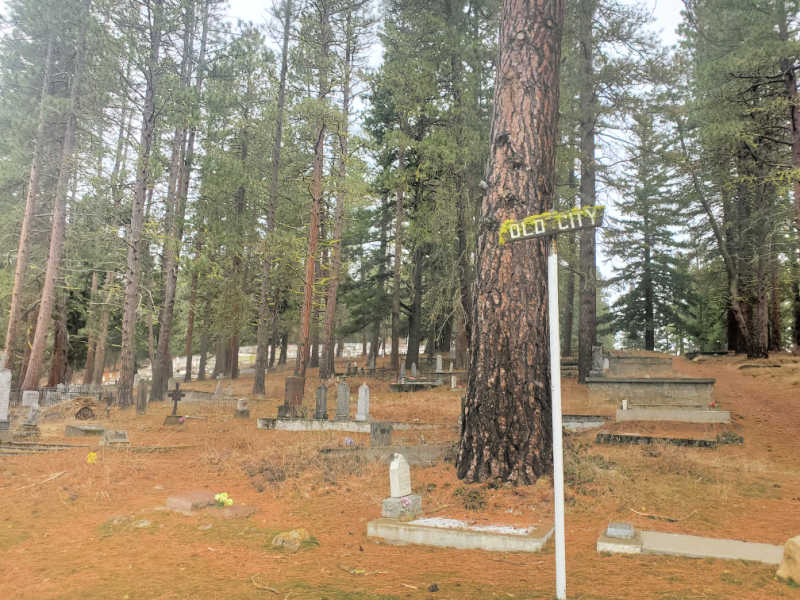 Roslyn Cemetery
The Roslyn Cemetery may seem like an odd thing to include in this guide but it tells a lot about the history of this small town. This unique cemetery truly encompasses how immigrants came from around the world to work in the coal mines. There are 26 individual ethnic and lodge cemeteries within the Roslyn Cemetery.
These separate ethnic cemeteries are all clustered on 15 acres above the town. The cemetery was added to the National Register of Historic Places in 1978.
Please remember that this is a cemetery and place of respect!
Roslyn Grocery
The Roslyn Grocery has everything you need for snacks and road trip food. They have local items that are only found in this area along with a wide variety of grocery items.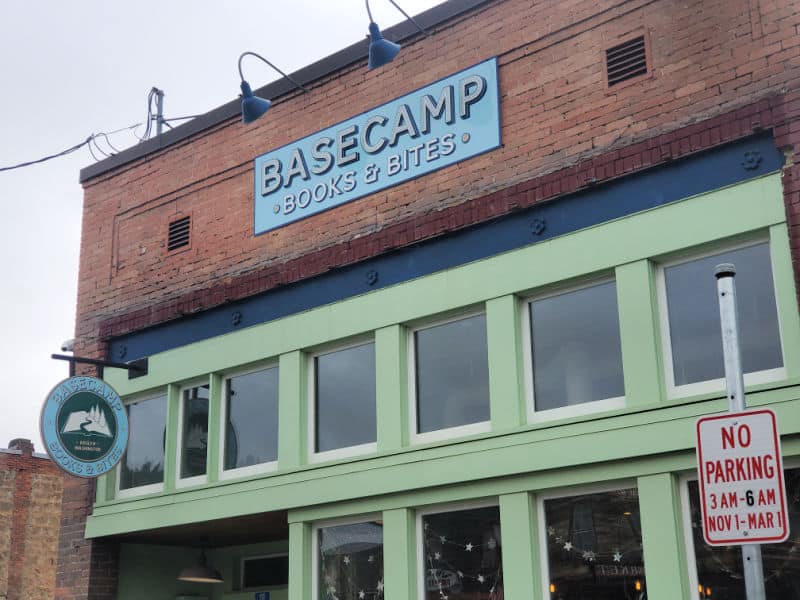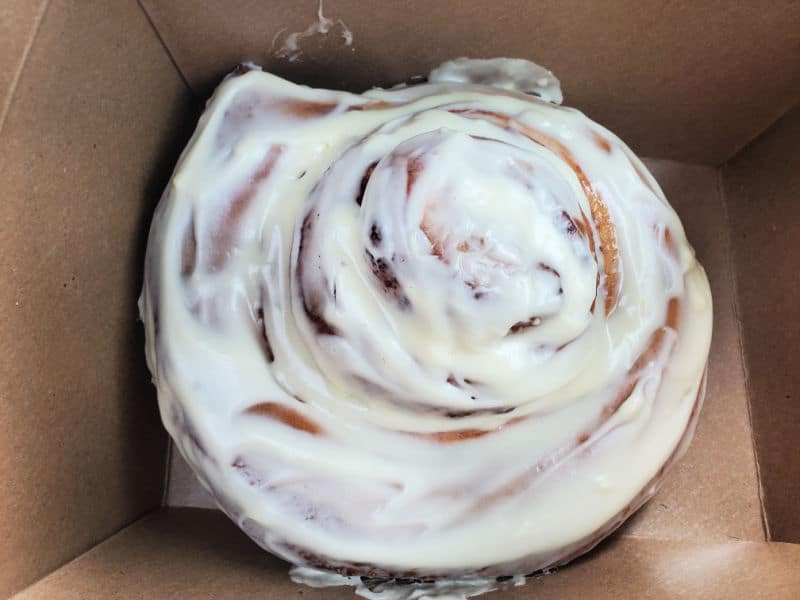 Basecamp Books and Bites
Basecamp Books and Bites can take all my money! LOL! This book store has great gifts, an amazing book selection, and coffee and baked goods.
The cinnamon roll is massive and delicious! They made an amazing hot chai latte and vanilla latte.
Next to Basecamp Books there is a great open space called the Roslyn Yard with seating that is perfect for reading a great book with a hot cup of coffee.
The Roslyn Yard has a community fire pit, outdoor games, and an occasional Brewfest. Plus in the summer they play outdoor movies on the side of the building.
Check out Basecamps Books and Bites social for updates on their Wednesday trivia nights and Sunday farmers market.
Basecamp Books is pet-friendly too!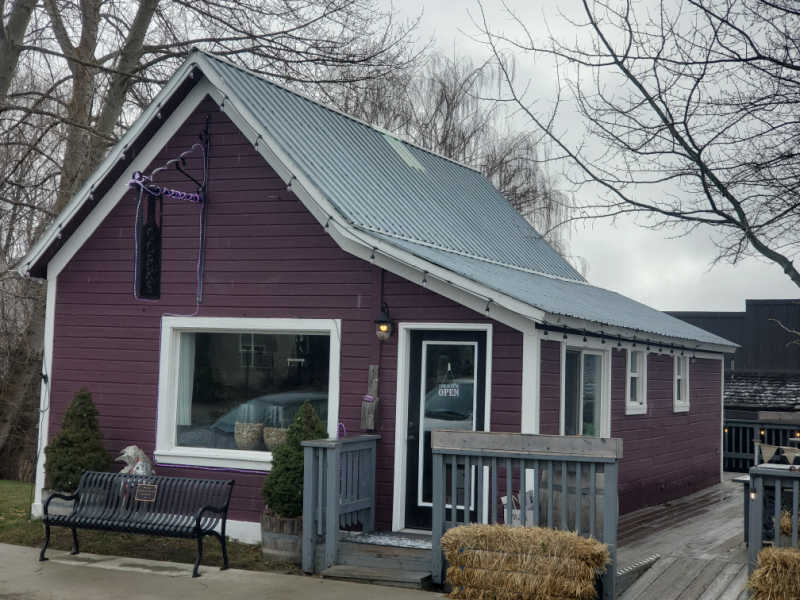 Corks Wine Bar
Corks Wine Bar is located right off of the main street and offers a large selection of wines and appetizers. They have cute outdoor seating perfect for relaxing with a great glass of wine.
Roslyn Wa Hotels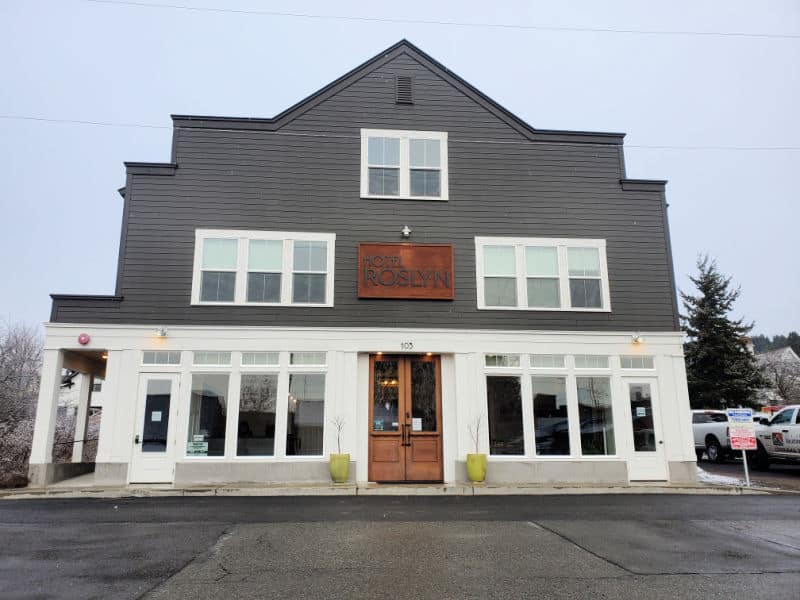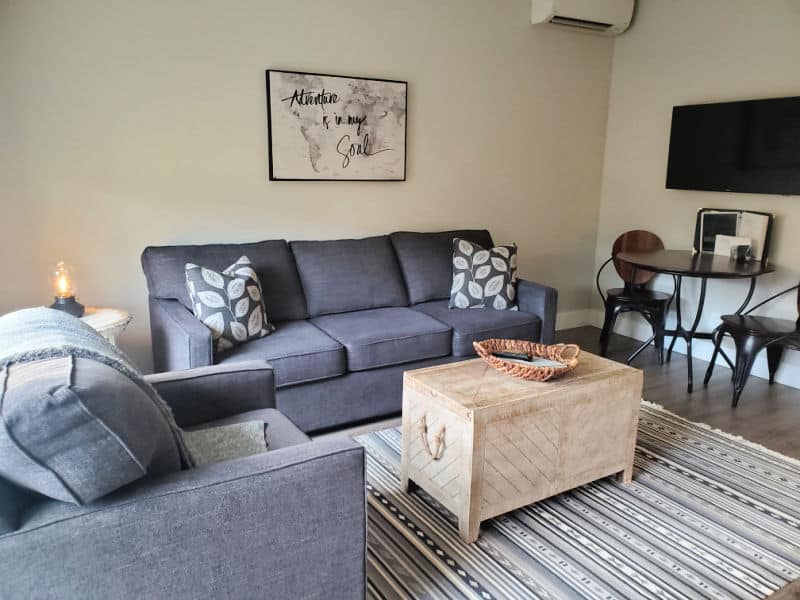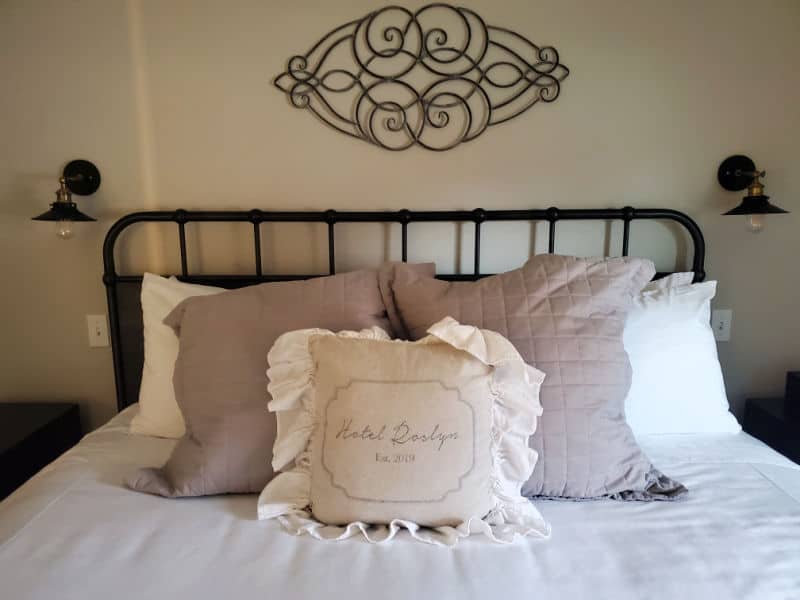 Hotel Roslyn
We stayed at the new Hotel Roslyn during our weekend getaway. This gorgeous hotel in Roslyn opened in 2019 and offers beautiful rooms perfect for a romantic getaway. They have great pet-friendly rooms available too!
They offer two-story townhome suites that can sleep up to 6 people and have 1,200 square feet to relax in.  We stayed in a King Patio unit that offered a great king-size bed, living room with kitchenette, and super cute patio.
The Hotel Roslyn is a block from the heart of Roslyn! You can easily park your car and wander through town without having to worry about anything.
The king patio room we stayed in was amazing. The room is bright and cheerful with a ton of light and comfortable seating. The kitchenette has everything you need for a weekend getaway or longer.
The hotel even has coffee, tea, hot chocolate, and apple cider on the counter ready for you. There is a small stovetop, dishwasher, and mini-fridge if you want to cook something while staying here.
If not you have space for leftovers from some of the amazing Roslyn restaurants.
The patio is private with four chairs and a table perfect for relaxing in the morning with a hot cup of coffee or tea before you start your day.
This boutique Roslyn hotel has everything you could want for a romantic getaway. We are already talking about planning a return visit for a longer stay to relax at the Hotel Roslyn.
Hotel Roslyn Address - 103 W. Washington Ave, Roslyn, WA 98941
Phone - 509-649-3852
Suncadia Resort
Suncadia Resort is just down the way from Roslyn. This large resort has everything you could ask for in a mountain resort. Located next to 2.2 million acres of Wenatchee Washington National Forest this resort offers the perfect getaway from the hustle and bustle of city life.
This resort includes vacation homes, condominiums, and lodge rooms.
Click on the map below to see current rates for hotels and vacation rentals near Roslyn, WA
How to get to Roslyn, Wa
By Plane - The closest major airport is Sea-Tac Airport (Seattle Tacoma Airport) located 88 miles away.
Yakima airport is closer but a smaller airport with limited flights.
The Spokane International Airport (GEG) is located 199 miles away.
Portland Airport (PDX) is located 236 miles away.
By car - The best way to reach Roslyn, WA is via Interstate 90. Look for the exit for Cle Elum. You may not see signs for Roslyn.
By train - The closest train station is Leavenworth Icicle Station
Additional Washington State Articles
Salish Lodge - Check out what it is like to stay at the Salish Lodge next to Snoqualmie Falls
Liberty Orchards - Home of Aplets and Cotlets located in nearby Cashmere
Icicle Ridge Winery - This gorgeous winery is located in Leavenworth
Things to do in Prosser, WA - from wine tasting to relaxing there is so much to do in Prosser.
Things to do in Lake Chelan - This epic Eastern Washington Lake community is a must-visit for fun in the sun.
Things to do in Leavenworth - This Bavarian-themed city is super close to Roslyn and a must-visit.
Union Gap Burger Trail - If you are headed south to Yakima or Union Gap make sure to check out these burger restaurants!
Check out all of our Washington State Travel Guides.