Walking the red carpet at a world premiere of a Disney movie is always truly amazing. It is an experience that I find myself just soaking in and trying to take in every moment. The Ralph Breaks the Internet premiere in LA was out of this world. From celebrities to the energy that filled the air on Hollywood Boulevard it was a night I won't forget!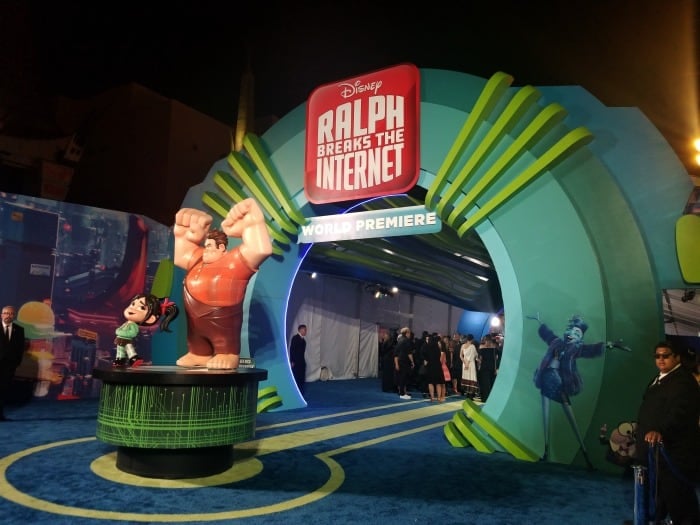 The carpet started with a giant sculpture of Wreck it Ralph and Vanellope von Schweetz which led into a tunnel as if we were entering into the internet.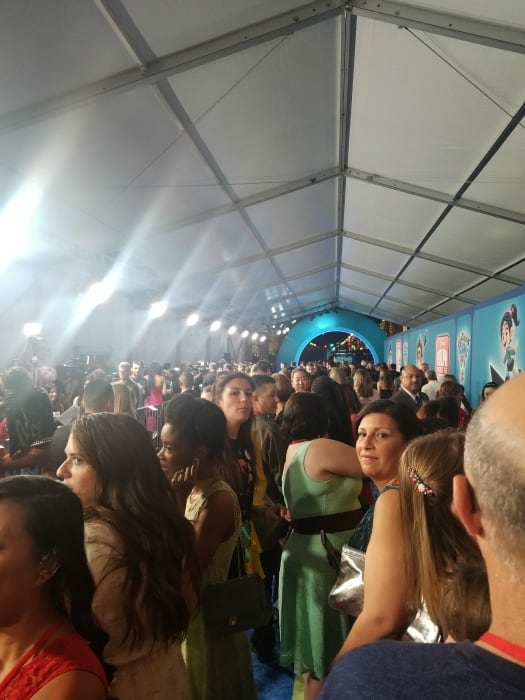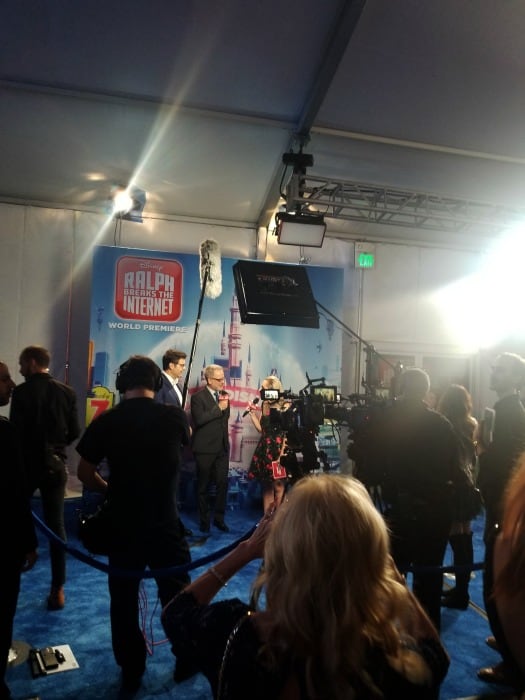 Instead of a red carpet, there was an internet-inspired blue carpet for the Ralph Breaks the Internet premiere. The carpet was filled with celebrities, excited fans, and international media. One thing that always amazes me at these events is the sheer number of lights and cameras that are going off at the same time. Even though it is dark outside the carpet is lit up like nothing else like it.
We were able to see quite a few celebrities being interviewed along the carpet. It is always cool to see them being interviewed and then try to find the coverage when we get back to the hotel.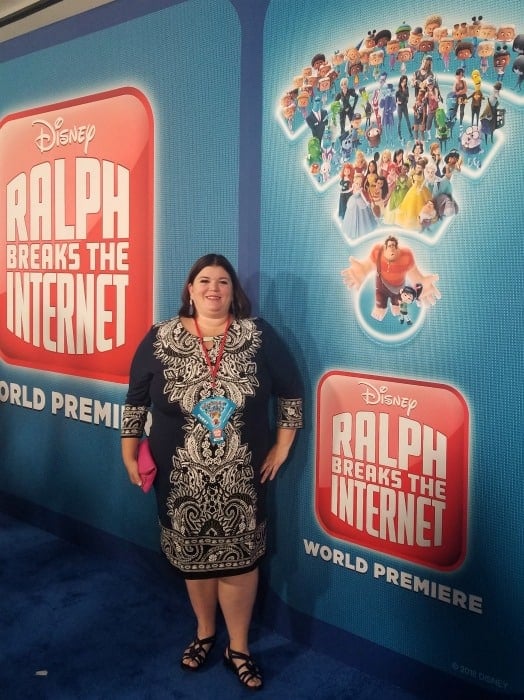 I can truly say I never could have imagined 10 years ago when I started wrting that I would be attending a world premiere of a Disney movie! Life is so crazy amazing.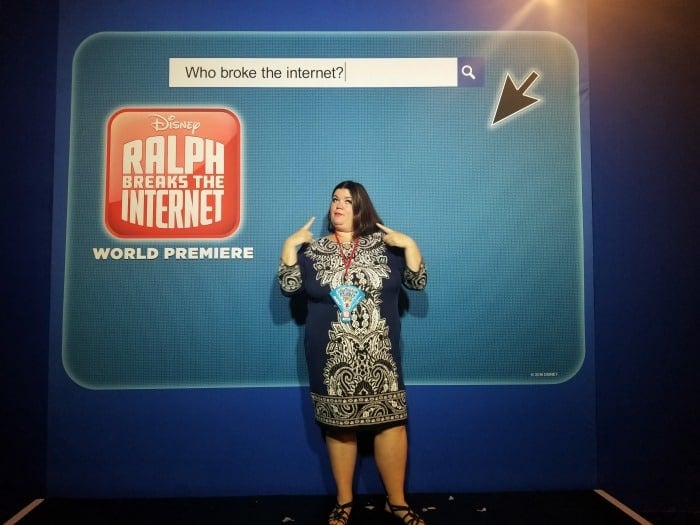 I might have broken the internet while I was there. LOL! They had a couple of really fun photo ops set up along the carpet for all of us which was amazing.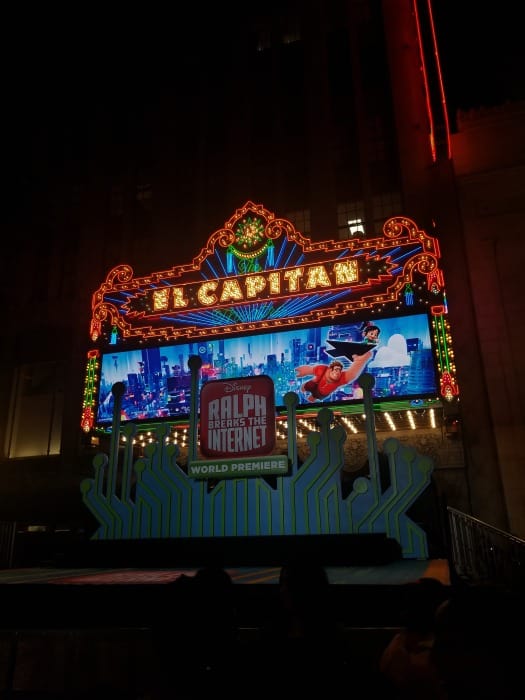 The world premiere was held at the El Capitan Theater right on Hollywood Boulevard.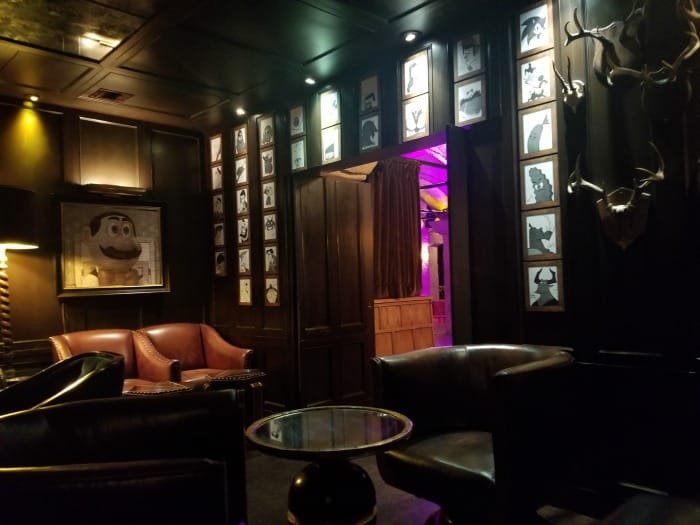 There was a fantastic afterparty held down the street which included a replica Tapper's bar with rootbeer floats. The detail that Disney puts into everything is truly amazing. This was one of my favorite parts of the after party. We all enjoyed an ice cold root beer float and felt like we were transported into the movie for a few minutes.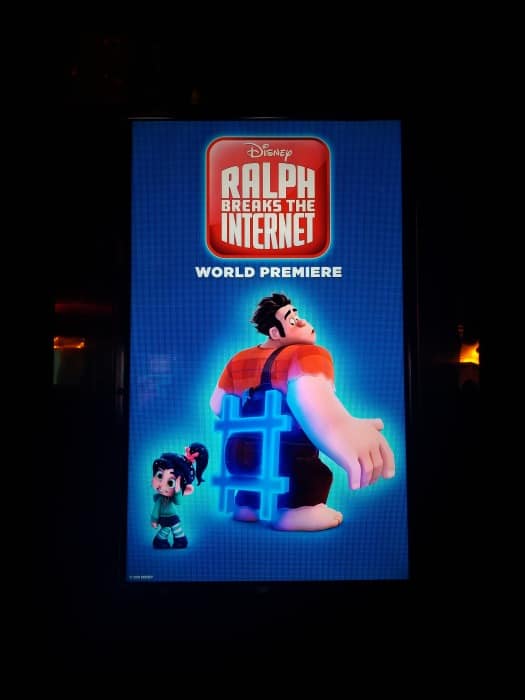 Make sure and buy your tickets now for November 21st when Ralph Breaks the Internet hits theaters!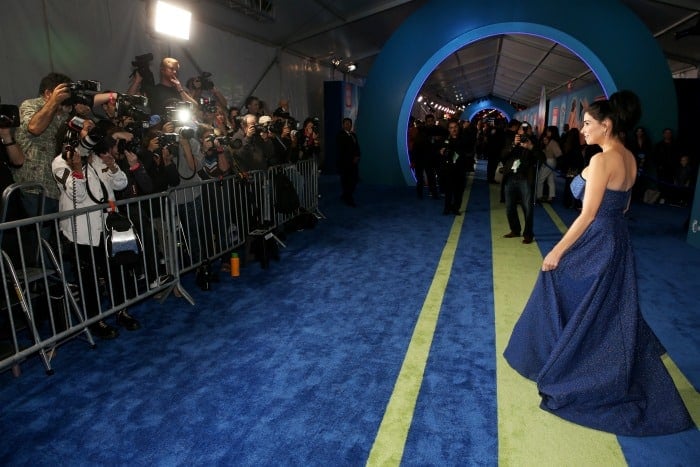 Attendees included voice talent John C. Reilly, Sarah Silverman, Taraji P. Henson, Jack McBrayer, Jane Lynch, Alan Tudyk, Ali Wong, Timothy Simons, Alfred Molina, Dani Fernandez, Tiffany Herrera, GloZell Green, Sean Giambrone, Irene Bedard, Jodi Benson, Auli'i Cravalho, Jennifer Hale, Kate Higgins, Linda Larkin, Mandy Moore, Paige O'Hara and Ming-Na Wen, plus filmmakers Rich Moore (director), Phil Johnston (director/screenwriter), Clark Spencer (producer), Jennifer Lee (executive producer), Pamela Ribon (screenwriter) and Henry Jackman (composer). Imagine Dragons (wrote/performed "Zero"): Ben McKee, Daniel Platzman, Dan Reynolds, Daniel Sermon, and Julia Michaels (performed "In This Place" for the film) were also in attendance.
Special guests included Dustin Brown, Caron Butler, David Dastmalchian, Hailie Deegan, Jordan Fisher, Josh Gad, Michael Giacchino, Melissa Joan Hart, Tim Heidecker, Ed Helms, Allison Holker & tWitch, Kerri Walsh Jennings, Jaime King, Adam McKay, Christina Milian, Kamri Peterson, Adina Porter, James Ransone, Jazmyn Simon, Ndamukong Suh and Butch Vig. Digital influencer included Rebecca Black, Gavin Thomas Brickner (Gavin Meme), Chloe Clem (Side-Eye Chloe), David DeVore (David After Dentist), Josh Holz (Damn Daniel), Russell Horning (Backpack Kid), Skai Jackson, Daniel Lara (Damn Daniel), Laina Morris (Overly Attached GF), Candace Payne (Chewbacca Mask Lady), Carter Wilkerson (Nuggs for Carter).
About Ralph Breaks the Internet
In "Ralph Breaks the Internet," video-game bad guy Ralph (voice of John C. Reilly) and best friend Vanellope von Schweetz (voice of Sarah Silverman) leave the comforts of Litwak's arcade in an attempt to save her game, Sugar Rush. Their quest takes them to the vast, uncharted world of the internet where they rely on the citizens of the internet—the Netizens—to help navigate their way. Lending a virtual hand are Yesss (voice of Taraji P. Henson), the head algorithm and the heart and soul of the trend-making site "BuzzzTube," and Shank (voice of Gal Gadot), a tough-as-nails driver from a gritty online auto-racing game called Slaughter Race, a place Vanellope wholeheartedly embraces—so much so that Ralph worries he may lose the only friend he's ever had.Directed by Rich Moore ("Zootopia," "Wreck-It Ralph") and Phil Johnston (co-writer "Wreck-It Ralph," "Zootopia," writer, "Cedar Rapids"), and produced by Clark Spencer ("Zootopia," "Wreck-It Ralph," "Bolt," "Lilo & Stitch"), "Ralph Breaks the Internet" hits theaters on Nov. 21, 2018.