Sponsored by Mrs. Meyer's
When we picked out the colors for our new house I thought white and grey would be bright, clean, and fun to add accent colors too. I went with white countertops in the kitchen knowing that I love to have fresh flowers and fun dishes out during the year. In the bathroom, I picked grey countertops and white marble tiles for the shower. As you can tell I dove head first into this color scheme. I have to tell you one thing I never thought of while designing our dream house....the cleaning that comes with white countertops. I clean our countertops at least once if not three times a day and sometimes it feels like all  I do is clean the counters. Every drip of coffee, tea, food, or cat hair shows from a million miles away it feels like. You can imagine how excited I was when Mrs. Meyer's reached out and told me about their concentrated cleaners that take up a lot less room and clean amazingly.
I am all in for anything that helps me keep the counters clean, smells amazing and takes up less space in our cabinets. We have been using Mrs. Meyers cleaning products for years. I swear by their lavender laundry soap! It is dream-worthy when washing all of our bedding. It smells so good and I love how great our sheets and blankets feel.
When the box came in with Mrs. Meyer's Concentrate I decided it was time to dive headfirst into spring cleaning. We have only been in the new house for 2 months and I still feel like there is dust and stuff all over the place. They are still doing construction in the neighborhood so dust is a daily joy right now. I was excited to fill up the bottles with the amazing Lemon Verbena scent, blare some of my favorite music and get to cleaning!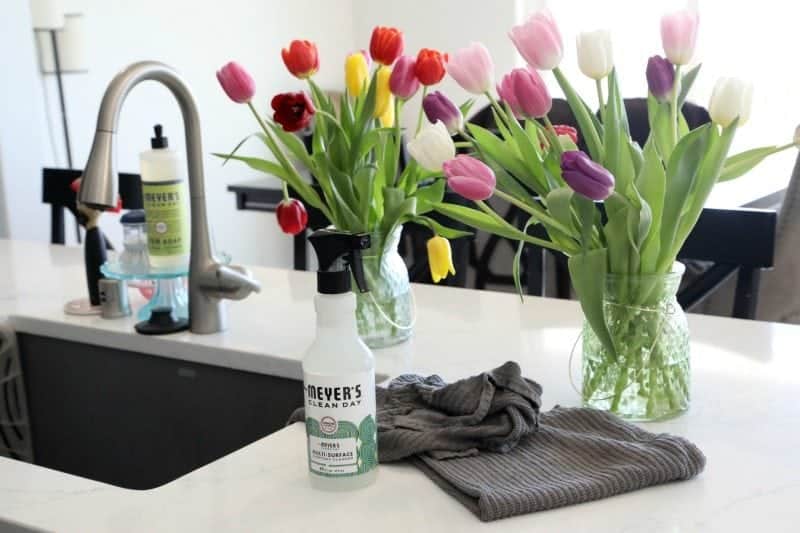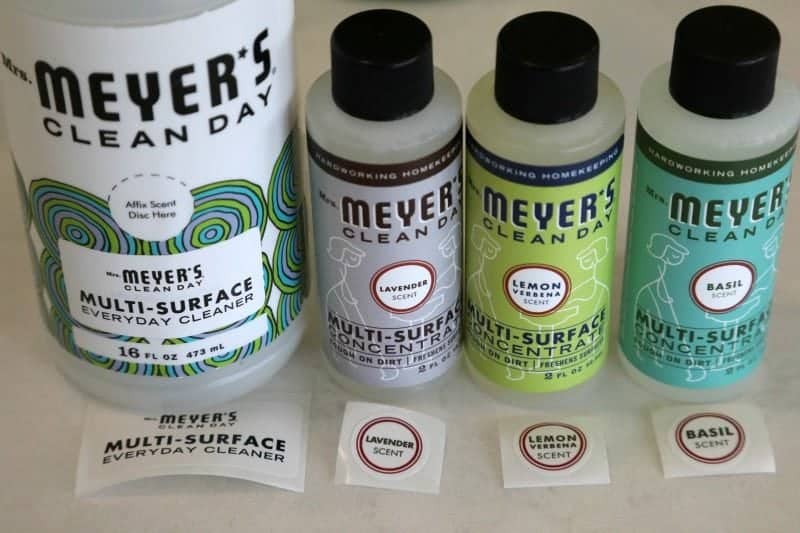 The Mrs. Meyer's Concentrates come in small 2 oz bottles that you use to refill a spray bottle. I love that I can re-use the spray bottle multiple times and only have to dispose of a tiny plastic bottle. One of our goals this year now that we have recycling at our new house is to make sure we are recycling and cutting down on our garbage. Plus the tiny 2oz bottles are so easy to store!
I visited the Living Mindful website to learn as much as I could about the concentrates. The website offers free shipping on orders over $20 PLUS they can use coupon code: SPRINGCLEAN to take 15% off. It is the perfect time to stock up on spring cleaning!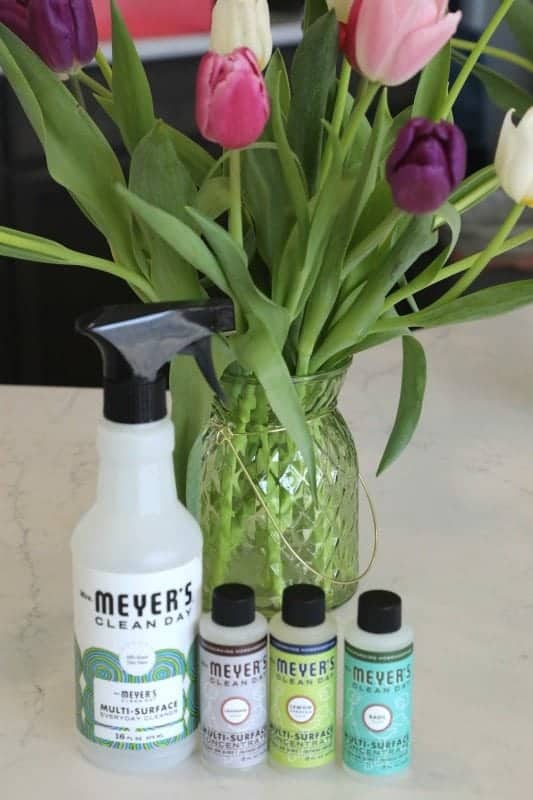 The Mrs. Meyer's Multi-Surface Everyday Cleaner Concentrate is available in Lavender, Lemon Verbena, and Basil scents. This cleaner is perfect for cleaning counters and other surfaces including floors in your kitchen, bathroom or any room in the house. You can also use this cleaner outside as you get your deck or patio ready for barbecue season!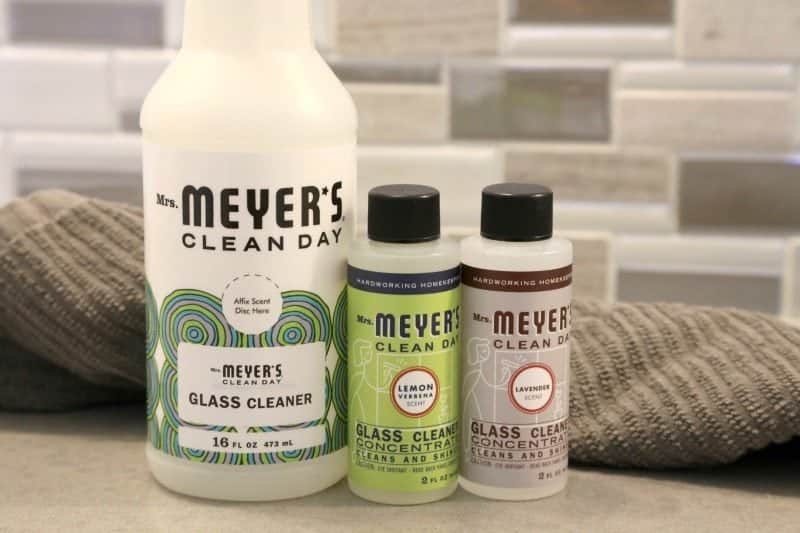 The Mrs. Meyer's Glass Cleaner Concentrate comes in Lemon Verbena and Lavender Scent. You can use this on windows, mirrors or other glass surfaces. This would be perfect for the glass in your coffee table. You know the one that always has rings from glasses and misc. things that land on it.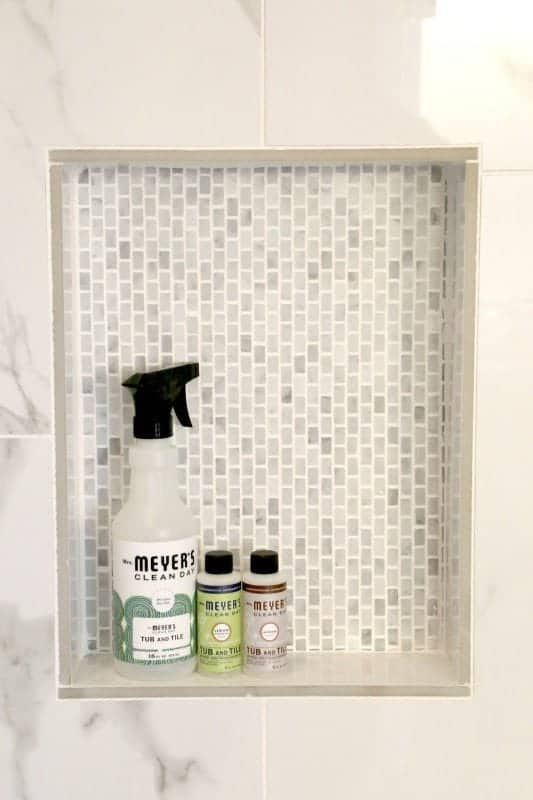 The Mrs. Meyer's Tub and Tile Concentrate is specifically made for bathroom cleaning. It has a special nozzle on the spray bottle to help keep your bathroom clean. All you have to do is spray and wipe clean! I used this in our bathrooms and love the Lemon Verbena scent. It is so fresh and clean smelling.
I am so excited to hear what you think of the Mrs. Meyer's Concentrates! They are making our house smell so good while keeping the counters sparkling clean. I love when a cleaning product makes me excited to clean and enjoy our new house.
Additional Cleaning Articles
How to clean your coffee maker
How to clean your kitchen nozzle
Setting up a home filing system
Check out all of our Cleaning Articles