Today we are sharing 16 Disney Animal Kingdom Secrets! These Animal Kingdom Facts are so fun!
Animal Kingdom is a great park for the entire family.  From animal safaris to conservation stations you can find something for all ages.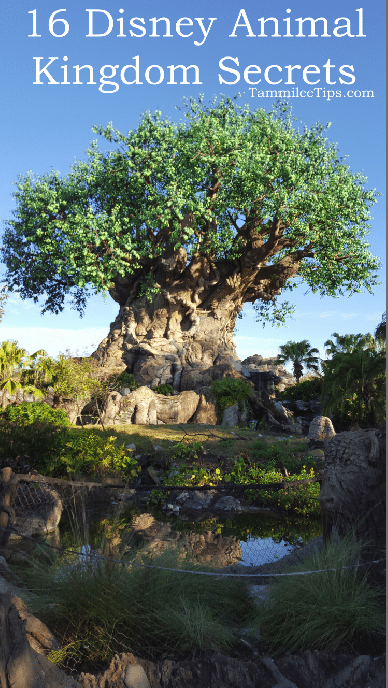 Disney Animal Kingdom Secrets
1. All of the benches in Disney's Animal Kingdom are made of recycled milk jugs. Some of the tables are also made with recycled milk jugs
2. There are 325 reptiles, mammals and birds carved into the Tree of Life.
3. Each leaf of the Tree of Life was hand placed. There are 103,000 leaves on the tree!
4. The animatronic version of Hopper in It's Tough To Be A Bug is 8 feet tall
5. Disney has replicas of main attractions on the back lot to check and see if the paint is peeling so they know if attractions need to be painted. That way they don't have to climb up the major attractions.
6. The Jeeps used for the Kilimanjaro Safari run on liquid propane to help keep emissions low
7. Some of the trees in the Kilimanjaro Safari are fake trees created to make it look like Africa
8. The pond on the Kilimanjaro Safari with the flamingos is a hidden Mickey
9. Straws in the park are made with paper to help protect the animals.
10. The Tree of Life is 145 foot tall and 50 feet wide
11. Animals go off the main park at night so that gardeners can make sure the grounds look amazing
12. The animals are trained to respond to specific noises that alert them to night time
13. Expedition Everest is the tallest of the 18 mountains that Disney Imagineers have created at over 200 feet.
14. The Animal Kingdom is the largest Disney World theme park at over 500 acres.
15. The first animal birth at the Animal Kingdom was an African Antelope
16. There are no balloons at the Animal Kingdom for the safety of the animals
Disney Animal Kingdom Orlando Tips and Tricks
Arrive early before it gets crazy hot.
Animal Kingdom does a lot to keep the animals active all day but most animals naturally bed down in the heat of the day
Make breakfast reservations before the park opens to maximize your time in the park
Pick up a Wilderness Explorers Guide to go on a scavenger hunt of the Animal Kingdom