Holiday Celebrations at Universal Orlando Resort are a must-see! From the Who's in Whoville to the Universal Holiday Parade featuring Macy's gigantic balloons, you won't believe all there is to see and do at Universal Orlando Resort.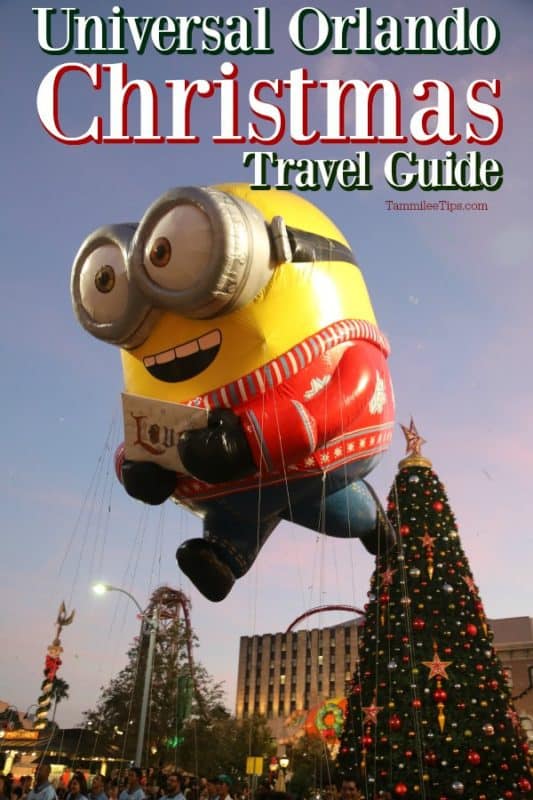 Holiday Celebrations at Universal Orlando Resort
We only had one full day to enjoy the holiday celebrations and I wish we would have planned two or three days just for the holiday celebrations. There is so much to see and do in the park that you want to give yourself enough time to truly enjoy it without feeling like you are just running from one place to another.
Make sure and download the Universal Orlando App so you can keep up to date with the current showtimes, ride times, and more. This will help you save time and energy in planning your day. Some of the shows are repeated a few times while others are only shown once so you will want to plan around them.
The holiday celebrations are spread between Islands of Adventure and Universal Studios so you will want to have a two-park pass for each day if you can. This will make it easier to move back and forth and make sure you don't miss anything. Plus you can ride the Hogwarts Express and it is well worth any admission price! I just love it.
Keep an eye out for special holiday treats all over the park. There are tons of sweet treats and specialty cocktails available to help you celebrate the holidays!
Holiday Celebrations at Islands of Adventure
Islands of Adventure is home to two big holiday celebrations! Grinchmas and Holiday lights at Hogwarts! Hogsmeade is decorated with all of its holiday finery and you can enjoy a hot butterbeer this time of year!
Suess Landing is decorated in over the top holiday decorations and you just might run into the Grinch and a few Who's in Whoville!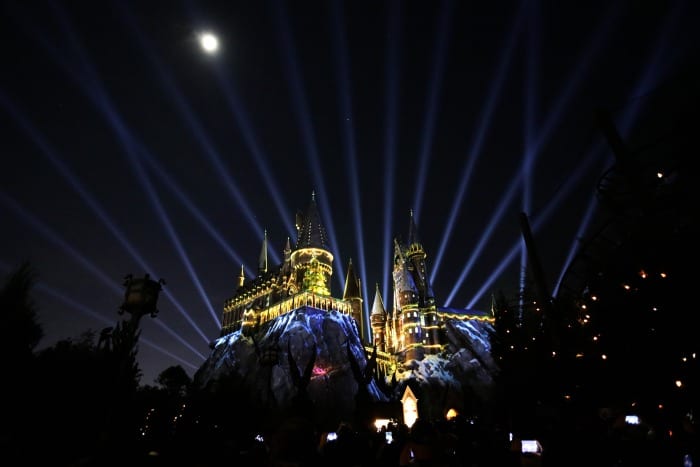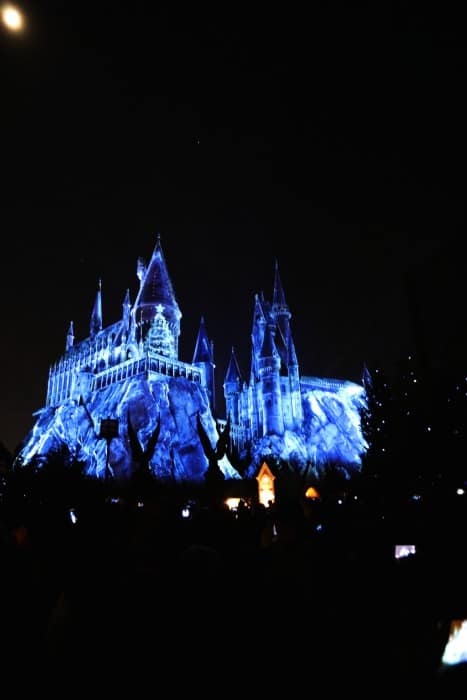 Holiday Lights on Hogwarts at Hogsmeade
My favorite holiday celebration event is the holiday lights on Hogwarts. I just love it! There is something so magical about watching the castle be lit up.  The show plays every 15 to 20 minutes and you should be prepared for crowds. We were there on the 1st night it showed and it was a bit crazy. Due to the crazy, we only had the chance to see the show once and I could have easily watched it over and over again.
Be prepared for there to be a line to ride the Hogwarts Express right after the Macy's parade ends. Everyone will be rushing to see the holiday lights at Hogwarts. This is a moment having an express pass can make a huge difference in how long you are in line. We had friends walk to the front of Universal Studios and then cross over to Islands of Adventure and walk to the back of the park to save time waiting in lines and see the show as quickly as they could.
We found that the best view of the show is actually towards the back so you get the full perspective of the castle. If you can see the show multiple times make sure and do it! It is truly that spectacular.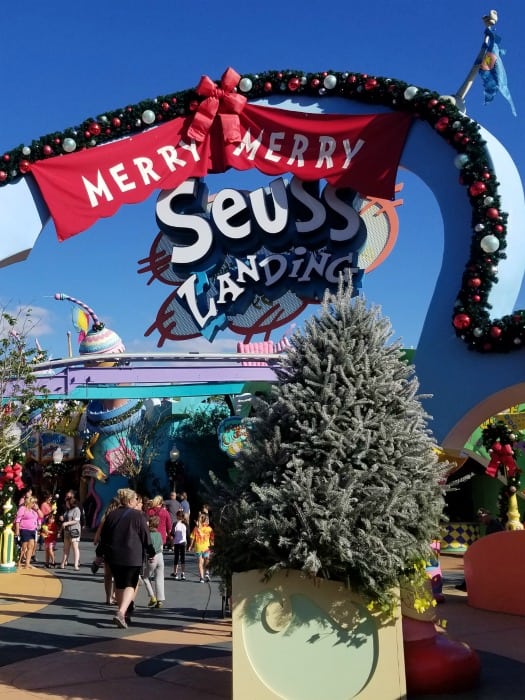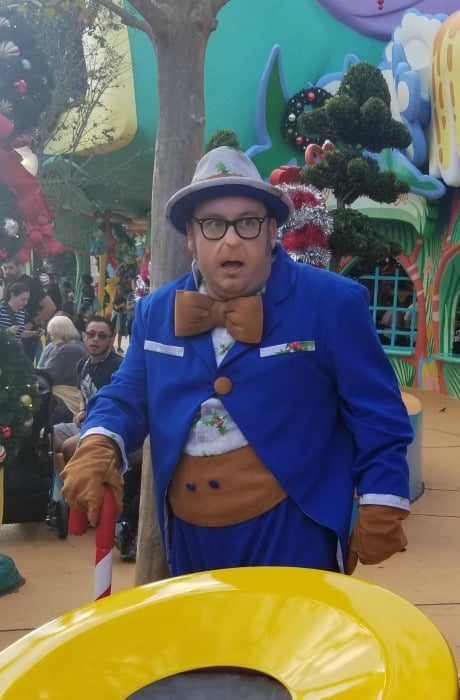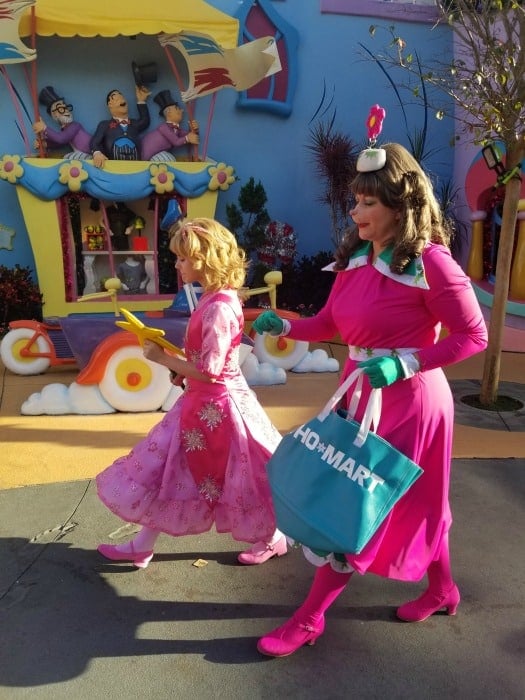 Seuss Landing
Seuss Landing is filled with holiday wholiday celebrations! You might see a friendly Who from Whoville running around with their Who-Mart shopping bags trying to get last-minute shopping done.
You might even be able to join them for a game or storytime! Keep an eye out for the Grinch being grinchy! He is normally sulking around inside the stores and might pose for a photo if he deems it worth his time.
The Grinchmas Who-liday Spectacular
Explore Seuss Landing™, filled with the Christmas charm and cheer of Who-ville. Delight in The Grinchmas™ Who-liday Spectacular, a live retelling of the classic holiday tale starring The Grinch™.
Plus, meet the maven of mischief himself for an autograph and photo.
Show Times:
Nov 17 - 24; Dec 15 - Jan 1: 8 shows/day
10:45am, 11:45am, 12:45pm, 1:45pm, 3:30pm, 4:30pm, 5:30pm, 6:30pm
Nov 25 - Dec 14; Jan 2-6: 6 shows/day
11:30am, 12:30pm, 1:30pm, 3:45pm, 4:45pm, 5:45pm
Grinch and Friends Holiday Breakfast in Seuss Landing at the Circus McGurkus Cafe Stoo-pendous
You can book a special breakfast with the Grinch and his friends! You will need to make reservations ahead of time and have park admission for the day. Make sure to book your breakfast as soon as you can since they are starting to sell out on certain days.  The breakfast consists of a buffet and one (1) non-alcoholic beverage.
Nov. 17 – 18, 21 – 25, 30: 8 – 10 am
Dec. 1 – 2, 6 – 9 , 13 – 16, 20, 23 – 25: 8 – 10 am
Dec. 21 – 22: SOLD OUT
ADULT PRICE (AGES 10+) $34 .99 PER ADULT, PLUS TAX
CHILD PRICE (AGES 3-9) 
$20
.99 
PER CHILD, PLUS TAX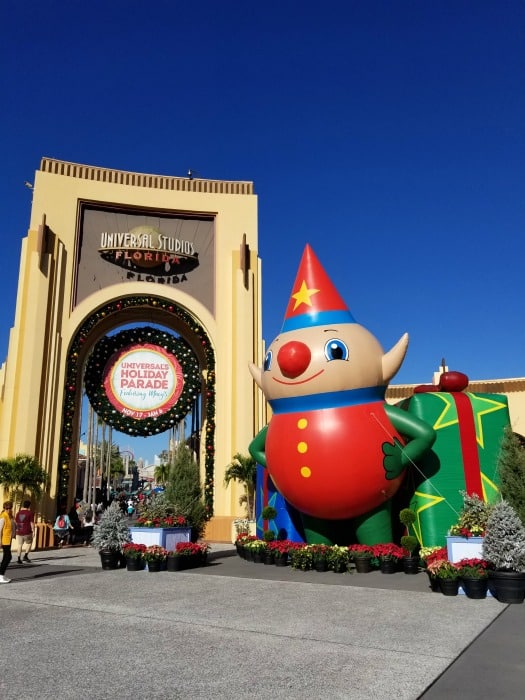 Universal Studios Holiday Celebrations
Universal Studios is home to the Macy's Holiday Parade showing once each night, Barney's holiday celebration and the Blues Brothers holiday show!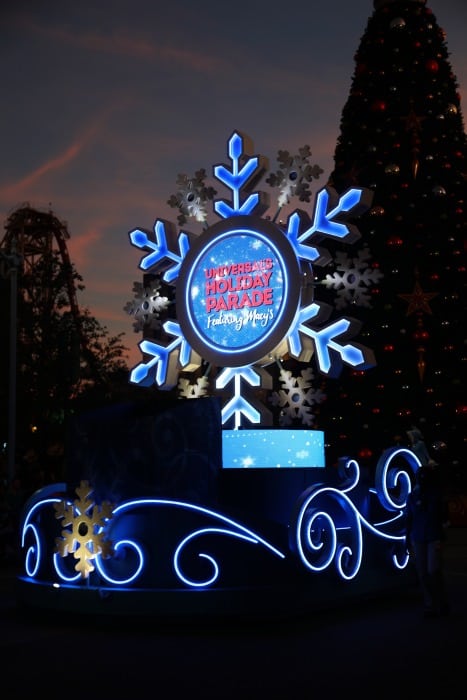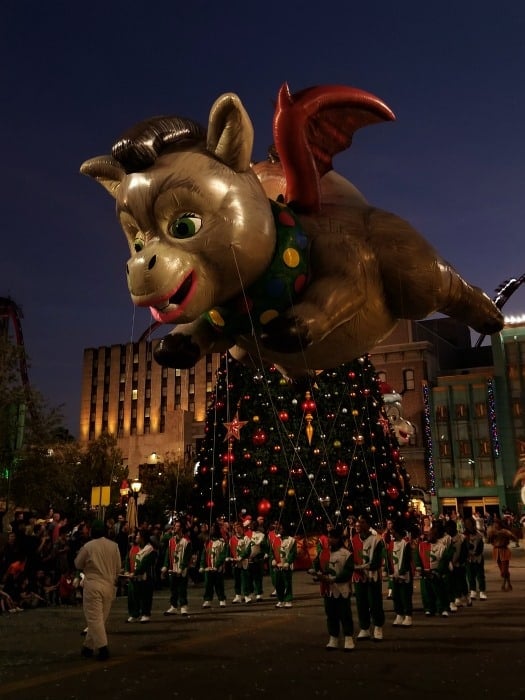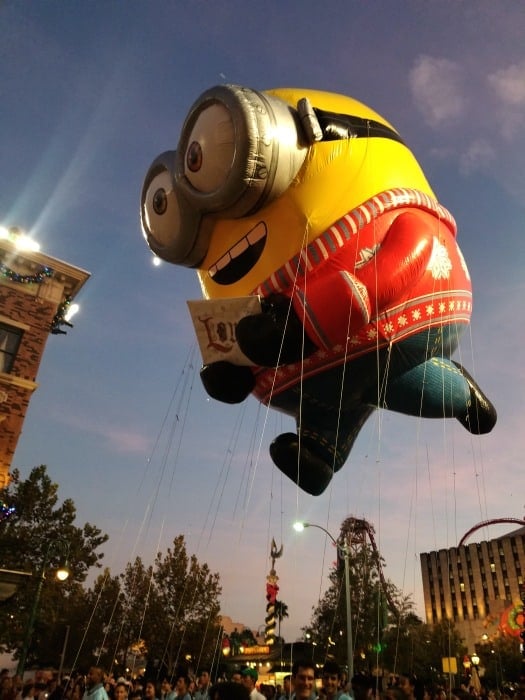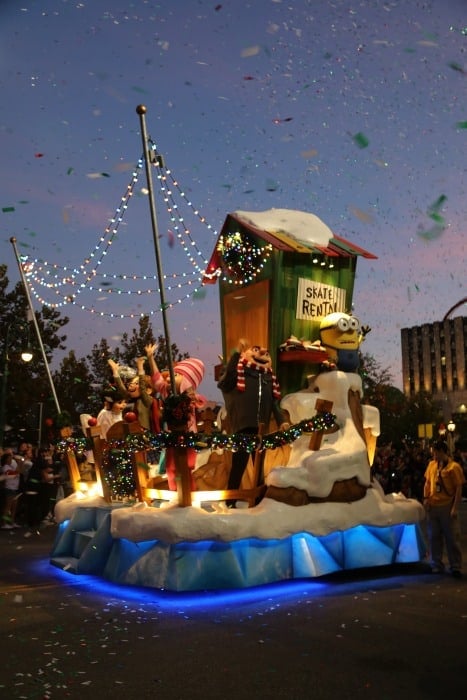 Universal's Holiday Parade featuring Macy's
Merry and Mayhem combine as the Minions join Santa Claus in an incarnation of Universal's Holiday Parade featuring Macy's, a holiday favorite that also features characters from Madagascar and Shrek.
Show Times:
Nov 28, Dec 6, and Dec 14: 5:15 pm
Nov 17 - 27, Nov 29 - Dec 5, Dec 7 - 13, Dec 15 - 23: 5:30 pm
Dec 24 - 30: 8:00 pm
Dec 31 - Jan 6: 5:30 pm
The Macy's Parade at Universal Orlando Resort is amazing! One thing to know is EVERYONE wants to get the best photo they can and it can get a bit crazy with people. The best spot we found for photos was right in front of the Mummy ride. You get a clear shot of the balloons as they come around the corner and get the Christmas tree in your photo. That being said be prepared for elbows, people and a bit of crazy. If you have small kids make sure they are near you especially right when the parade ends. People came rushing towards us to get into the Mummy ride and it was a bit of chaos.
Mannheim Steamroller
The best-selling holiday artist of all time visits Universal Studios as Mannheim Steamroller returns for live performances.
Show Times: Nov 17, 18, 24, 25; Dec 1, 2, 8, 9, 15, 16: 7:00pm
We did not get a chance to see Mannheim Steamroller since we really wanted to see the holiday lights on Hogwarts at Hogsmeade. The concert is held on the big stage in front of Rip Ride Rollercoaster at Universal Studios.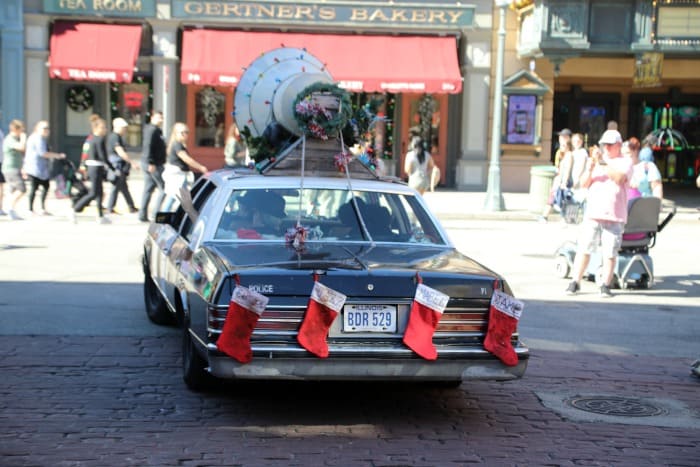 The Blues Brothers Holiday Show
Don't miss the Blues Brothers Holiday Show! It is so much fun and sure to put you into the holiday spirit. We had so much fun dancing along with Elroy and Jake singing the classics with a twist.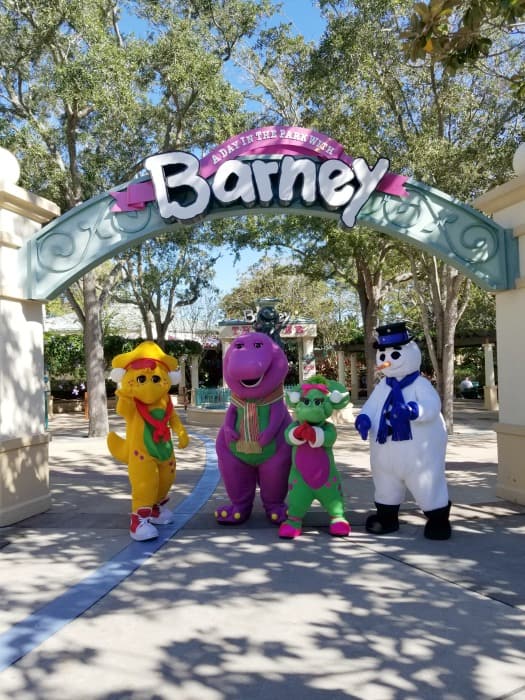 Barney's Holiday show
Little visitors and parents who need a break will love Barney's Holiday show! A great way to relax for a few minutes of downtime and check out the super cute holiday show.
Make sure and check the Universal Orlando Resort app for showtimes on the day of your visit!
CityWalk Holiday Celebrations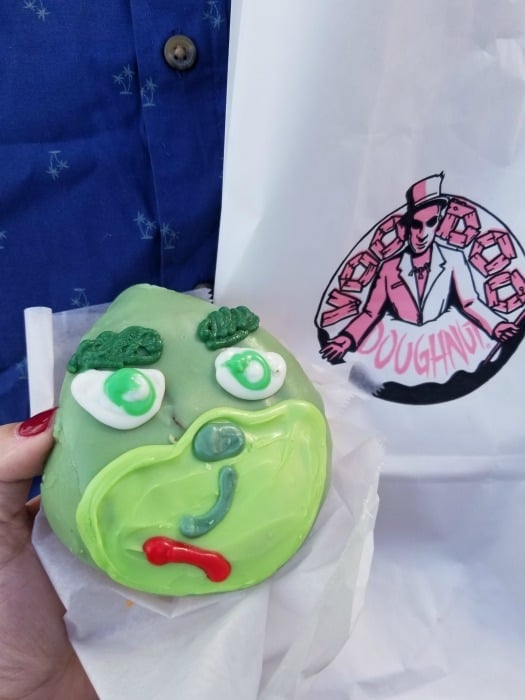 Grinch Doughnut at Voodoo Doughnuts!
Celebrate the Grinch with a special Grinch inspired doughnut at Voodoo Doughnuts! YES PLEASE!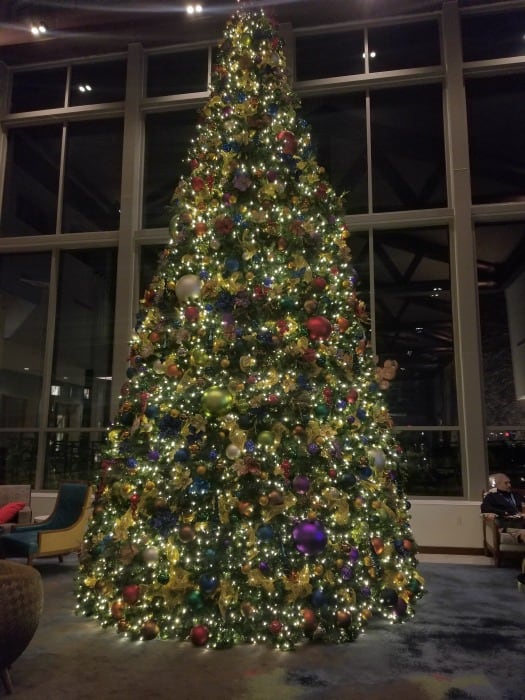 Onsite Hotel Holiday Celebrations
There are so many great holiday celebrations all over Universal Orlando Resort! Including at the hotels! Don't miss the gorgeous holiday trees, specialty cocktails, special meals, and more at the onsite hotels! Our favorites include Cabana Bay Beach Resort, Loews Portofino Bay Resort, Loews Sapphire Falls Resort, and the Aventura.
The holiday trees are a great place to grab a family photo! They are so beautiful and huge! The perfect place to grab a Christmas Card photo or holiday photo to remember your trip with.
Additional Universal Orlando Resort Articles
Wizarding World of Harry Potter
Universal Orlando Halloween Horror Nights
Orlando Attractions for Families
Check out all of our Orlando Travel Guides
We visited Universal Orlando Resort as a member of the UOR Blog Squad! All opinions expressed are our own.