For fans of the popular Harry Potter franchise, a visit to The Wizarding World of Harry Potter at Universal Orlando is an unforgettable experience.  The Wizarding World is made up of two separate areas within the park: Diagon Alley in Universal Studios and Hogsmeade Village at Universal's Islands of Adventure. Read on, to learn about some of the things in each area you don't want to miss.  I hope that these Wizarding World of Harry Potter Tips help you have the best experience possible in this magical land!
The first thing to know is which area is within which park. I know I mentioned it above but this is really my biggest tip for planning your adventures. You want to make sure you have tickets to both parks so you can see everything.
Hogsmeade – Universal's Islands of Adventure
Diagon Alley– Universal Studios Florida

Wizarding World of Harry Potter Tips
Food Options in Wizarding World of Harry Potter
Both Wizarding World locations housed at Universal feature plenty of dining options that will surely be familiar to fans of all ages.
You'll find the Leaky Cauldron in Diagon Alley, which serves up family-friendly pub fare fit for the streets of London. After your meal at The Cauldron, head over to the Hopping Pot for both alcoholic beverages and non-alcoholic refreshments.
In Hogsmeade, guests can grab a meal at the Three Broomsticks or drinks at Hog's Head. All inspired by London pub fare and foods mentioned in Harry Potter novels.
Before you leave Hogsmeade, don't forget to stop by Honeydukes for iconic sweets like chocolate frogs and Bertie Botts Every Flavor Beans.
New Vegan Options -
also savor other vegan menu options during their visit to the spectacularly themed lands, including Irish Stew and Shepherd's Pasty Pie, and Mushroom Pie Platter.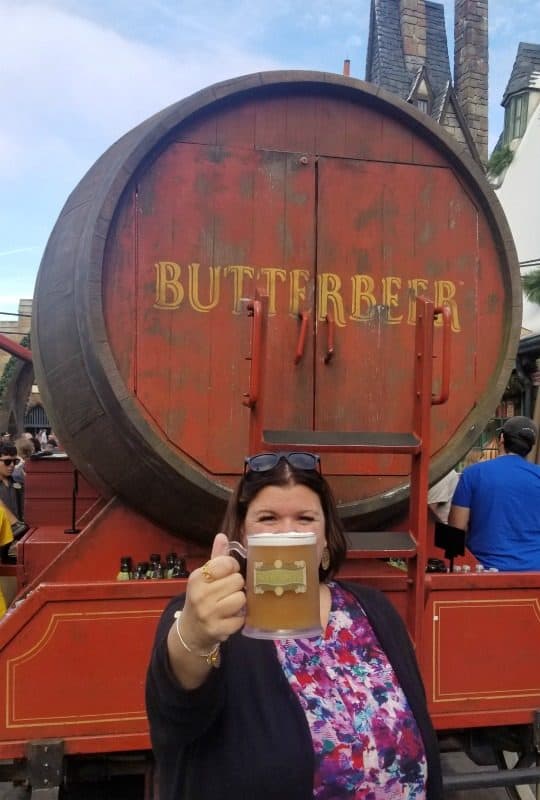 Where to buy ButterBeer
Butterbeer ice cream can be found at Florean Fortescue's Ice Cream Parlor and at The Hopping Pot in Diagon Alley.
Butterbeer fudge can be found at Honeydukes and Sugarplums
Butterbeer potted cream can be found at the Leaky Cauldron
In Diagon Alley cold and frozen Butterbeer can be found at The Leaky Cauldron, The Hopping Pot, and Fountain of Fair Fortune
In Hogsmeade look for the Butterbeer carts, Hogs Head Tavern, and at Three Broomsticks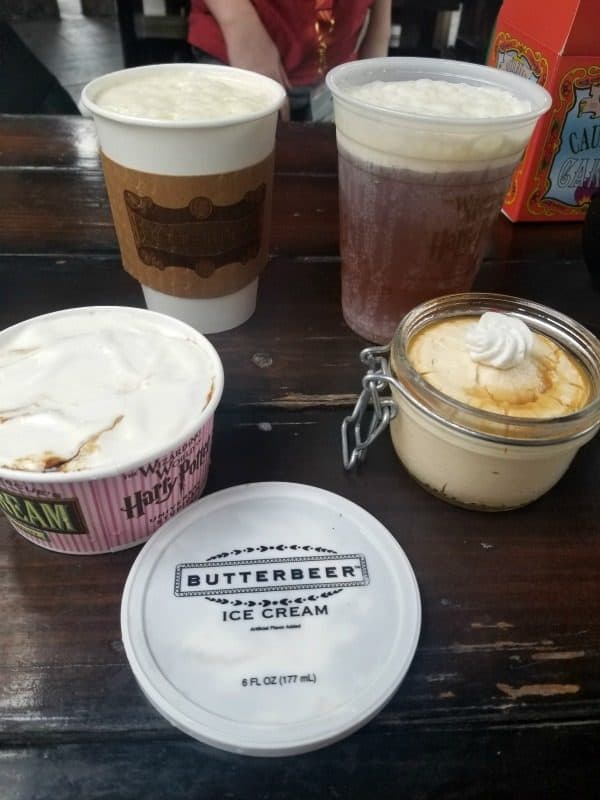 What types of Butterbeer are available?
Depending on the time of year that you visit there are five or six varieties of Butterbeer. Hot butterbeer is only available during the colder months of the year.
You can find these varieties year-round
Cold Butterbeer
Frozen Butterbeer
Butterbeer Ice Cream
Vegan Butter Beer - Universal Studios Orlando Resort announced that they are now offering a vegan version of Butterbeer! Available in cold and frozen, the new non-dairy offering features the same delicious taste as the existing, wildly-popular Butterbeer drink. Universal Orlando guests can purchase vegan, non-dairy Butterbeer at the Three Broomsticks restaurant in Hogsmeade and the Leaky Cauldron restaurant in Diagon Alley.
You can buy Butterbeer Ice Cream in a cone or cup at Florrisants Ice Cream Parlor. You can buy pre-packaged butterbeer ice cream also but I think the fresh cone tastes better.
Butterbeer Potted Cream (My advice is to skip this! I am not a fan and haven't met anyone who loves it.)
Does Butterbeer have Alcohol in it?
Butterbeer does not have any alcohol in it. All ages of wizards can enjoy it!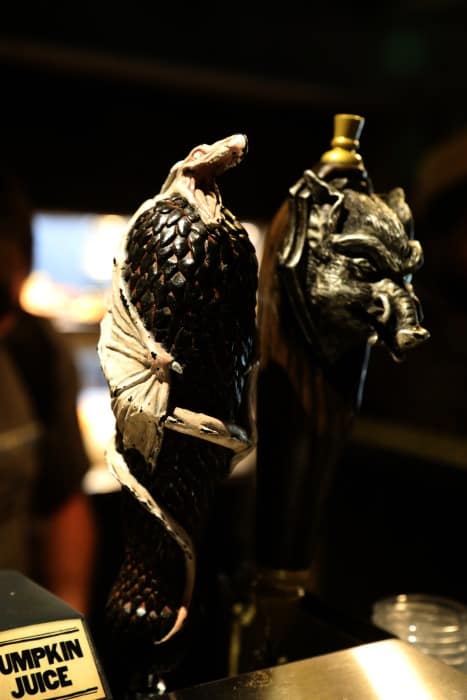 Where can I find beer/cocktails in Wizarding World of Harry Potter?
"Hog's Head Brew" a classic red Irish ale is made exclusively for Universal and can only be found in Hogsmeade at Hog's Head Bar.
Three Broomsticks has both Hog's Head™ Brew and Dragon Scale for $8.99
Wizard's Brew and Dragon Scale beers and Fire Whiskey are available at the Hopping Pot in Diagon Alley
Wizard's Brew, Dragon Scale, and Draught Beer are available for $8.99 at the Leaky Cauldron in Hogsmeade. You can also get a glass of wine or a glass of Fire Whiskey!

Rides in Wizarding World of Harry Potter
Each area of The Wizarding World also contains exciting Harry Potter World rides inspired by the series. These rides are situated in buildings that recreate familiar locations in stunning detail.
You'll find the Gringotts Wizarding Bank in the main junction of Diagon Alley. (Look for the huge, fire-breathing dragon perched on the bank's roof.) Inside, join the line for Escape from Gringotts, a 3-D roller coaster that puts you face to face with villains like Voldemort and Bellatrix Lestrange as you escape back to Diagon Alley.  If you get motion sickness you may want to close your eyes or be prepared for some spinning with this ride. I do not normally get motion sick but definitely felt a bit uneasy when I got off the ride. The graphics in this ride are unbelievable!
Just outside of Hogsmeade is an impressive Hogwarts, painstakingly built to recreate the beloved School of Witchcraft and Wizardry with as much detail as possible. Inside you'll encounter familiar rooms such as the Gryffindor common room and Dumbledore's office, as well as the entrance to Harry Potter and the Forbidden Journey.  This exciting 3-D ride flies you around Hogwarts on a broom, as you dodge dragons, Dementors, and more.   This is another ride that I have heard of people getting motion sick on. Just be prepared to be fully immersed in the ride. Also if you are plus-sized make sure and check the seats near the entrance to the ride. The seats for this ride are not large and you will want to make sure you can fit and have them click in place before you spend a long time in line.
Hogsmeade is also home to the Flight of the Hippogriff, a family-friendly ride near the castle which takes passengers through Hagrid's pumpkin patch.  Look for Hagrid's cottage and Buckbeak while you are in line!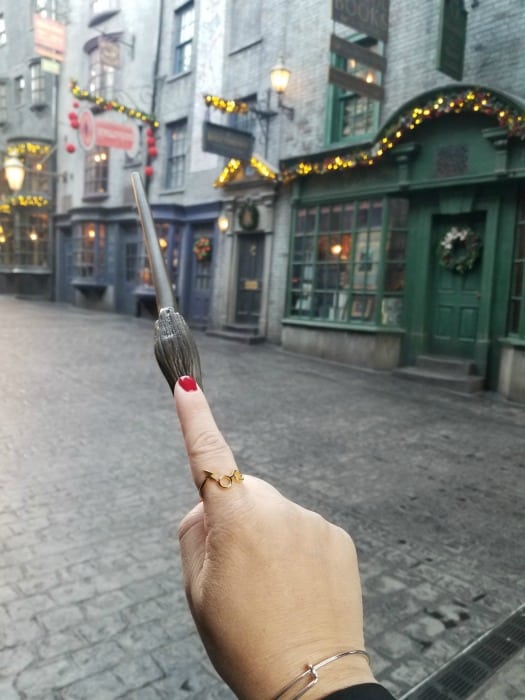 Ollivander's Wand Shop
One of the best parts about The Wizarding World of Harry Potter is the fact that the park totally immerses you into the setting of the books and films.
For example, when you visit Ollivander's Wand Shop in either area of the park, you're treated to an interactive shopping experience where you are chosen by a wand that you can then purchase. You can even use your interactive wand at various points throughout the park to make special effects happen.
Interactive wands come with a map showing 34 marked locations where you can cast spells.  It is well worth the extra $10 or so to get an interactive wand. They are a ton of fun and help when lines for rides are a bit longer than you want them to be.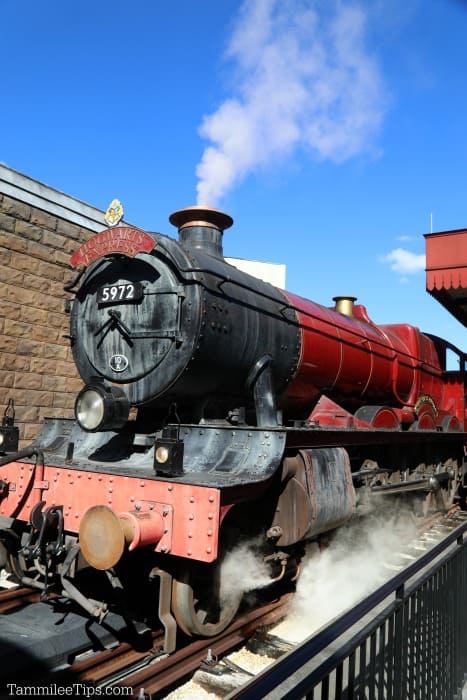 Hogwarts Express
To get between the two areas of the park, take a ride on Hogwarts Express. The experience is different each way.  In order to hop aboard the Hogwarts Express, you will need a two-park ticket. You catch the train at either the King's Cross Station in the London section of Universal or the Hogsmeade Station in Islands of Adventure
Note: you MUST have a park-hopper ticket to ride the Hogwarts Express!  
For a great photo head to the front of the train when you get off in Islands of Adventure! As the train gets ready to head back to Universal Studios you can get amazing photos with the steam billowing around the Hogwarts Express!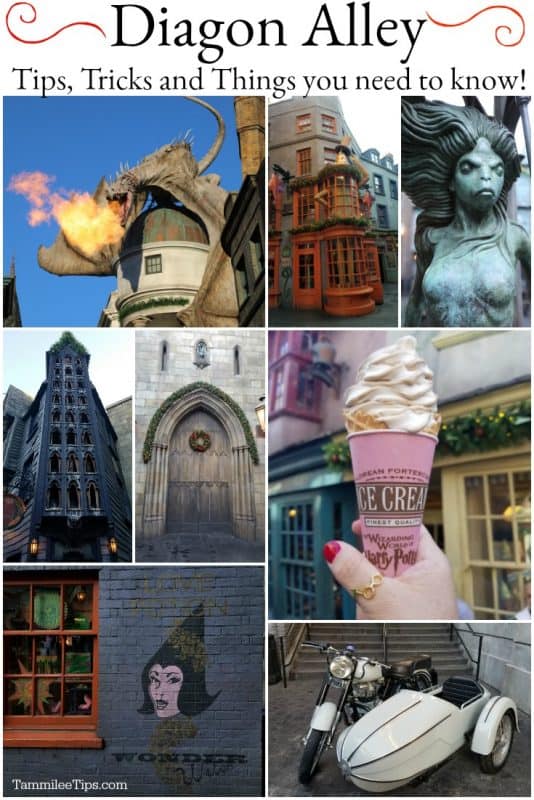 Diagon Alley– Universal Studios Florida
In the window of Mr. Mullpepper's Apothecary, you'll find a set of sharks teeth in tribute to the retired Jaws ride that used to be where Diagon Alley is now.
While shopping you can ask the wizards working at the registers to send your purchases to the park entrance where you can collect them at the end of the day.  That way you don't have to carry them around the park with you.
London Side 
The Red Phone Booth on the London Side of Diagon Alley make sure and step inside and dial M-A-G-I-C (962442) and it will connect you to the Ministry of Magic.
Catch a glimpse of Kreacher the house-elf at 12 Grimmauld Place! Look for him in the upstairs window peeking out at you.
The talking shrunken Knight Bus head is interactive.
Inside Diagon Alley
The dragon in Diagon Alley rumbles about every 15 minutes. When you hear a grumble followed by a small roar make sure you have your camera ready before he unleashes a big fireball.
Inside the Quality Quidditch Supplies store, the trophies on the tops of the shelves are props from the actual Harry Potter movies!
Inside Weasley's Wizard Wheezes the music you hear is actually the same music played in the background of the movie when they go into Weasley's store!
The Leaky Cauldron has 80 pieces of artwork on the walls that are exact replicas of the art from the films. Plus, the luggage placed around the tavern is straight from the set of the Potter movies!
The Magical Menagerie animal shop has a snake in the window that will speak to you! It will speak to you in Parseltongue, and then English.
The Mirror in Madame Maulkin's talks! Though it depends on the moment if the mirror is nice or has a bit of a fashion critique or two to offer.
At Borgin and Burkes is the Vanishing Cabinet. If you listen closely, you'll hear a bird chirping from inside like in Half-Blood Prince.
The Monster Book of Monsters in the cage at the Book Shop will growl at you if you get to close.
Head over to Knockturn Alley and look for a black light shining down to the right of the moving skeleton. Put your interactive wand map underneath and the shapes of the spells that are written in "invisible ink" will appear!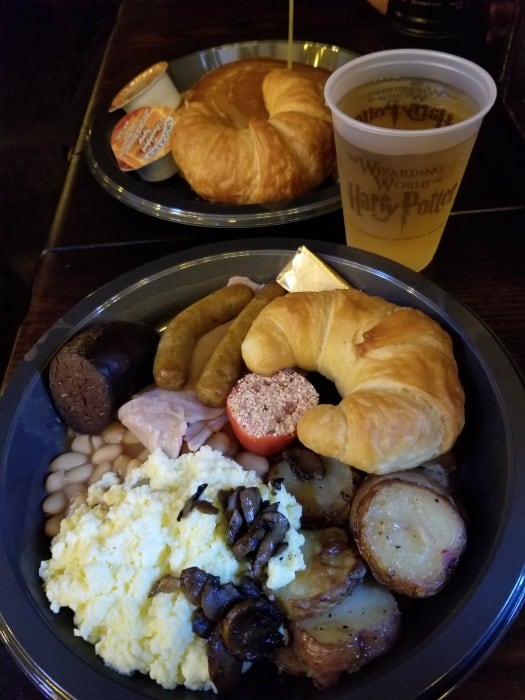 The Leaky Cauldron
The Leaky Cauldron offers both breakfast, lunch, and dinner options with both English and American options.  We really enjoyed our breakfast at The Leaky Cauldron.
The Hopping Pot
In the bustling Carkitt Market at The Wizarding World of Harry Potter – Diagon Alley you will find the Hopping Pot!
You can find not only Butterbeer but also exclusive Diagon Alley drinks like Tongue Tying Lemon Squash, Otter's Fizzy Orange Juice, Peachtree Fizzing Tea, Fishy Green Ale, and Wizard's Brew and Dragon Scale beers.  You can also get Beef pasties and Butterbeer Ice Cream!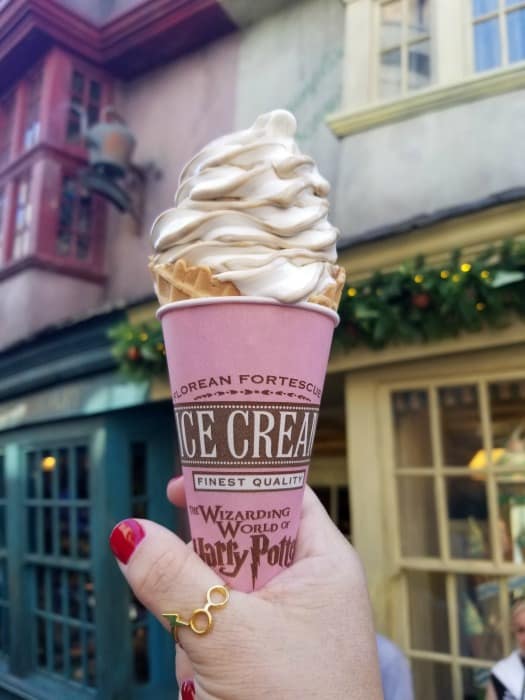 Harry Potter Ring on Amazon
Florean Fortescue's Ice-Cream Parlour
Other soft serve ice cream flavors available include Banana, Chocolate, Granny Smith, Mint, Pistachio, Vanilla, Orange Marmalade, Toffee, Toffee Apple, Strawberries & Cream.
Hard Ice Cream flavors include Chocolate Chili, Apple Crumble, Vanilla, Salted Caramel Blondie, Chocolate, Clotted Cream, Earl Grey & Lavender, Sticky Toffee Pudding, Raspberry & Chocolate, Strawberry Peanut Butter
Gringotts Money Exchange
You can exchange $10 and $20 exchange Muggle money for Gringotts banknotes that can be used like cash in all of the Diagon Alley shops.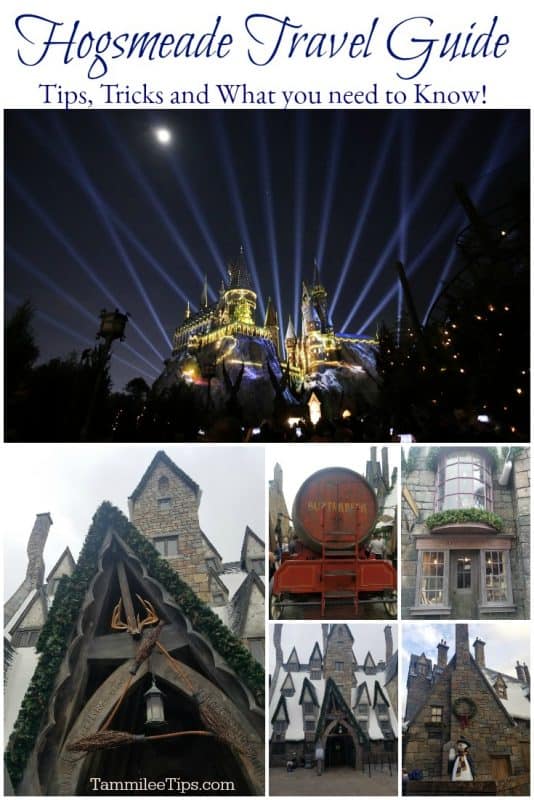 Hogsmeade – Universal's Islands of Adventure
Hagrid's Magical Creatures Motorbike Adventure
Hagrid's Magical Creatures Motorbike Adventure will opened on June 13, 2019, in The Wizarding World of Harry Potter – Hogsmeade at Universal's Islands of Adventure, and feature the most highly-themed coaster yet. For the first time ever, guests will fly with Hagrid on a thrilling roller coaster ride that plunges into the path of some of the wizarding world's rarest magical creatures.   
Hagrid's Magical Creatures Motorbike Adventure will combine a new level of storytelling and innovative coaster technology with rich environments and sets – including an actual forest with more than 1,200 live trees. It will also give guests the unique opportunity to join Hagrid on a journey to one of the most mysterious places in the wizarding world – the Forbidden Forest. With Hagrid as their guide, guests will fly deep into the Forbidden Forest and brave the mysteries and thrills beyond the grounds of Hogwarts castle on a groundbreaking coaster experience unlike any other
It all begins when guests (starting at 48" tall) join Hagrid's Care of Magical Creatures class and board magical motorbikes specially designed to make them feel the freedom of flight. Guests will either ride the motorcycle or board the adjacent sidecar as they embark on a journey that will bring them closer to some of the wizarding world's rarest magical creatures.  But as they make their way through the Forbidden Forest…things don't go as planned. During the adventure, guests will:
Experience a freewheeling coaster flight where they'll twist, turn and rush forward – and backward – at speeds up to 50 mph into the dark forest
Encounter some of the wizarding world's rarest magical creatures, such as a majestic Centaur, a swarm of mischievous Cornish Pixies, Fluffy, the three-headed dog – and even a creature that's never been seen in the films
Hurl past challenging obstacles, become entangled in a thicket of Devil's Snare and so much more …while encountering a few surprises along the way.
Moaning Myrtle haunts a bathroom in Hogsmeade.
The Owl Post
You can send your mail from here and it will arrive at its destination postmarked from Hogsmeade. Just be sure to bring postage with you. This is one of our best suggestions for fun things to do with kids in Orlando.
Honeydukes
This candy store is filled with all the Harry Potter sweet treats you can imagine and some you never thought you would see! Also, check out the butterbeer fudge that is available at the counter.
Dark Arts at Hogwarts Castle
This looks absolutely amazing! This exciting all-new experience in "The Wizarding World of Harry Potter" will cast a mesmerizing display of light, music and special effects, unleashing the darkest creatures and villains, including the powerful Dark wizard Lord Voldemort.
"Dark Arts at Hogwarts Castle" will bring more intense tones and drama that reflect the Dark creatures and wizards that challenge goodness in the Wizarding World.
Guests will be asked to summon their inner strength and bravery in the face of the all-consuming Dark Arts as some of the awe-inspiring moments and creatures inspired by the films come to life within the majestic light display.
As darkness falls on Hogwarts castle, Dementors™, Death Eaters and other unspeakable creatures from Aragog and Mountain Trolls to Thestrals will cloak the castle with sinister images from the darker side of magic—even conjuring the visage of Lord Voldemort™ himself, until the Patronus spell—one of the most famous, difficult and powerful defense of the Dark Arts charms in the wizarding world—is cast.
The "Dark Arts at Hogwarts Castle" will be accompanied by an exclusive musical arrangement that will emanate in a surround sound environment. It was conducted by prolific arranger William Ross and recorded by the London Symphony Orchestra in London, based on the original scores composed for the film series created by Academy Award®-winning composer John Williams.
This is one of our favorite things to do in Orlando with Teens.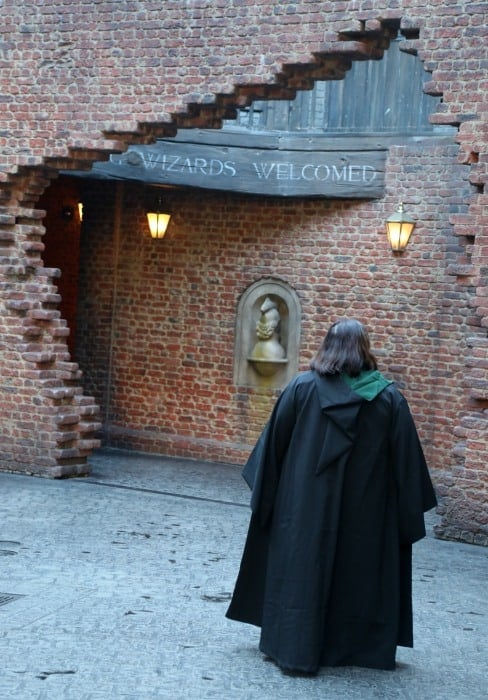 Harry Potter Costumes and Gear
Buy your Hogwarts robes ahead of your trip to make sure you are happy with them. Then pick up accessories while in the park!
Check out these great Harry Potter Gifts!
These are just a few of the things that you're sure to be thrilled by at The Wizarding World of Harry Potter at Universal Orlando. Keep an eye out as you explore for details and secrets meant to delight sharp-eyed fans.
Check out this article if you are wondering if you should visit Universal Studios vs. Islands of Adventure or both.
Additional Universal Orlando Resort Travel Guides
Christmas at Universal Orlando
Cabana Bay Beach Resort Review
If you are heading to WDW don't miss all the things to see and do in Galaxy's Edge.
I have to say a huge thank you to Universal Orlando Resort for having me as part of their 2018 Universal Blog Squad. I am so excited to share our experiences in the parks.