We absolutely love visiting the Big Island of Hawaii. The island offers everything you need for a tropical vacation! Gorgeous beaches, amazing restaurants, and so many things to see and do. Here are 7 Big Island of Hawaii Restaurants you don't want to miss!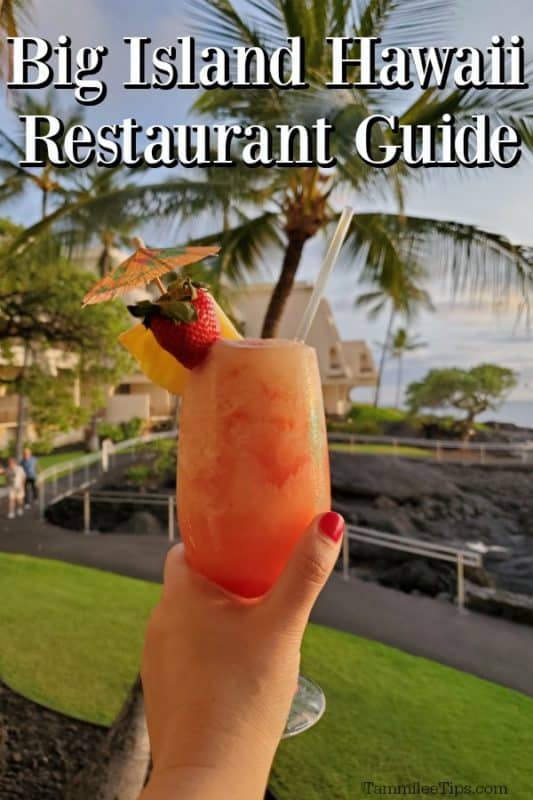 Big Island of Hawaii Restaurants
Hawaiian Style Waimea
Hawaiian Style Cafe is located in Waimea. The restaurant is small,  local, and delicious! Be prepared for a wait but it is so worth it! You will be amazed at the portion sizes and how great the food is. We highly suggest the Loco Moco and the pancakes. Truly everything we saw at the restaurant looked amazing. You really can't go wrong with breakfast or lunch at Hawaiian Style Cafe!
Hawaiian Style Cafe is located at 65-1290 Kawaihae Rd, Waimea, HI 96743
Kona Brewery
The Kona Brewery is the perfect combination of beer, great food, and an amazing atmosphere. The majority of the seating is outside with tiki torches lighting the grounds. You can enjoy fresh pizza, beer and great company at the Kona Brewery!
Don the Beachcomber
Don the Beachcomber is our favorite place for a tropical cocktail and gorgeous sunset views. They have a killer happy hour menu including Mai Tai's and Pina Coladas on special!
You just can't beat the view looking out over Kona Harbor for sunset. Keep an eye out for dolphins in the bay!
Don the Beachcomber is located at The Royal Kona Resort -- 75-5852 Alii Drive, Kailua-Kona HI
Island Lava Java
Island Lava Java is located right on Alii Dr in Kona. You really can't ask for a better view as you look out over Alii Dr. to the Pacific Ocean. Plus the food is amazing! Seriously so good! We tried the pulled pork omelette which sounds really odd but was so good. Plus the cinnamon roll is huge and delicious!
You can check out Island Lava Java's menu online. If you plan on visiting we highly suggest making a reservation with OpenTable. That way you don't have to wait for the amazing food you will be smelling!
Island Lava Java is located at 75-5799 Alii Dr, Kailua Kona, HI 96740
Ken's House of Pancakes ~Hilo
Ken's is an island tradition each time we visit the Big Island. Open since 1971 Ken's knows how to make amazing breakfast, lunch, and dinner.
Plus they have crazy good Hawaiian style meals! You can't go wrong with the Loco Moko or the pancakes or the burger or the shakes or the well anything!
Kens House of Pancakes is located at 1730 Kamehameha Ave, Hilo, HI 96720
Tommy Bahama located at the Mauna Lani shopping center
Tommy Bahamas has truly amazing desserts and cocktails.
OK, the food is really great too but the desserts and cocktails are fantastic. They offer outdoor and indoor seating with a great lunch and dinner menu.  If you are checking out the free hula show at the Mauna Lani shopping center Tommy Bahamas is a great place to stop for a pre-show appetizer and cocktail.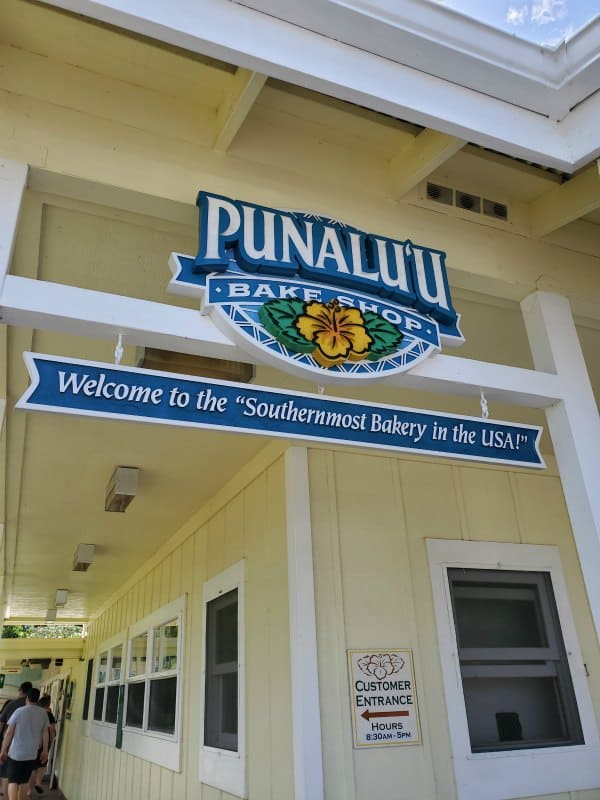 Punalu'u South Point bakery
Punalu'u Bake Shop is a combination bakery and lunch spot near South Point. As you drive into town you can smell the sweet bread baking! HELLO YUM!
If you are driving from Kona to Hilo via Volcano National Park the South Point Bakery is a must stop! Keep an eye out for the colorful geckos playing on the railings. There is also a gorgeous tropical garden with signs describing each of the plants and flowers. The bakery has a great gift shop.  You can send sweet bread home to your loved ones or yourself!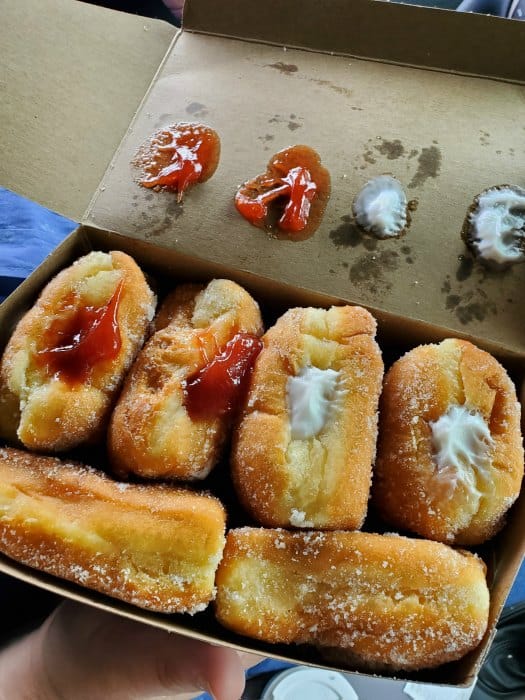 Tex's Drive-In
Tex's is known for its world-famous Malasadas!
Additional Hawaii Resources
Epic Guide to Big Island Sunsets
Free things to do on the Big Island