Traveling to Hawaii is truly an amazing experience! One thing you find quickly when visiting the islands is prices are higher than they are on the mainland. Today we are sharing free things to do on the Big Island to spread your vacation dollars farther!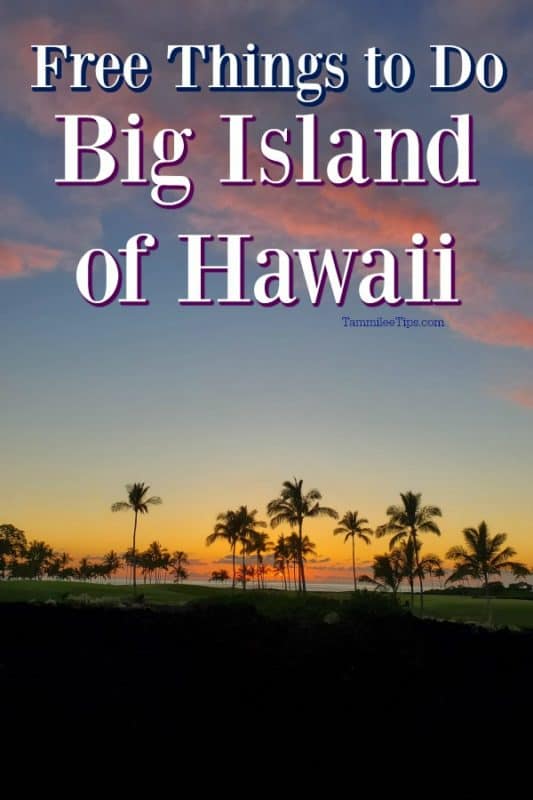 Free things to do on the Big Island!
Some of our favorite things to see and do on the Big Island are free! You can save money with these experiences so you can splurge on a dream experience!
Walk along Alii drive and window show. Check out the swimmers in the bay
Big Island sunsets are truly amazing and FREE! Here are 7 of our favorite places to watch Big Island sunsets.
Explore the Lava Tube on the side of the road between Kona and Waikoloa
Head to a beach! All of the beaches in Hawaii have to have public access to them
Explore the petroglyph walk at the Kings Shop in Waikoloa
Free hula show at the Shops at Mauna Lani. Check out our post on the TeEa O Te Turama Free Hula show
Visit Punalu'u Black Sand Beach - Keep an eye out for the resident turtles basking in the sun along the beach. This beach is great for photos, a picnic, and exploring. This beach is not ideal for swimming due to the high surf.
Hike to the Green Sand Beach
Stroll through Queen Liliuokalani Gardens
Snorkel or sit on the beach at Kahalu'u Beach Park - This beach park is fantastic for snorkeling. You can walk in the water easily and see great fish in pretty shallow water. There are lifeguards on duty during the day. There is a small beach and pavilion for picnics and relaxing. This beach park also has a bathroom on-site and outdoor showers to rinse off with. Located on Ali'i Drive a few miles from Downtown Kona this is a great spot during any visit to the Big Island. One of the best snorkeling on the Big Island and it is FREE!
Watch the sunset and wander around A-Bay
Visit the Orchid Farm near Volcano and Hilo
Go beer tasting at Mehana Brewery
Visit Waipio Valley Overlook - Please do not try to drive your rental car down into the valley! Your free visit will quickly become incredibly costly as you have to pay a local to tow you up the hill.
Visit Akaka Falls near Hilo
Visit Greenwell Farms and take a free coffee tour
Mauna Loa Visitor Center- Enjoy a 3 mile drive through macadamia nut orchards before reaching the visitor center. Enjoy free samples and learn about the process for making Mauna Loa chocolate Mac Nuts. To find out more visit www.maunaloa.com
Experience the Kona Historical Society's traditional Portuguese bread-baking, every Thursday 11 a.m. – 2 pm.
Enjoy stargazing at the Mauna Kea observatory
Lapakahi State Park In North Kohala on the coast, a preserved Hawaiian village offering self-guided walking tours to learn about history and archeology.
Open daily from 8:00am-4:00pm.
Visit the Ahuena Heiau in Kona
Fronting Courtyard King Kamehameha's Kona Beach Hotel across the Kailua Pier. Ahuena Heiau was the court of King Kamehameha I and is well maintained today.
Open daily from 9:00 am to 4:00 pm.
We hope you enjoy these free activities on the Big Island of Hawaii as much as we do! Let us know if we missed any that should be on the list!
Additional Hawaii Travel Articles
I have been reading about all of the epic things to do on Kauai and now I feel like it is time to book an island hopping trip.
There are so many amazing things to do in Hawaii that it can be hard to pick what to do during your vacation. Check out the resources below to help with your trip planning!
Big Island of Hawaii Travel Tips
Epic Sunset Spots on the Big Island
KALOKO HONOKOHAU NATIONAL HISTORICAL PARK 
How to plan a multi-generational trip to Hawaii 
Check out all of our Hawaii Travel Guides