An adventure to the top of Mauna Kea on the Big Island of Hawaii!!  Do you like adventure? Do you like to experience something away from the typical tourist activity? Mauna Kea may just be the perfect day in Hawaii for you! The best advice is to come prepared for a day's adventure and take note of all the caution statements.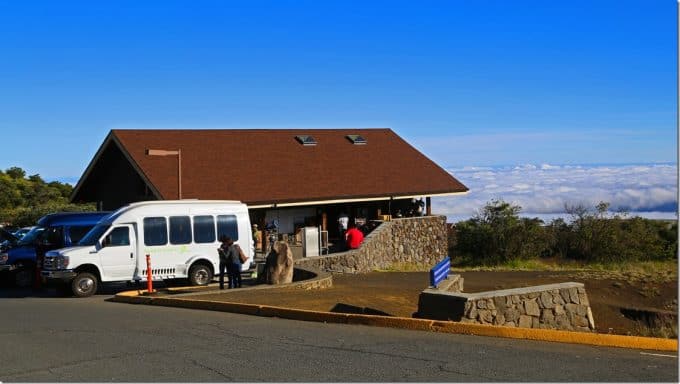 Mauna Kea on the Big Island of Hawaii
The Maunakea Visitor Information Station is the first stop and the beginning of your trip to the summit of Mauna Kea. It's a good break to stretch your legs from the hour and a half drive from Kona. It also gives your body time to acclimate to the 9000' elevation point. Remember you most likely came from a resort near sea level
Elevation sickness is a real concern here! This adventure is one of the only places in the world where you can go from sea level to 13, 796' in just over two hours! It is recommended to spend at least a half-hour here before continuing up the mountain. Don't worry though, there are restrooms, snacks and gift store attached to the visitor center with lots of great information.
There is also telescopes set out for viewing in both day and night, several interpretative panels as well as ranger programs. The visitor center is open 365 days a year from 9 am-10 pm and is a great spot to come stargazing! Most visitors come up to the visitor center before heading back down never going to the summit.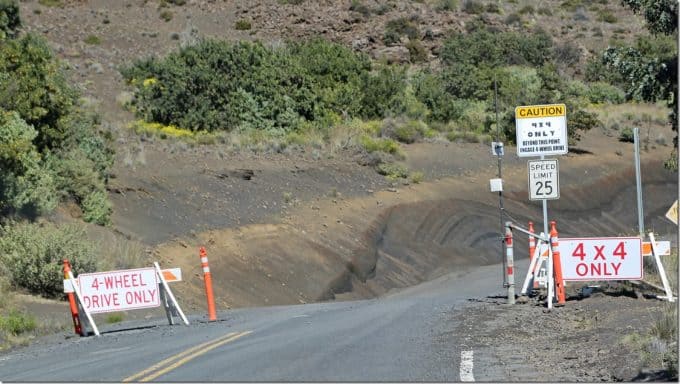 We easily spent over a half hour here and took the time to feel our breathing get back to normal. Now is when all the advisories come in. There are two basic concerns when it comes to going to the summit of Mauna Kea, your health, and your vehicle. It's not because they want to keep people off the mountain, this is not a real physical strenuous activity involved but there are risks.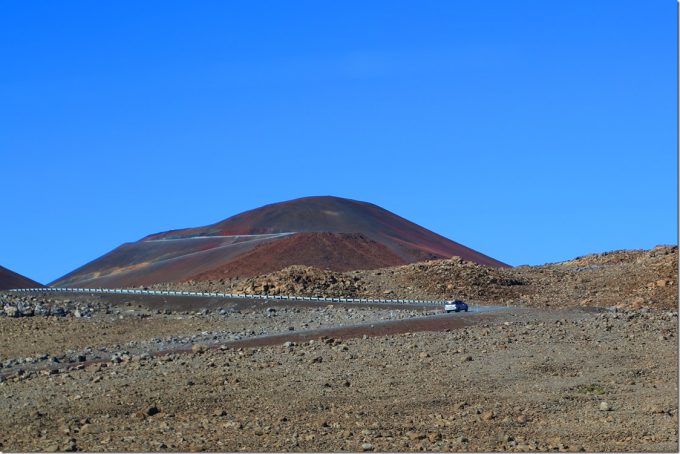 Elevation sickness can be brutal! 
This most often occurs in people who live in low elevation areas and go above 8000' in elevation. There is less oxygen the higher you go causing your body to breathe harder, your blood pressure rises as you fight to get oxygen to your lungs and brain. There is 40% less oxygen at the top of Mauna Kea than at sea level!
This is why people with heart conditions, pregnant, breathing problems or under the age of 16 are not recommended to go past the visitor center. The first signs of elevation sickness is a headache or sick to your stomach. After that, you can become disoriented, dizzy, feel weak and tired and experience loss of appetite and in extreme cases can lead to death.
The only way to feel better is by going to lower elevation immediately. The symptoms can last over a day and the more you delay the worse it's going to get. The best way to prevent elevation sickness is staying hydrated so bring along plenty of water and drink often, take several breaks along the way and allow your body to get accustomed to the elevation before continuing up.
One more note of caution is for divers. Remember you are not supposed to go flying or experience high elevations before or after diving for a certain period of time. If you plan on diving you need to do some research before attempting this trip!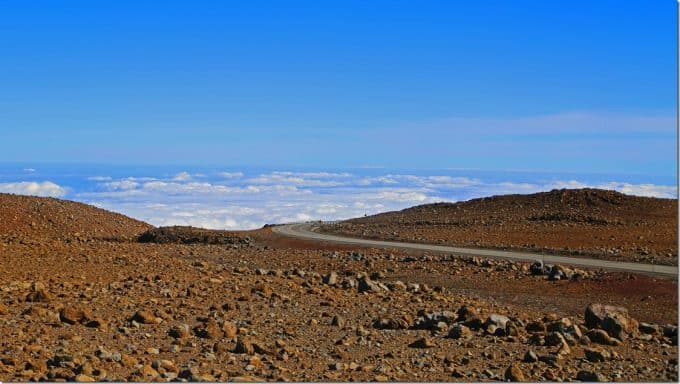 We stopped several times along the road and just enjoyed the views! It is completely different than what you will see anywhere else on the island. We really noticed ourselves breathing harder at about 12,000' so we wanted to make sure we were comfortable before proceeding the final 1796' to the summit.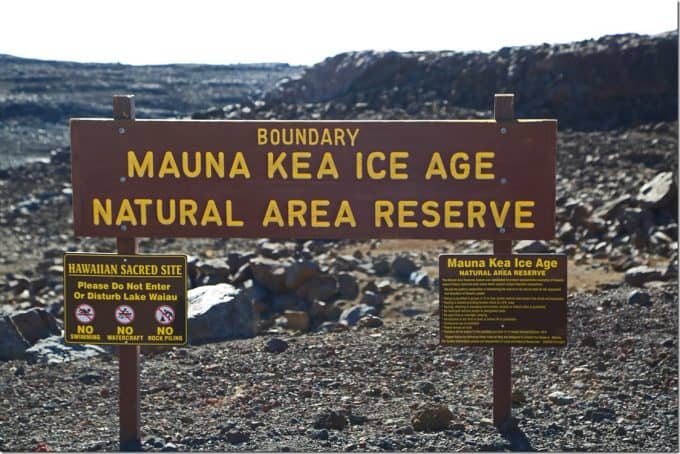 The second concern about going to the summit is having a vehicle capable of getting you there and back safely. As soon as you turn out of the visitor center at 9000' there are signs everywhere with 4X4 only with a low gear. You will look at the road and say my car can handle that, it's just a dirt road like we have at home.
This is true, the road even turns to asphalt after a few miles and is paved the rest of the way up. So why all the signs for 4X4 only with a low gear? Simple, what goes up must come down!
From the visitor center to the summit is steep! Low gear in 4X4 slows your vehicle down dramatically reducing the need to apply your brakes nonstop. Heavy brake usage results in brake failure or catching fire! There is nothing worse than still having to go down 10,000'+ and you have no brakes!
Now those dirt roads become dangerous, the many turns and your vehicle continues to gain speed! It is also a great idea to check the weather conditions before going as well. Weather conditions change quickly on a mountain and can lead to dangerous icy or snow-packed roads in a very short time.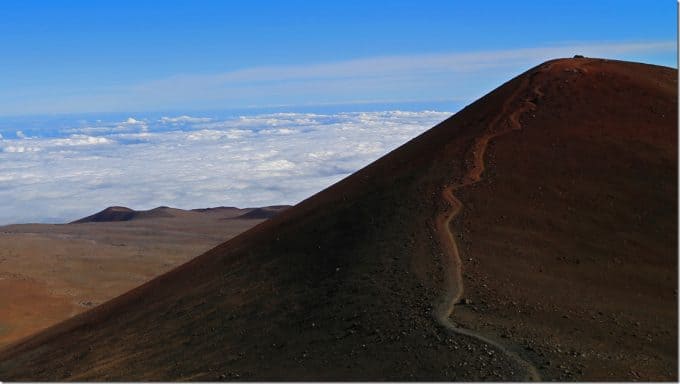 Now that you came prepared you have safely arrived at the summit of Mauna Kea! The views are breathtaking as you stare out in amazement. We drove over to the WM Keck Observatory and headed in. There were several interpretative panels, a restroom, and a viewing area of the telescope.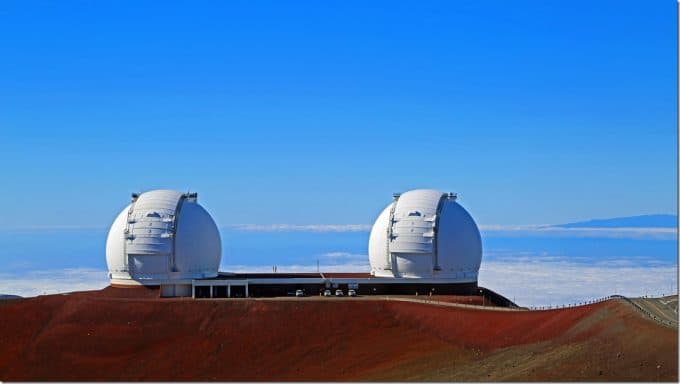 This was the first time I felt a bit of dizziness. We stayed long enough to see the telescope and use the restroom then headed back to the vehicle. We looked around and took some photos before heading back down. This is when you could really feel how steep the road was. It was a real trick as the driver of paying attention to the road and all the sweeping views.
Would I do this again? Absolutely! This next time, I would make sure that I was there for sunset and to see the stars and spend time at the visitor center with telescopes at night.
I am attaching a video about going to the summit and is very informative, especially towards the end of the video. I would highly recommend for anyone interested in going to the summit of Mauna Kea.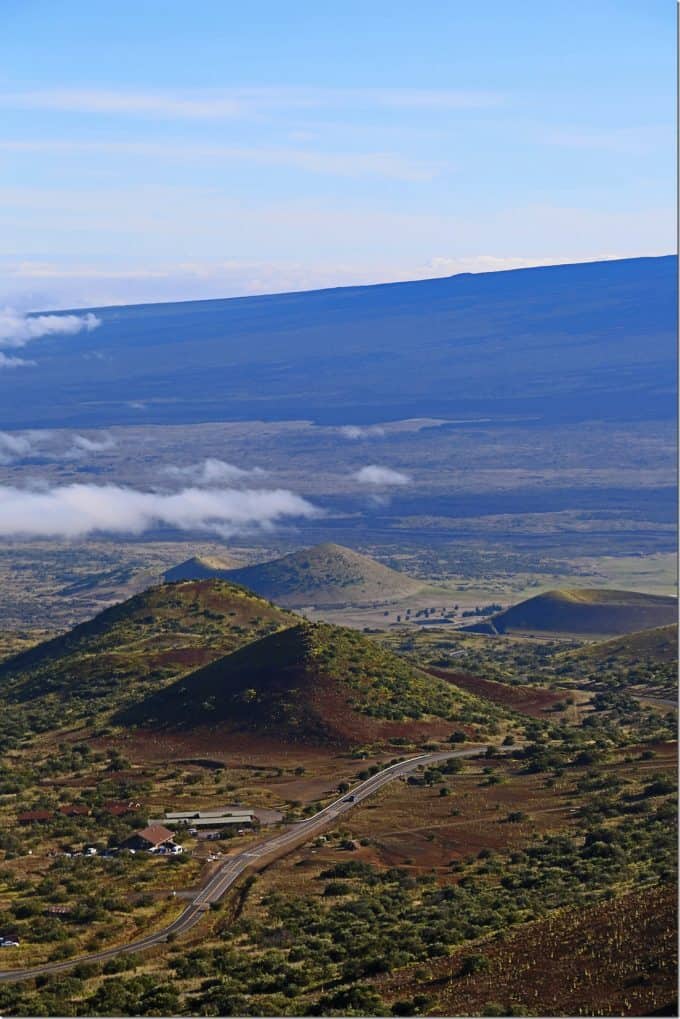 Additional Big Island Resources
We highly suggest planning ahead when looking at renting a car in Hawaii. The prices change frequently. You also want to check if there are any restrictions on where you can drive.
Free things to do on the Big Island
Sweet treats on the Big Island
Sunset spots on the Big Island