Yeah, cupcake Saturday! I hope you all are enjoying these new cupcakes each Saturday as much as I am! Hello yum! Plus how can you go wrong kicking off the weekend with a great new cupcake recipe? Today we are sharing a Blueberry Lemonade Cupcake Recipe! Perfect for summer or well any day that you want a sweet treat.
We hope you have been enjoying a new cupcake recipe every Saturday! We are sharing over 60 new Cupcake Recipes on the blog this year! Our goal is to make birthday party planning, summer barbecues and picnics, family desserts and really any day of the week just a bit sweeter with a delicious cupcake. Let us know if there are flavors you would like to see us share.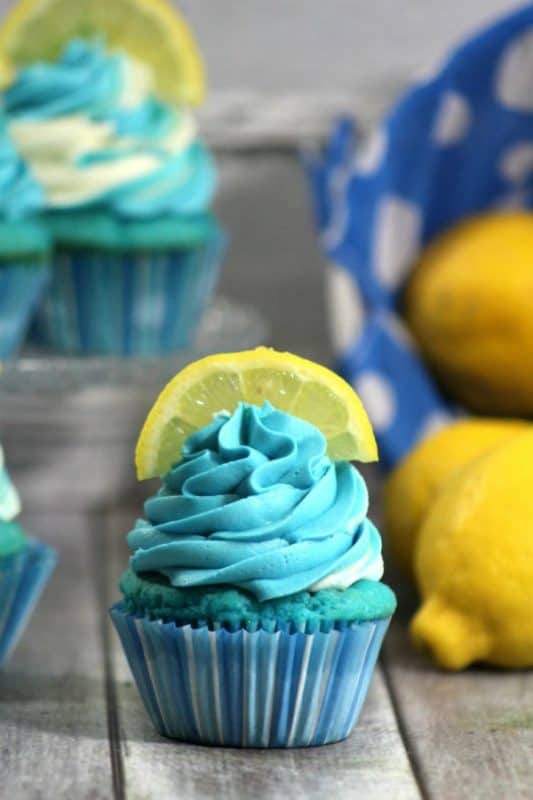 Blueberry Lemonade Cupcake Recipe
½ cup unsalted butter, room temp
1 cup sugar
2 egg whites
1 ¾ cup cake flour
2 tsp. baking soda
1 tsp. baking powder
¼ tsp. salt
¾ cup whole milk
2 tsp. vanilla extract
½ cup blueberry puree
Preheat oven to 350 degrees.
Line cupcake pans with liners
Whisk together flour, baking soda, baking powder, and salt in a medium sized mixing bowl
Use an electric mixer, cream butter and sugar until light and fluffy.
Add eggs, one at a time
Add vanilla.
Add flour mixture, alternating with milk.
Beat on medium speed to create a cake-like batter.
Stir in puree and mix until the batter turns blue.
Using an ice cream scoop, add into paper liners
Bake for 18 minutes check by a toothpick inserted in center comes out clean
Cool 5 minutes in pans then remove and place on wire racks to cool for 20 minutes
Blueberry Puree
2 cups fresh blueberries
¼ cup sugar
1 Tbsp. cornstarch
Add all the ingredients for the puree ingredients in a food processor, and puree until smooth.
Place puree in a small saucepan; bring to a boil.
Cook 6 minutes, stirring constantly.
Cool slightly for a warm sauce, completely before adding to a batter. Store in the refrigerator.
Frosting Ingredients:
1 cup unsalted butter, softened
4 cups powdered sugar
6 tablespoons frozen lemonade concentrate, thawed
Frosting Directions:
Beat butter for 4 minutes with whisk attachment on an electric mixer in a chilled medium sized bowl
Add powdered sugar and lemonade.
Beat an additional 3-5 minutes, until smooth and fluffy
Do you love recipes? Check out our copy cat recipes, dessert recipes, and our Crock Pot Recipes.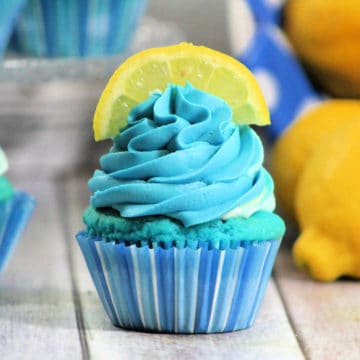 Instructions
Preheat oven to 350 degrees.

Cupcake Directions

Line cupcake pans with liners

Whisk together flour, baking soda, baking powder, and salt in a medium sized mixing bowl

Use an electric mixer, cream butter and sugar until light and fluffy.

Add eggs, one at a time

Add vanilla.

Add flour mixture, alternating with milk.

Beat on medium speed to create a cake-like batter .

Stir in puree and mix until the batter turns blue.

**Blueberry Puree Directions

Add all the ingredients for the puree ingredients in a food processor, and puree until smooth.

Place puree in a small saucepan; bring to a boil.

Cook 6 minutes, stirring constantly.

Using an ice cream scoop, add into paper liners

Bake for 18 minutes check by a toothpick inserted in center comes out clean

Cool 5 minutes in pans then remove and place on wire racks to cool for 20 minutes

Frosting Directions:

Beat butter for 4 minutes with whisk attachment on an electric mixer in a chilled medium sized bowl

Add powdered sugar and lemonade.

Beat an additional 3-5 minutes, until smooth and fluffy
Delicious and fun Easy Homemade from Scratch Blueberry Lemonade Cupcake Recipe great for birthday parties, desserts, picnics, summer barbecues