I can't believe we have already been doing Cupcake Saturdays for over a year! How is this even possible. Oh my gosh! Today's Chips Ahoy Cupcake Recipe is fantastic!
Chocolate Chip cookies in a cupcake = yes please! This cupcake recipe is easy and so good!
What has been your favorite cupcake recipe we have shared so far?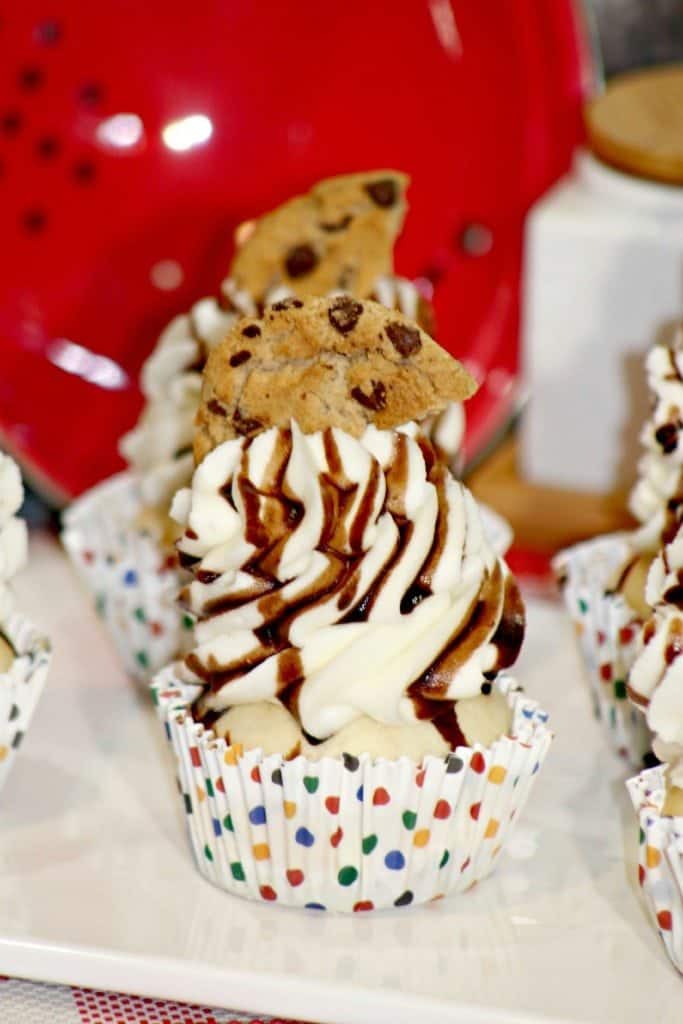 Chips Ahoy Cupcake
Cupcake Ingredients:
1 1/2 C flour
1/2 tsp salt
2 tsp baking powder
1/2 C butter, room temperature
1 C white sugar
2 eggs, room temperature
1 tsp vanilla
3/4 C milk, room temperature
1 package of the Original Chips Ahoy Cookies
Frosting Ingredients:
1 C soft unsalted butter
4 + C powder sugar
4 TBSP heavy whipping cream
Ghirardelli chocolate syrup
Cookies from the package of the Original Chips Ahoy
Cupcake Directions:
-Preheat oven to 350 degrees. Put paper liners into the cupcake pan.
-Place a Chip Ahoy cookie upside down in the bottom of  each of the paper liners.
-Combine the flour, salt, and baking powder. Whisk to blend.
-Using an electric mixer beat butter and white sugar until light and fluffy.
-Add eggs one at a time, beat after each addition.  Next stir in the vanilla.
-Gradually add half of  the dry ingredients to the creamed mixture alternately with the milk.
-Stir all ingredients just until just blended
-Using a medium ice cream scoop. scoop the batter into lined cupcake pan.
-Bake at 350 degrees for  20-25 minutes or until an inserted toothpick comes out clean.
-Allow to  cool in the cupcake pan for 10 minutes.
-Transfer to a wire rack to cool completely before frosting.
Frosting Directions:
-Cream the butter and powder sugar until it looks light and creamy.
-If it doesn't cream add several drops of the heavy whipping cream until it creams.
-Test to see if the frosting can form and hold a stiff peak by taking a spoonful of frosting and turning the spoon upside down. If the frosting stays on the spoon it is ready if not then....
- Add more powder sugar 1/2 C at a time.... mix well.
-Test to make sure that the frosting can make and hold a stiff peak.
-If ready scoop the frosting into a pastry bag with a large tip.(13 inch)
-Twist the open end of the pastry bag to push the frosting to the tip.
-Frost from the cupcake edges inward to the center of the cupcake.
-Drizzle the chocolate syrup on the frosting.
-Add a Chips Ahoy Cookie to the center of the cupcake.