Thrills and prayers at the Charlotte Motor Speedway NASCAR Racing experience!!! Have you ever really wanted to experience a thrill ride but also been so fearful you were not sure you could do it? That is how I felt leading into the Charlotte Motor Speedway Ride Along Experience. I was so excited to continue pushing myself to do new things but so damn scared of the idea of not being in control.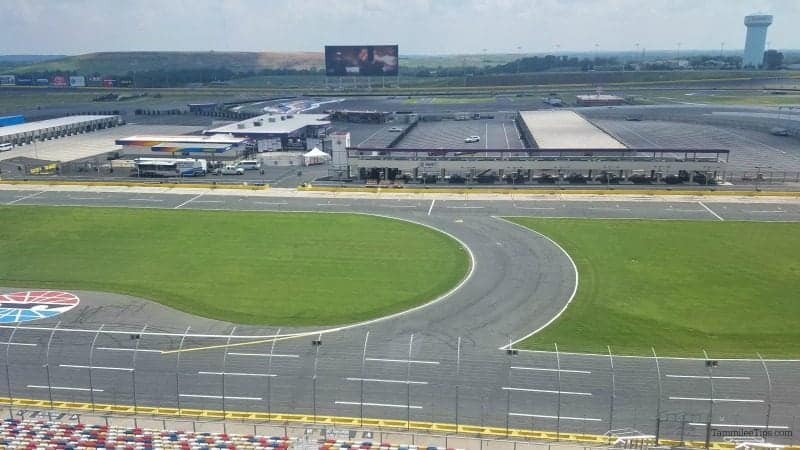 Charlotte Motor Speedway NASCAR Racing experience
We started our day with a special lunch overlooking the Charlotte Motor Speedway. The food was amazing and the view even better.
I can't imagine how cool it would be to watch a NASCAR race from the comfort of this restaurant. While we were there I kept watching the cars zoom by thinking that I to would soon experience the thrill of banking the corners of the speedway.
My stomach was in knots and I told myself I couldn't down a ton of tea because I didn't want to have to pee while in the race car. Can you imagine trying to hold it while you are also just praying that you don't puke.
That is way too many bodily functions to stress about at one time.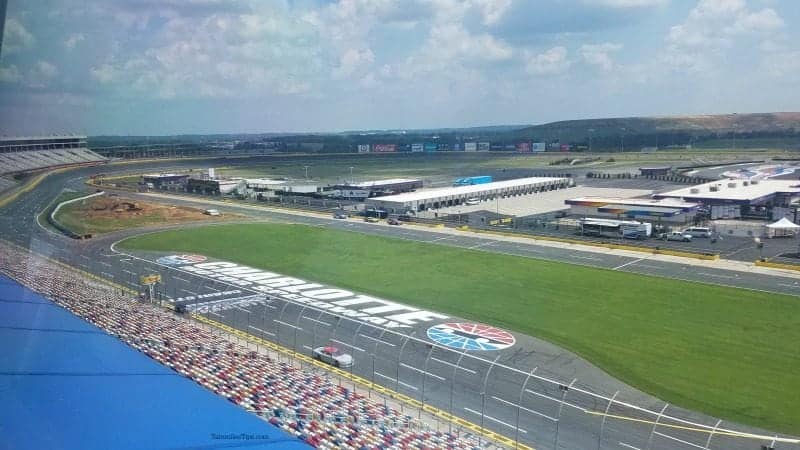 Soon it was time for us to head down to the ride-along experience. Everyone in the van was pumped and talking about how excited they were. I was deep in thought and trying to get myself prepared for the event.
I had all of these fears running through my head as we approached…would I fit in the window, would I get stuck trying to get inside the car, would I fall on my face getting out of the car, would I puke as we took a turn and have that photo spread across social media, would I..would I…Would I ugh!
So many fears were manifesting in my head that it felt like I was already on a roller coaster. I am going to admit here and now that I sat back and watched a few people go to make sure they were not puking or face planting on the speedway when they got out of the car.
I slowly approached the gentleman and asked quite bluntly am I going to fit in this car or should I skip it. He laughed and told me that I would have no problem and to get ready for the ride of my life….eek!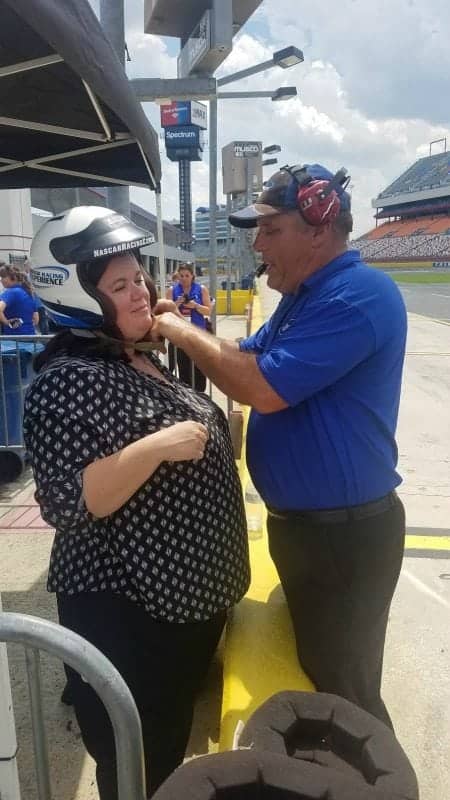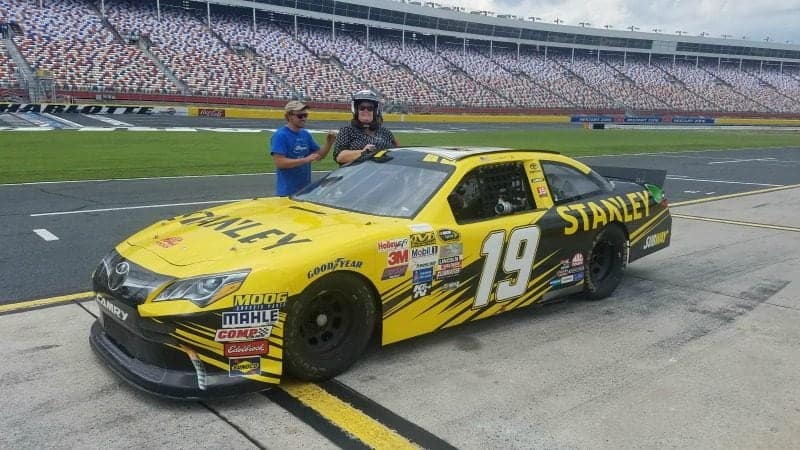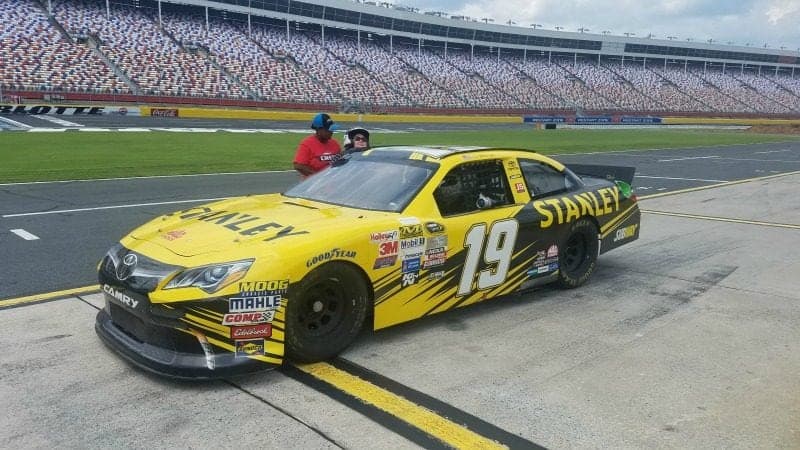 Well, there went that excuse and then it was my turn. I wish I could remember the name of the woman who strapped me into the car. We quickly went from how do you do to at least the third date and then marriage by the time we were done.
You see you have to crawl in the window while wearing a lovely neck brace and a helmet that makes you feel like an astronaut about to walk on the moon. It is quite a feat to get your body in the car and slide into the seat while not knocking yourself out on the side of the window.
When I was in I thought I was good and then I went to third base with a woman whose name I didn't know. I had to ask her for her name since we were on such intimate terms with each other. My lower seatbelt was stuck deep behind my bum which meant that she had to reach between my legs and pull it out.
Hmmm, not the relationship I thought I would be starting in a race car but what are you to do. Then she had to strap my chest into the chest harness and we were pretty well married at this point.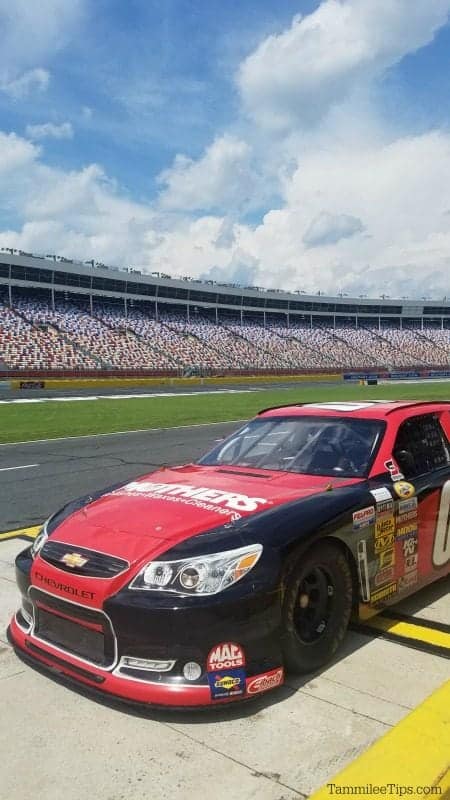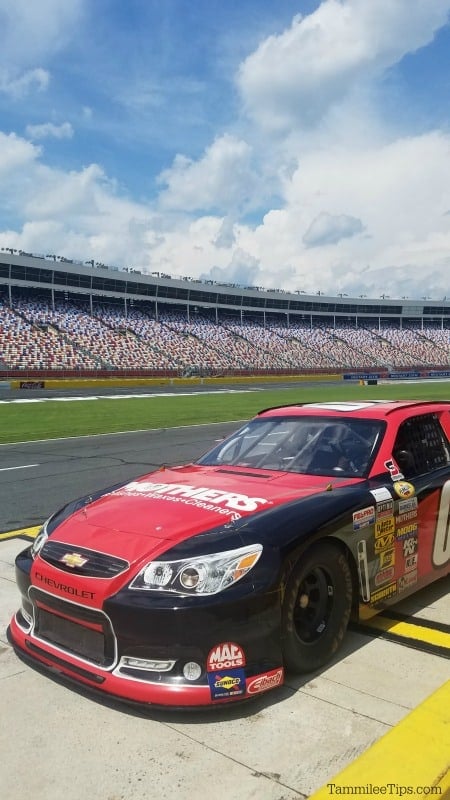 You would think that this would be enough of a thrill ride but we honestly hadn't even left the side of the track at this point. My driver smiled at me, gave me a thumbs up, and hit the gas pedal, and holy crap we were off. I am pretty sure it took a bit for my brain to catch up with my body flying through the curves of Charlotte Motor Speedway.
You don't realize how strong the g-forces really are until your head is attached to a metal bar on the doorframe and there is no way you are going to move until the universe decides it is time to make it happen.
Turn after turn we zoomed around the speedway going who knows how fast but it felt like light years were passing in front of me. I am not a very religious person and I spent the ride with my hands in the prayer position thinking to myself…how did I decide that this was a good idea?
Then a funny thing happened….the ride was over. My brain caught back up with my body and I could finally take a deep breath…we were no longer moving. Then it was time for my honeymoon with my new found friend. You see what gets strapped in has to be unstrapped. We were off on our honeymoon as soon as I crawled out of the car.
I had to take a deep breath and throw my head out of the car helmet and all. Thankfully I didn't knock out my new spouse as I lunged from the car trying to free myself and put my feet on the ground.
Ahh solid ground!!! The bliss of having my feet under me and not moving was beyond words. I survived and made it through something I never thought I would do in life!
Was it worth it…hell yes! These are the moments that test you and push you past your limits. The moments you look back on and realize that if you can survive that moment you can take on any challenge set in front of you.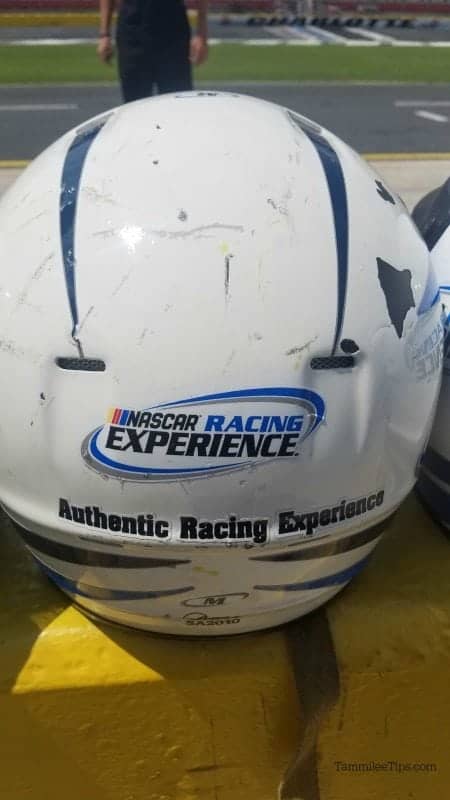 Are you ready to try your own Nascar Racing Experience?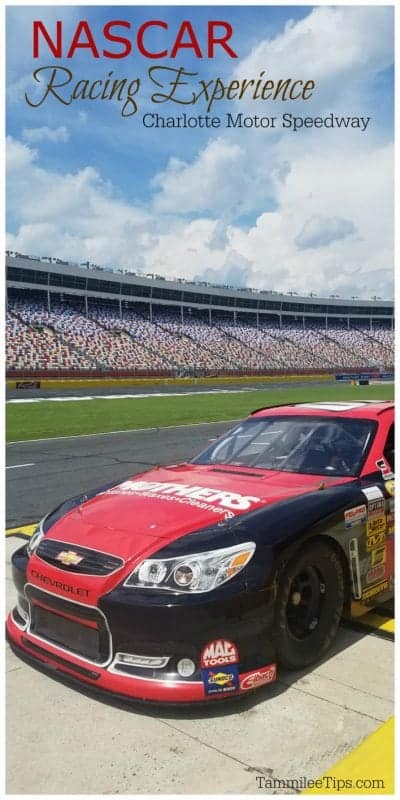 Huge thanks to Cabarrus Country Visitor Bureau for making this happen! I can now thank you since the world has stopped spinning and I can breath again.
Check out why you should visit Mount Airy and learn more about Andy Griffith!
There are so many great things to do in North Carolina!
Don't miss all of the fun things to do in Cherokee, NC!