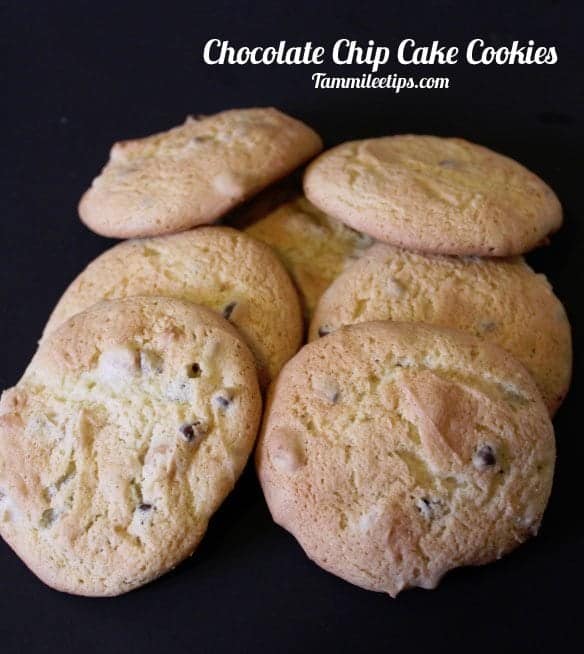 Cake mix chocolate chip cookies
I recently received a copy of the Complete Cake Mix Magic Cookbook. I honestly never thought of using cake mixes for anything other than cakes. After looking at the 300 recipes in this cookbook I have been missing out on some amazing treats.
Oh my goodness I had no idea you could make cheesecake, cookies, rolls, muffins and more with cake mix.
After looking at every page of the cookbook twice I decided to start with making cookies. I just could not imagine what a cookie would taste like with cake mix. Well, let me tell you they taste AMAZING!! John was home for lunch while I was baking these and he was happy to be the "tester" of the cookies.
He said they were great and took a couple back to work with him. These cookies were so dang easy to make. Almost easier than making them from a cookie mix.  I adapted one of the recipes in the cookbook Chunky Chocolate Pecan Cookies with items that we had in the house to make Chocolate Chip Cake Cookies.

Ingredients
1 package white cake mix
1/2 cup butter ~ Melted
2 eggs
1 tsp Vanilla
1 1/2 cups Chocolate Chips
Preheat oven to 375 degrees
1. In a mixing bowl, combine cake mix, melted butter, eggs, and vanilla. Beat on low speed for a minute or until just smooth. Stir in chocolate chips.
2. Drop dough by rounded tablespoons onto baking sheets, about 2 inches apart. Bake for 10-15 minutes (mine took around 12 minutes)
Cool on baking sheet for 1 minute, then remove to wire rack to cool completely
Variations- I added peanut butter chips since I had some in the house. You could also add in nuts, white chocolate chips or your favorite cookie topper.

I found this recipe in the Complete Cake Mix Magic: 300 Easy Desserts Good as Homemade